President Obama still uses BlackBerry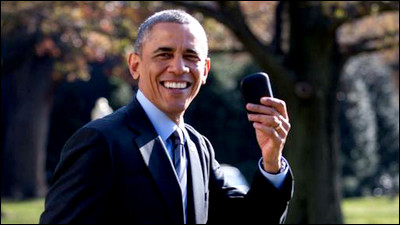 Pioneer of smartphones BlackBerry is pushed by the offensive of Apple and GoogleAlthough sales are declining sharply, President Obama is still clearly a BlackBerry user.

Obama runs back into the white house so he forgot his BlackBerry
http://mashable.com/2014/11/21/obama-blackberry/



This is a helicopter used when President Obama moves between domestic short distances on November 21, 2014Marine OneEvents when riding. The president who ran away to the media saying "I forgot something" runs to the White House, heads for the BlackBerry while saying, "You guys will forget what I've forgotten BlackBerry," he said.

"I forgot the BlackBerry," a photograph of President Obama who stands for BlackBerry towards the press.

"I forgot my Blackberry" President Obama yells to reporters as he boards Marine One.Pic.twitter.com/KPTz 3 qg Bvs

- Doug Mills (@ dougmillsnyt)2014, November 21
On Twitter, "Sometimes, I forgot that the world leader is still using the BlackBerry" also saw a comment.

Sometimes I forget that the leader of the free world still uses a Blackberry.https://t.co/aLInGbYg8p

- Kevin Roose (@ kevinroose)2014, November 21
BlackBerry, which is popular with models equipped with a QWERTY keyboard, is recovering its earnings but sales in the first quarter of fiscal year 2015 have contracted to about a third of the same period last year. "Obviously President Obama won the" President of Blackberry ", but that is the story of 2008. It is about time to change smartphonesComment Overseas MediaAlthough President Obama is changing smartphones, it is important matters that the public is not comparable to changing smartphones, and NSA (President) who developed BlackBerry for "preservation of absolute confidentiality" ( Mr. Richard George, former technical director of the National Security Agency of the United States of America, said that "everyone was seriously tough," CNN responded.

CNN.co.jp: Aiming absolutely confidentiality - A man who made President Obama's Blackberry - (1/3)
http://www.cnn.co.jp/tech/35049255.html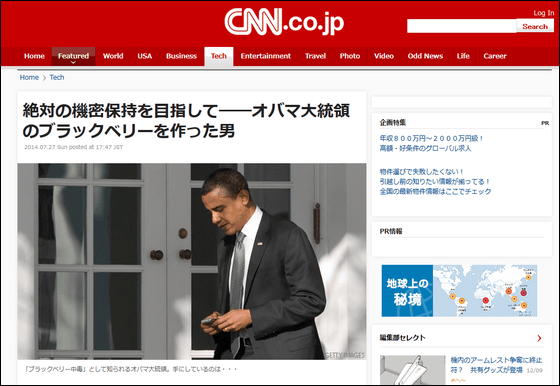 In order to develop President Obama's smartphone NSA set up a laboratory, "dozens of experts gathered and made improvements over the course of a few months, we reworked the inside of the terminal and remove all elements that threaten the security of communication I did work. " Mr. George worked on algorithm checking, terminal design, etc., and eliminated all the functions that had a risk of information leak even a little, so the president's smartphone is a popular gameangry birdsYou can not play also.

Although the NSA has not made clear what function is installed in the president's smartphone, the presidential officer said "When I am scrolling the love aircraft blackberry in the presidential limousine, the only one President Obama is stressful It is time to be released from. " In 2013 President Obama can push itself forwardMedical insurance system reform(So-called Obama Care) at a meeting for young people, I acknowledged that the use of the iPhone is not permitted because security is weak.

Admit that President Obama is prohibited from using the iPhone for security reasons - GIGAZINE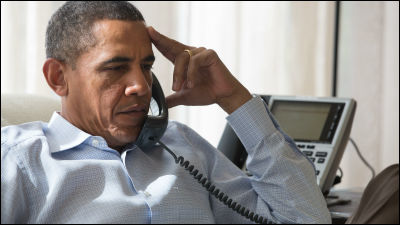 BlackBerry is popular in the White House because of its high security due to its strong encryption function, but on the other hand in government agencies such as the US House Transportation Safety Commission, due to "lack of credibility" in 2012 BlackBerry Switching from iPhone to iPhone was done.

U.S. government agency switching from Blackberry to iPhone 1 photo International News: AFPBB News
http://www.afpbb.com/articles/-/2913021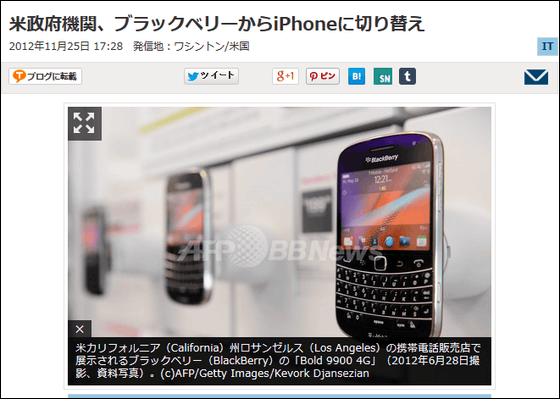 One time "President Obama trusts BlackBerryAlthough an article called "iPad was posted also, it seems that it is using.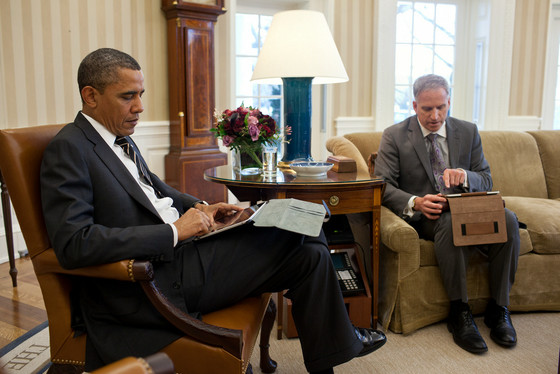 ByThe White House

Incidentally,Wall Street Journal reportedAccording to the fact that the White House has been testing to switch to the Android terminal instead of the iPhone, he was considering LG and Samsung terminals. If the President is a civilian, BlackBerry Inc. will President ObamaApproximately 4.5 billion yen, It is thought that there is advertising effect that will match even if you pay, if President Obama's smartphone is switched to an Android terminal, for BlackBerryIt is likely to be a big pain.
in Mobile, Posted by darkhorse_log