Taste of BBQ sauce that combined rainless chicken sky with heaven, "BBQ Sandy - Domestic Chicken · Vegetable Bowl Dinner" Tasting Review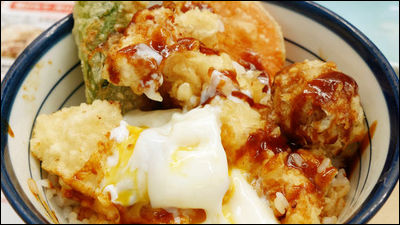 From Thursday, November 27, 2014, "BBQ Tale" which was jointly developed with Nippon Shoken in popular chicken bowl series for Tennis bowl chain stalls was usedBBQ Tang - Domestic chicken · Vegetable bowl of riceWe released the. 2 sheets of salt koji fountain · potato with skin "Matilda"· It is an unusual menu that puts BBQ sauce on a bowl of rice with three kinds of vegetable tempura with green pepper and carrots, and actually went to Tenja to eat it to check the harmony between tempura and fruity sauce .

BBQ Town ~ Domestic Chicken · Vegetable Temptan (with Half-Tamagusu) | Time Limited | In-store Menu |
http://www.tenya.co.jp/menu/season/season02.html

Arrived at Tenya.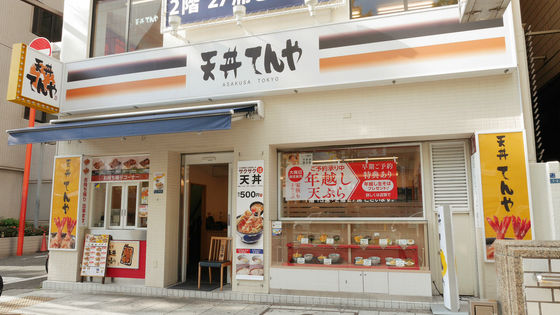 I will sit down and order "BBQ Tango ~ Domestic Chicken · Vegetable Bowl of Tombol (with Middle Egg)". As for the price, it is 923 kcal at the price of 690 yen including tax, if the half omegi is nothing, the level of parallel is 849 kcal at 630 yen including tax.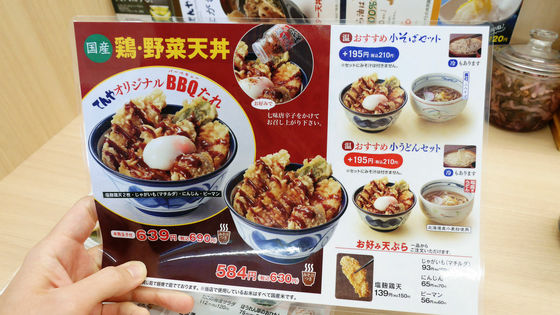 When I thought that tea was hot, it was cool tea.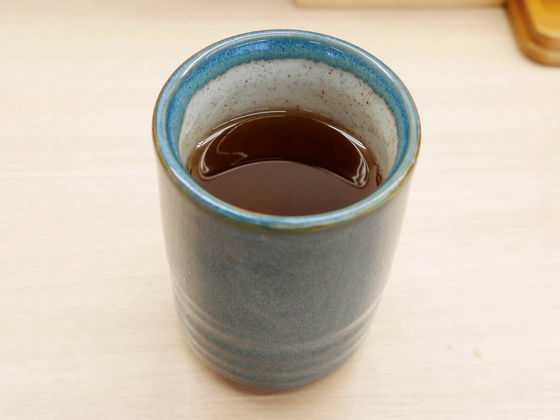 Waiting The domestic chicken · vegetable bowl of rice brought by BBQ arrived in less than 10 minutes.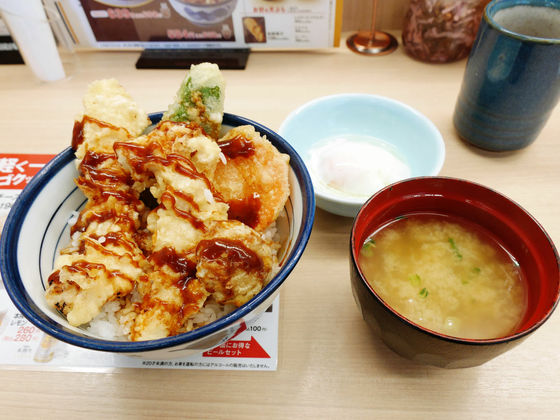 It is a sight that I do not see much that the roughly BBQ drool is hanging over the bowl of rice.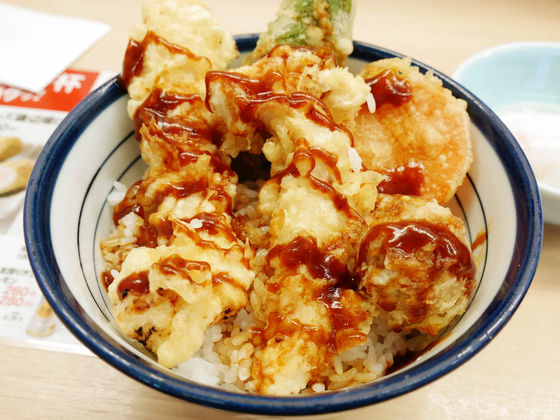 It is a nice place where Temi is with miso soup.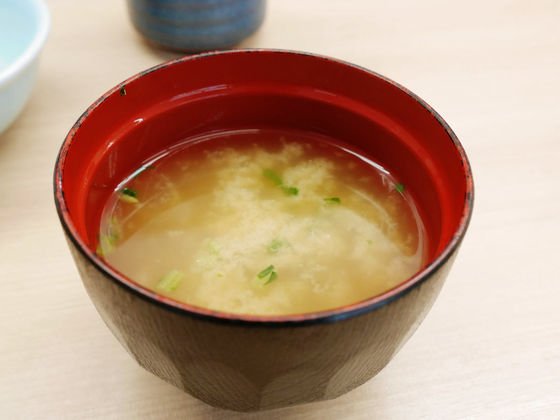 Since semi-ripe eggs are another set, first try to taste the BBQ noodle-hunged chicken without a half-round egg.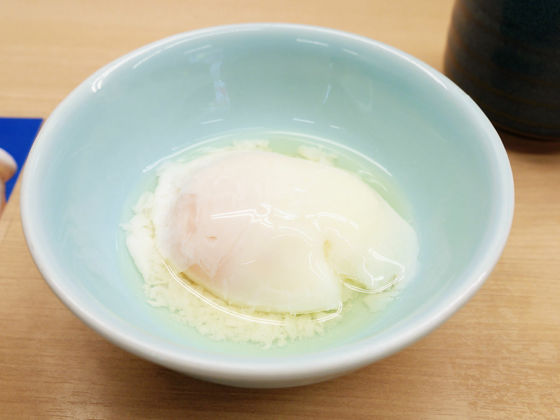 BBQ is a flavor that closely resembles that BBQ source that comes about McDonald's chicken nugget. However, because the fruity scent is intense, I do not feel that it is junk like it. The sweet BBQ tattoo matches unexpectedly with the crispy chicken sky, and the rice progresses steadily.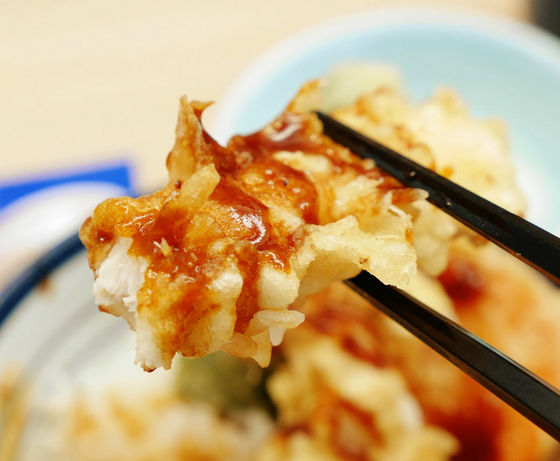 That 's why we introduced eggs. I am impressed by the very wonderful semi-ripening condition of crispy yolk when dividing with chopsticks.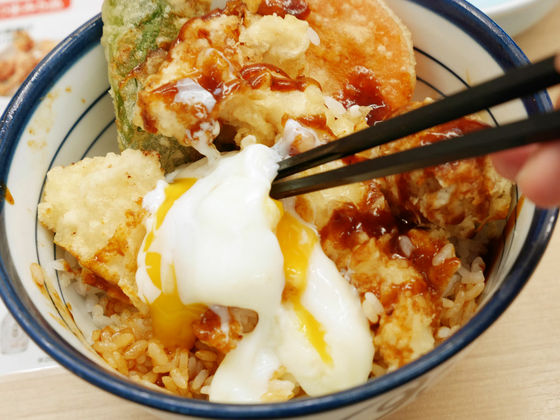 Tempura of the rare potato "Matilda" that only one third of the baron potato can be taken. Totally tempura potatoes with a bullfighting skin are whole.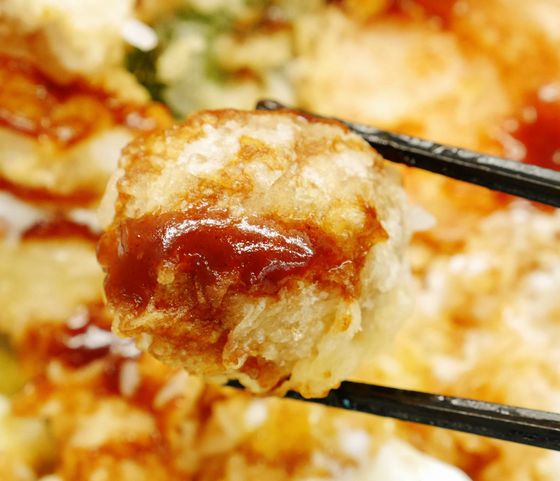 The inside is stronger yellow than the ordinary potatoes, the taste that the sweetness of potatoes is condensed. It is a unique and elegant texture, unparalleled potatoes.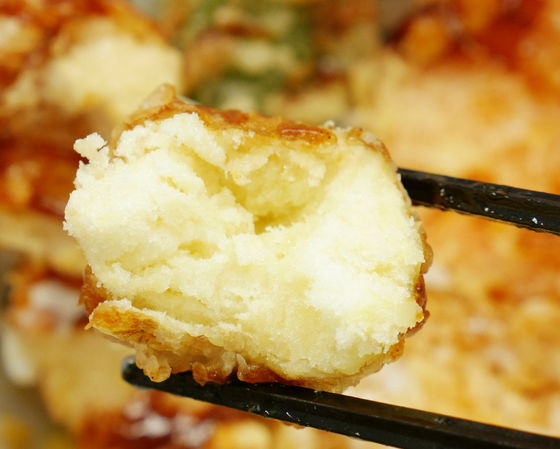 Carrot sliced ​​with a large carrot. When I tried it, I was surprised to find Sweetness like Glasses by being fried all over.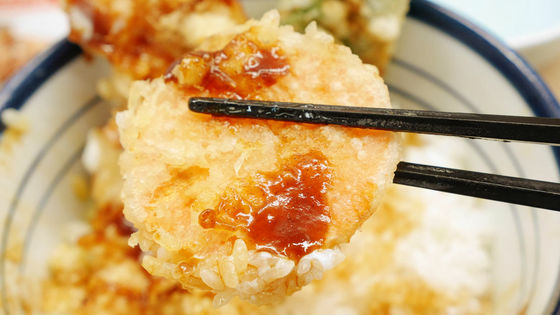 Peppers heaven is also big. The green peppers will soften as soon as they pass heat, but they are firmly crunchy, and it is said that "A tempura specialty shop is the only place that realizes a superb deep-fried condition to the main vegetable sky."



It was a challenge as it was delicious even if you sprinkled Nanami chilli in your choice.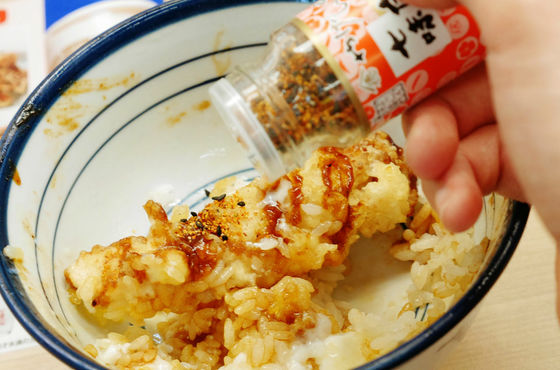 BBQ taste is a spicy scent, but because it is a sweet seasoning, it can be added plus pungent taste, but it was felt that "even if it was as it was ...".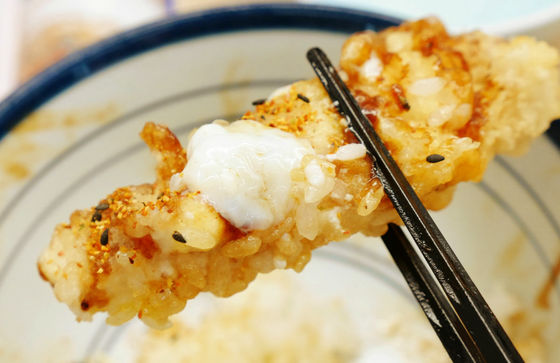 Speaking of bowls and bowls, Tsuyuu and salt are standard, but the compatibility of BBQ's taste with the mellowness of semi-ripe eggs is outstanding, so if you like BBQ sauce, you should try it at once. If you are an oversea person who is not familiar with Tennis Bowl too much you may be sick of it.

Temple is accepting "New Year's Eve Tempura" for New Year's Eve from November 27 (Thursday), a luxurious set of natural big shrimp · Confucius deep-fried · cracked crab "Premium Pack 【Dream】"Includes tax 2500 yen, plus the vegetable heaven such as sweet potato and sweet potato in the shrimp sky"Special Pack 【Life】"Is 1500 yen including tax. If you make a reservation of 2000 yen or more by December 25 (Thursday), you will be accompanied by 4 servings of raw soba as an early reservation award, so if you are a person named "Tenpura soba is only tempura!", Book early If you do, you will be able to have a profitable and prosperous New Year.