Application that automatically turns off the lock screen of smartphone at home "Delayed Lock"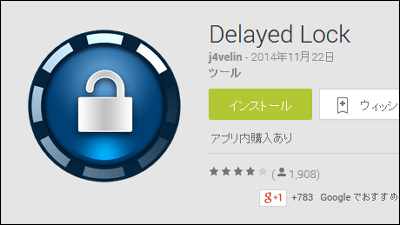 For smartphones, which is a treasure house of personal information, it is important for security to keep the screen auto lock function ON. However, it is troublesome to unlock each time, for example, it is very useful if you can set it so that it will not lock automatically when using it at home or when connecting a specific terminal. Such a function to customize whether to lock or not depending on time / scene is "Smart Lock"Android 5.0 LollipopAlthough it is implemented, even if it is not a Lollipop terminal, the application "Delayed LockWith Smart Lock you can smartly customize the presence or absence of lock.

Delayed Lock - Android Apps on Google Play
https://play.google.com/store/apps/details?id=de.j4velin.delayedlock2.trial

Android 4.4 KitKatGALAXY S5 ACTIVELet's try Delayed Lock with. First of all, on Google Play "Delayed Lock"And tap" Install ".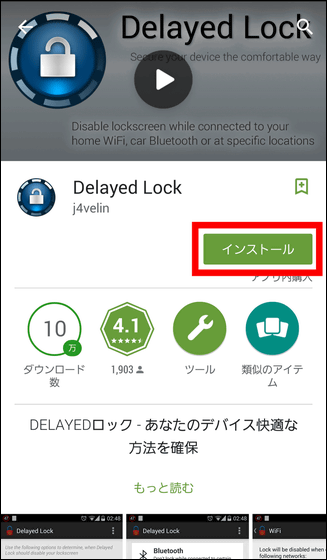 Tap "I agree".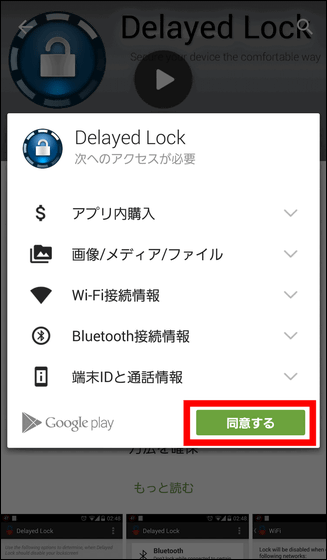 Tap "Open" to launch Delayed Lock.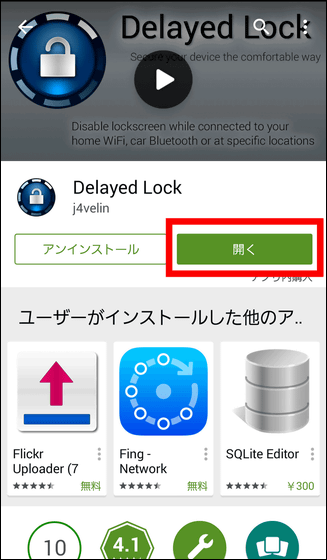 When you launch Delayed Lock, the screen of the device management function appears. If you have already checked "Delayed Lock enabled" and check that Delayed Lock is enabled, check "Admin permission granted" ...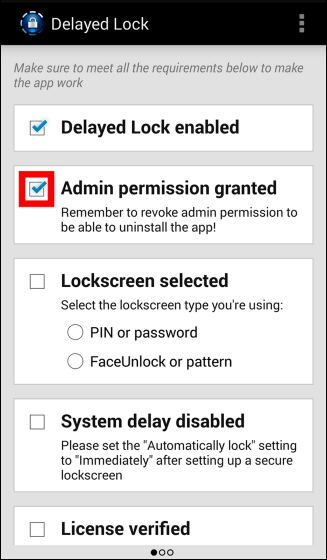 Tap "Start".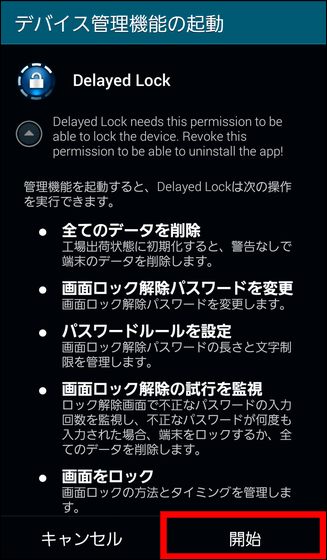 Next, check "PIN or password" → "Lockscreen selected" in that order ... ...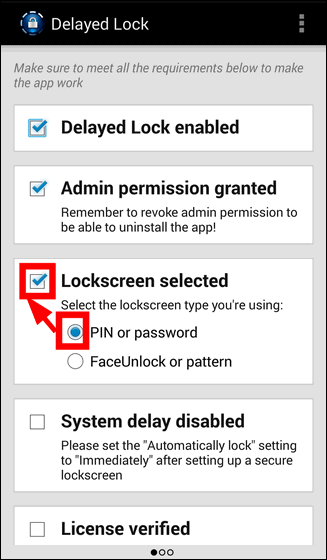 After entering the PIN code, tap "Save".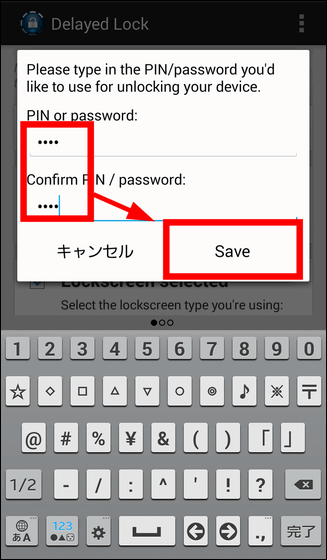 Next, when "System delay disabled" is checked ... ...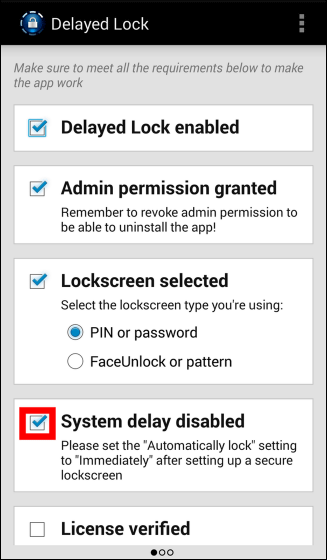 The Android "Settings" screen will be launched automatically, so tap "Lock screen".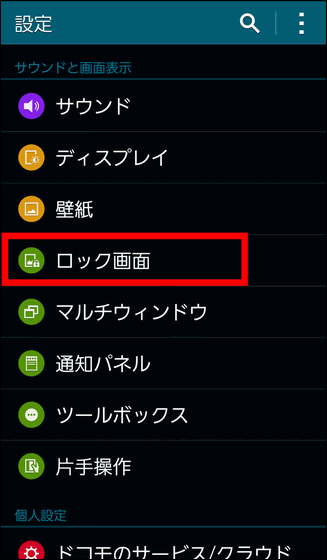 Change the setting so that it locks immediately in the sleep state. In case of GALAXY S5 ACTIVE, tap "Lock automatically".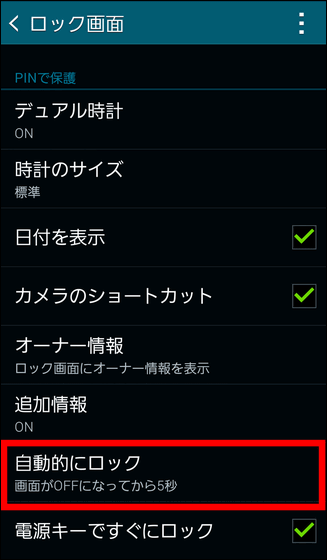 If you check "immediately" OK.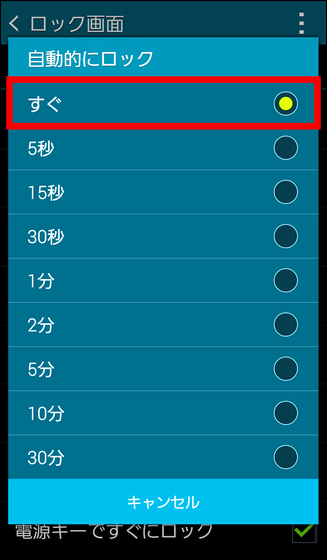 Finally check "License verified" ......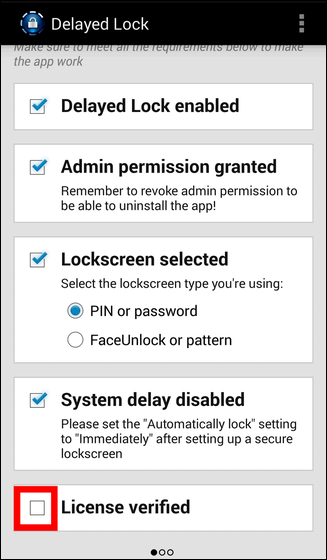 Tap "Check license".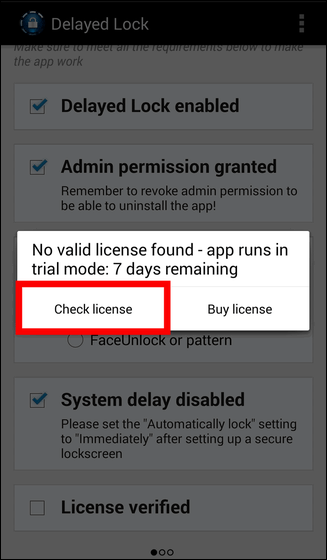 If you get "verifying license" at the bottom of the screen OK. Swipe the screen to the left ... ....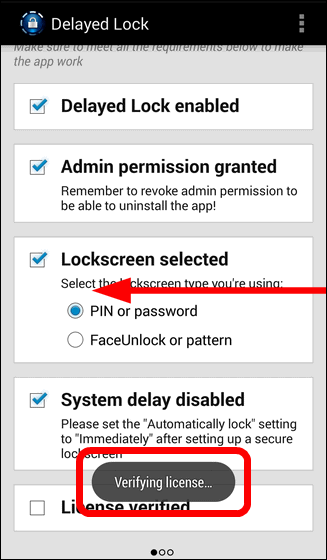 Delayed Lock setting screen will appear. On this setting screen you can set what kind of scene, what kind of scene, what kind of conditions you want to turn on automatic lock on sleep or off.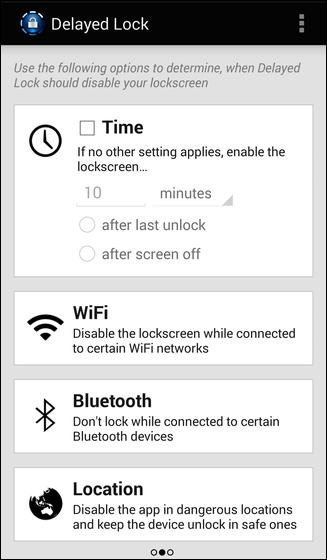 · Lock off in Wi-Fi environment
Tap 'WiFi' to change the setting so that it does not lock automatically when connecting to a Wi-Fi environment of a secure place that does not have the fear of losing the smartphone at home, for example.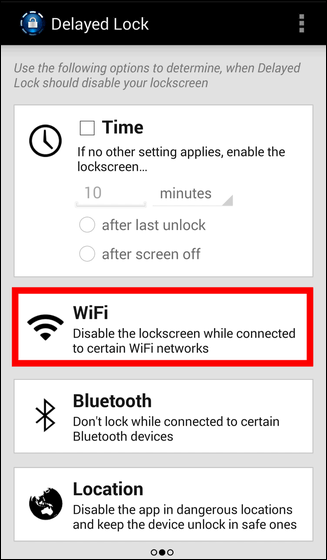 Make sure that the SSID of the Wi-Fi connected with the smartphone is displayed and tap "add".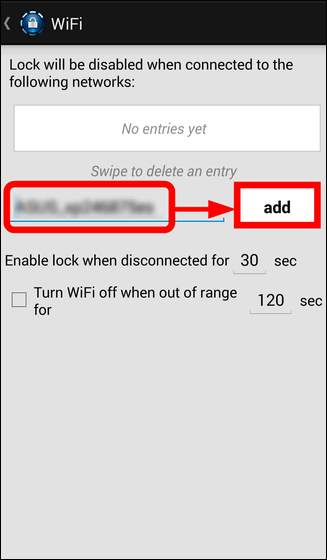 OK if the Wi-Fi SSID is registered on the screen OK. If you are connected to the registered Wi-Fi, the screen will not be locked even when entering sleep mode.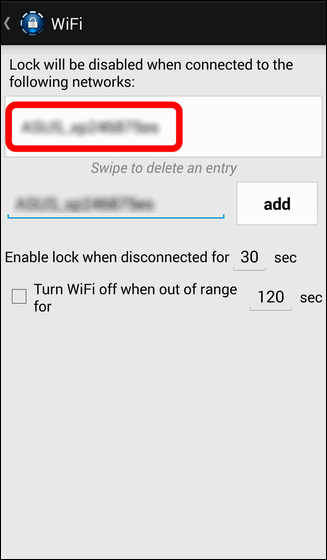 · Lock off with Bluetooth
If you are connected to a specific terminal with Bluetooth, you can also set not to lock. Tap "Bluetooth".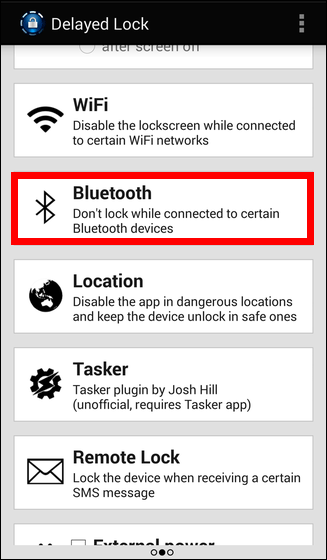 When you tap "add all paired devices", the paired terminal is registered on the screen. When you are Bluetooth connected to the registered terminal with this, it will not be locked.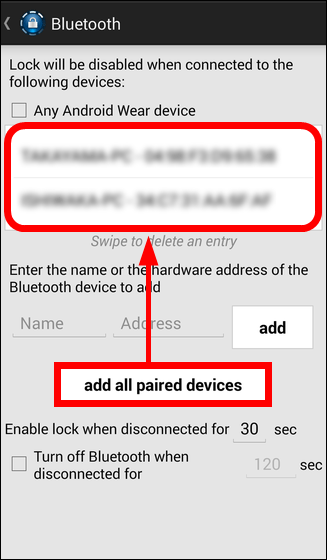 You can delete it from the registration list which turns off the lock by swiping the registered terminal name in the right direction.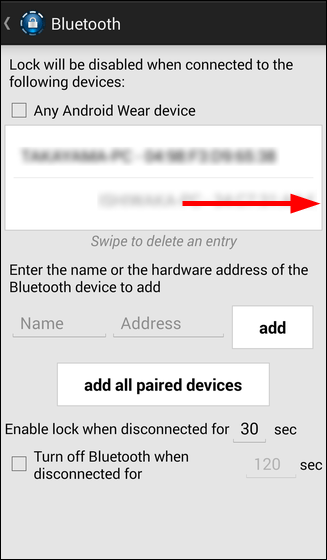 Also, if you check "Turn off Bluetooth when disconnected for", you can turn Bluetooth off automatically after Bluetooth connection is canceled.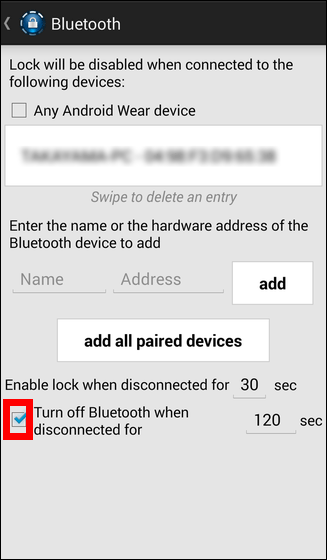 · ON / OFF of lock at place
Next, let's change the ON / OFF setting of automatic locking at a specific place. Tap "Location".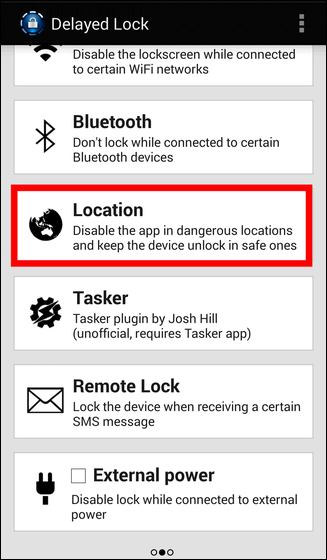 This will automatically launch Google Play and ask you to install the plugin, so tap "Install".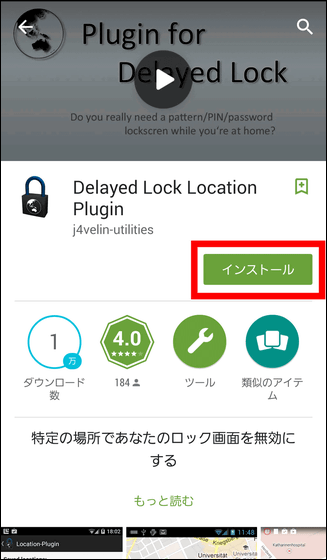 Tap "I agree".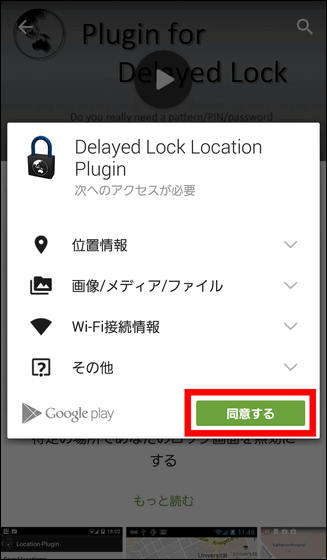 Tap "Location" again.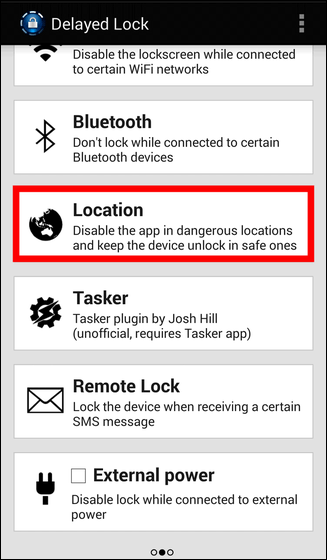 Tap 'add locations'.



Since Google Maps appears, tap the place you want to change the lock setting.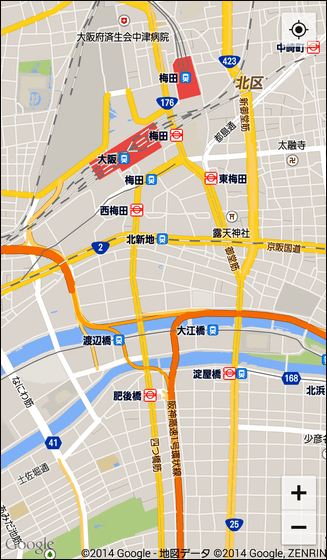 "Radius in meter" can specify the radius of the area in meters. If you do not wish to lock in this area, check "lockscreen" if you want to lock immediately, and "delay (locks immediately)" if you want to lock immediately when entering the area and tap "OK".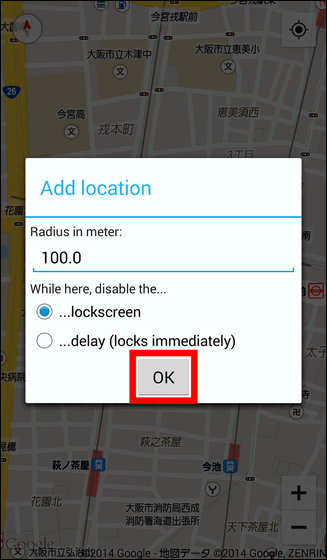 Then a green circle appeared on the map with such a feeling. When it is within this range, the smartphone will not lock.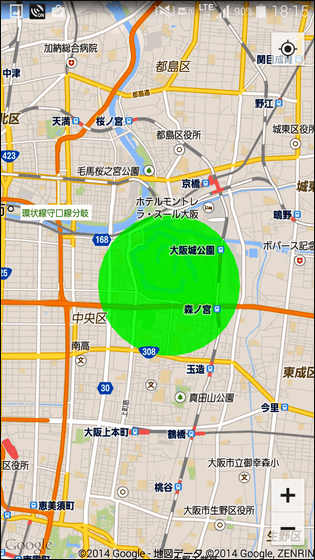 Multiple locations can be registered. In addition, red indicates the setting to lock and green to not lock.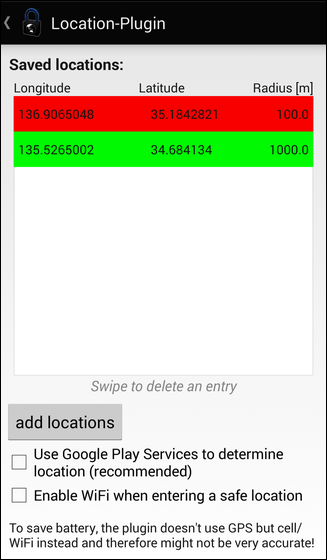 · Lock on by SMS
It can also be automatically locked by sending SMS. Tap "Remote Lock".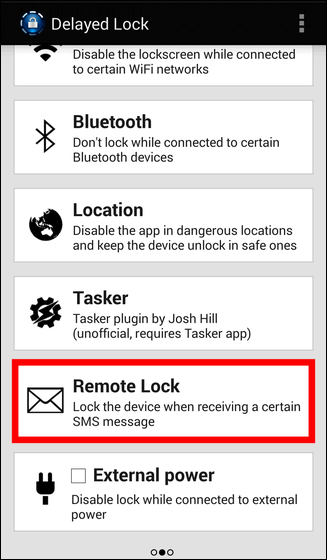 Tap "Install" because Google Play automatically starts up and you are asked to install the plugin.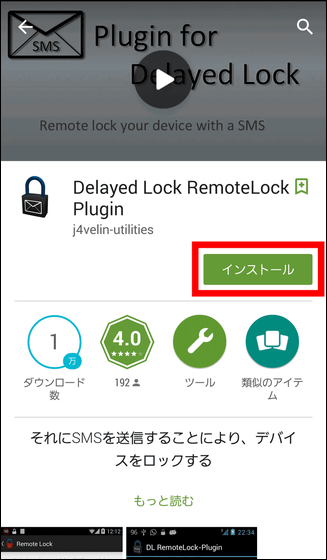 Tap "I agree".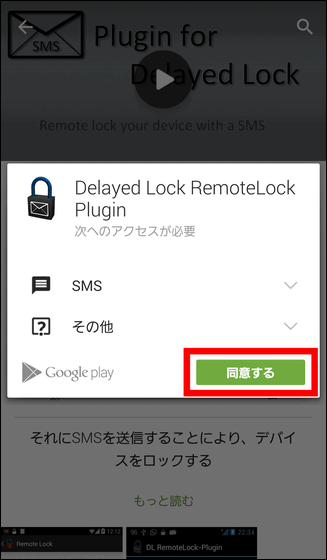 Tap "Remote Lock" again.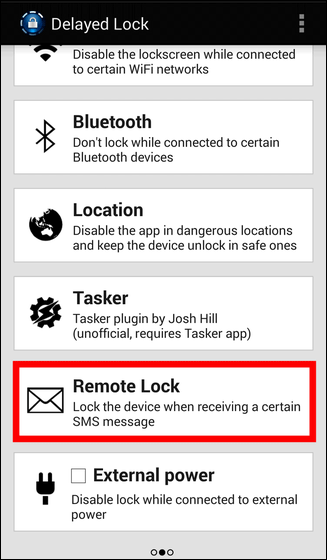 Set keywords. For example, if you enter "gigazine", your device will be locked if you receive an SMS that contains the keyword gigazine.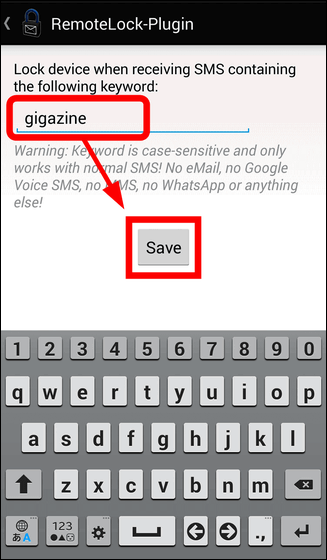 · Lock off by charging
If "External power" is checked, it will not be locked during charging.



In fact, when I used it, the key icon immediately displayed on the smartphone screen when I connected to the registered Wi-Fi, and after that it was locked. Furthermore, even if you are registering the home Wi - Fi environment as lock OFF, you had to unlock only the first time when you came home from the place.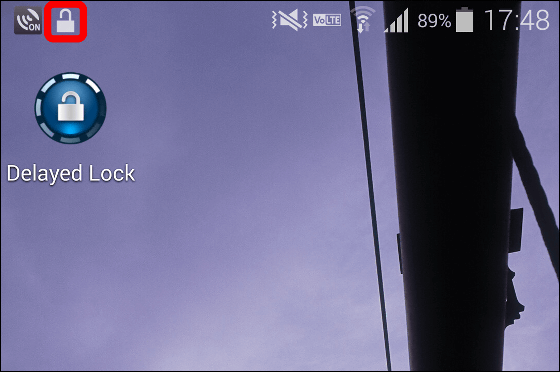 "Delayed Lock" which can set ON / OFF of automatic lock at sleep under various conditions is paid app of 299 yen, but you can try free trial period of 7 days.