Men embed a microchip that can handle virtual currency Bitcoin in both hands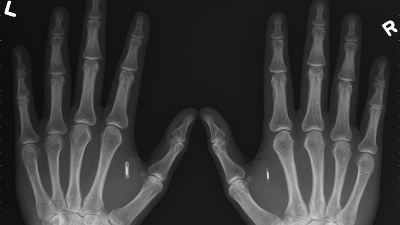 Virtual currency existing as on-line data "Bitcoin(Bit coin) "is money that does not have entities, so its management and operation is all about data handling.Bitcoin bank who lost deposit by hacking closed immediatelySince the damage such as being caused also has occurred, the storage method of the key data is required strictness, "cold storage" which is stored offline without placing information on the net is effective It is. Meanwhile, a man who performed surgery to embed NFC chip storing Bitcoin's information in the palm of both hands to realize the ultimate cold storage appeared.

Man has NFC chips injected into his hands to store cold Bitcoin wallet | Ars Technica
http://arstechnica.com/business/2014/11/man-has-nfc-chips-injected-into-his-hands-to-store-cold-bitcoin-wallet/

It was the Dutch entrepreneur who did this treatment,Mr. BitcoinMartin Bismier, an ardent Bitcoin follower who will serve as CEO ofMartijn Wismeijer) A few men and women. Mr. Bitcoin is a company that establishes and manages Bitcoin's ATM in the Netherlands and Belgium.

You can see the state when the chip is actually embedded in hand in the following movie.

Subdermal NFC chip implants


The treatment was done in the basement of a certain building in the Netherlands.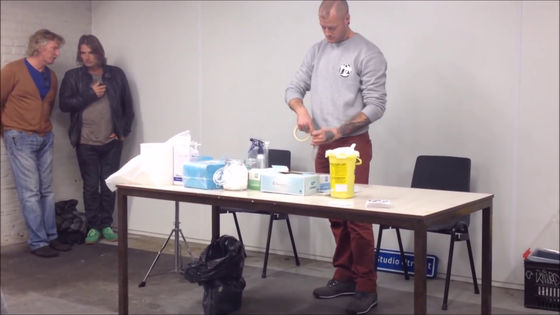 Equipment etc. are placed on the table, but it seems that it is not becoming a sanitary environment reminiscent from "bio-implantation".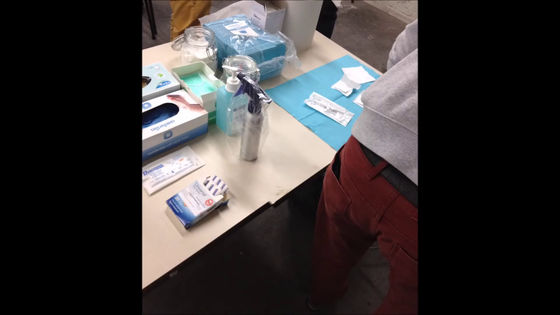 This man who is disinfected left hand is Mr. Bismere. Even a somewhat fun atmosphere is drifting.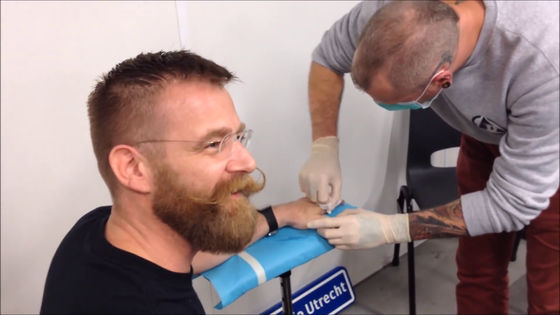 The syringe is inserted in the left hand ... ...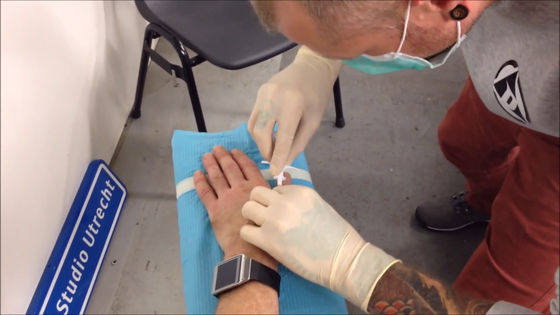 Insert the capsule with "powerful" as power.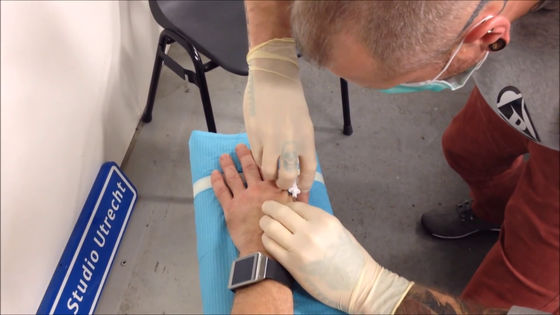 Due to the very small capsule, it is almost indistinguishable from the appearance.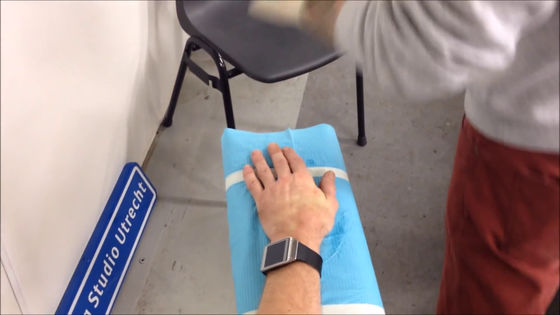 It seems that several people received the same treatment at this time.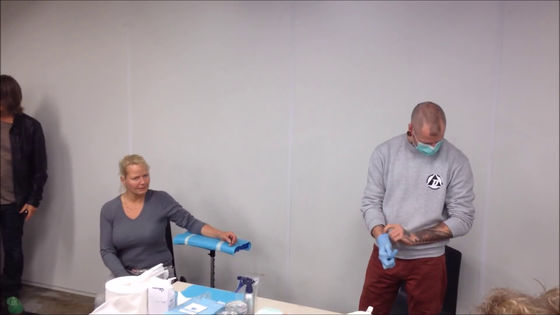 This woman has a bitter looking face.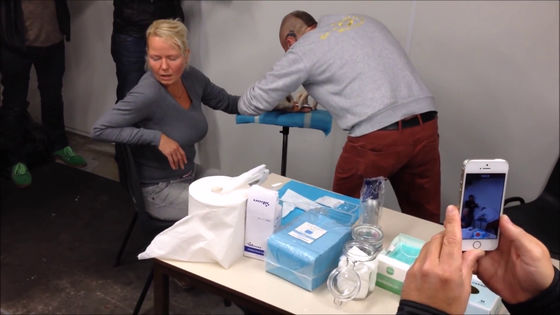 Even after that it seemed that someone who took treatment received appeared.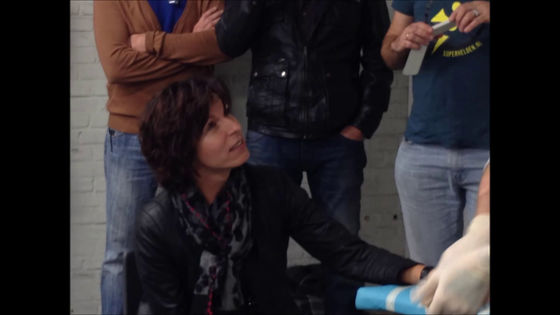 This chipset is also embedded in Mr. Bitcoin executives such as Mr. Bismerey and it is used to release the master key of Bitcoin funds operated by the company. When authentication is completed, the actual funds are sent from the smartphone.

Bismeyer's hands each have one NFC chip embedded, one side can store data such as address book and scan it with NFC-compatible smartphone etc. to send and receive data. And the chip embedded in the other hand stores the encrypted Bitcoin private key.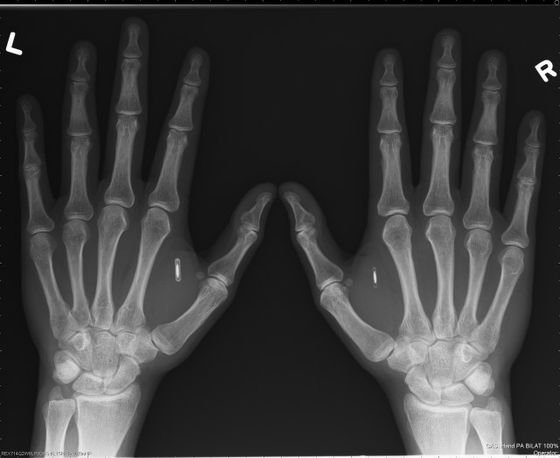 What is being used is NFC Type 2 compliantNTAG 216 RFID ChipsetIn a 2 x 12 mm biocompatible glass container "XNTiIt is a capsule called "a site on the net"Dangerous Things"Which is sold for 99 dollars (about 12,000 yen). The built-in chip can store 888 bytes of information, and it is possible to exchange information using NFC (Near Field Communication).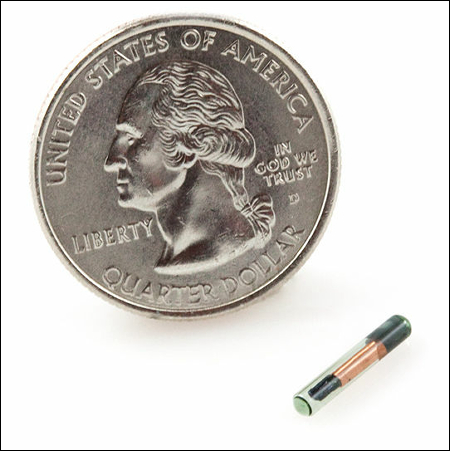 Capsules are sold with the dedicated insertion tool set. By injecting capsules with a diameter of 2 mm, the thickness of the needle is ridiculous ......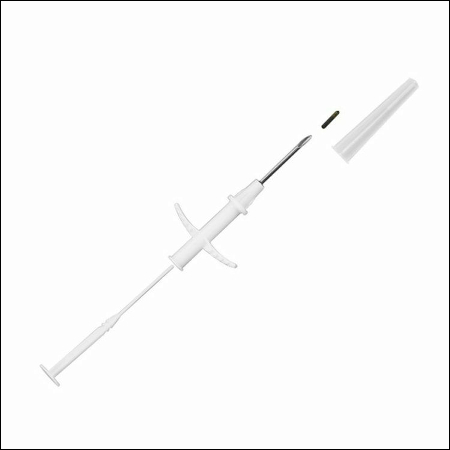 This operation is based on the pierce studio in Utrecht, The NetherlandsPiercing Studio UtrechtIt was carried out in. Mr. Bismeyer asked another doctor who opened in Amsterdam to do the operation, but because he was refused on the grounds that it was not a treatment, he asked Tom Bang, who operates the pierce studio. About embedding chips Bismere says, "I implemented the embedding to realize" cold storage ", but in fact it is not" cold "because it is in the body of 37 degrees!"

Mr. Bismeyer said that he plans to open the door just by refurbishing his home and holding his hand. It seems to be an interesting case not only for Bitcoin but also for considering future data handling methods.