Google and Facebook account for 80% of social logins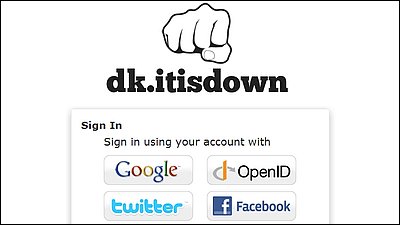 BySean MacEntee

The ability to log in to another website via existing social media or e-mail address without having to create an account from Ichi is adopted by many websites, and anyone who has an SNS account But once you have seen or used it. Accounts used for such social login are over 80% on Facebook and Google worldwide, a statistical portal site that is studying statistics from more than 18,000 sourcesStatistaIt is clarified by the chart of.

• Chart: Facebook and Google Dominate Social Logins | Statista
http://www.statista.com/chart/1525/facebook-and-google-dominate-social-sign-ins/

Social Login Trends Across the Web for Q3 2014 | Janrain
http://janrain.com/blog/social-login-trends-q3-2014/

The accounts available for social login vary from website to website, but as a result of aggregating the accounts used on websites around the world, Facebook accounts for 46% in the third quarter of 2014, 34% on Google I understood. Apart from Facebook and Google, 7% for Twitter, 4% for Yahoo!, 3% for LinkedIn, and 6% for others, and if you are a Facebook and Google account creator, You will be able to log in to 80% of websites around the world.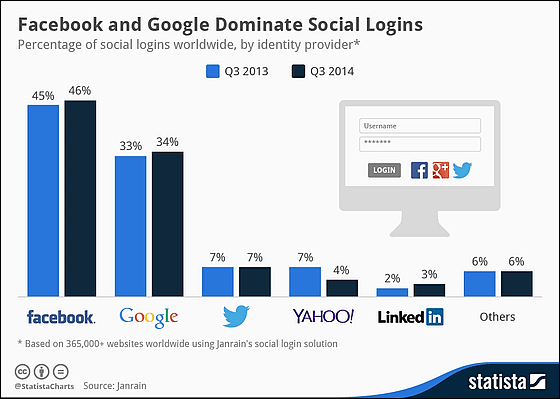 Provide social login functionJanrainAccording to that over 90% of Internet users have seen the social login function, more than half of them are actively using the social login function. Because most Internet users feel that it is troublesome for anyone to write information from scratch to the registration form for account creation, the number of websites that employ social login continues to rise, and social login The number of users is also increasing. As social login is concerned about privacy and security concerns because other websites can acquire the personal information registered in the linkage source account, website login will be integrated in Facebook or Google in the future Though it is.