I understand the mechanism of Apple's new payment system "Apple Pay" in summary & I actually tried using movies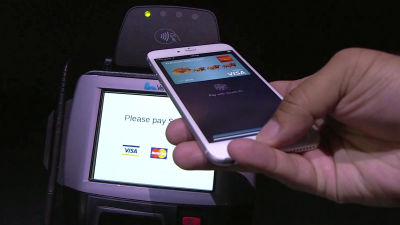 AppleJapan time New product launch meeting held on September 10, 2014soApple PayAnnounced the launch of a new settlement service called. It is a service that can be used with iPhone 6 and 6 Plus and Apple Watch which newly install NFC chip, but a movie containing the demonstration scene was released at once.

Apple - Apple Pay
http://www.apple.com/apple-pay/

◆ What is Apple Pay?

It is very easy to use, it is simple to select the credit card you want to use on the iPhone, perform fingerprint authentication, hold it over the payment terminal of the shop, or simply settle the payment on the net shop and payment is completed. On Apple's site, it is expressed as "Your wallet. Without the wallet." (Your wallet that you can use without carrying around).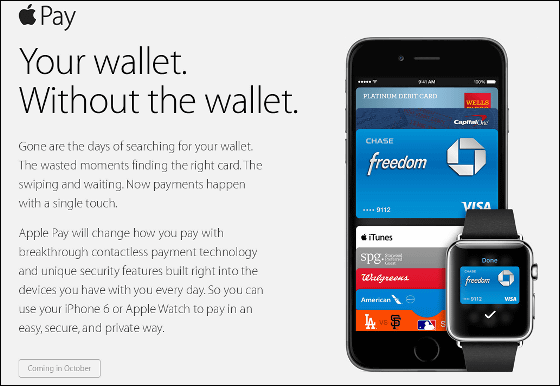 Just use the iPhone to the payment terminal and touch the fingerprint authentication button. From 2015 you can also use it with Apple Watch, in that case you will double-click the button on the right side of the main unit. Card information used for payment is stored in the iPhone, but only payment-specific dynamic security code (transaction-specific dynamic security code) and terminal account number only effective for the transaction are transmitted at settlement, It is a big feature that my credit number is never transmitted to shops.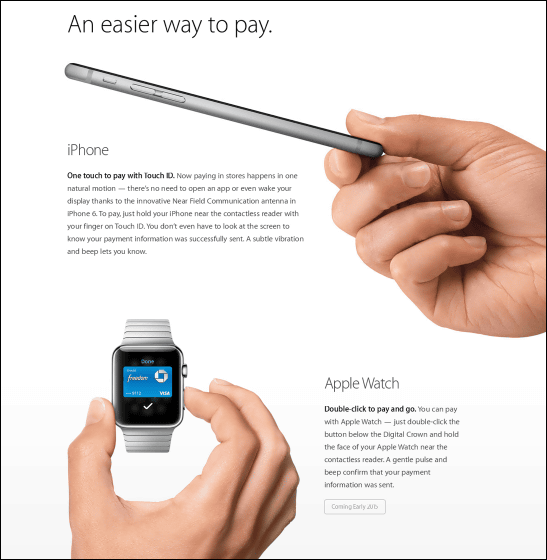 Credit card information will be saved in Passbook of iPhone application. Just register cards using iTunes or shoot cards with iSight camera on iPhone. It seems possible to register more than one card.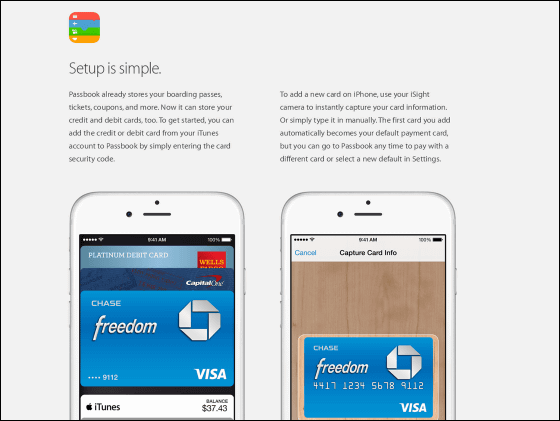 One of the features is that security is considered. Registered card information is dedicated "Secure Element"In addition to being encrypted and stored in the chip, as mentioned above, your credit card information is not conveyed to your opponent when paying. Also, when you lose it you can cancel using "Search for iPhone" OK. There is no need to deal with credit card companies and stop using cards. Also, Apple's card usage situation will not be kept.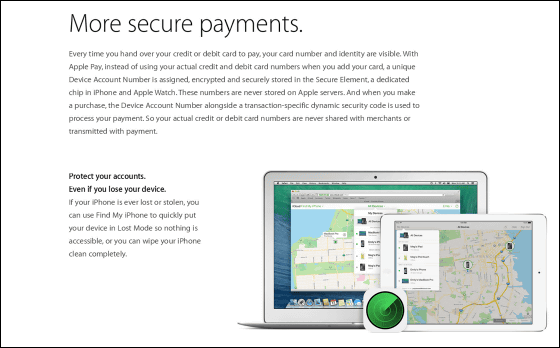 Apple Pay can be used with iPhone 6, iPhone 6 Plus, Apple Watch. Apple Watch is paired with a pair of iPhone 5 and later terminals, which means that you can only use payment at stores.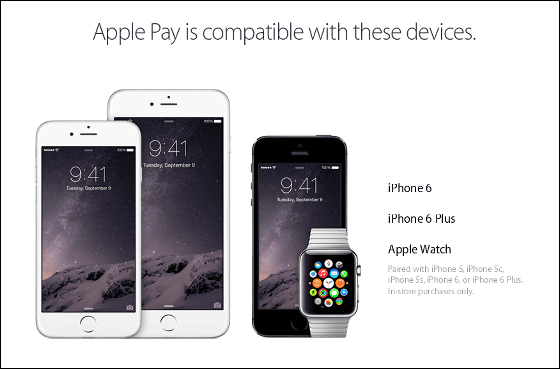 The following movie actually filmed the demo of Apple Pay.

Apple Pay hands-on


Touch the button of the terminal for payment.



Then, when placing your thumb or the like on the home button and holding it over the terminal while fingerprint authentication is carried out, the display of fingerprint authentication on the screen and the LED light on the terminal ... ...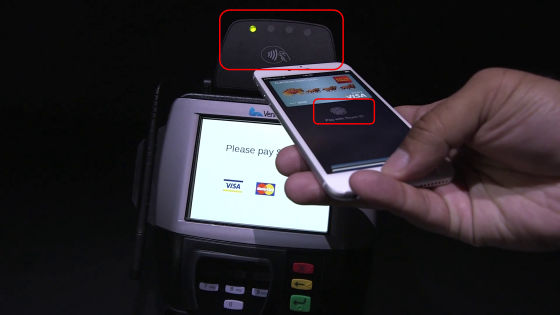 After a few seconds all the LEDs are lit and payment is completed.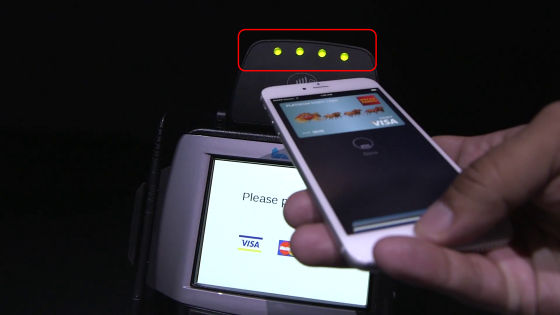 On the screen of the payment terminal you will see "Authorized, Thank you for using" and an email has been sent to iPhone to let you know that payment has been completed.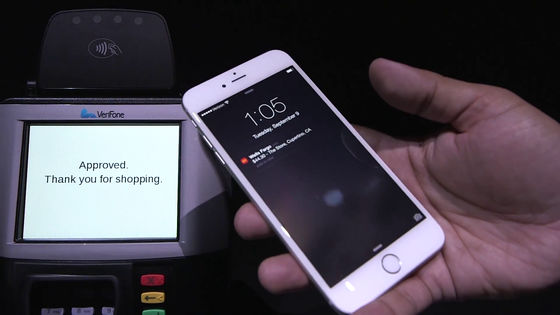 If you register multiple credit cards, it seems possible to use them according to the situation.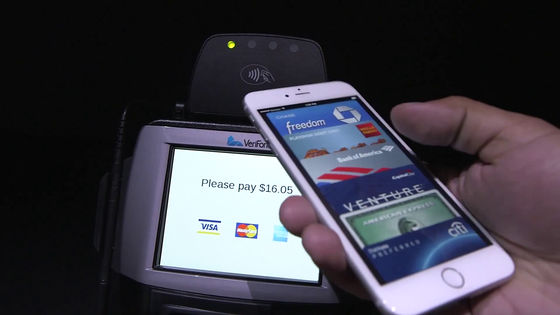 It is also possible to make settlement on an application compatible with Apple Pay. Online dispatch serviceUberFor example, it was necessary to input card information in the past, however, if it is an application compatible with Apple Pay, it was possible to complete payment with only fingerprint authentication.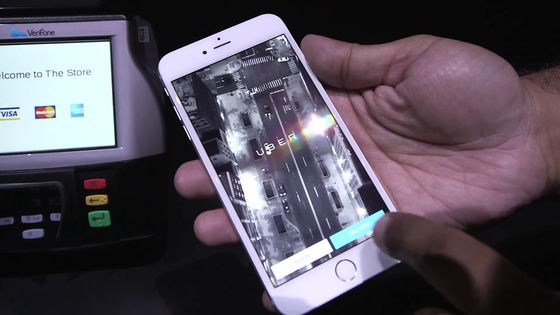 In addition, Apple PayStripeIt is designed with support of the settlement system developed by.

Stripe: Apple Pay
https://stripe.com/apple-pay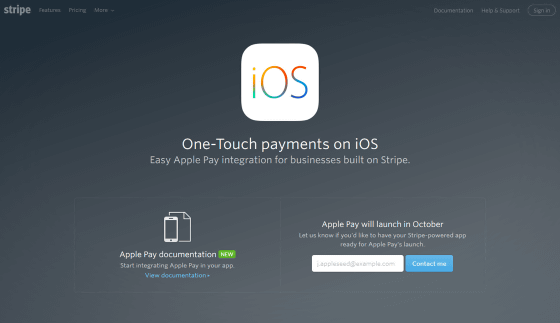 The services provided by Stripe can also be checked from the following articles.

"Stripe" which helps to maximize revenue by introducing payment system on website with easy steps - GIGAZINE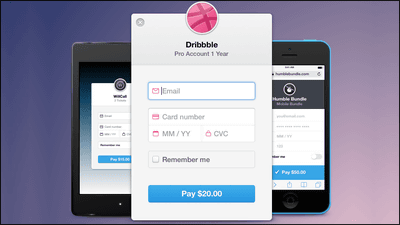 In addition, it seems that the information on settlement is "tokenized" instead of "encryption", which is one of the features.

Clover Developers Blog: How Apple Pay works and why it matters for developers
http://clover-developers.blogspot.jp/2014/09/apple-pay.html