I tried using Sony's eyeglass-type terminal "SmartEyeglass" that realizes the near future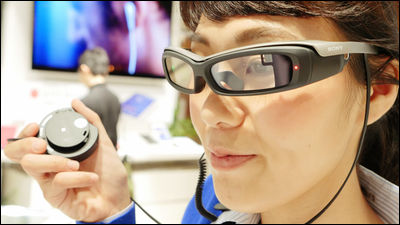 In Sony store Osaka it will take place from November 1 (Sat) to November 9 (Sun) in 201410th anniversary festival heldIt is being done,PS4 metal slime edition"And the first exhibition in Japan"Xperia BIKE concept model"And others are on display. "Fun life in the near future" is an event of the concept, but among them is a glasses type device that realizes AR (augmented reality) by superimposing information on the real worldSmartEyeglassSince I was releasing a sense of futuristicism, I tried what it is possible to do.

Sony store Osaka 10th anniversary festival happy life with Sony | Sony's official mail order site Sony store (Sony Store)
http://store.sony.jp/store/event/osaka-10th/index.html

Sony Japan | News release | Development of transparent eyeglass terminal "SmartEyeglass" - Software development kit (SDK) launched -
http://www.sony.co.jp/SonyInfo/News/Press/201409/14-090/

Arrived at the exhibition corner of "SmartEyeglass".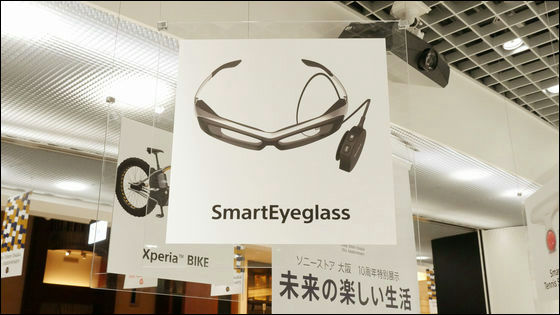 This is Sony's eyeglass device "SmartEyeglass".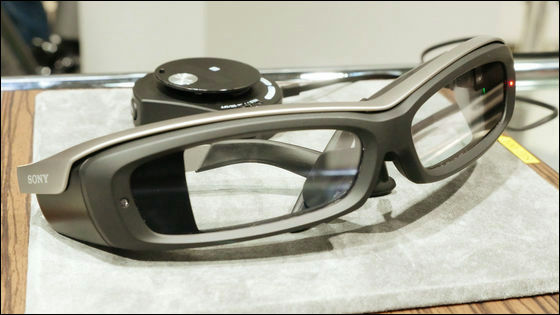 "SONY" is written on the side of the frame.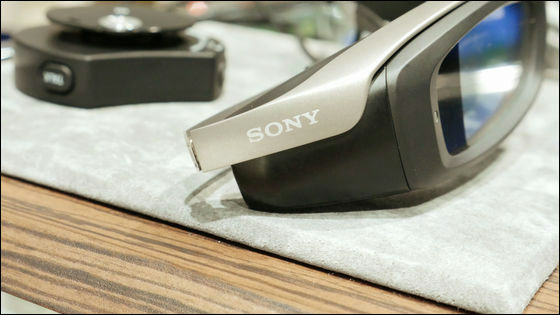 Viewed from the inside. Unlike GoogleGlass, since the main body is attached to both ends, it looks quite impressive and refreshing. CMOS image sensor, acceleration sensor, gyroscope, electronic compass, illuminance sensor are carried.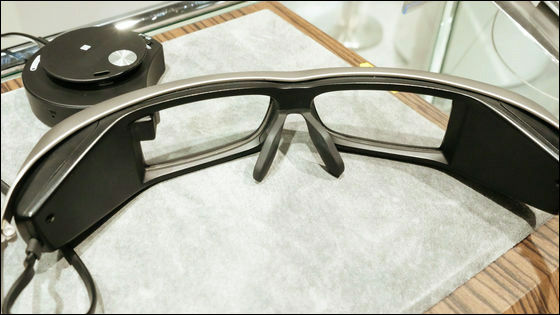 The camera lens is built in the left eye, and the red lamp lights up when the camera is activated. It is possible to shoot movies as well as movies.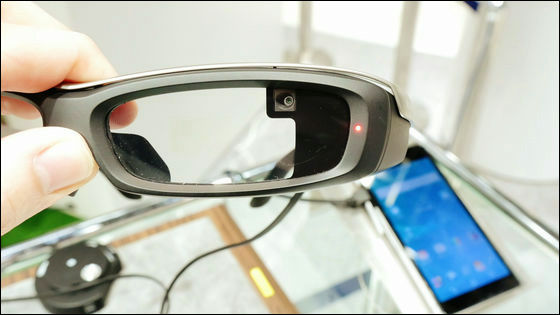 You can adjust the glasses' glasses with eyeglass driver.



Where I actually wore it. Texts, time, date, remaining battery power, etc. are displayed in green in the eyesight through the eyeglasses. Depending on the application, it is also possible to display one - segment picture quality movies.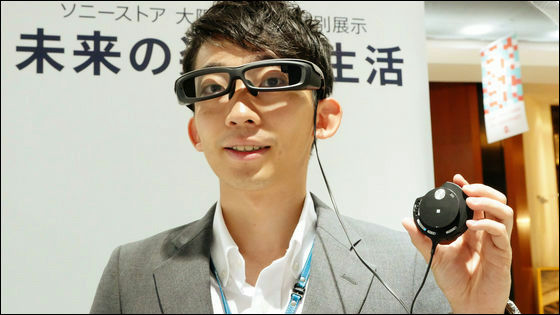 It is a bit hard to understand, but when you look over the camera it looks like this. By exactly the device that feels "the future", you can perform various functions such as "camera shooting", "tweet browse Twitter", "playing movie", and so on by switching the display screen.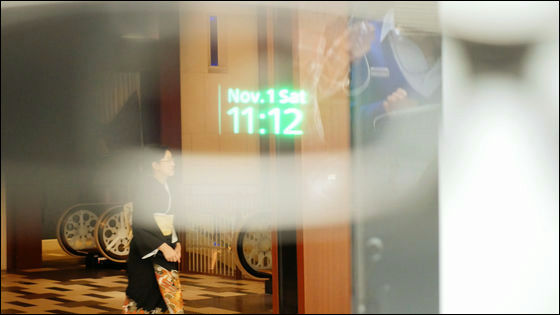 When shooting a picture, the frame of the shutter is displayed like this. GoogleGlass etc says that visibility through the display is slightly clouded, but with Sony's unique holographic optical technology, it does not use a half mirror that blocks the field of view, and it has a thickness of 3.0 mm with a high transparency of 85% Visibility is cleared because thin lenses are realized. About 30% of the information in the visible area was displayed in green text, but there was never that the front could not be seen.



Pictures taken are displayed on the smartphone immediately by NFC or Bluetooth communication. I shot with glasses on my face, so I felt pretty easy to shake, but the image quality was not problematic level.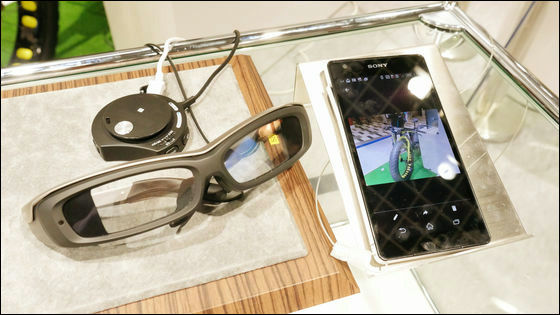 It is easy to understand what kind of function can be used by seeing the demonstration video below.

Sony's transparent eyeglass terminal "SmartEyeglass" displays its name by face recognition - YouTube


The state of the information on the current location is being displayed from the following movie.

Real time display of current location information with Sony's transparent glasses type terminal "SmartEyeglass" - YouTube


In addition, SmartEyeglass operation uses a wired connection controller.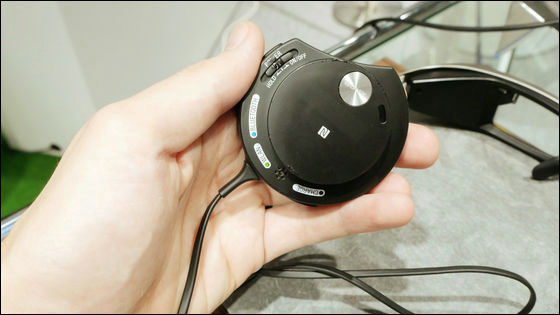 Sliding the dented part of the controller allows you to switch the information displayed on the display to "Top → Camera shooting", or to select left and right when options come out.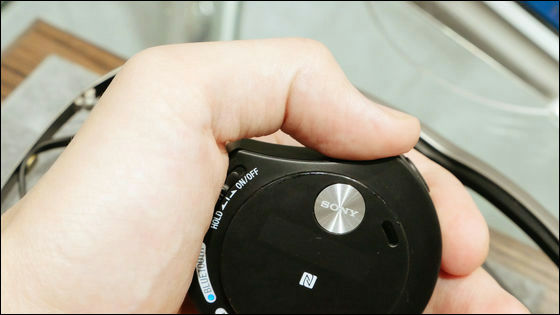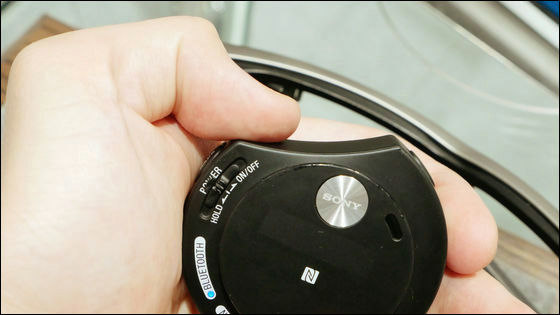 Tap around "middle" in "Decision". When it is put into practical use, it will be able to operate with voice recognition · left and right slide · tap.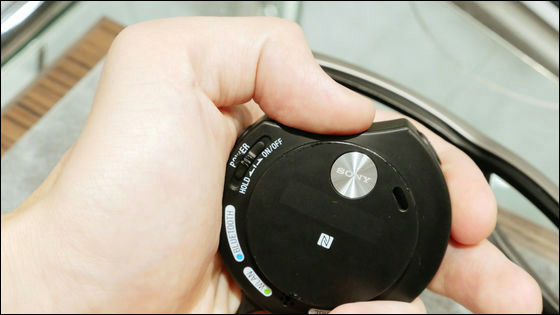 On the side there is a shooting button on the camera and a "BACK" button back to the previous page.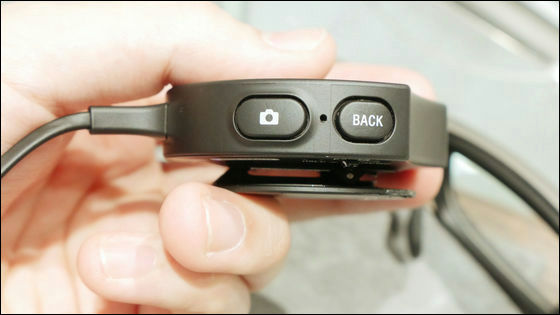 On the opposite side there is a "TALK" button and a microphone so that you can receive incoming calls when you activate the voice recognition function. In the future it is said that development is progressing so that controllers can be connected wirelessly rather than wired.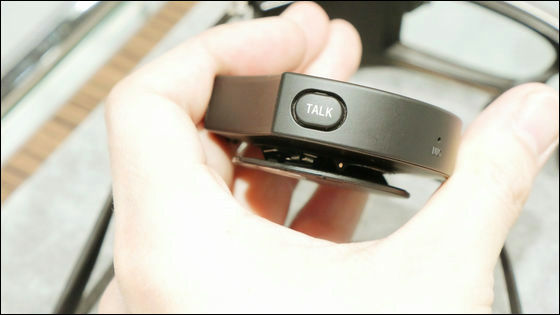 This is a Micro - USB port for charging.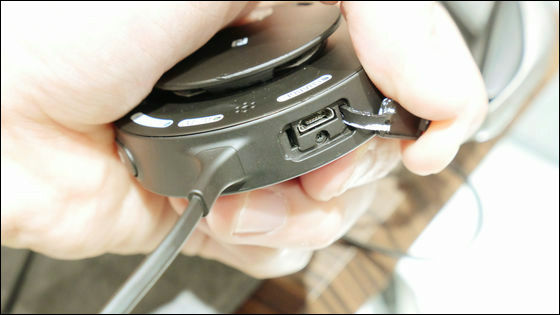 It is also possible to pinch it with a clip in a chest pocket etc.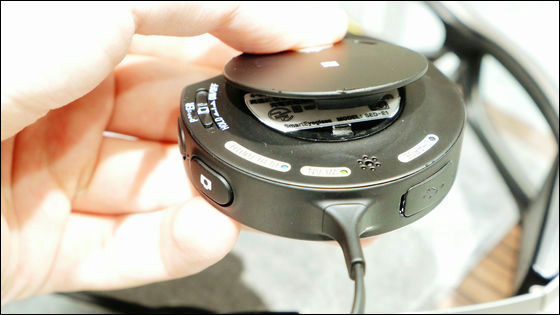 "SmartEyeglass" is a device at the development stage, and it is possible to do camera shooting and voice control with exhibits, but from the technical point of view, information on people who registered with face recognitionScouterIt is possible to display as shown in the figure or a three-dimensional guidance by AR from the present location.Provide SDK (Software Development Kit)Has already been started, and Cookpad and Zenrin have already developed the SmartEyeglass application. Even at the Osaka Marathon that was held the other day, it was said that an application that displays running time, ranking, traveling route, toilet congestion etc. in real time was experimentally used, making it a near future device that can not wait for commercialization.



SmartEyeglass can actually be tested on the face until Sunday, November 9th at Sony Store Osaka. The staff member will tell you how to use in detail, so please try it if you have a chance.