I tried overseas nomads in Malaysia, where the Japanese wish to live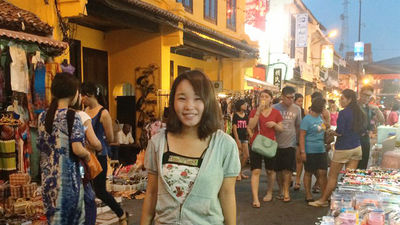 Nomad is a "way of working without a specific office" that has been established in recent years, but what kind of life will you live if you do Nomad in Malaysia? I actually tried it.

Hello!World newspaperA special reporterNanao Toyonagais. Since April of this year, I am traveling by changing the location (country) one month at a time while working with one computer.Hong Kong,Thailand · Chiang Mai,Laos,China · DaliIn Malaysia, Melaka was chosen as the Nomad staying country of the fifth country.

The reason for choosing Melaka is that when I visited Melaka on a trip three years ago, "I think it is a beautiful city and I want to live someday." In addition, it is LCC (Cheap Airlines) from China's Kunming who stayed in front of it, on foot on foot, on bicycle enough to enjoy itAir AsiaIt was also decisive that the flying was. By the way, MalaysiaForworld Realty Network siteAccording to the investigation of the foundation foundation Longstay Foundation, for the eight consecutive years (2006 - 2013) the Japanese are selected as the No. 1 country that the Japanese want to live.

The streets of Melaka. As it was designated as a UNESCO World Heritage Site in 2008, it is very attractive. Especially the atmosphere along the river is romantic.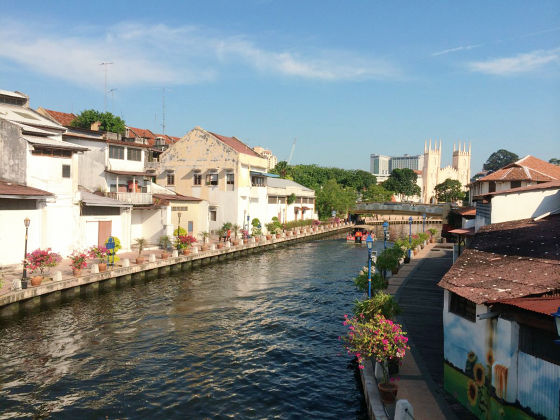 Attraction of Malaysia
What inspired me in Malaysia was that Malaysia was a "multi ethnic nation".

Article on Wikipedia's "Malaysia""Malaysia is a country with extremely complicated ethnic composition, it is a multi ethnic country.In a simple population ratio, Malays (about 65%), Chinese (about 24%), Indian (Signature overseas) (about 8%) in order "in that order.

For me who spent more than 20 years in Japan, it was interesting that Malays, Chinese, Indian people live in the same country as "Malaysian" respectively. There is living division even in town, if you enter one step China Town (Chinatown), signboard was full of Chinese inscription.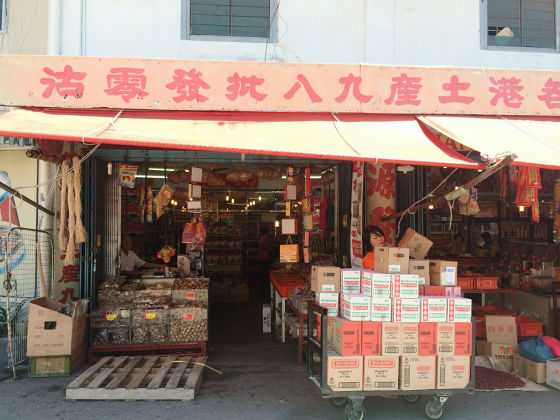 Many Indian clothes were sold in the Indian street called Little India.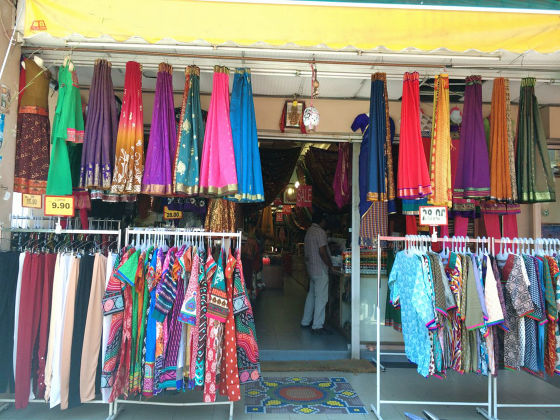 ◆ Food circumstances in Malaysia
In Malaysia, a multiethnic country, I enjoyed authentic tastes such as Chinese cuisine made by Chinese people, Indian cuisine made by Indian people. Nearly all of the Indian-style restaurants were also Indian, and sometimes I felt that "I am in India?" However, it was somewhat difficult for me to have many menu shops with Chinese notation in Chinese restaurant and Malay language only in Indian restaurant.

Indian food favorite is banana leaf curry. 4.5 Ringgit (about 150 yen)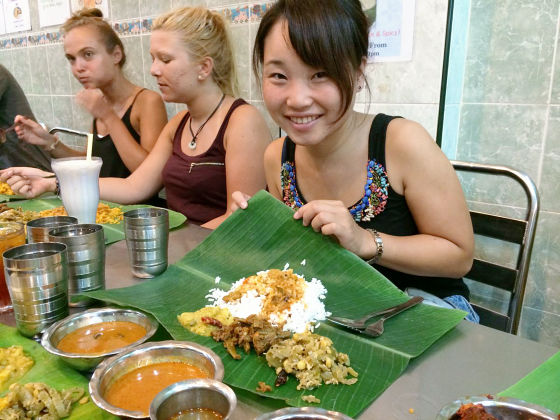 If you want to save, you ask for Roti · Chanai (baked with many layers of baked dough) and curry comes with it. One ringgit (about 30 yen).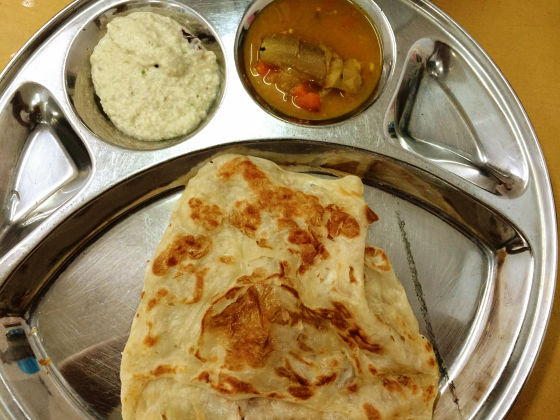 Speaking of Chinese food is drinking tea. One person 10 ringgits (about 300 yen).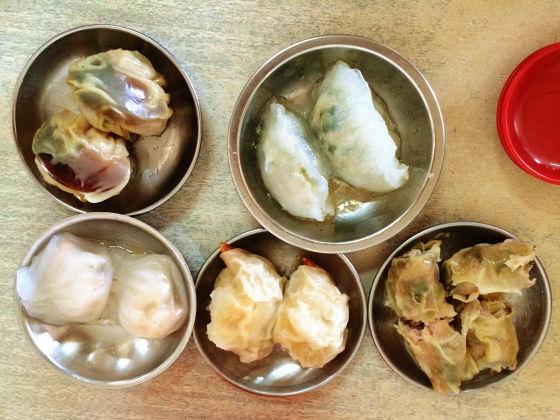 Laxa with plentiful standard coconut (noodles in coconut milk based spicy soup). 4.5 ringgit (about 150 yen).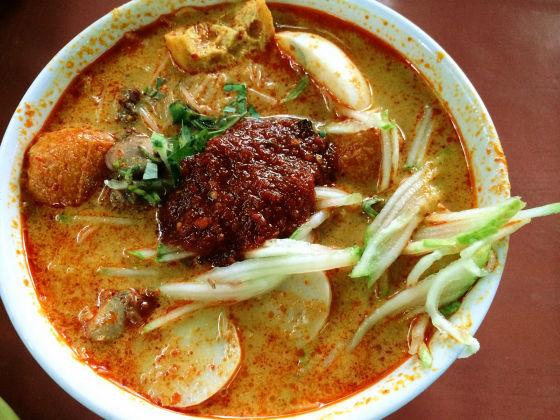 Local shaving ice candle also 2.5 ringgit (about 80 yen). The shop here often attended the Showa atmosphere and passed well.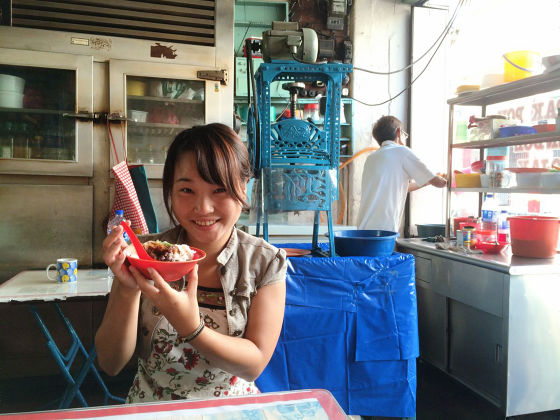 There were also stylish cafés for individual employees for work cafes, but as there were many shops that closed early, we often went to Pacific Coffee, Hong Kong chain store (opening hours: 10 o'clock ~ 0 o'clock).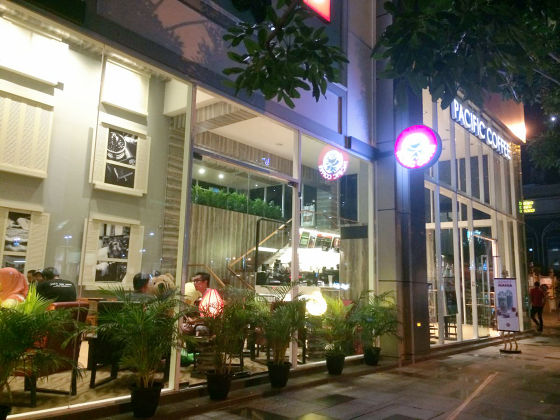 ◆ Dwellings in Malaysia
In Malaysia I stayed in a single room at the hostel for 1 month. Originally I reserved 15 ringgits (about 450 yen) per night in a dormitory, but when speaking to stay for one month I decided to stay with a monthly 300 ringgit (9000 yen) for a month. In the case of long-term stay, we feel that there are many accommodation destinations that will offer discounts, so we recommend that you negotiate in advance if you have decided on a long stay.

Single room. Although it is a necessary minimum, I have stayed in a dormitory until now so it was good that privacy could be secured.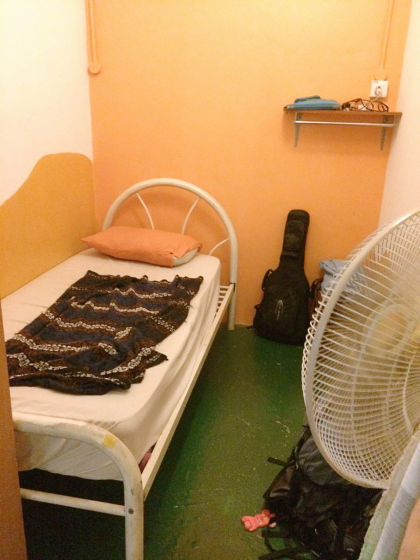 On the rooftop shared space was occasionally a drinking party space with hostel guests at night.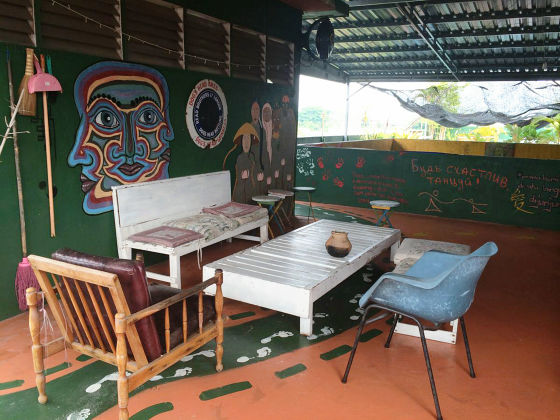 ◆ One day with Malaysian Nomade
7: Wake up. At this time Malaysia is still dim. I will wake up with a water shower.

8 o'clock: Breakfast at the hostel (3 toast free). I am glad that we can not avoid buying breakfast outside.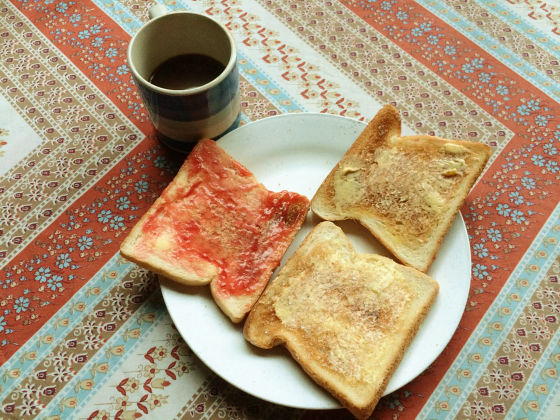 9 o'clock: Working in the hostel's shared space. Because it will get hot during the day, I will clean up the job as cool as possible.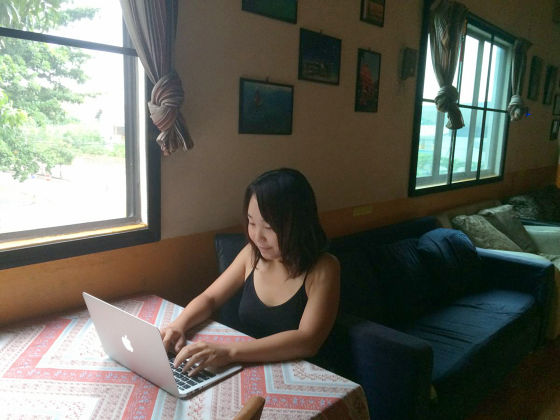 12 o'clock: lunchtime. I pick a favorite skewer at a food stand and eat it.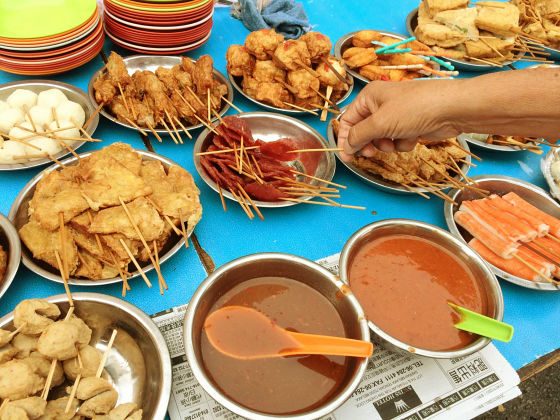 13: Go to the cafe and work.

19 o'clock: To the dinner at the hostel guest and bicycle.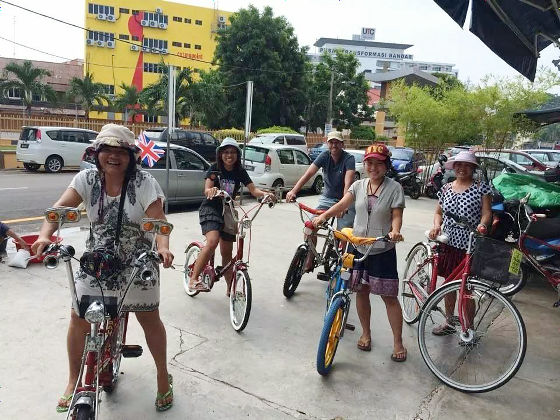 19:30: Midnight rice is Melaka specialty chicken rice ball. The photo is for two people. A chicken serving 1 servings and 4 ringgit (about 120 yen). It is characterized by rice being rounded in dumplings.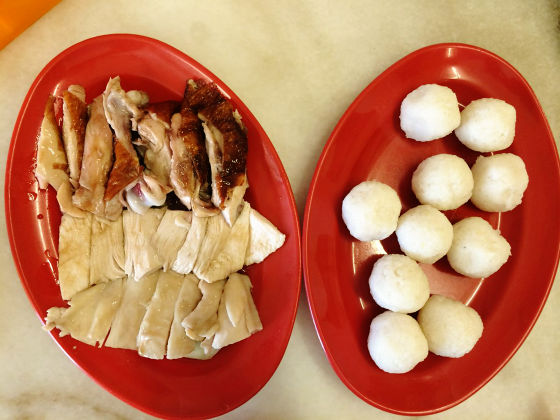 21 o'clock: Work at the hostel's shared space. When I got bored, I changed my mood by talking with guests in the hostel.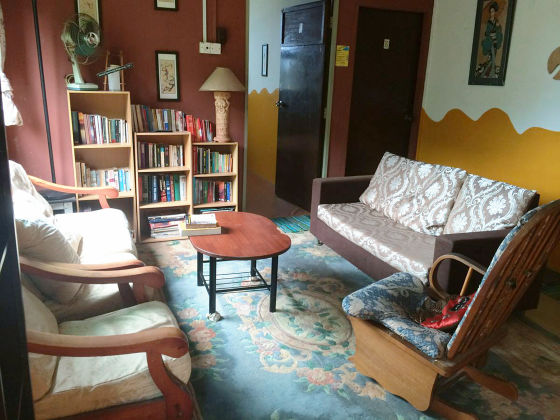 People who met in Malaysia
During my stay in Malaysia, I was able to make many foreigners at the hostel and a lot of Chinese Malaysian friends outside the hostel.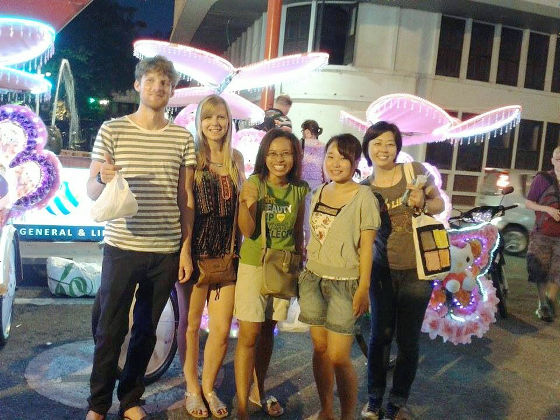 · Macao translator Nomad
I met a Macao translator at my hostel during my stay. While translating Portuguese and Chinese, I was living in a different country every few months from 2009. I already had a desire to settle in one country after five months of nomadic life, but she said that "Lifestyle continues to fit tired myself" It was deep emotion.

· Owners of Chinese Malaysian massage shops
Recently, Chinese Malaysian who opened a shop of massage equipment. People of Chinese people are surprised that they are strongly conscious that they want to become owners, no matter where they live. From Monday to Sunday it is said that you are in the shop everyday, but it was impressive to say that "It is not a pain because it was what I wanted to do from before".

· 20-year-old Japanese women living in Malaysia
After getting married with Chinese Malaysian men, I moved to Malaysia. I was at a loss what to live where I got a word saying "Wherever you live, the capital!" I felt again that the English words she used and Malaysian flow English were mixed and the influence from the place of residence was great.

◆ Malaysia Nomad Weekend Edition
In BBQ with Chinese Malaysians, I was surprised to use ingredients such as mantou (Chinese steamed bread) which I do not see in Japan. This is the night market to be held at the end of every weekend. There were many food stalls, and enka-style music was flowing and I remembered the summer festival in Japan.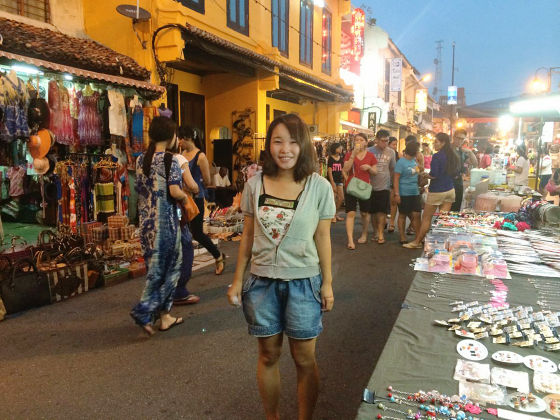 ◆ Nomad's life balance in Malaysia (1 month)
【Spending】
Private room in the hostel: 10 ringgits a night × 30 days = 300 ringgit (about 10,000 yen)
Meals, cafe fee: about 15 ringgits a day × 30 days = 450 ringgit (about 15,000 yen)
Transportation costs within Melaka: None
→ Bicycle free rental at the hostel + for almost walking movement

· Travel cost to Melaka
Country movement expenses (from Dali of China to Kuala Lumpur): 9697 yen
Bus from the airport to Melaka: 35 ringgit (about 1100 yen)
→ I used a high bus with a massage chair and it got higher, but there seem to be a cheaper bus as well.

Total: About 36,000 yen
(Overseas insurance subscribes to 100,000 yen annually)

【income】
Contribution article (5 media): tens of thousands of yen
→ I contribute to 5 media including GIGAZINE such as travel articles, Asian IT circumstances, articles about English learning etc.
Blog advertisement income: thousands of yen
→ Personal blog ·Overseas Nomad Girls ~ Nahoko's Way ~Adsense and Amazon affiliate advertisement revenue in (Japanese + English).
YouTube advertisement revenue: thousands of yen
→YouTube channelWe distribute Japanese, English and Chinese videos.
Mail magazine income: thousands of yen
→ Diary of everyday nomadic lifeAs a mail magazineIssuing.

It is achieving profitability. Currently the main source of income is a contribution article so I would like to focus on my own media such as blogs and YouTube.

Malaysia Nomad Conclusion
The nomadic life in Malaysia is rich in meals, and it was good to be able to eat at an affordable price. However, it is hot during the day, so it may not be suitable for those who are not good at hot. Kuala Lumpur of the capital is often attracted, but Melaka is definitely recommended to those who like towns that are a bit more complicated.

Also, in Malaysia there were many Chinese people, so I was often mistaken for being a Malaysian and talking to them. In other countries in Southeast Asia, there are many countries that apparently are tourists, so Malaysia seems good for those who do not like to stand out as they are walking down the street.

When going abroad it is best to study local languages, but if you live only a few months it is hard to raise your motivation to study local languages. In that respect, Malaysia is top class in both English and Asian, I think that Malaysia is one of the reasons for its popularity as a migrant destination. Also, Malaysia can stay up to 3 months without a visa, so I think that it is most suitable for people who would like to live abroad for several months. I was surprised that there was not entry of an entry card.

Next time, I will fly to Cambodia.

Statement · Interview: Nanao Toyonagahttp://jp.nahokotoyonaga.com

Supervision: World newspaperSekaishinbun.net