More than 900 authors sign a letter against Amazon tactics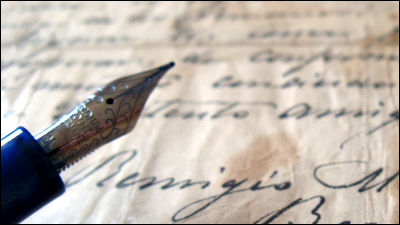 ByLuigi Crespo

Amazon online shopping site, "Fashion, home appliances to foods" advocates more than 50 million items as a proposal, also for books and e-books is also inherent. Therefore, there are a number of disputes between Amazon and publishers, but in the fight against American major publisher Hachette, more than 900 authors signed a letter against Amazon tactics It is supposed to be a situation to do.

Writers unite in campaign against 'thuggish' Amazon | Technology | The Guardian
http://www.theguardian.com/technology/2014/jul/25/writers-campaign-amazon-ebook-dispute-us-hachette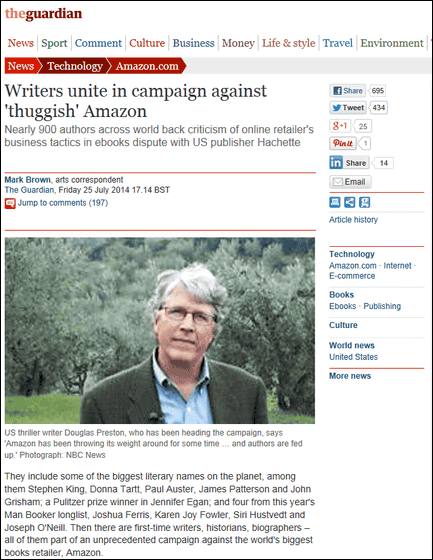 Amazon is the fourth largest publisher in the US market share · HachetteI took steps to prevent pre-ordering for new books in summer and autumnThe thing of May 22 th. The offensive against Amazon Hachette is not only this, we use hands such as reducing or eliminating the discount of books of Hachette handling, further delaying delivery.

It was the thriller writer who raised a voice saying "This is the behavior of thugs" against these methodsDouglas PrestonMr. Although I had a good relationship with Amazon for a long time, I feel uncomfortable when I feel betrayed. Mr. Preston agreed with many writers about letters expressing opposition to Amazon tactics,Stephen King,Donna Tart,Paul Auster, James Patterson,John GrishamThere are authors such as artists.

According to Mr. Preston, the fact that Amazon's company sells books is useful in itself, and although good results have come out, disputes unrelated to the author of books over the share of books and e-books It is a statement that it gets up, as opposed to the author's hurting as opposed to it.

In fact, from the point of view of the book author, readers can easily obtain books at Amazon by handling books at Amazon, which will go around the patrols to the author's interests. For that reason, although the writers and Amazon had built good relationships before becoming a global service, Amazon's attitude in recent years is invisible to think of the author of the book Mr. Preston says that he seemed to be treated as a "miscellaneous soldier".

Books Business related news site ·The BooksellerAccording to Mr. Philip Jones, Amazon's strong influence in circulation is great, for example, in the e-book market, it is no wonder that Amazon can not promote products because they are not handled and can not be promoted. This kind of controversy is not uncommon, but it is different from the conventional case that writers raised the opposite voice like this time, and that the view of "cold to the writer" spreads I am worried that it may not be a good idea for Amazon.

By the way, the conflict between Amazon and Hachette is considered to be in terms of terms of contract, and although it can not know the specific number from outside, it is said to raise Amazon's share of sales from 30% to 50% It is thought. From Amazon, writers are in the state of 'Human shield' of Hachette, so to capture there, 'If Hachette agrees, until Hell's settled, we can not afford Hachette's electrons sold on Amazon I'd like to give book sales 100% to the author ", but Hachette did not accept it.

With Amazon, as Amazon is arbitrarily discounted selling in Japan with a resale system51 publishers submit a request form for exclusion of their products. actuallyGreen wind publication, late composition shop, water company etc. suspend publication shipment to AmazonThere are movements such as doing.
in Note, Posted by logc_nt