The next acquisition is Google's "Twitch" live distribution site for games, the acquisition amount is over 100 billion yen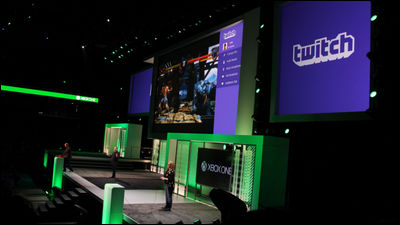 In May 2014YouTube agreed to acquire game specialty live distribution site "Twitch" with over 100 billion yenThere was rumor that it was circulated, but this acquisition play found that Google seems to be settled in the form of buying Twitch for 1 billion dollars (about 100 billion yen).

Google's $ 1B purchase of Twitch confirmed - joins YouTube for new video empire | GamesBeat | Games | by Dean Takahashi
http://venturebeat.com/2014/07/24/googles-1b-purchase-of-twitch-confirmed-joins-youtube-for-new-video-empire/



YouTube to Acquire Videogame - Streaming Service Twitch for $ 1 Billion: Sources | Variety
http://variety.com/2014/digital/news/youtube-to-acquire-videogame-streaming-service-twitch-for-1-billion-sources-1201185204/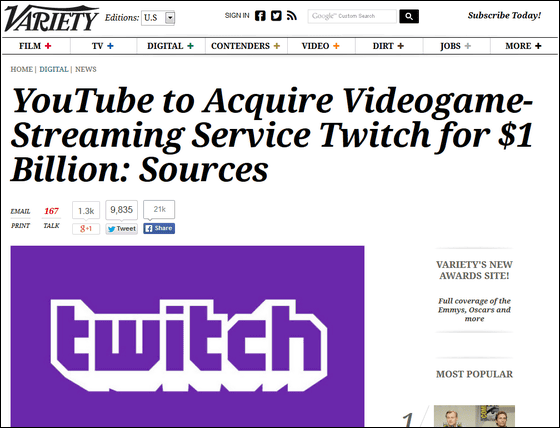 Unconfirmed report says Google has just bought Twitch for $ 1 billion | Ars Technica
http://arstechnica.com/gaming/2014/07/unconfirmed-report-says-google-has-just-bought-twitch-for-1b/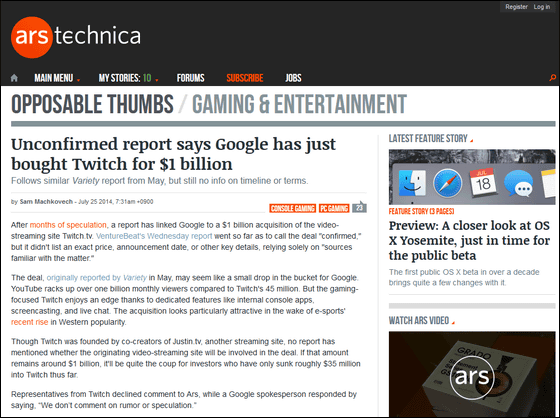 VentureBeatAccording to information from multiple sources, Google signed a contract to buy Twitch, a game specialty live distribution site, for $ 1 billion (about 100 billion yen). Although the timing of official announcement and detailed deal amount remain unknown at all, investors who had invested in Twitch have found that they gained more than a few times the original investment amount It is reported by VentureBeat.

We are in charge of the acquisition of Twitch with Google's YouTube division and there is no doubt that big changes will occur on YouTube if the acquisition is made. In addition, this purchase play shows the value of live streaming service, and it shows that live streaming service has a big business opportunity in games and sports related, VentureBeat.

Twitch currently has around 50 million active users each month and holds a platform that can perform live streaming using hardware such as PC, Xbox One, PlayStation 4, and the monthly streaming movie playing time is 13 billion minutes It is said that it accounts for 1.35% of Internet traffic, and it is. If you buy such Twitch by YouTube with 1 billion users a month, it is certain that live streaming will become more familiar to Internet users.

Both Google and Twitch comment on acquisitions.