What happened to the top 50 of startups that was noted in 2010?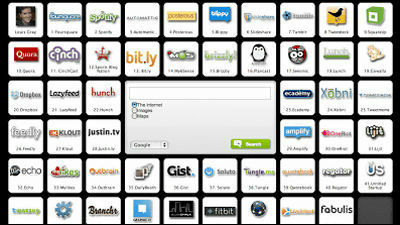 Due to the sharp decline in the cost of entrepreneurship, it is not difficult to set up a new company, and every year a tremendous number of companies are repeating their challenges with new ideas. The start-up which started business in recent years has been bought by a large company afterwards, it is scarcely scattered, various endings are coming up, and a service that can create your favorite desktop "SymbalooOn the blog "Top 50 of notable startups in 2010Louis Gray, who contributed an article called "Top 50", contributed to the top 50 publications.

Louisgray.com: 50 Top Startups from 2010: Acquired, Pivoted or Still Going?
http://blog.louisgray.com/2014/06/50-top-startups-from-2010-acquired.html

◆ 01:Foursquare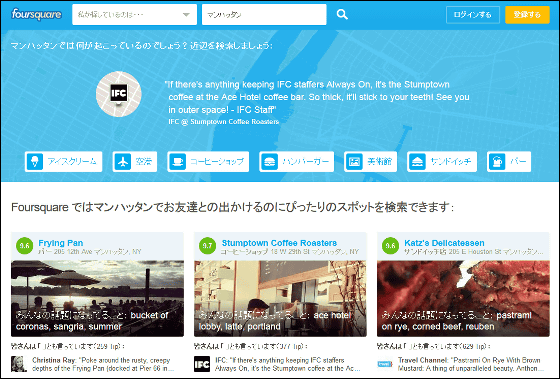 Foursquare, which was a SNS to share location information with friends in the vicinity, shifted the check-in and SNS functions to a new application named "Swarm", to provide users with recommended information and food and drink in the vicinity of the current location Renewal. According to Mr. Gray, there was no lively startup from the Foursquare in 2010, but after that it is not clearly indicating the direction of service to the user.

Foursquare, and Swarm's detailed service contents and how to use the application can be confirmed from the following article.

I actually tried using 'Foursquare' and 'Sharing location' on 'recommended place search' - GIGAZINE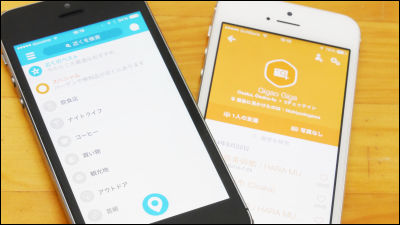 ◆ 02:Spotify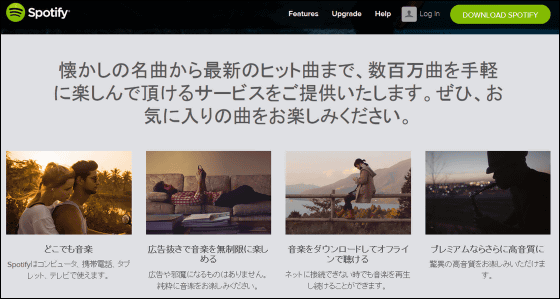 Although Spotify had not advanced to the United States in 2010, it has grown big after that, in 2014 the number of employees exceeded 1,000, it became a business to lead the music streaming market.Apple Acquires Beats MusicOr,Google acquired SongzaIt is noteworthy how Spotify behaves in the music streaming market where major companies have entered in 2014, such as doing.

You can see how Spotify influenced the music industry through music streaming by looking at the following article.

How does music streaming "Spotify" contribute to the music industry? - GIGAZINE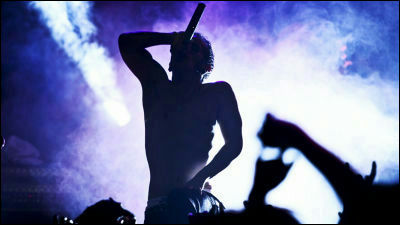 ◆ 03:Automattic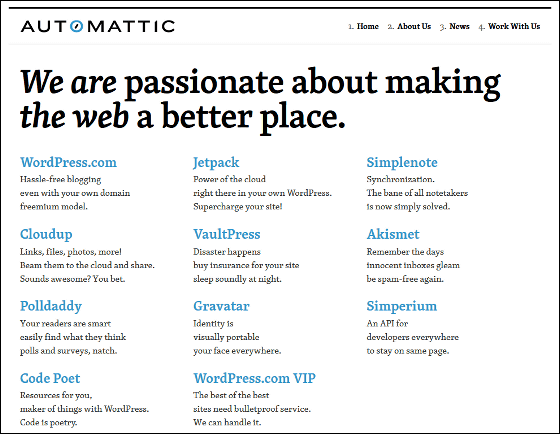 Open source blog softwareWordPressAutomattic has 250 employees,IntenseDebateWe have grown into such a company as to acquire such services as. Although I can not say that it is a big company, it is a company that is driving the industry such as creating blogs and full-featured sites.

Automattic's CEO Matt Marengwe visited Japan on June 7, 2014 and is doing keynote lecture, and the state at that time can be confirmed from the following article.

WordPress founder Matt Maren Wegg came to Japan to talk about WordPress and the Web's future - GIGAZINE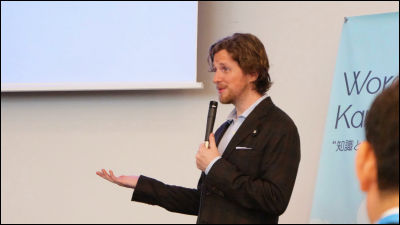 ◆ 04:Posterous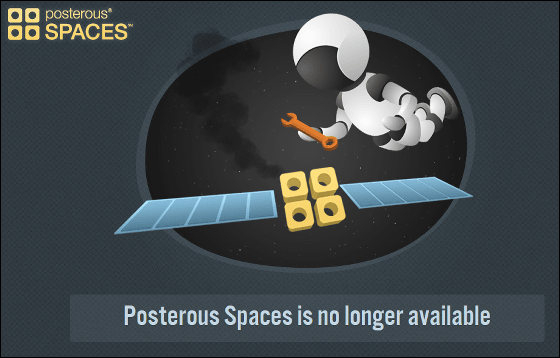 The blog service Posterous was acquired by Twitter in March 2012, and service ended in February 2013.

◆ 05:Blippy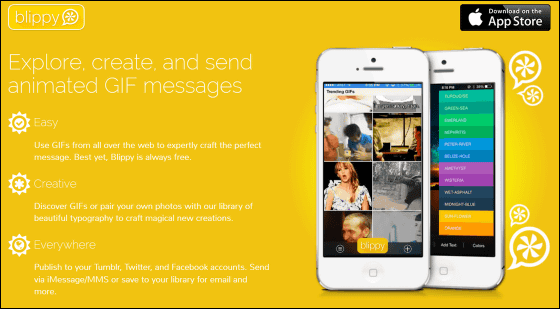 Although Blippy, a shopping history sharing service, initially touched a user's innovative service, after that, it is not spoiled, and in 2014 it has turned into a service to create and send animated GIF mails.

◆ 06:SlideShare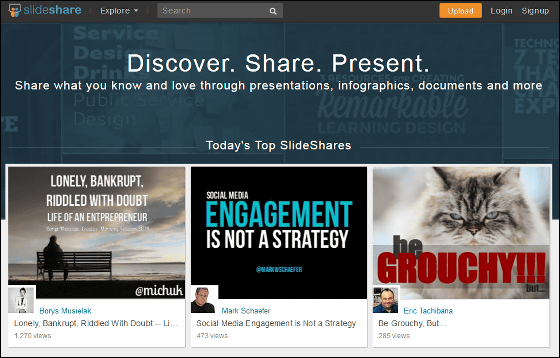 Slide Hosting Service 'SlideShare' is a business social networkingAcquired LinkedIn for $ 119 million (about 12 billion yen)As of 2014, it is integrated with LinkedIn 's service.

◆ 07:Tumblr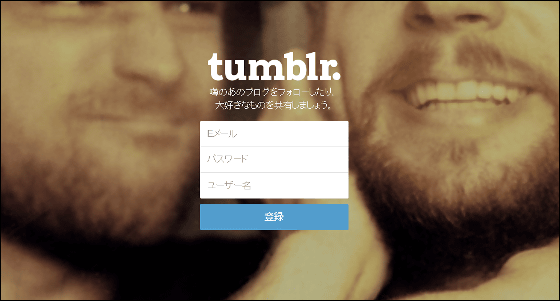 Tumblr, a photo sharing service boasting tremendous traffic,Yahoo! at $ 1.1 billion (about 110 billion yen) in 2013 Acquired byIt was done. The purchase price of $ 1.1 billion is Yahoo! It is the highest amount ever among acquisitions made by Mr. Marissa Mayer, CEO.

◆ 08:TweetDeck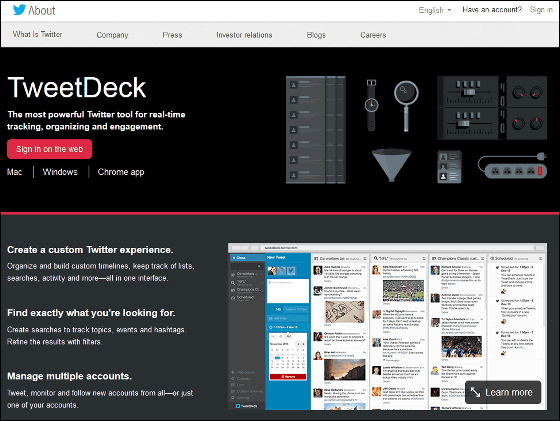 TweetDeck, which enabled multi-post and filtering display of multiple SNS such as Twitter and Facebook, was acquired by Twitter in 2011 and it is now one of Twitter's official client applications as of 2014.

◆ 09:Square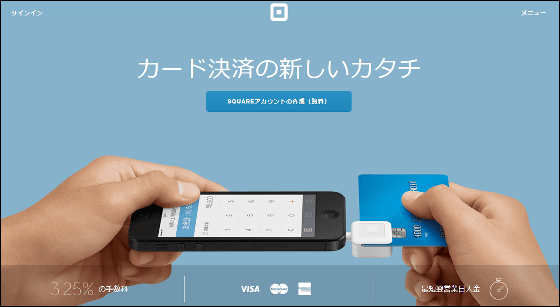 Twitter's founder Jacques Dorsey began and Square, which sells credit card readers that can be settled on smartphones and tablets, has grown tremendously,Advance to JapanIt fulfilled.

You can check how you actually use the credit card reader Square from the following article.

I tried to actually use "Square leader" which can make iPhone, iPad etc. substitute for credit card payment check - GIGAZINE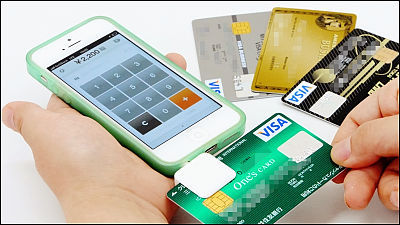 ◆ 10:Quora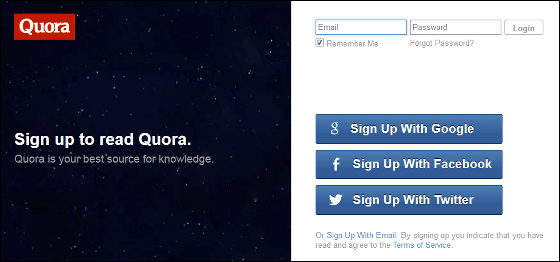 Quora, a Q & A site that creates, edits and operates in the real user community, was launched by former Facebook executives and gathered the attention of Silicon Valley in 2010, and it is temporarily the next Wikipedia and Yahoo! It was told that it would be a wisdom bag. But according to Gray, as of 2014, he expressed his participationY CombinatorIt fell down to the fifth gear of.

◆ 11:Cinchcast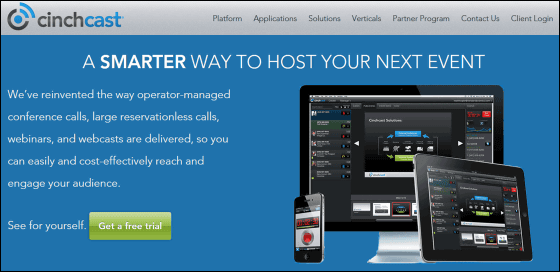 It was a Cinchcast that started as an audio creation service, but after that it changed the route, and as of 2014 it is a service that provides cloud-based conference calls and webinars.

◆ 12:Sports Blog Nation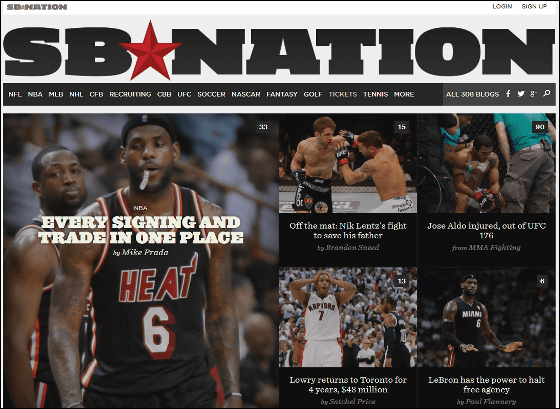 Founded in 2003, Sports Blog Nation founded Vox Media as the mother of the year in 2011. In addition to Sports Blog Nation, Vox MediaThe Verge,PolygonWe have grown into a giant media with six web services in total.

◆ 13:Bitly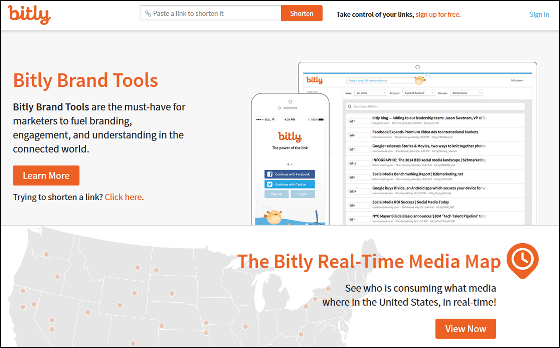 After Twitter started using the t.co domain as part of the service, Bitly improved the evaluation as shortened URL service, but the value as an analysis service dramatically dropped. As of 2014, he is focusing on tracking performance and outsourcing.

◆ 14:My6sense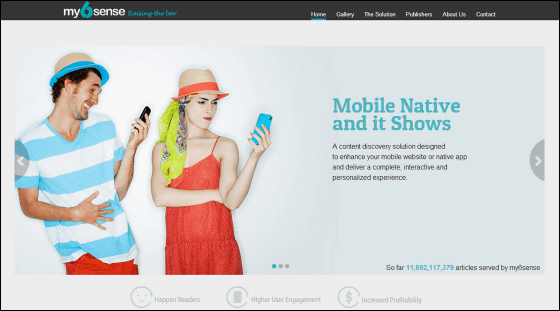 Mr. Gray was engaged in consulting work for my6sense's new service development, but the project did not succeed because the budget was small. My6sense publishes an application that rearranges the list of Twitter timelines and RSS feeds in the order the user wants to see, but now we are focusing on mobile advertising.

◆ 15:Thing Labs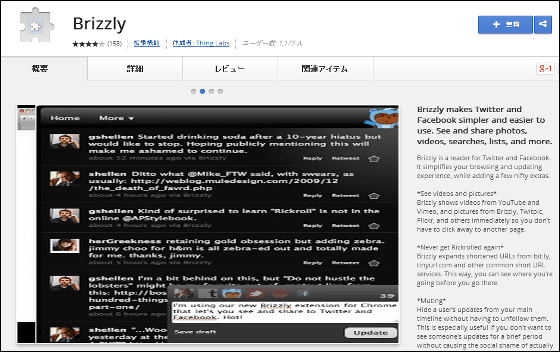 Thing Labs, which published Brizzly, a web application for accessing Twitter and Facebook, was acquired by AOL in September 2010. Shortly after the acquisition Brizzly ceased the service and former employees of Thing Labs, which had been incorporated in AOL, traveled to other services such as Dropbox and Avocado.

◆ 16:Plancast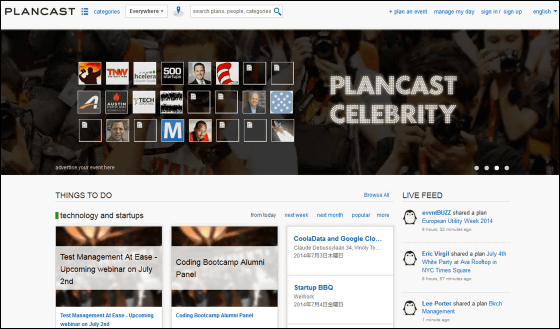 Plancast, a service that summarizes various events announced on-line and allows users to search and create event plans, continues to operate without getting great popularity.

◆ 17:Seesmic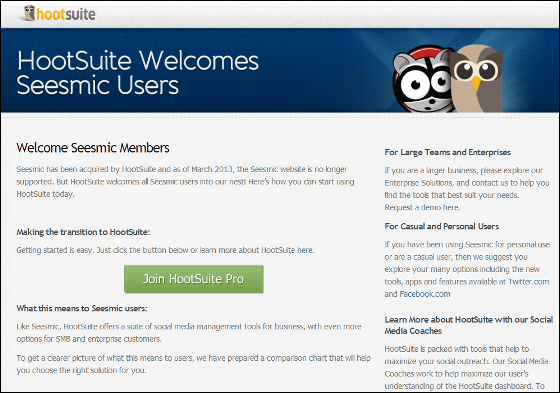 Seesmic, which can manage SNS such as Twitter and Facebook at the same time, was showing strong momentum, including the number of registered users exceeding 1 million in March 2010, but in September 2012, competitors'HootSuiteThe official website has a message and a link to recommend migration of accounts to HootSuite has been released.

◆ 18:Lunch.com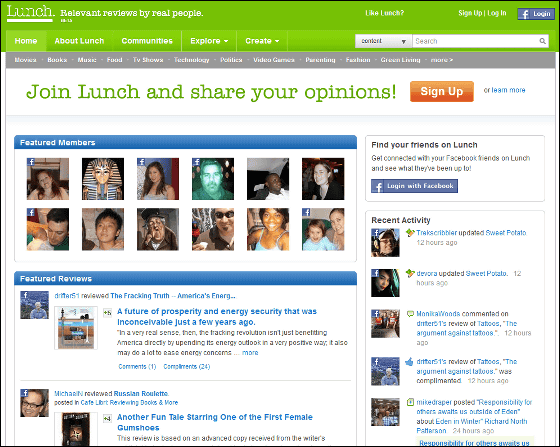 Lunch.com, which can post reviews and opinions on various topics such as movies, books, TV shows, politics, has never said that the number of registered users has dramatically increased, while core users exist and service provision It is continued. Gray says, "I think that it will not cost a huge cost to run Lunch.com, but I will never acquire users explosively in the future".

◆ 19: Gowalla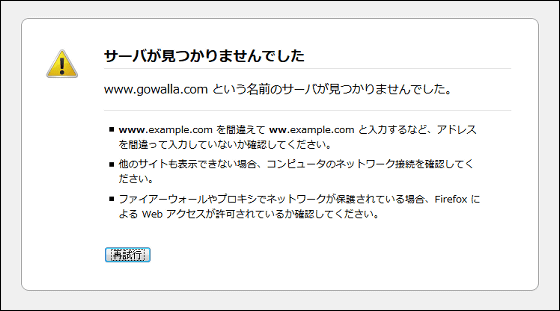 It was Gowalla who was sprinkling with Foursquare as the location information SNS, but the development team has been bought by Facebook and the service is over.

◆ 20:Dropbox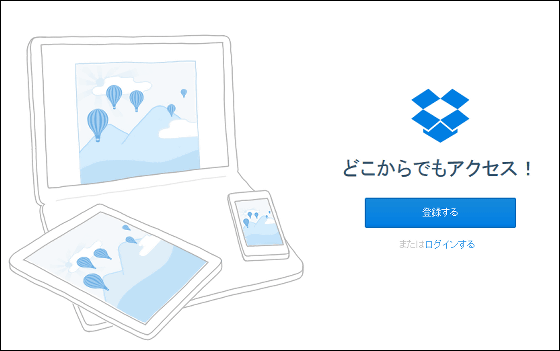 Online storage service Dropbox has grown greatly, and in the cloud market it boasts high popularity as a service comparable to just a few big companies like Google, Microsoft, Apple.

◆ 21:LazyFeed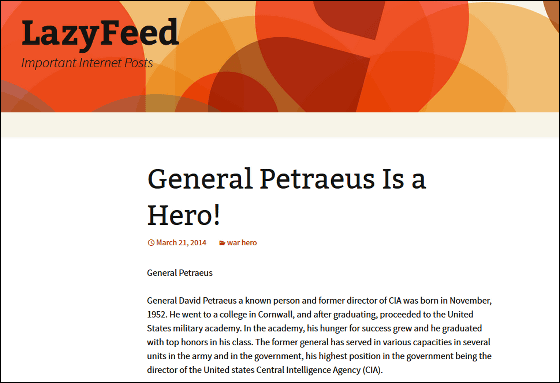 LazyFeed never gained support from users. Although the site itself exists, there are only 4 articles posted, and it can be said that it is said that it is closed.

◆ 22: Hunch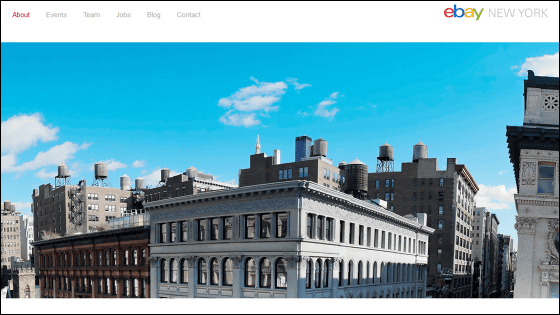 Hunch analyzing user's preferences and recommending products was bought by eBay in November 2011 and its technology was integrated into eBay's search function.

◆ 23: Ecademy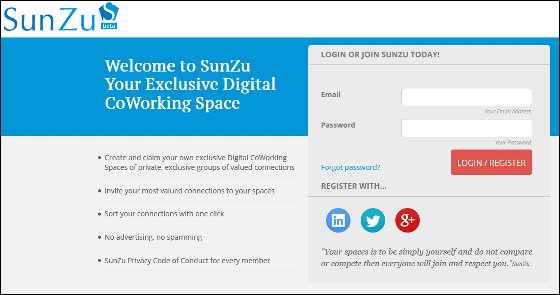 SNS Ecademy in February 2012SunZuIt was acquired by.

◆ 24:Xobni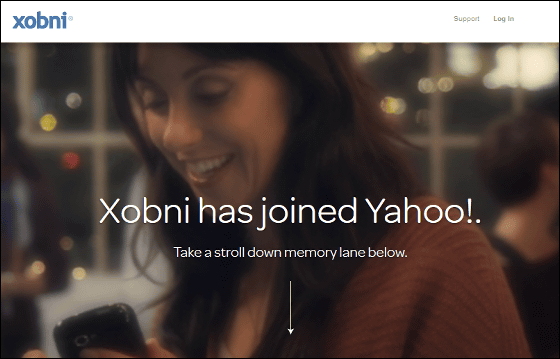 Although it was rumored that Xobni providing the address book application and plug-in would be under umbrella of Microsoft, Yahoo! Acquired in 2013.

◆ 25:Tweetmeme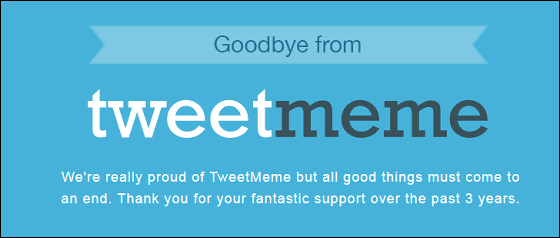 Tweetmeme which categorizes and ranks Twitter's popular news, images, movies etc. by category ends in 2012. As of 2014, a message to thank the official website is displayed.

◆ 26:Feedly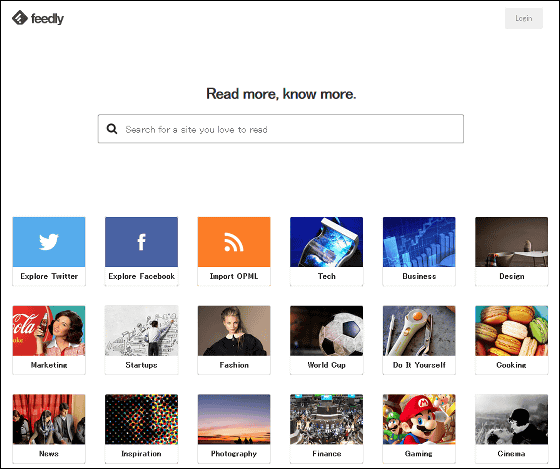 At the same time as the Google Reader service terminates, it is feedly that gained popularity at a stroke. Although no method of monetization, future plans, etc. are released, the operation seems to be very good.

To thoroughly learn how to use feedly, the following article is useful.

The RSS reader 'feedly' that can collect the latest information very efficiently and collaborate freely with various applications and so on is used like this review - GIGAZINE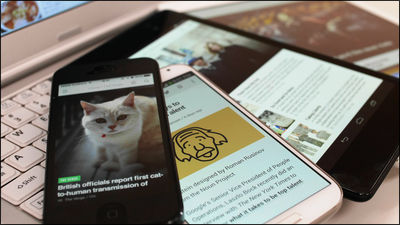 ◆ 27:Klout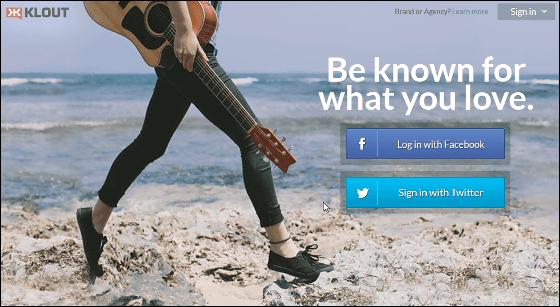 Klout, which quantifies the influence of users on SNS, was acquired by Lithium Technologies in March 2014 for $ 200 million (about 20 billion yen).

◆ 28:Justin.tv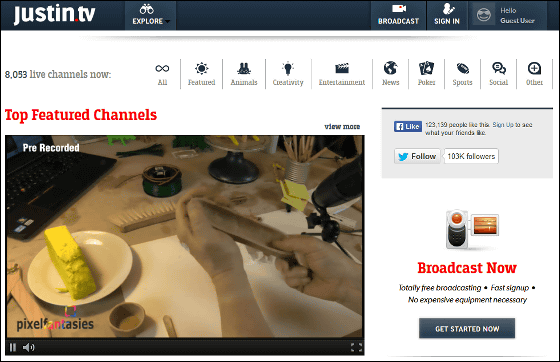 Justin.tv live streaming service, most of the developer teamTwitch.tvAlthough it is working on the service, although the service has survived, "I will not save the movie archives after June 14, 2014"Announcement released on official websiteThen, it shocked the user. In contrast Twitch.tv has grown into a huge game streaming platform. How you can see Twitch.tv progressing to the huge media industry in a few years can be confirmed from the following article.

How did "Twitch" become a huge game live platform in a few years - GIGAZINE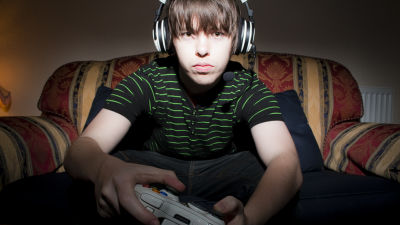 ◆ 29: Amplify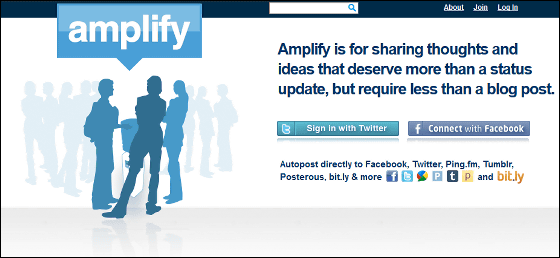 Amplify was a SNS sharing posts such as "It has more content than the status of Tweets and Facebook, but I can not go to blogs", but in 2012 the service ended.

◆ 30: OneRiot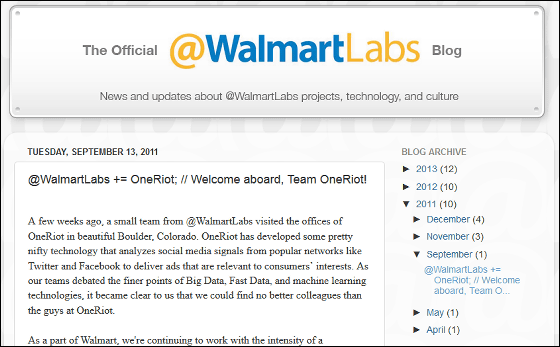 OneRiot, which was developing the mobile targeting advertising business, was acquired by Wal-Mart in the world's largest supermarket chain in September 2011.

◆ 31: Lijit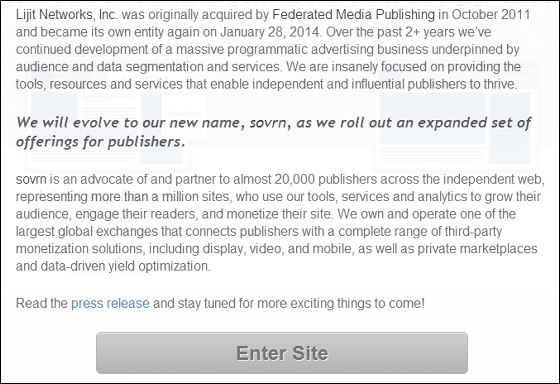 It was Lijit who operated the ad network, but it was acquired by Federated Media in October 2011, and as of 2014SovrnThe name has been changed.

◆ 32:Echo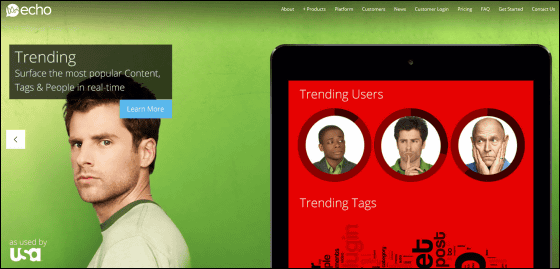 Echo, who had provided a real-time comment engine, shifted to a company that sells products that enhance users' engagement rates, such as comment fields and news feeds.

◆ 33:MyLikes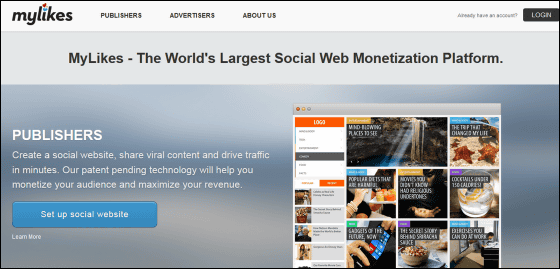 Although social marketing service MyLikes succeeded in financing as much as 6 million dollars (about 610 million yen) in 2010, it has not gained much attention after that, and the operation of the service continues as of 2014 I will.

◆ 34:Outbrain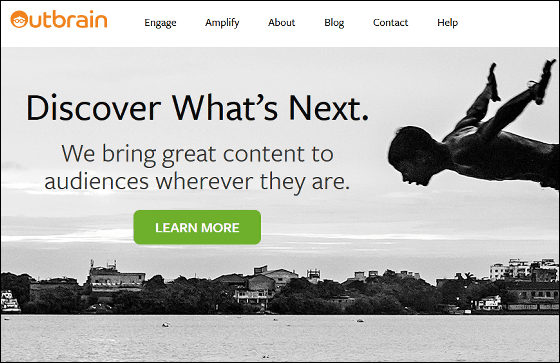 Outbrain, which provides services to display articles from other media in articles related to media articles, succeeded in raising a lot of funds and said that it is keeping good as it is still in 2014.

◆ 35: DailyBooth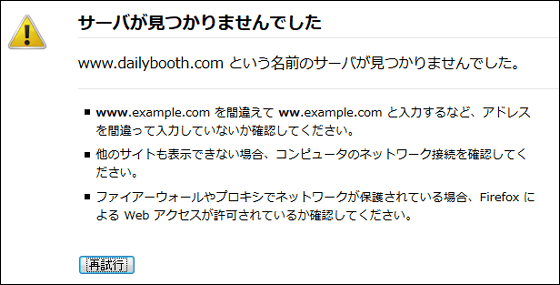 DailyBooth of image sharing service, room rental service in the summer of 21012AirbnbIt was bought by, and shortly the service ended.

◆ 36: Gist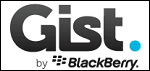 Unified management of communication Gist was bought by Research in Motion (now Blackberry) in 2011, the official website was closed.

◆ 37:Soluto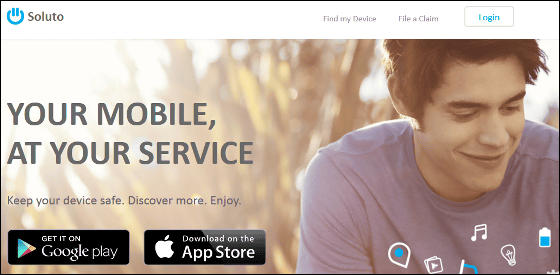 It was Soluto who sold software that analyzes the startup process of the PC using the cloud, but the mobile warranty serviceAsurionIt was bought by October 2013 at $ 100 million (about 10 billion yen).

◆ 38: Tungle.me




Tungle.me of the social calendar application is acquired by RIM in April 2011 as well as Gist mentioned above, and official website is closed in September 2012.

◆ 39: Qwotebook




The Qwotebook Gray's friends started as a service, the service ended without getting popular.

◆ 40:Regator



Regator, which not only gathers popular blogs but also provides search engines, continues to service as of 2014 without major change.

◆ 41:Untitled Startup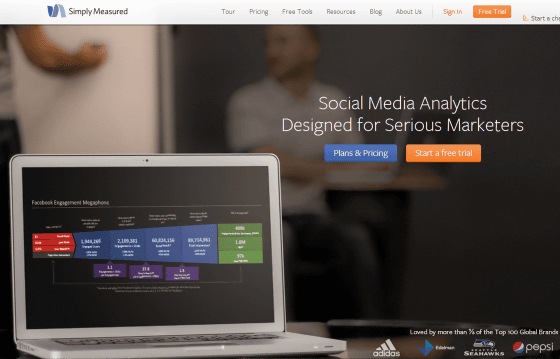 Untitled Startup nameSimply Measured, But it has succeeded as a company that provides social media analysis services, and in 2014 the number of employees has increased to 159 people. According to Simply Measured, about half of the world's top brands use Simply Measured.

♦ 42:Twazzup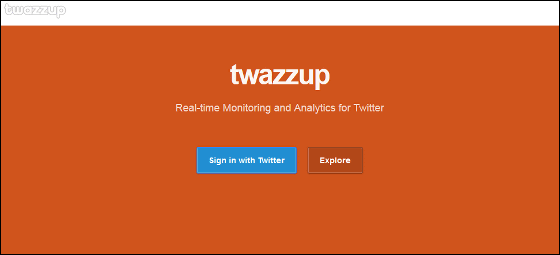 Twazzup was fighting in the market where many startups entered, real-time monitoring and analysis service for Twitter. Founder Cyril Moutran announced in 2011 that "his role in twazzup has ended" and twazzup is also in a state of almost not being in operation although services are continuing. As of 2014 Mr. Moutran has moved the place of work for feedly.

◆ 43:Cadmus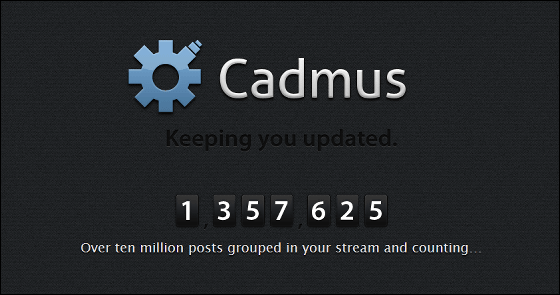 Cadmus, which can manage unified management of Twitter and RSS, the official site has survived, but maintenance has not been done at all and it is almost stopped.

◆ 44: Branchr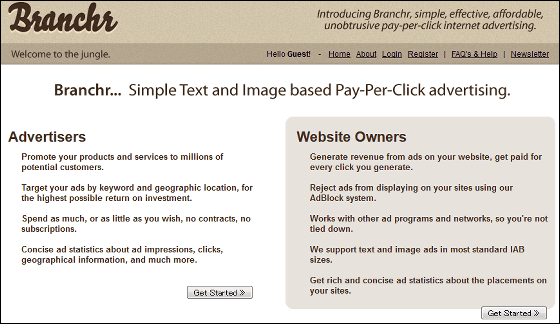 Branchr was offering web advertisement where payment occurs every one click. As of 2014 the official website has been closed and its activities are suspended.

◆ 45:Graphicly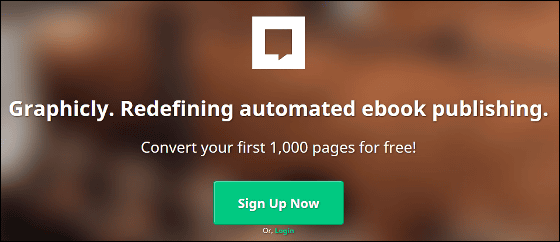 Graphicly of e-book publishing service, in May 2014,BLURB, And the operations were consolidated.

◆ 46: BlockChalk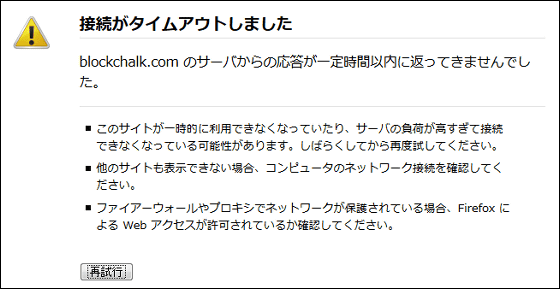 Twitter-based bulletin board service BlockChalk has been officially bought by Klout in February 2012 after changing official name to BlockBoard, and there is no official website now.

◆ 47:Fitbit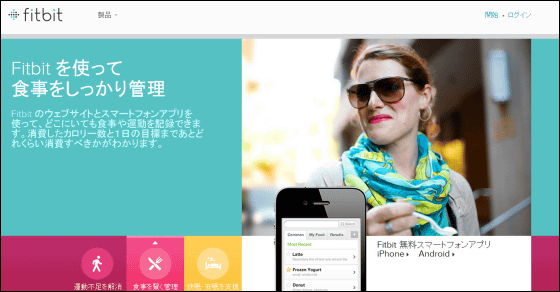 Develop and sell wearable terminals Fitbit. From Softbank, you can measure 4 steps of walking distance, distance, calorie consumption, sleeping time by simply wearing it on your armFitbit FlexHave been launched and the healthcare system wearable terminal market has been sharpening with Nike and the company is growing steadily. According to Mr. Gray, it seems that big companies are likely to move on the acquisition soon, so if they invest, they may be right now.

◆ 48:RockMelt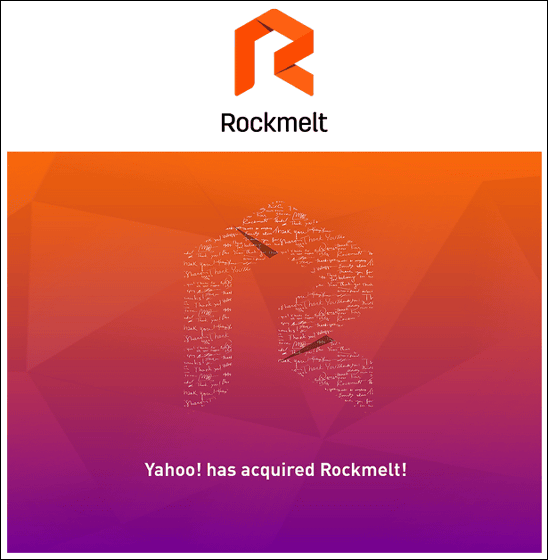 RockMelt who was working on social browser, Yahoo! in 2013 The service was stopped soon after it was acquired by.

◆ 49:LiveIntent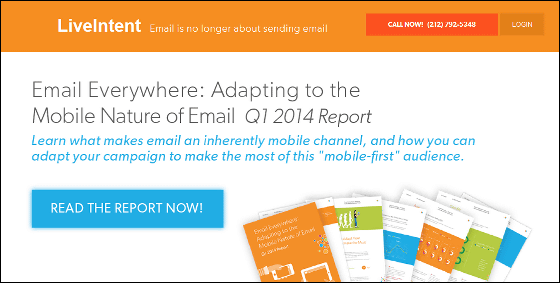 Although LiveIntent conducting advertisement delivery service by e-mail is ongoing service, Gray says "If you choose the top 50 of startup again, LiveIntent will not be on the list."

◆ 50:Fabulis



Fabulis which was SNS for men's homosexuals terminates the service because the market was too small, and as of 2014 it changed direction to Fab online shopping site which handles designer products. It enters Japan in 2014 and the performance is appearing to be favorable.

The top 50 of startup Pickup Gray picked up in 2010 was growing large enough to lead the market, acquired by a large company, unfortunately the service was terminated, and the subsequent trends were diverse.