I tried a beautiful Japanese sweet "Milky Way" like a blue starry sky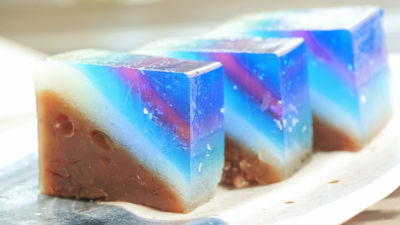 Japanese sweets are Japanese traditional sweets expressing the four seasons in shape and color, especially in Kyoto, there are many old Japanese sweets shops. Located in Higashiyama Ward, KyotoKyoto Seiko Shichijyo swordspring hallFrom June to July, seasonal limited Tanabata night 'milky wayI am selling Japanese sweets that motifs. Beautiful appearance, I became interested in how the taste is, so I went to buy at once.

Seasonal cuisine "Milky Way" - Kyoto Seika Shichijo Kanbudo
http://7jyo-kansyundo.shop-pro.jp/?pid=31532411

The location of the Kyoto Cafe, Shichijyo Kanjyo is 551 Nishimonmacho, Higashiyama Ward, Kyoto City, Kyoto Prefecture. In the vicinityRenka Owon Sanjusangendangothere is ........., ........., etc.


The Kyoto Candy Shichijyo gakudo is an appearance that makes you feel Showa っ ぽ い.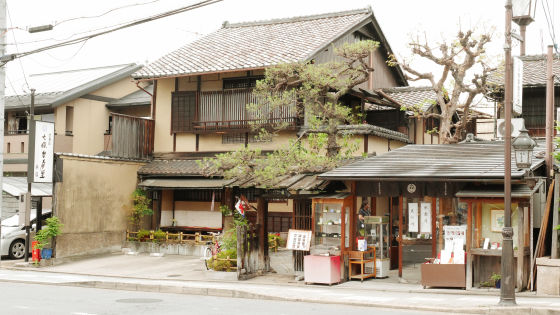 The side of the store is coffee, you can enjoy Japanese sweets etc.



If it is not a cold season, you can eat and drink outside.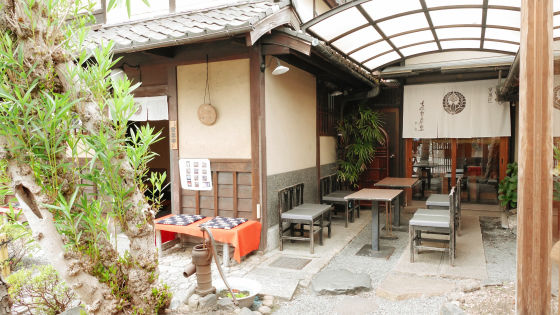 I will enter the shop from the front.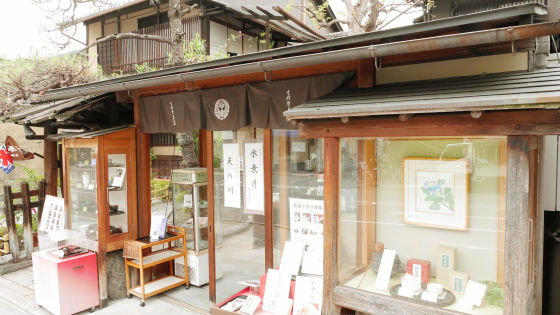 Even inside the shop, making it feel somewhat "harmony".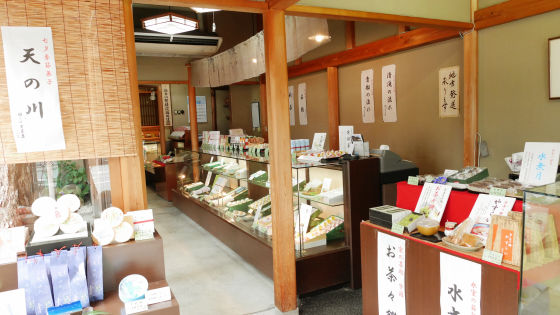 The Milky Way (800 yen tax excluded) was placed in a prominent position. I will purchase it.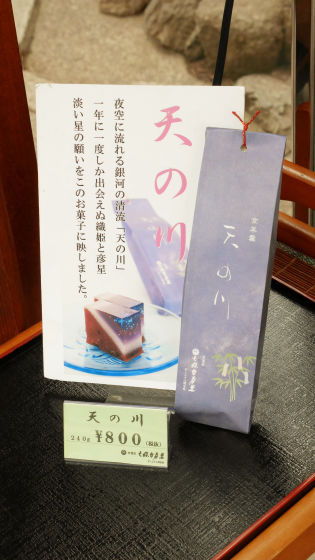 Buy two Milky Way on takeaway. Even if you carry it at room temperature there is no problem at all.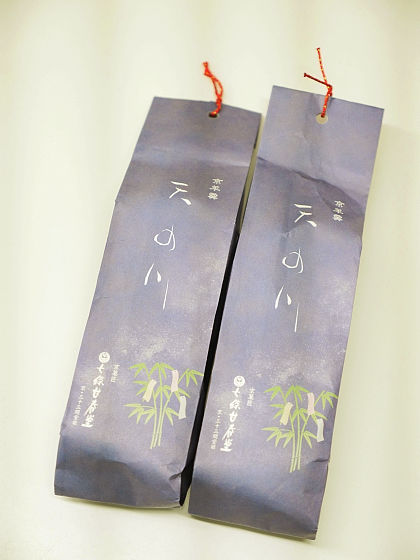 The size is about the same size as Ayataka Mellowly tailored (525 ml).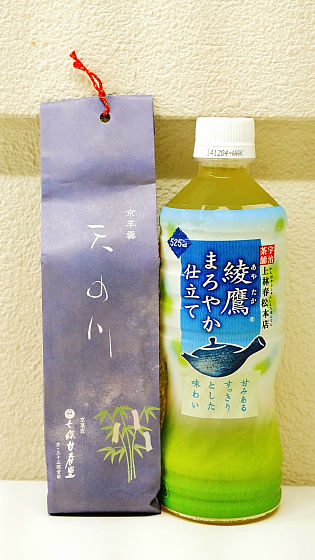 The illustration of Tanabata was drawn in the package.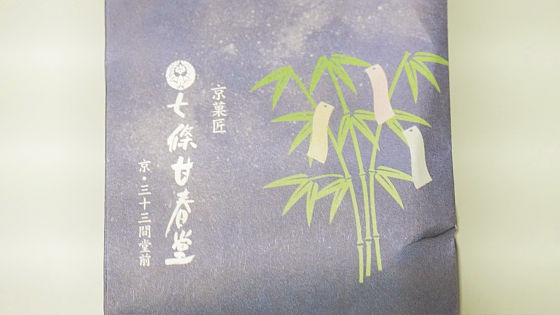 Raw materials include sugar · azuki · syrup, agar · dust powder · gelling agent · coloring agent (silver foil) · blue No. 1 · red No. 3 · red No. 105 etc.



When unloading from the paper bag, the packed Milky Way appeared.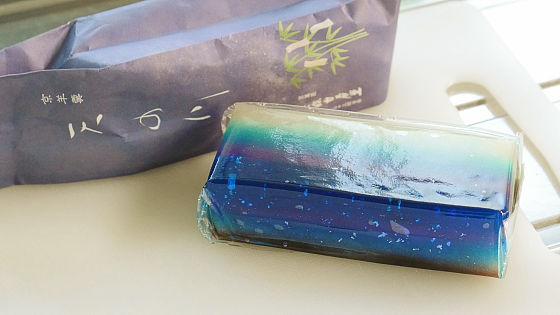 The expiration date is nearly a month, but "Because it is a confectionary, please enjoy immediately after opening".



Cut the pack with a kitchen knife and open it.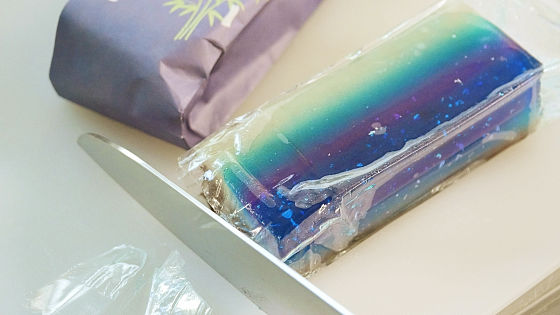 The Milky Way that I took out was made with a color that I could not think of Japanese sweets.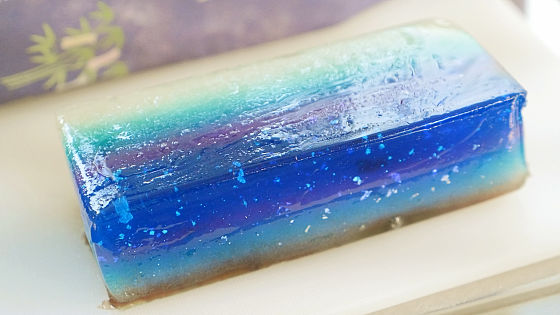 You can see the shining silver foil in the blue layer.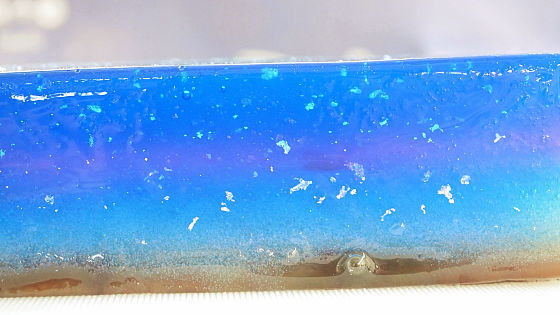 From the opposite side, the layer of azuki is the main.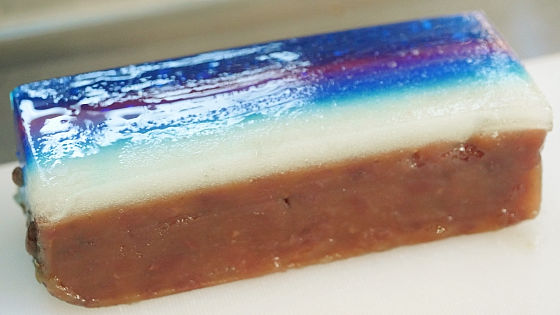 Looking from the side, it looks like this. Blue, purple, white and red bean layers are combined.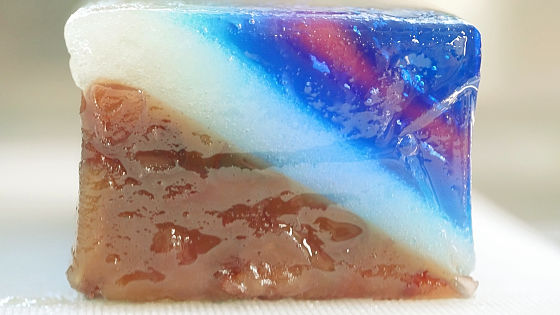 Cutting and cutting it into a plate, it is quite a cool atmosphere.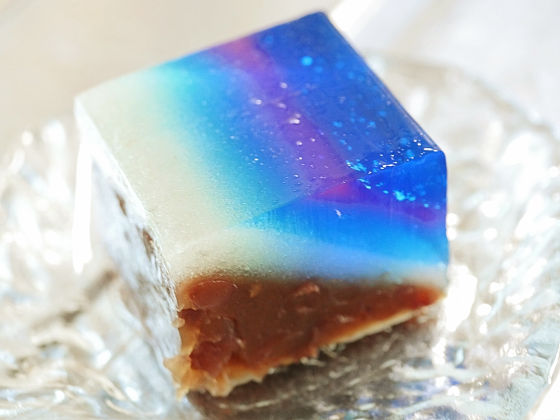 I tried preparing chilled tea because it was impeccable.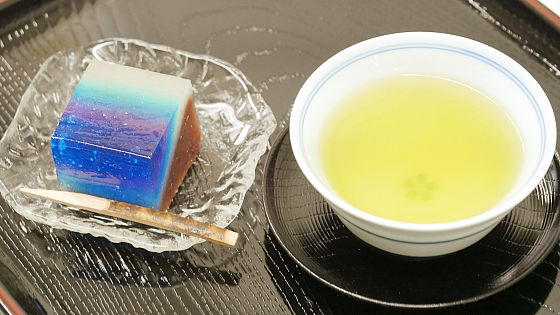 The Milky Way was slightly hard, and the candy toothpick did not enter quickly.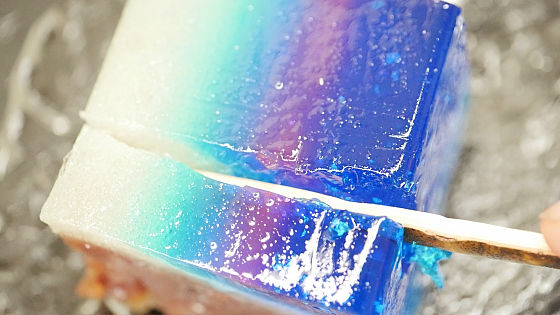 I will eat candy toothpicks.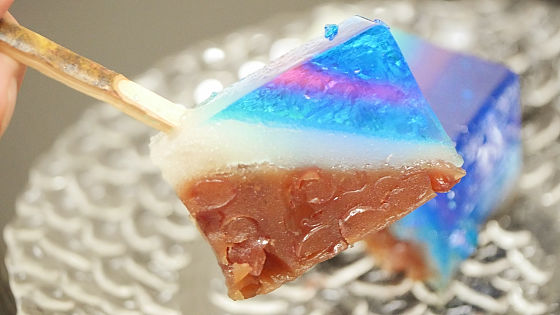 First of all when trying to eat from the blue layer, making it elegant sweetness easy to eat with a little bit harder texture than jelly. Because it is a blue color, it is reminiscent of a taste like soda, but there is no such thing at all and silver foil does not taste in particular. The white layer felt a taste like rice with a slightly rough texture than agar.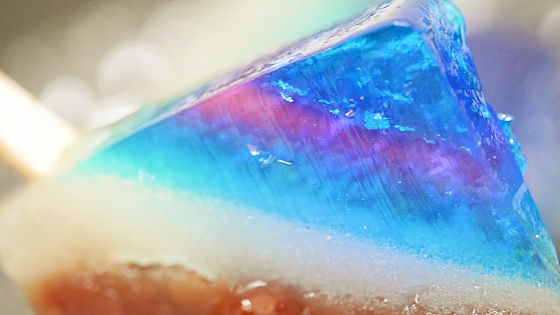 It is also possible to eat the layers of blue / white / azuki together, but the taste did not change dramatically because you ate the three layers together.



Red beans firmly feel the texture and taste of the grain, modestly sweetness. There are only specialty shops of Japanese sweets, it seems that quality azuki beans are used. It is better to chill it because it has a stronger sweetness, so depending on your preference it may be better to chill and eat.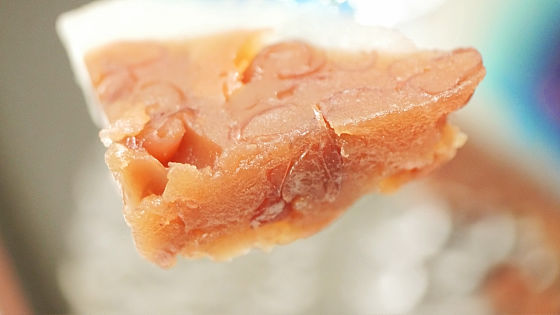 Good compatibility with cold tea is also good. It is not a dark tea, but a refreshing taste of cold tea seems to be better with the Milky Way.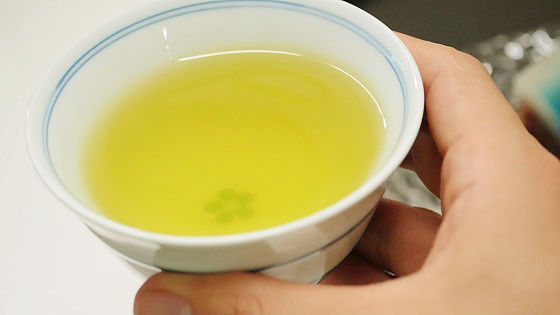 The Milky Way is a seasonal limited sale. It seems to be good for gifts and for visitors.



Because it is also possible to buy it through mail order, people who want it might be better to buy it immediately before it can be sold out.

Seasonal cuisine "Milky Way" - Kyoto Ceramics Shichijyo Shokudo Online Shop