Cooking goods "Anova Precision Cooker" which can make the best cooking of automatic vacuum cooking method with one button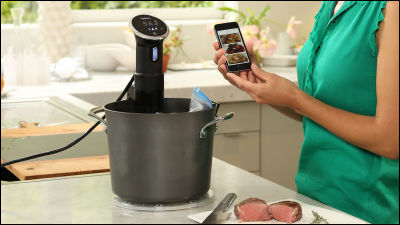 Used when making foie gras, terrines etc.Vacuum cooking method (low temperature cooking method)Is a French recipe that cooks ingredients and seasonings in a bag and then cooks at a temperature of less than 100 degrees. Although it is said to be the fourth recipe method after "simmering, baking, steaming", introduction in general households is quite difficult. With such a vacuum cooking method, a dish device that realizes excellent cuisine such as roast beef at home with one button "Anova Precision Cooker"We are looking for investment in Kickstarter.

Anova Precision Cooker - Cook sous vide with your phone by Anova Culinary - Kickstarter
https://www.kickstarter.com/projects/anova/anova-precision-cooker-cook-sous-vide-with-your-ip

You can see how the Anova Precision Cooker is a cooking utensil by looking at the following movie.


Anova Precision Cooker is such a device.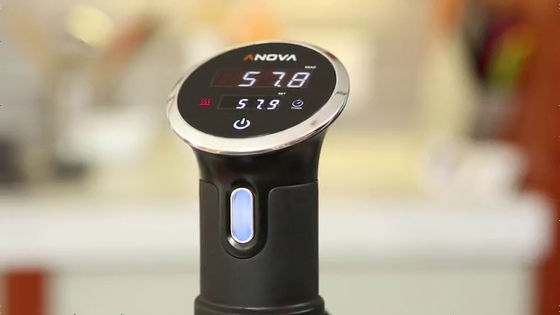 Attaching the Anova Precision Cooker to the pot and throwing the meat in the zip rock ... ...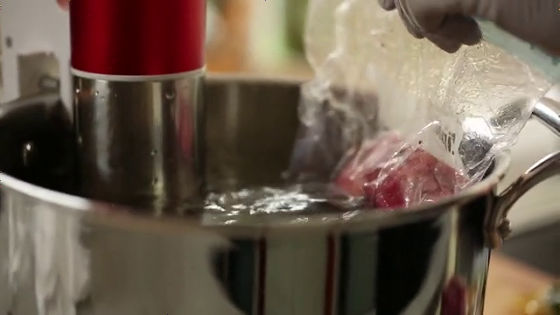 I got a stunning roast beef.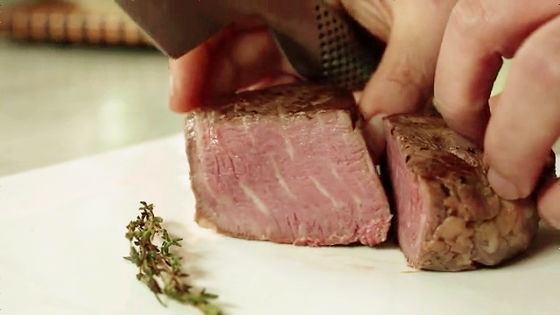 This was completed by the Anova Precision Cooker performing the vacuum cooking method by appropriately controlling the temperature of the water in the pot.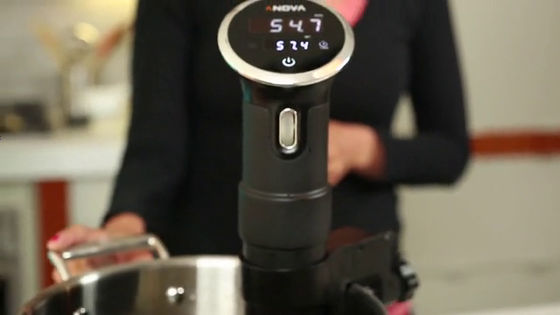 Also, if you cooperate with Anova Precision Cooke and smartphone, you can achieve even easier cooking.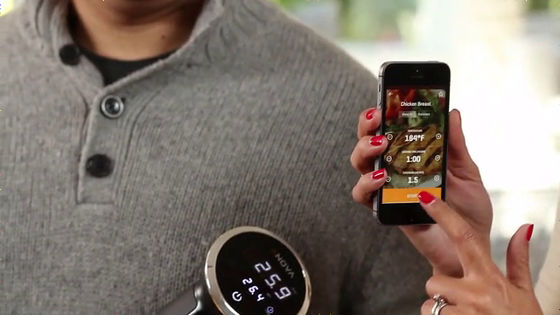 It is like this when placing the finished roast beef in a dish. It is a workmanship with no problem as one item of a party.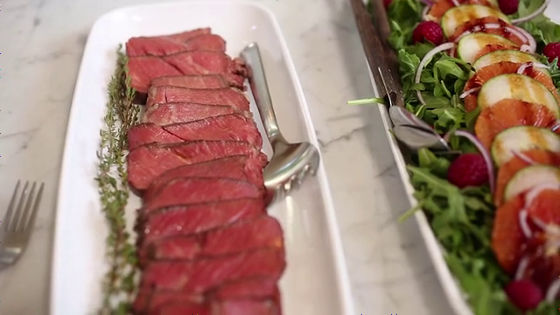 It is attached to a pot at home ......



It is also possible to change to any temperature by turning the wheel in the center of the stick in the same way as the mouse.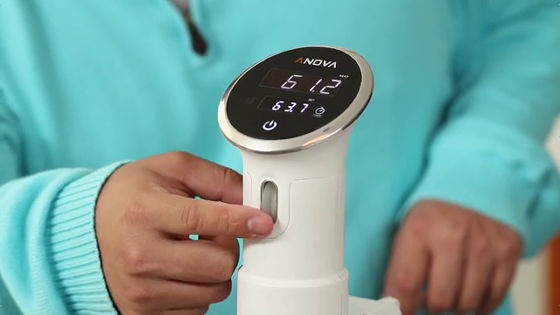 The upper part is touch panel.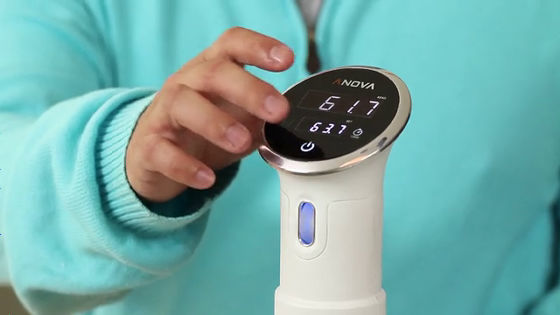 In terms of usage, put food and seasoning such as chicken and beef in zip rock ... ....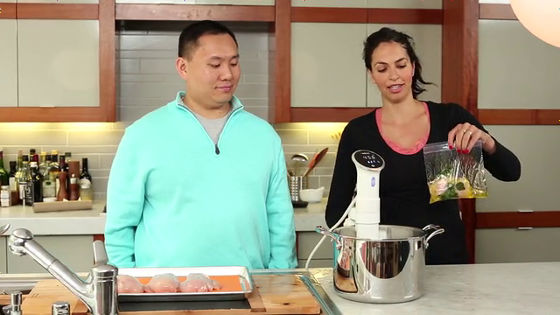 Put it in a pot and fix it with a clip.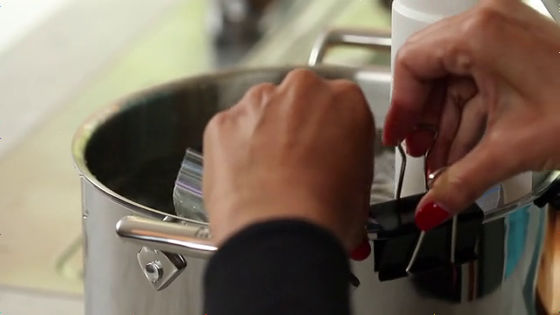 A woman explaining, "I'm done with this."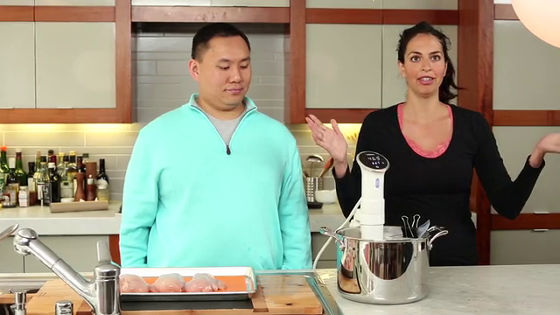 You can cook juicy and softly compared to cooking methods that bake or grill, there is no worry such as burning too much. Because the volume of food does not change, it is possible to trash all umami.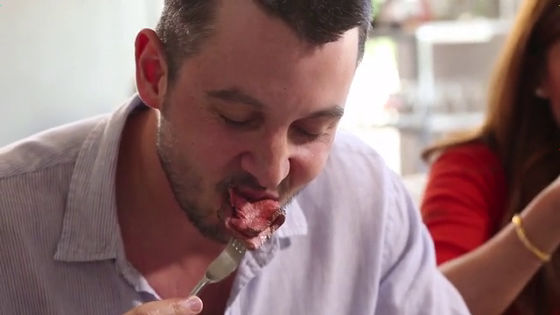 It is a dream machine that makes it easy to make cuisines comparable to top restaurants.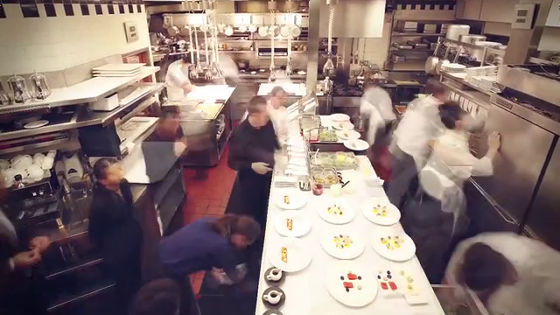 Apart from meat, it also supports fish dishes.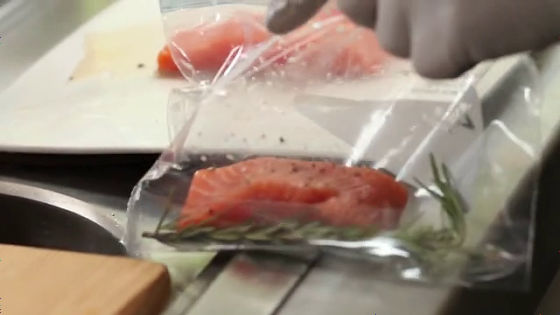 In the case of fish, just put it in a zip lock and put it in a pot, it is OK, it is possible to cook two fish and meat simultaneously. The vacuum cooking method requires equipment to seal the bag, but the Anova Precision Cooker is very easy to put in the zip lock. Strictly because it does not have to be in a vacuum, "Precision Cooker (precision temperature cooker)" that you named.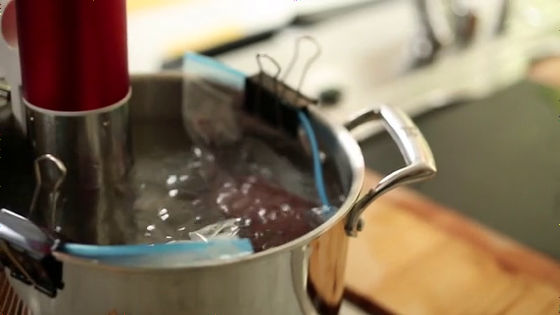 The inside is equipped with an electric heating coil and a screw and can be washed. The sensor detects water temperature, stirs water, keeps the water temperature in the pot constant and can cook, there is no need to use stove.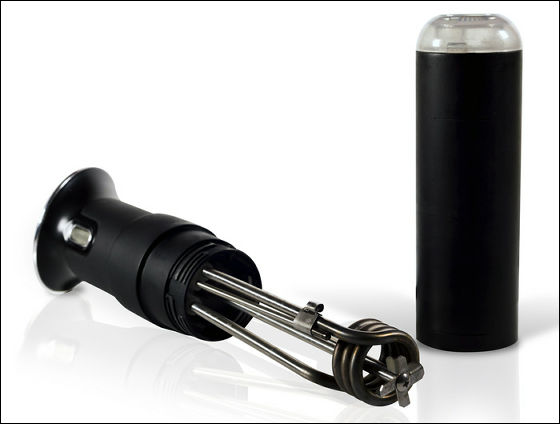 The main body and the application communicate by Bluetooth.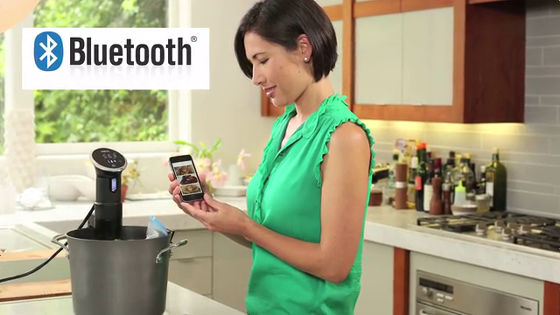 We are welcoming application development for Anova Precision Cooker because we are publishing source code for developers.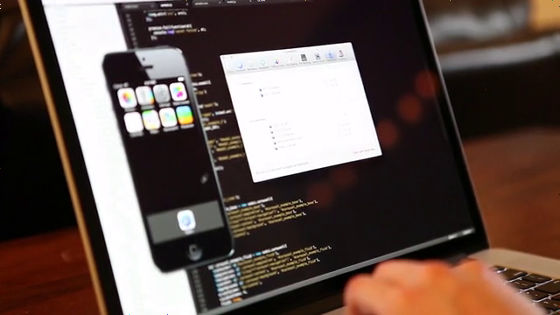 Below is a comparison of the same ingredients with Anova Precision Cooker (left) in the usual cooking method (right). Some meat and fish may be crispy depending on the way you bake, and boiled eggs may not be solidly solidified, but you can see that the cooking Anova Precision Cooker makes a delicious dish better than usual without fail .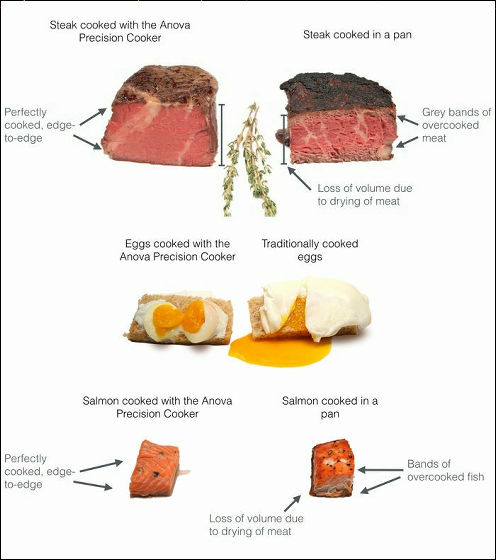 The application UI looks something like this. When chicken meat (ingredients) is chosen, meat, thighs and wings (parts) are displayed, then cooking starts only by selecting bone presence / cooking temperature / heating time / thickness and pressing "START".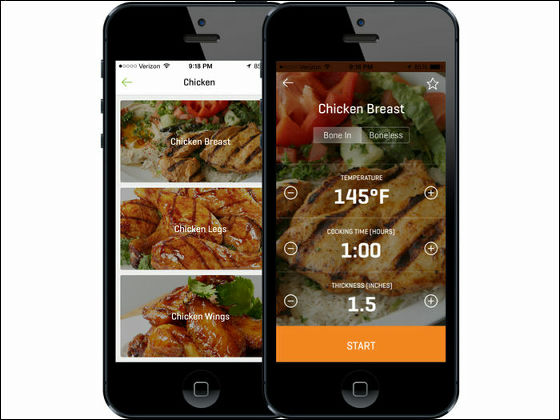 The application is compatible with Android · iOS · Windows Phone.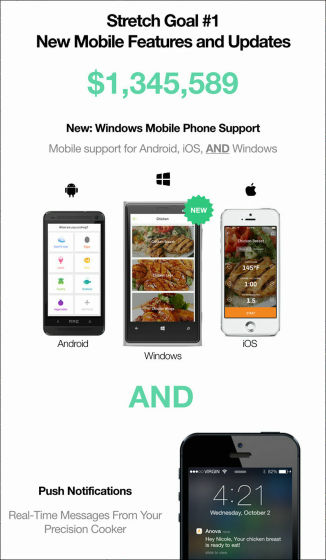 ◆ Spec

List price:$ 169 (about 17,200 yen)
Color:Black White
Temperature control width:25 degrees to 99 degrees
Pump speed:7 to 8 LPM (liter / min)
Allowable amount of water:From 15 to 19 liters
timer:Up to 99 hours maximum
Safety device:bimetalfuse
Power:110 to 120 Volts / 220 to 240 Volts
Thermal power:800 watts
Wireless communication:Bluetooth
Size:6.98 cm × 6.98 cm × 36.8 cm
weight:1.1 kg

In addition, Anova Precision Cooker who is seeking investment by Kickstarter is a topic all over the world, and it is already 1.3 million dollars (about 130 million yen) far exceeding the target amount of 100,000 dollars (about 1.109 million yen) We collect the above funds. A lot of recruitment such as black stands has reached the constant so it is not possible to contribute, but if you invest 159 dollars (about 16,200 yen), you can get one Anova Precision Cooker white for 1000 people and $ 239 (About 24,300 yen), you can get one Anova Precision Cooker black and white for only 1000 people.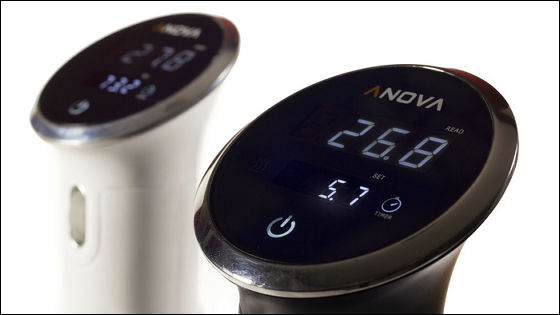 Product shipments are scheduled around September 2014, shipping charges are free anywhere in the world. The deadline of investment is Japan time, 4:45 AM on Wednesday, June 18, 2014.

Anova Precision Cooker - Cook sous vide with your phone by Anova Culinary - Kickstarter
https://www.kickstarter.com/projects/anova/anova-precision-cooker-cook-sous-vide-with-your-ip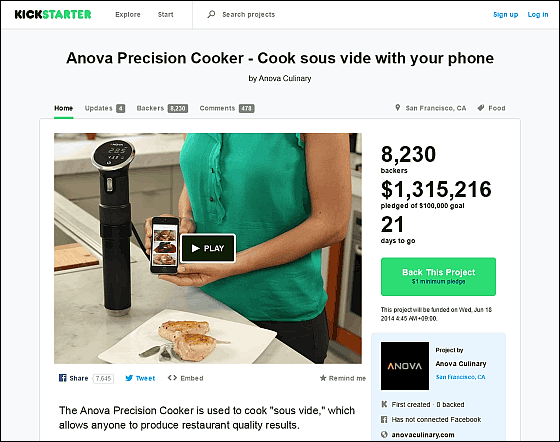 · Continued
The state of using the Anova Presicion Cooker actually financed and reached at hand is in the following article.

I tried using the vacuum cooker "Anova Precision Cooker" that pushes the button and leaves it to finish the finest dish - GIGAZINE