Chrome extension function "Animated Gif Capture" that allows you to click on a movie you are playing with GIF animation with just one click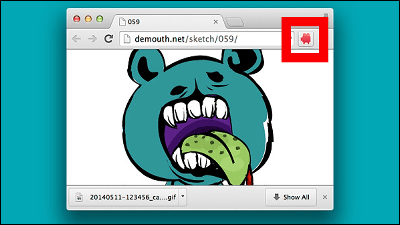 Creating a GIF animation from scratch takes time and effort, but it is a Google Chrome extension "GIF animation" that makes a movie being played a GIF animation just by pressing a buttonAnimated Gif Capture - Animated Gif Capture"is. Not only Chrome browser, even movies played on the local of IE, Firefox, PC can be converted into GIF animation.

Chrome Web Store - Animated Gif Capture - Animated Gif Capture
https://chrome.google.com/webstore/detail/animated-gif-capture/aecmckhhfknljgicfkpbinfkpnijehcm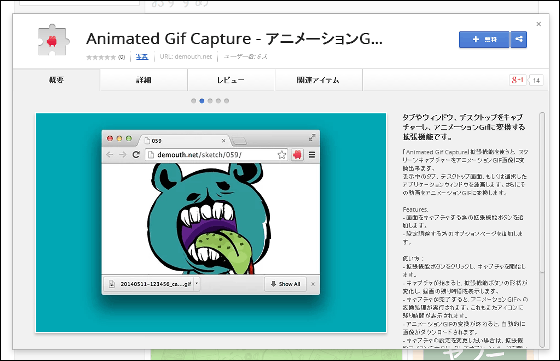 To use the extended function, first click the "free" button at the top right of the screen.




"Do you want to add" Animated Gif Capture - Animated Gif Capture "?" Click "Add" as you are asked.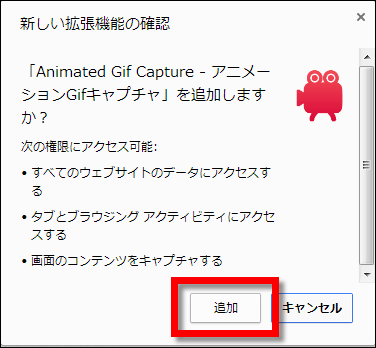 This completes the addition of the extended function.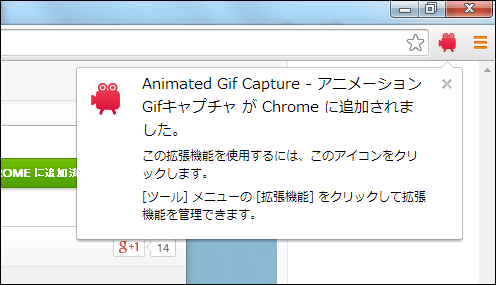 The blue button changes to green.




A camera mark was added next to the address bar.




To create a GIF animation, play the movie you want to capture on the browser and click on the extended function button.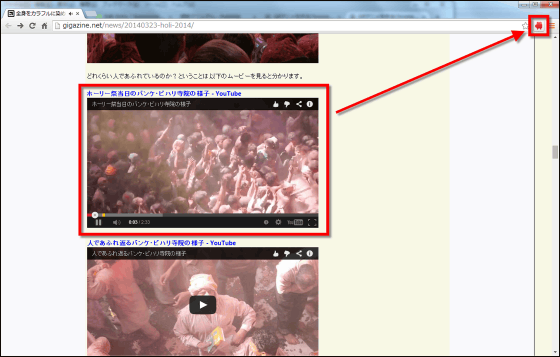 The appearance of the button changes and recording starts.




Converting recorded animation to GIF image. When processing is completed, images are downloaded automatically.




The actually created GIF animation looks like the following. Since the displayed browser is the GIF animation as it is, if you want to make only the movie a GIF image, let's play it with full screen display.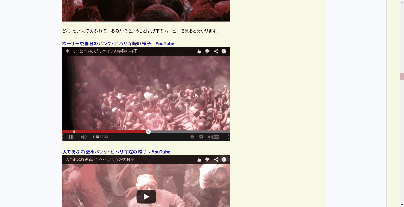 You can also change the number of frames by right clicking on the extended function button and selecting "Options".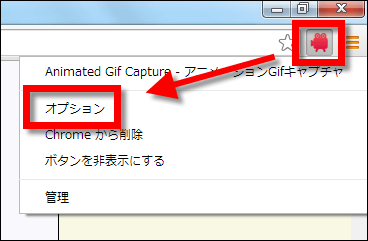 The setting screen looks something like this.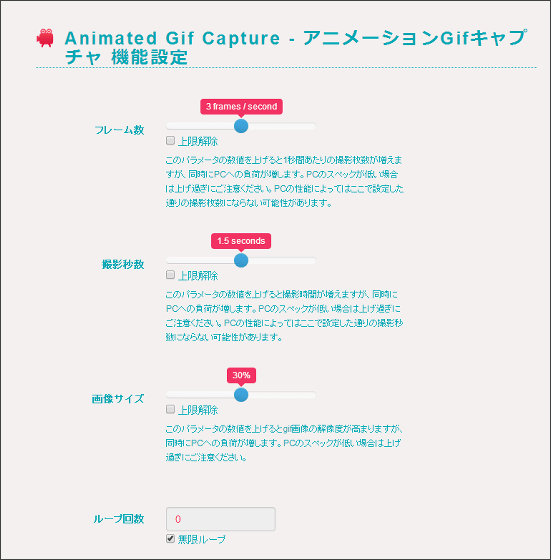 It is possible to change the number of frames, shooting seconds, image size and so on.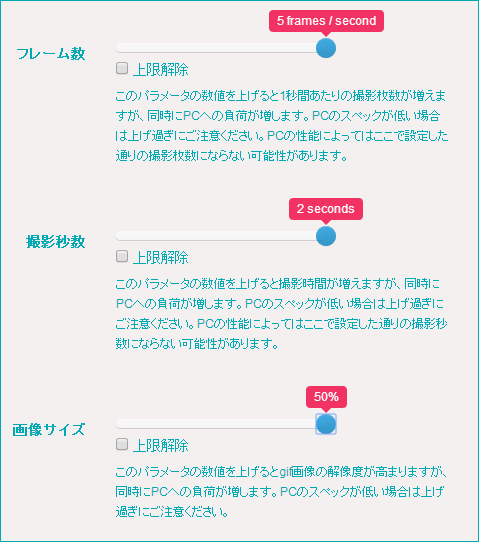 Furthermore, it is possible to specify the loop number, file name, shooting method and so on.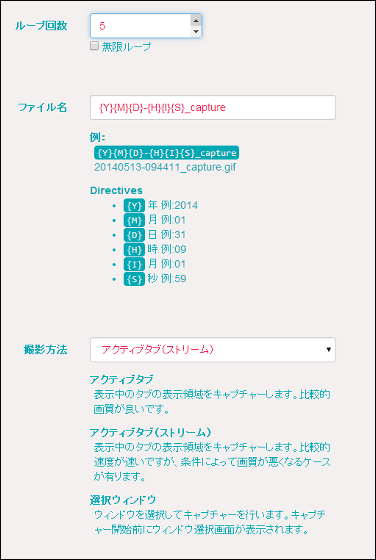 Also, on the same page there is an image and explanation of how to use it is also done.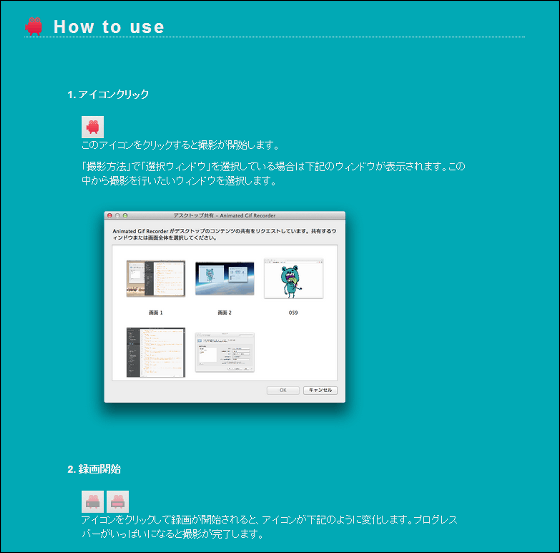 GIF animation can be created even if it is not content on Chrome browser. Select "Selection Window" from shooting method of setting screen.




When you press the extended function button, the selection screen of the window to capture appears.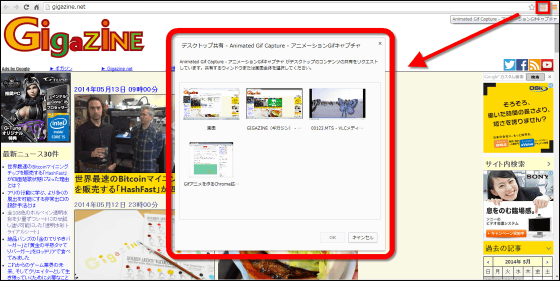 If you choose a window from here and click "OK", you can make GIF animation even if the contents stored on the PC are made.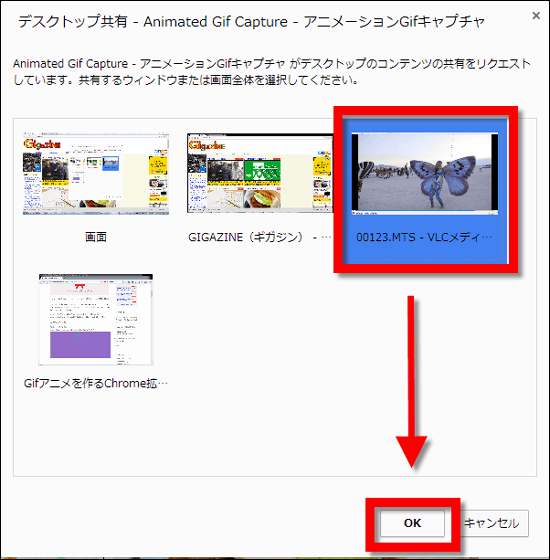 This is a movie played on PC with GIF image.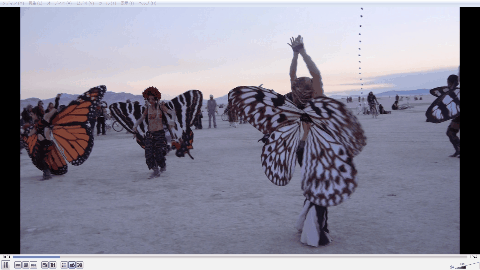 Developers of Animated Gif CaptureTo meetMr. Source code isGitHubIt is published in the blog, and the impression on making extension functions is summarized in the blog.

Chrome extension making Gif animation Animated Gif Capture has been released - demouth :: blog
http://demouth.hatenablog.com/entry/2014/05/12/072512