In order to realize all you can eat raw ham, I bought raw ham wood and tried eating it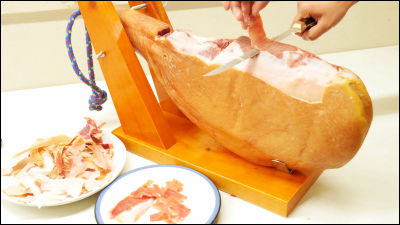 All-you-can-eat breakfast buffet with raw hams and sausages at 600 yenThere are in Tokyo, but there are also many people who can not go because they live in the district or have no time, so also in the editorial department "I want to go but I can not go ...", because there was a sad voice, "If it is then I will eat all the raw ham in the editorial department I will buy lumber from raw ham by saying "Do not do it!"

Raw ham life set - 【Direct import directly! Gourmet Meat World】
http://www.gourmet-world.co.jp/shopping/?page=category&cate=2127

A long thin cardboard box arrived. This time I purchased "Hamon Serrano · Reserva with boned bone set(31 thousand yen excluding tax) ", depending on the type of raw ham and company it may be delivered refrigerated, but Jamon Serrano · Reserva arrived at normal temperature.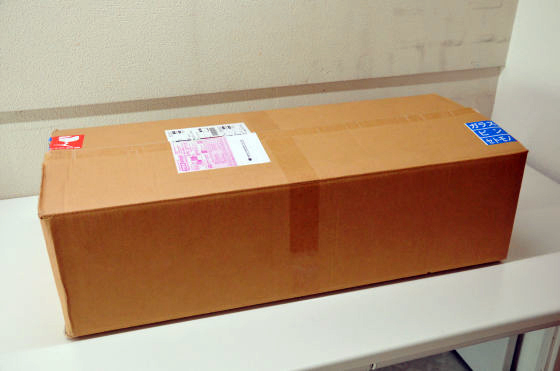 I will open it at once.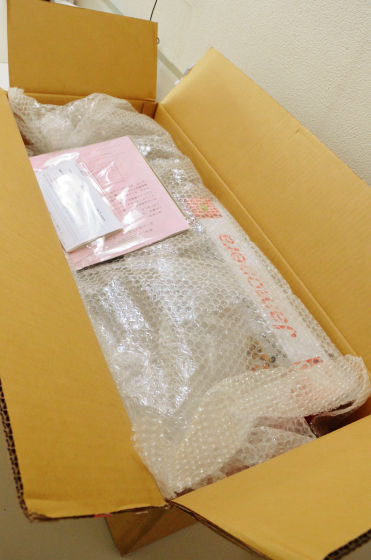 When digging packing materials ......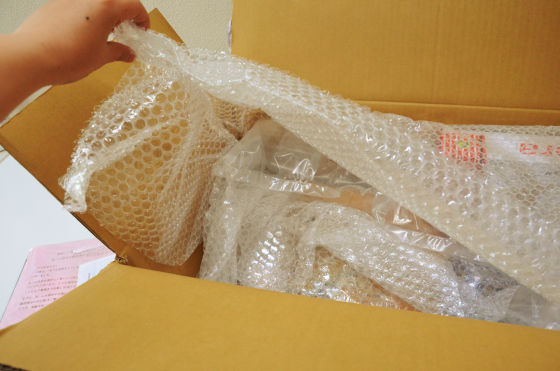 Not only raw ham wood, but also special ham ham table for supporting logs are included.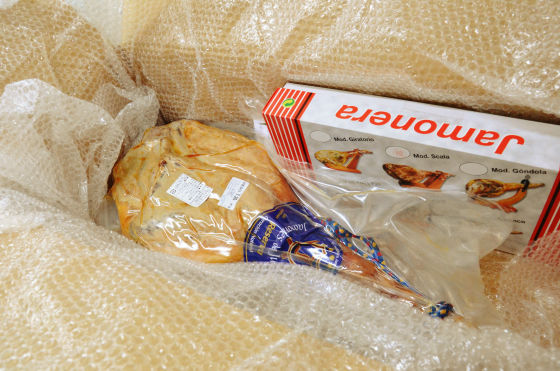 When all the contents are taken out, raw ham, specialty raw ham table, reading book which can utilize ten times of raw ham, raw ham cover, guidance book of life ham life ... ....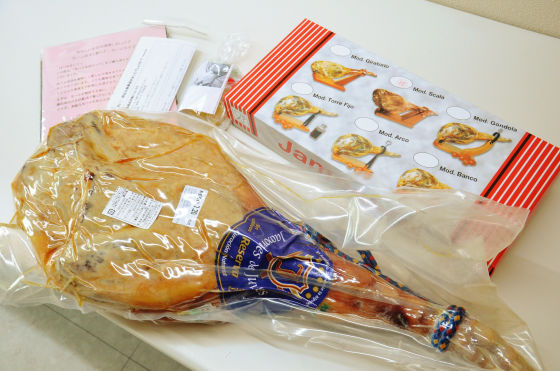 A professional use ham knife is included, and it is a set of thoroughness. When buying this set "When you buy raw ham logs for the first time", you can do all the work.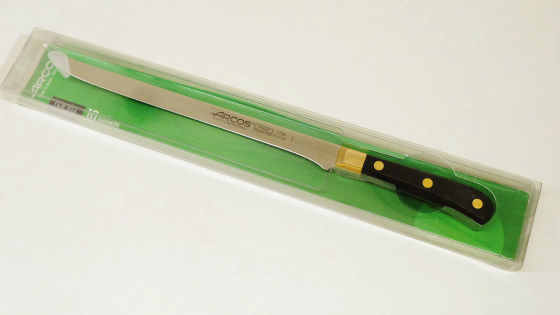 The guidance book of raw ham life includes notes on handling raw ham, procedures from opening to cutting, method of cutting, how to use raw ham, are written quite firmly, so even beginners can smoothly You can do the work.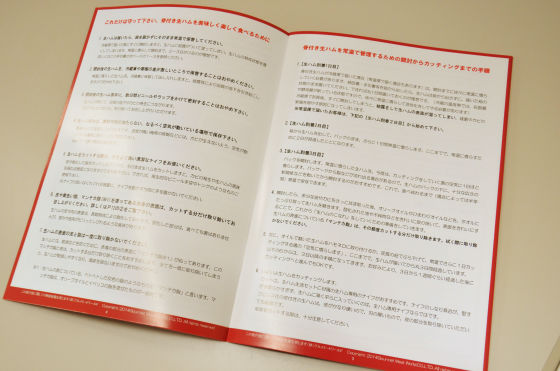 "How raw hams are made?", "How to eat and enjoy fresh ham," "Local ham circumstances", etc. were listed on readings that can utilize raw ham ten times.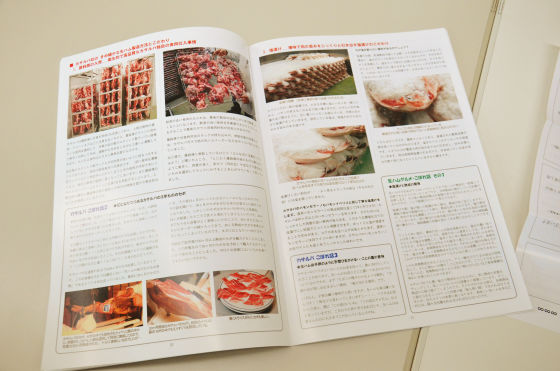 Jamon Serrano · Reserva is aged for 16 months, made in Spain. Weighing 7.3 kg or more, it was quite hard to lift by a woman alone.



When raw ham logs are refrigerated and delivered, it is necessary to set the temperature to normal temperature in the box before opening, even if it arrives at room temperature, it must be taken out from the box and set as a normal temperature for one day. And it is finally possible to move to opening operation after 3 days since arrival.

So I will cut the package of raw ham which passed 1 day after arriving at room temperature.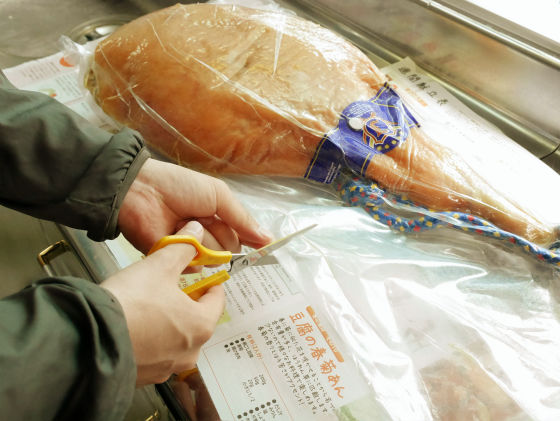 I will put scissors in a package that has become double after laying newspaper so that it will be okay if the grease flows out.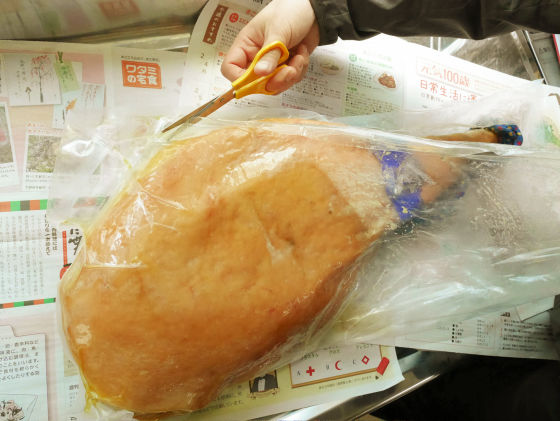 This is a bare ham of bread.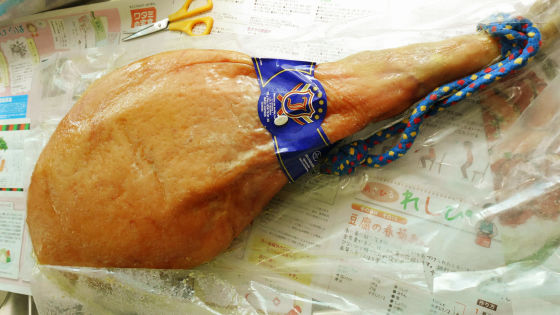 The surface is yellow in yellow, ticking like plastic.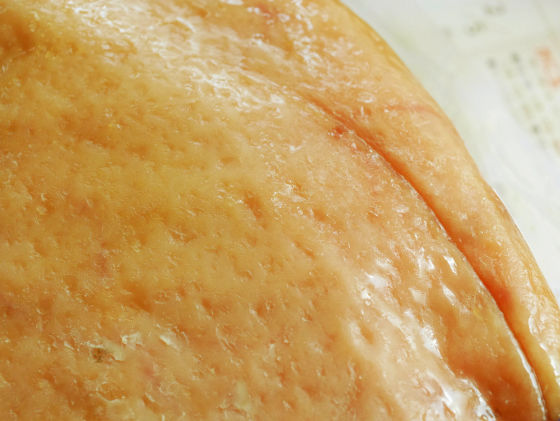 There may be mold on the surface, but this is a thing that occurred at the manufacturing stage, it is a proof that raw ham is aged, so there is no problem with quality.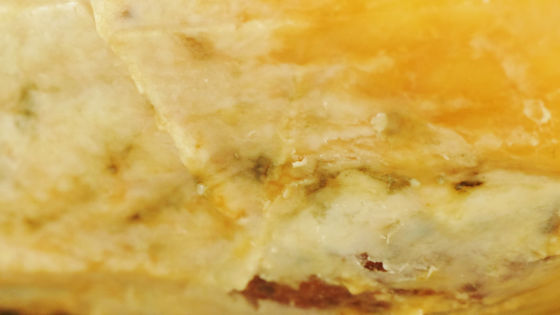 First of all, I will wipe off molds and extra fat on the surface. At this time, be careful not to remove the manteca fat on the surface of raw ham. Manteca fat prevents drying of raw ham, so wipe it off each time you eat.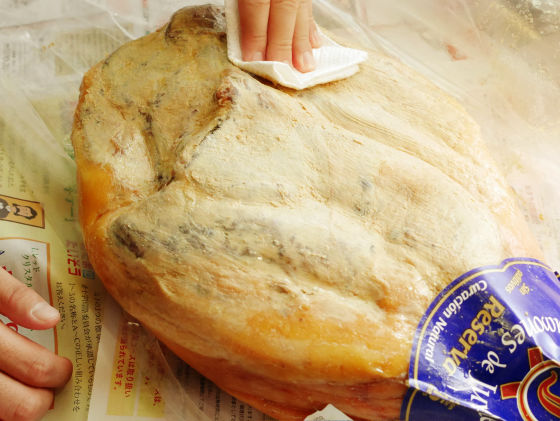 Next, hang the accessory olive oil on towels and kitchen paper ......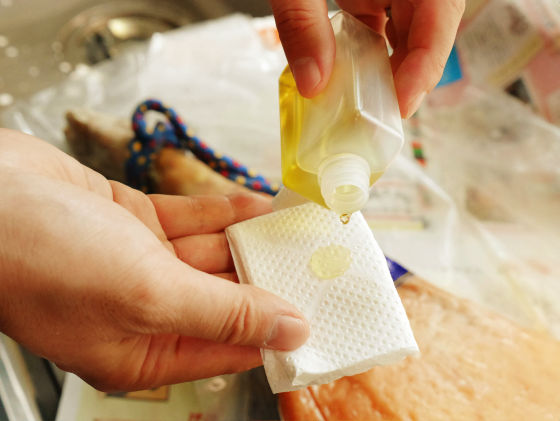 I will polish raw ham.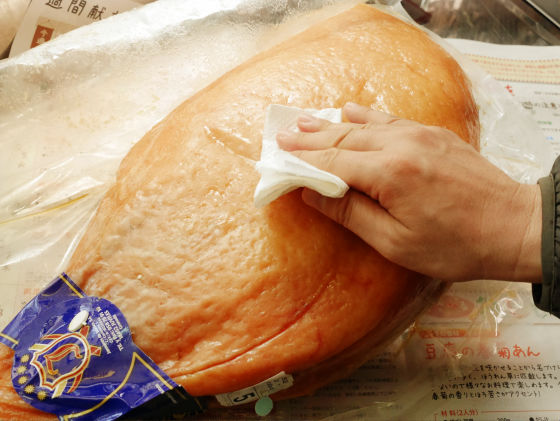 Next time you set a raw ham on a dedicated table, ...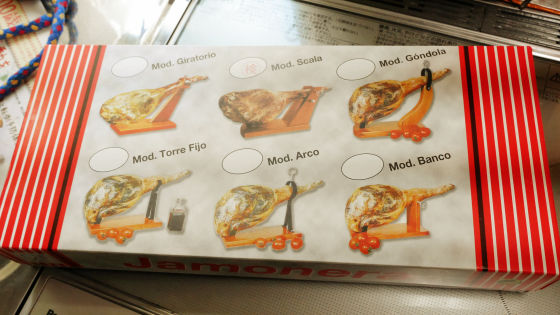 The table was an assembly type.



I will assemble the table using a screwdriver etc.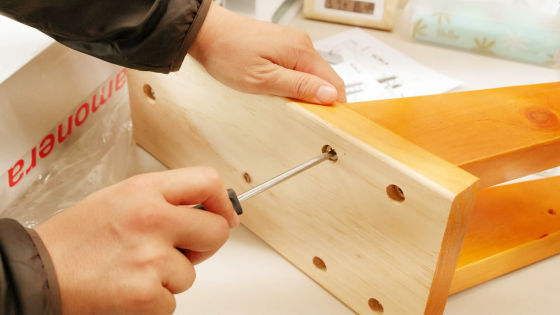 The finished table is like this.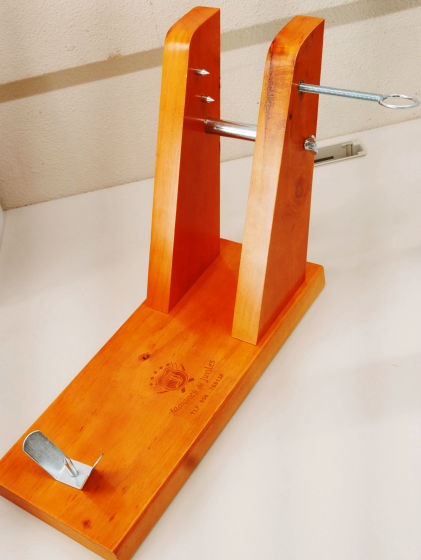 We will set raw ham on the finished raw ham table.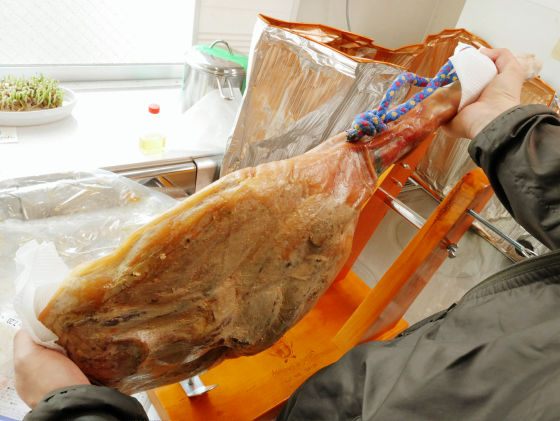 I stab the root part of a peach on a needle at the tip of the table ... ...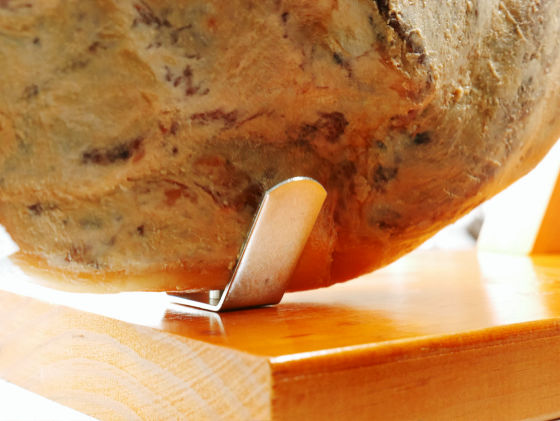 Place the ankle on the iron pipe and insert the screw. Depending on the shape of the peach, it seems that you can not screw the screw completely, but somehow fixed.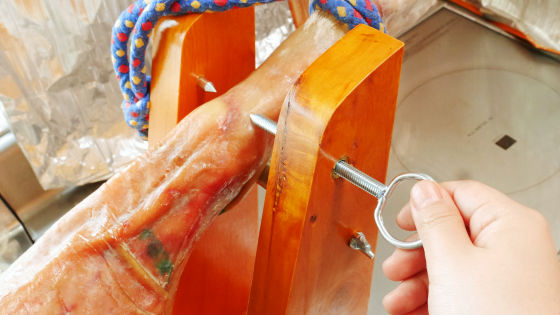 The setting is complete with this. Compared with the iPhone 5, the size is roughly this.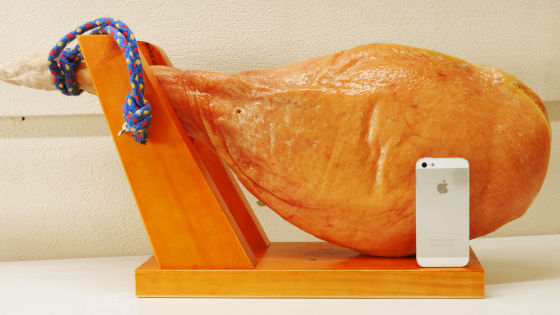 The other side.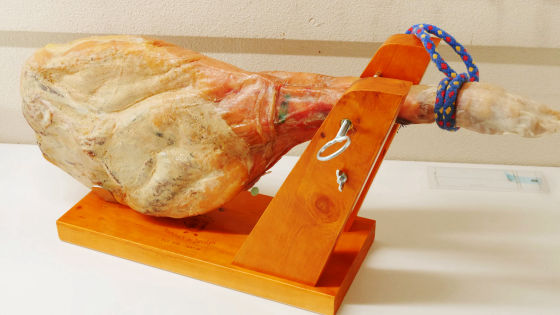 Whether the bottom of the nail faces upward or whether the top of the foot is up is up to the situation. When consuming raw ham at once in a party etc., it is good to eat from the side with many flesh with the bottom of the nail facing upward, but when you eat at home for a long term, You can eat moist and delicious raw ham until the end. This time I set the top of my feet up.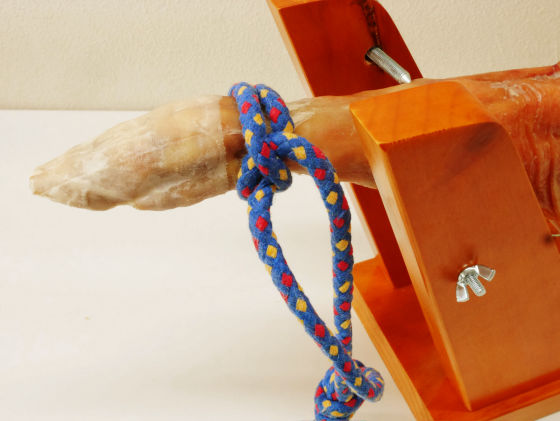 Easy to eat right after opening! Not to say that, in order to get used to the air in the place, leave one more day at room temperature in this condition. Even if you go to cutting after 1 week has passed since 3 days, it is OK.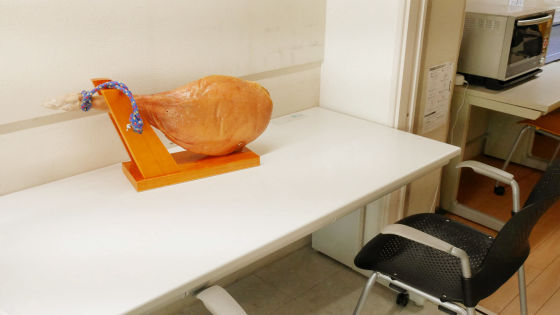 And the next day. It is the moment of cut waiting in a row.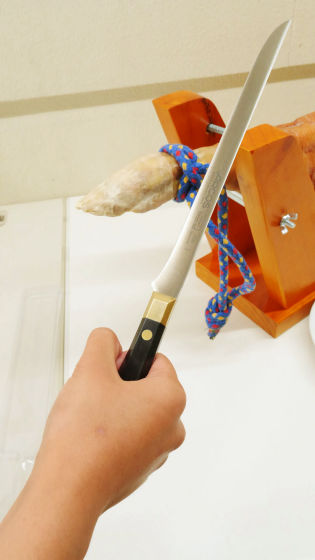 Looks like the previous day and no change at all.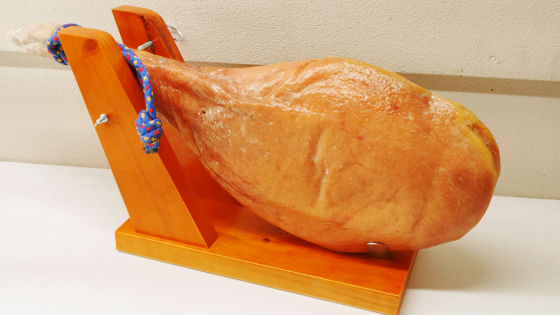 First of all I will put a notch in my ankle. Although it is recommended to do slicing of raw ham with a special knife, since the skin is hard, when cutting is made, it is easier to cut a thick knife such as a blade.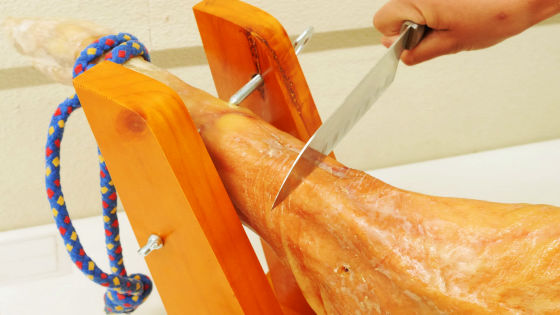 Since the surface is ticky, I thought "Does a blade enter?", But once cutting the surface, the blade will come in afterwards.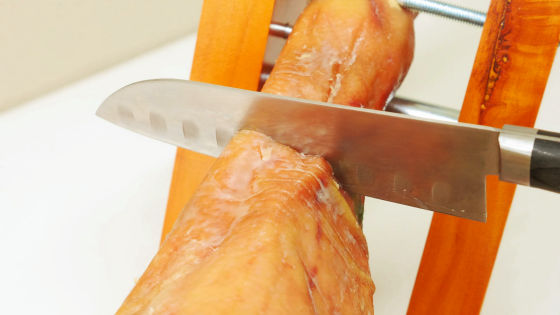 Put a notch like the following ... ...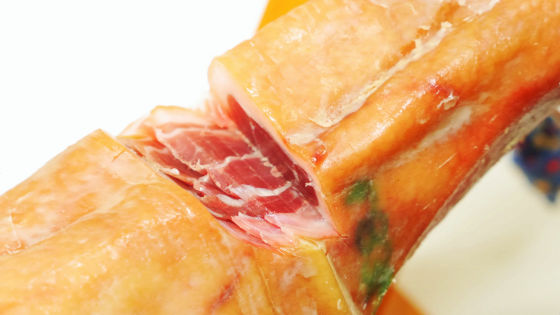 I cut away the skin from the incision and so on.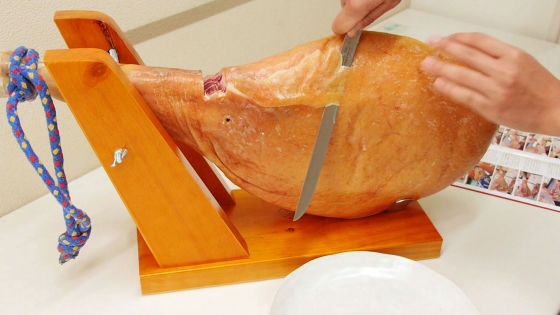 As the fat is soft, like the peeling of the apple, the skin goes through.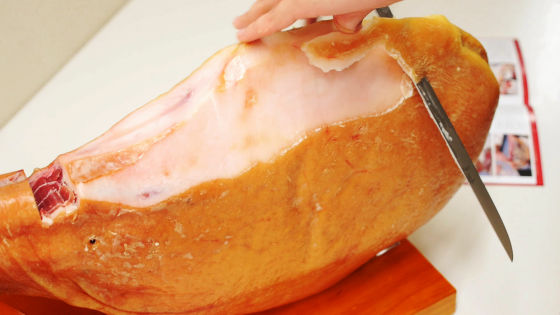 As I remove fat, ...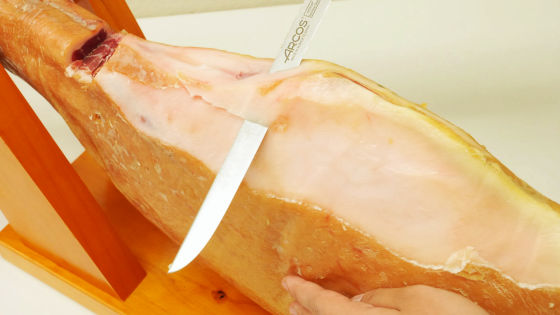 The lean meat has come to light.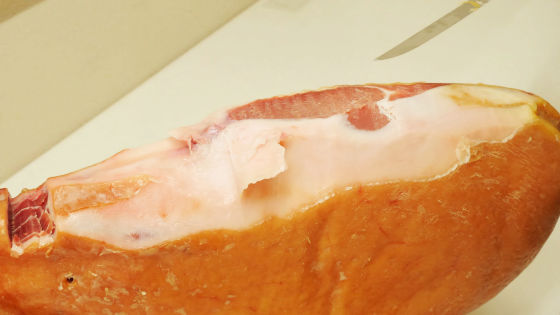 A thick cut that is unique to buying logs. When trying to eat, the meat is somewhat consolidated because it is thick, but the scent and taste of the raw ham was felt firmly.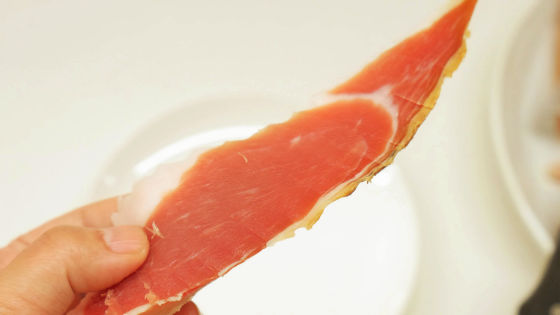 In addition, since the fat is oxidized in the yellow part, there is a bitter taste and a taste that the tongue point is numb and tingling. There is no problem even if you eat, but if you want to taste delicious raw ham, it is better to remove and eat.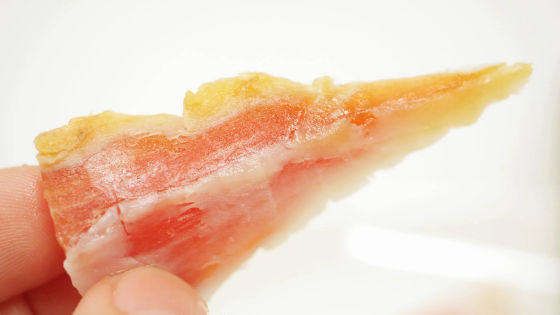 And this is the first slice of raw ham sliced. It is difficult to slice thin like a machine, but raw ham with a little thickness is unique to logs.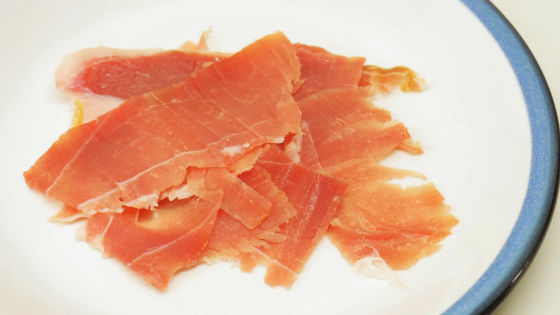 When I try to eat it, is it a little hard even if I slice it? It is a feeling, but an eating response is ant.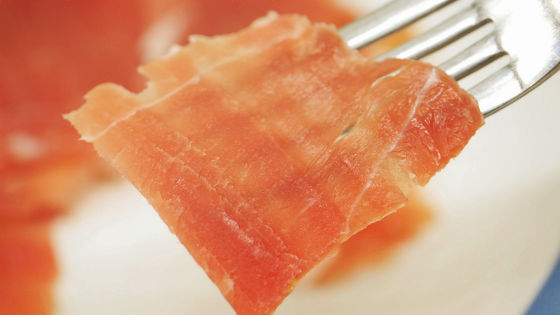 Looking at the surface of meat, it looks a little moisture. But saltiness is not too tight, you can enjoy the taste of meat and grease firmly even if you cut it thick.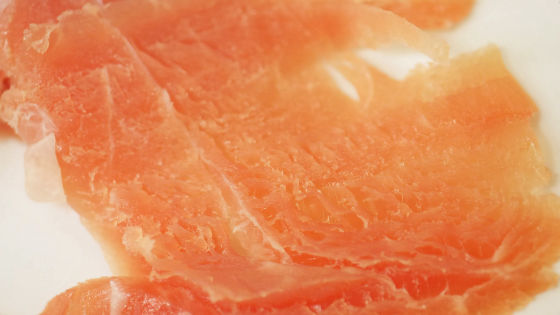 As you slice it steadily ... ...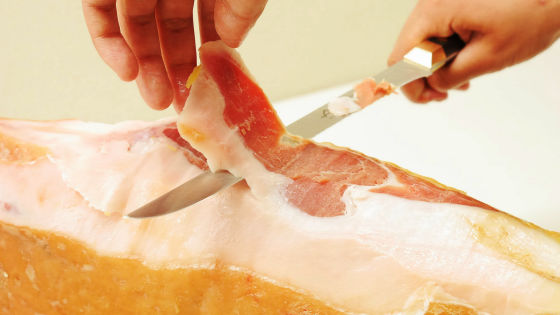 I hit something hard. There is a joint on the side of the shin and you can not slice it straight if you cut it for a while.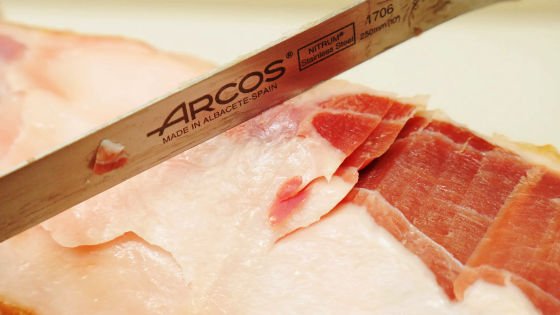 In such a case put a blade under the joint ... ...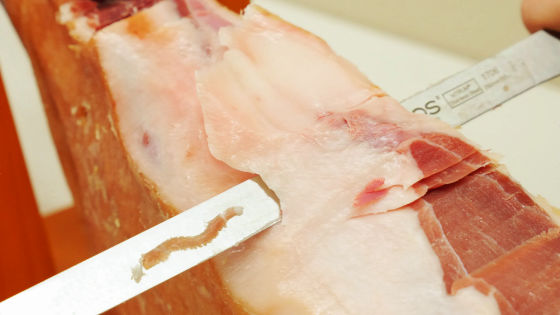 Let's remove the dish of the joint.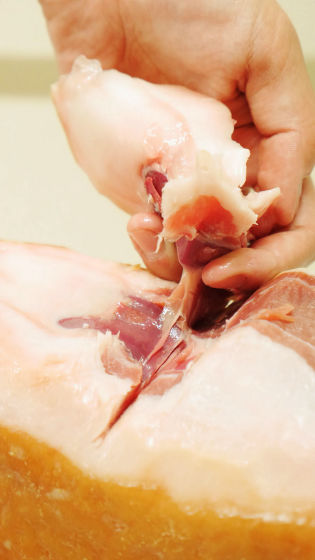 The skin and fat removed were full of dishes and gradually sliced ​​raw ham was able to slice.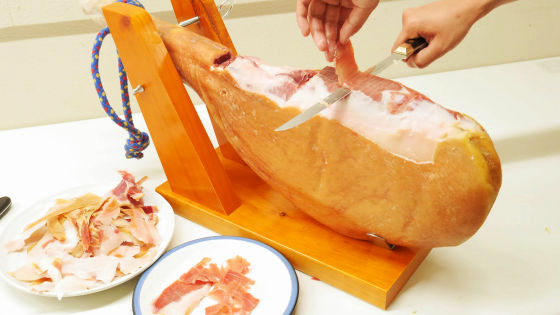 This is the second dish. As the meat sliced ​​goes inside, I will feel a little moist.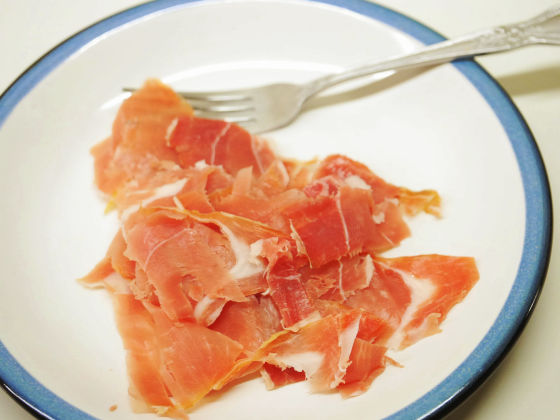 When preserving raw ham, it was good to scrape fat with a knife blade to apply creamy ones, but this is quite difficult.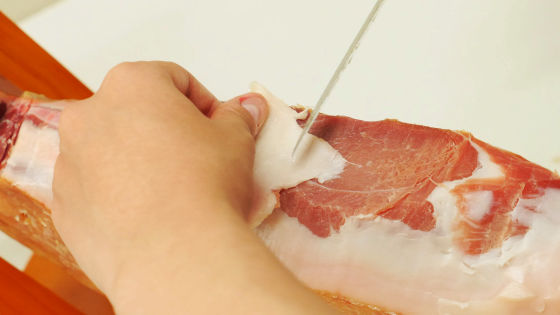 When I looked it up, it was that I could paste the cut grease into the cut, so I pasted it to the petapeta.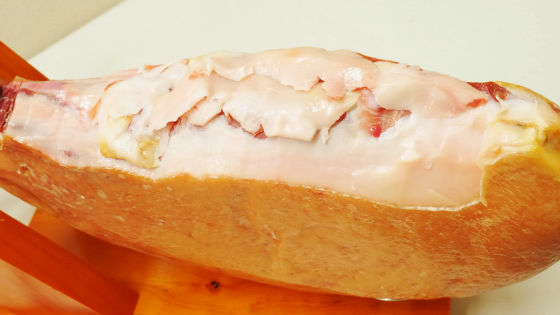 The remaining fat should not be thrown away but frozen in a lap and then used for cooking later.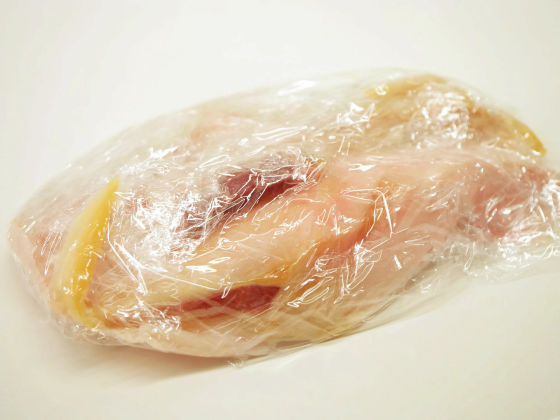 Cover the kitchen paper over the cut with grease ......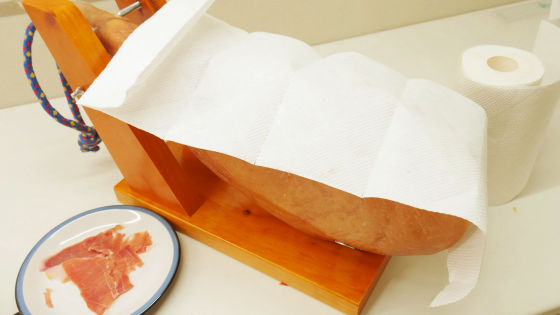 Cover and cover with a special cover. When I looked it up on the Internet, there was a way to wrap it in a lap and save it in a refrigerator, but according to the guidebook there is a possibility that mold grows when wrapped, and even in an environment with more than 50 degrees in Spain, raw ham Because it is about storing it at room temperature by hanging it, store it at room temperature without using lap.



And what kind of feeling is it the next day? Check it with that.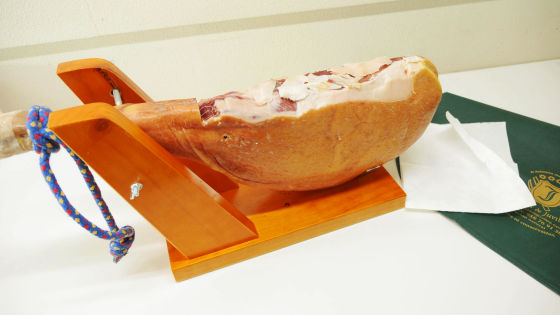 It was a little worried because I kept it at room temperature without using lap, but the cut is soft and it does not seem to be damaged.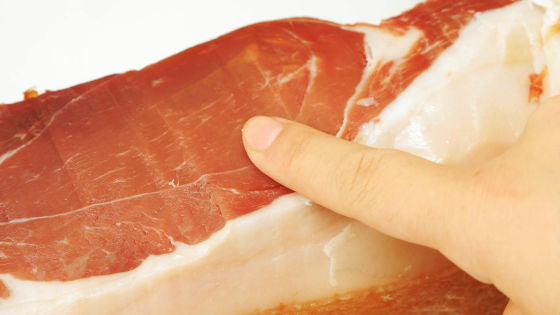 Cutting raw ham while shaking the surrounding yellow part ... ...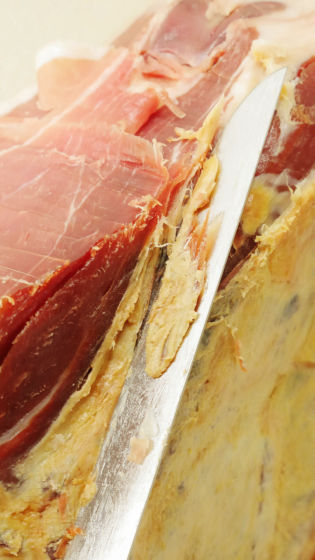 Like this.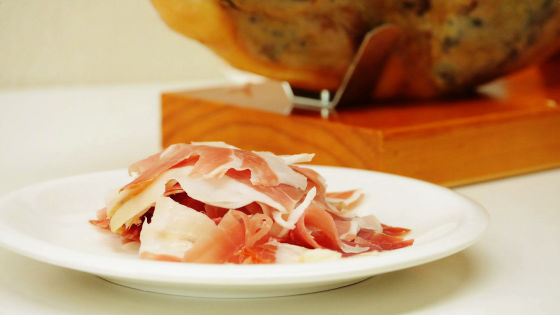 The situation is quite different from the previous day.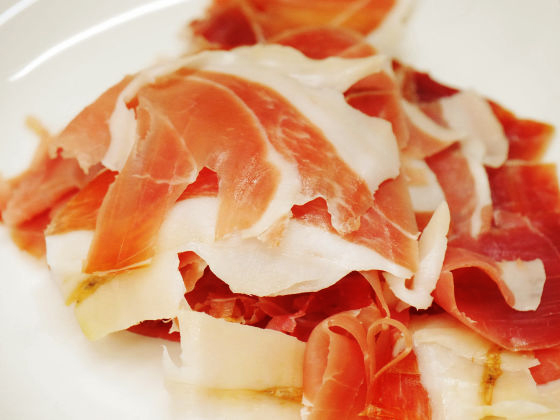 You can see that the fat is firm and it is quite moist from the appearance.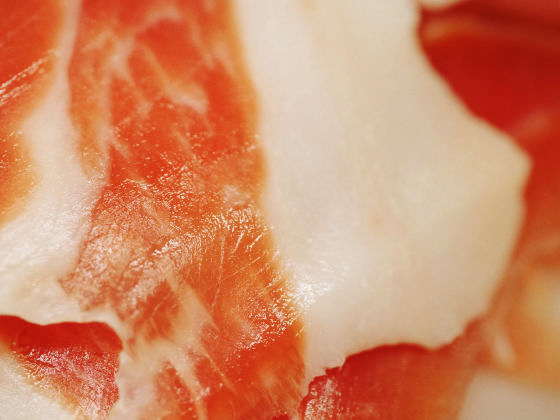 When eating, it is smooth and moist red. The fat also melts in the mouth, this is raw ham! I feel the taste. While I was commented "I want cheese" "I want wine" while being eaten crispy, I sliced ​​quite a bit, but it flew away in the stomach of the editorial staff in a blink of an eye in a blink of an eye.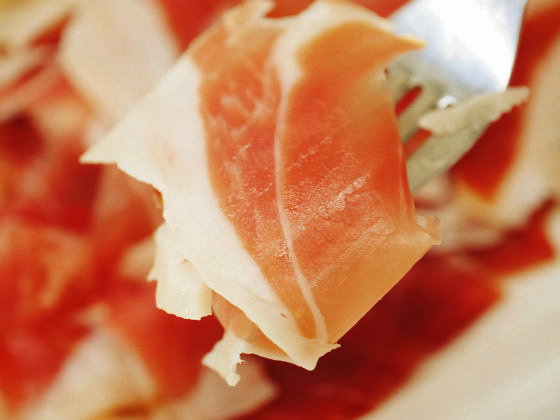 Consumes a considerable amount at the stage of 1 day passed.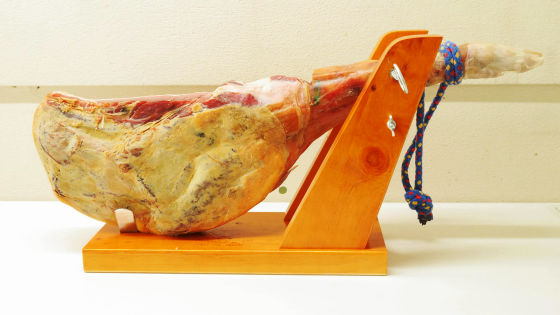 Unlike the first day, the cut is quite raw hamlike feeling. In the part near the skin, the moisture was flying, and at the peeling step I took it to the fat together, so it was a little bitten texture, but as you go inside it the fat is firm It was able to taste the juicy and moist flesh. Although you may see raw ham logs at shops, parties, etc., it is better to eat it after cutting it for a while rather than cutting meat in the middle instead of running straight to us.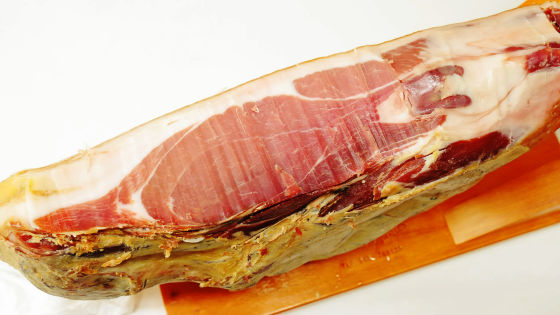 This time I bought "Amazon price of 30,214 yen"Hamon Serrano · Reserva with boned bone setHowever, in addition to thisIberico · Bejota 33 months aged Raw ham with raw bone set"Or"Hamon de Trevelles · Grand Reserva 23 months aged Raw tree set with bone"You can purchase various types of log blocks, such as.

Raw ham life set - 【Direct import directly! Gourmet Meat World】
http://www.gourmet-world.co.jp/shopping/?page=category&cate=2127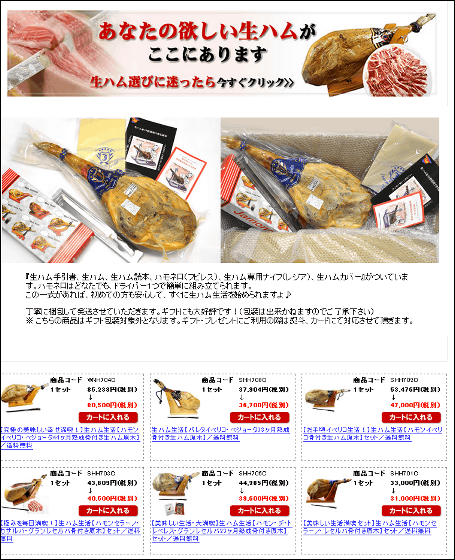 The way to utilize raw ham logs remaining after slicing in various dishes from the following article.

I continued making dishes such as sushi and fries to utilize raw ham logs - GIGAZINE