Google will release a preview version of "Classroom" free program for teachers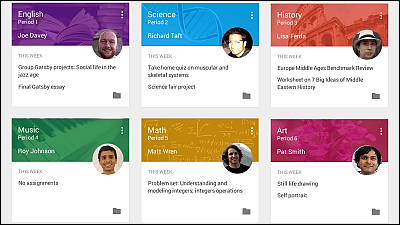 Teachers spend a lot of time other than class time, such as tests, task creation and test scoring. Google is a free educational program that enables busy teachers and professors to simplify their work and save timeClassroom"Preview version of it has been released.

Official Google Blog: Previewing a new Classroom
http://googleblog.blogspot.jp/2014/05/previewing-new-classroom.html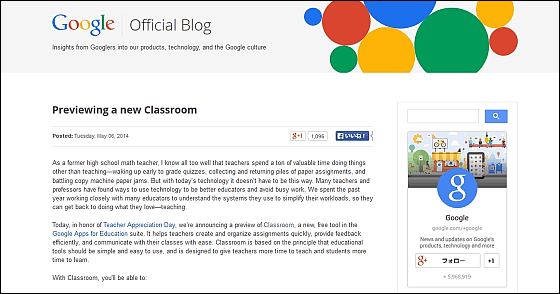 Introduction of Classroom service of Google Apps for Education
http://www.google.com/edu/classroom/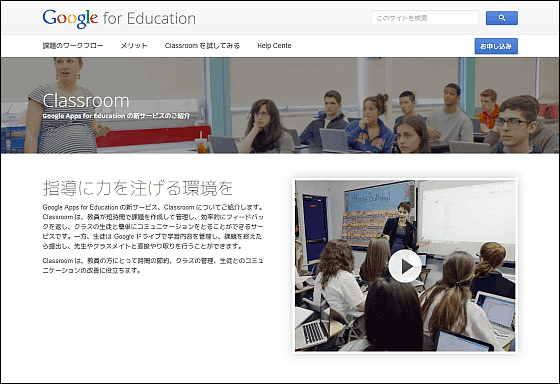 Google is an AmericanTeacher's DayIn honor of the web-based educational tool "Google Apps for Education"Preview version of the new service" Classroom "has been released.

The features of Classroom are as follows.

Easy setup
You can share the code for students to add students directly or to participate in the class with students.
· Time saving
Teachers can create, check and scoring tasks in one place using paperless simple workflow.
· Efficient management
Students can check their assignments on the assignment page. All documents are automatically saved in Google Drive.
· Improve communication
Teachers can use Classroom's streams to send announcements to students in the class and ask questions. Students can also contribute to streams and help classmates.
· Affordable and safe
Classroom is completely free. Ads are not displayed and student data is never used for advertisements. Students can only be members in classes in the school's Google Apps for Education domain, and activities in Classroom are limited to members of the class.

For example, faculty members can share the assignments and tests created in Google Documents with all students or selectively, and students can submit assignments directly from Classroom or Google Docs. Paperless and quickly gathered tasks, you can manage feedback and grading at one place and realize shortening of time by simplifying the workload of teachers. Also, all issues and materials are automatically saved in Google Drive in the background, so you do not have to worry about losing them.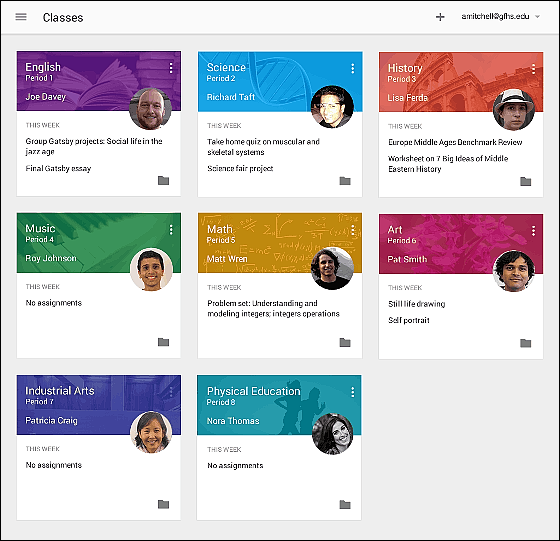 Previously, GoogleStop ad scanning for student Gmail accountAlthough it was reported that it was done, it seems that it was a mission to Classroom which does not have advertisement display function.

If you are already using Google Apps for Education, you can apply for early preview version of Classroom for free from the following page. Also, if you want to use the Classroom preview version at schools where you do not have a Google Apps for Education account, applications from group IT managers are accepted.

Classroom by Google
https://classroom.google.com/signup