Firefox 29 is officially released, customized with menu and UI innovation · Easy synchronization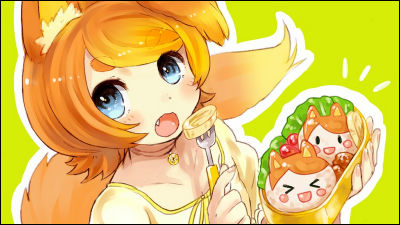 ByMera

The official Japanese version of "Firefox 29" can be downloaded from Wednesday, April 29, 2014. In Firefox 29, the user interface (UI) and the menu structure have been redesigned, and the toolbar customization function has been enhanced. Also, synchronize browser settings and bookmarks among multiple devices' FirefoxFirefox SyncAlso,Firefox accountIt makes it easier to use than ever by using.

Next-generation browser Firefox Fast, secure, customizable free browser
http://www.mozilla.jp/firefox/

Firefox 29.0 Release Notes
http://www.mozilla.jp/firefox/29.0/releasenotes/

Android browser Firefox Android version appeared in that popular browser
http://www.mozilla.jp/firefox/android/

Firefox 29.0 Release Notes for Android
http://www.mozilla.jp/firefox/android/29.0/releasenotes/

Newly added new functions are introduced in the following movies.

What's new in Firefox? - YouTube


◆ New UI design and menu screen
The design of the tab has changed, and it has become similar to Google Chrome.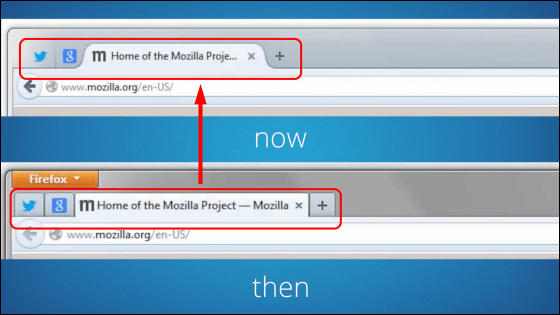 A menu icon appears at the upper right of the screen, and when clicked, icons corresponding to the menu such as "new window" and "save page" are moved. It can be used with 1 click if this is placed in the tool bar.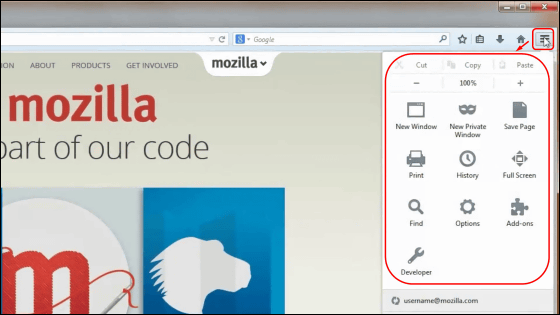 The range of toolbar customization has expanded.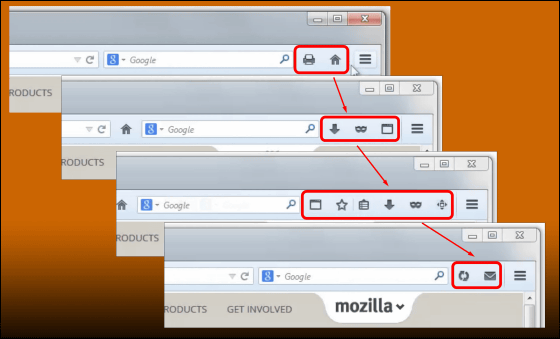 It is also possible to rearrange by dragging with the mouse in the menu.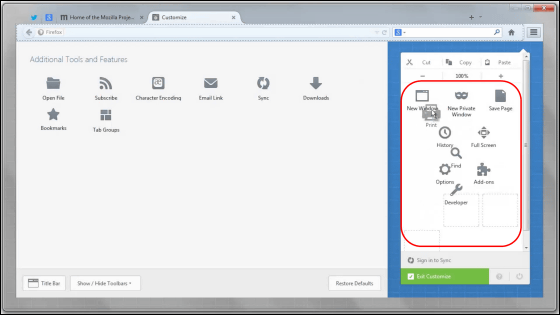 Adding add - ons has also become an easy thing with drag - and - drop.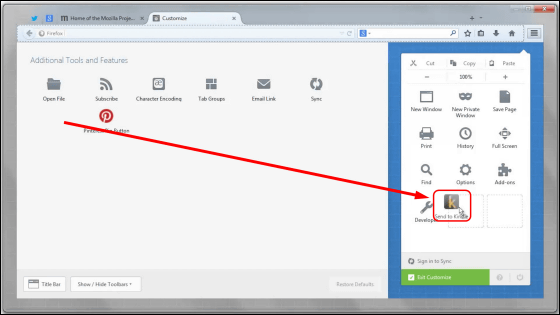 New synchronization function using Firefox account
By creating a Firefox account, it is now possible to share bookmarks, history, passwords, open tabs, installed add-ons among multiple devices. This is similar to Google Chrome's sync function with a Google Account. So farFirefox SyncIt is a big feature that the synchronization procedure is simpler than that.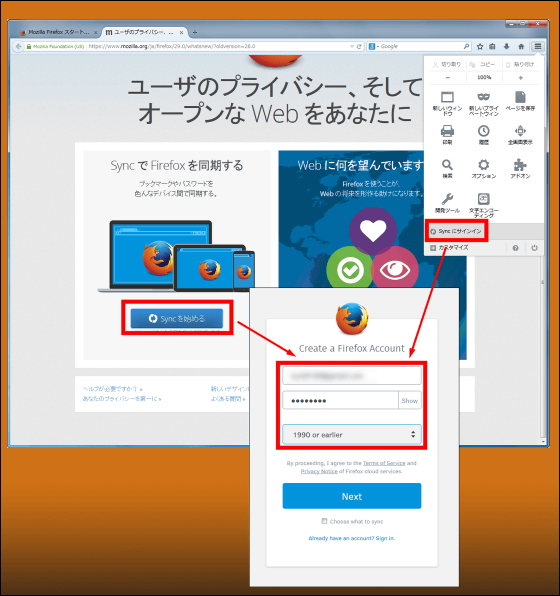 In addition to browser settings, etc., the content of synchronization includes "desktop add-ons" and "desktop settings", and it seems that cooperation with Firefox OS has been strengthened.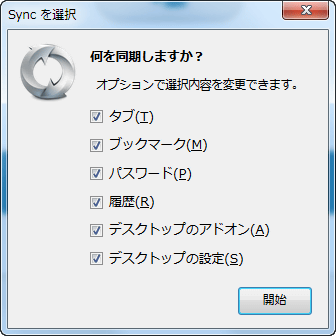 The new Firefox account synchronization function can not be used at the same time as the conventional Firefox Sync, so if you want to use the new version of Sync, you need to disconnect all the terminals from the old Sync . Details are to be understood by checking the following link destination.

To update to the new Firefox Sync | Mozilla support
https://support.mozilla.org/ja/kb/how-to-update-to-the-new-firefox-sync

◆ Desktop version download
Automatically upgraded by automatic update function, but if you want to use Firefox 29 right now you can download and upgrade from the following.

· Windows version
http://download.mozilla.org/?product=firefox-29.0&os=win&lang=ja

· Mac OS X version
http://download.mozilla.org/?product=firefox-29.0&os=osx&lang=ja-JP-mac

· Linux version
http://download.mozilla.org/?product=firefox-29.0&os=linux&lang=ja

Detailed changes are as shown in the following release notes.

Changes in Firefox 29

○ New functions
· The user interface has been redesigned. (Detail isHere: English)
· An interactive tour that introduces new functions was prepared.
· Customize mode was redesigned and improved.
· Firefox Sync is now set by creating Firefox account. (Detail isHere: English)
· The Gamepad API is now available. (Detail isHere)

○ Change
· SharedWorker is now available for standard use.

○ Developer
· Variable of CSS3 has been implemented.
・が利用できるようになりました。
・が利用できるようになりました。
· Console objects can now be referenced from Web Worker.
· The add-on bar has been deleted. Content on the add-on bar will be moved to the navigation bar.
· Promises is now available as standard.
· ECMAScript Internationalization API is now available.
· 'Box-sizing' is now available without vendor prefix.

○ Correction
- Fixed an issue where echo cancellation does not work on apprtc.appspot.com. (Bug 974537: English)
◆ Known Issues

○ Unresolved
· There is a problem with text drawing in Windows 7 where KB 2670838 (update necessary for operating MSIE 10) is installed.Workaround for Windows 8.1 is here (English)Please refer to the. (Bug 812695: English)
Please note that the next version of Firefox 30 will be released on June 10, 2014.