We added a history function capable of accumulating records in "Thermodo" which can easily measure the temperature with a smartphone, so I tried using it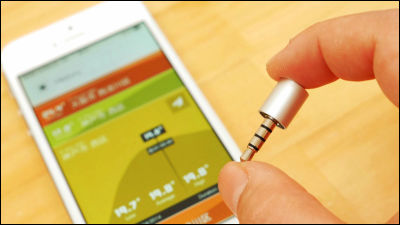 A compact sensor that can replace a smartphone with a thermometer just by plugging it into an earphone jack is called "Thermodo"is. Up to now it was only able to measure the temperature at that time, but because it was said that it was possible to accumulate the measurement result by version upgrade on April 20 and to send all the data by e-mail in CSV file I actually tried using the function.

Introducing History for Thermodo!
http://us1.campaign-archive2.com/?u=cda2e817f8ee3e73c9bd5b988&id=4ca292c41b

Thermodo application installation method and basic usage can be confirmed from the following page.

I tried using a compact sensor "Thermodo" which can measure the temperature by inserting it in the earphone jack of the smartphone - GIGAZINE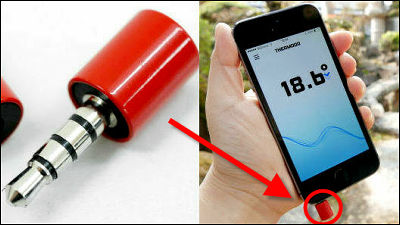 This is Thermodo.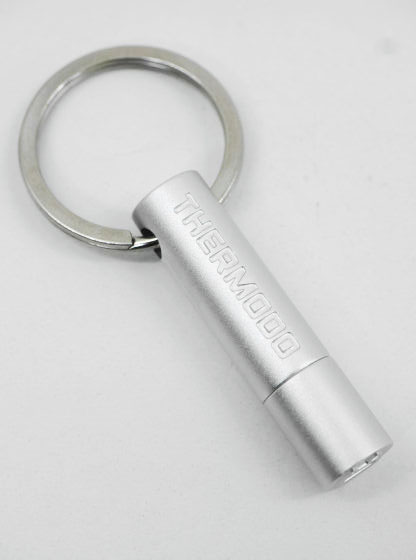 The plug has 4 poles with three insulation rings.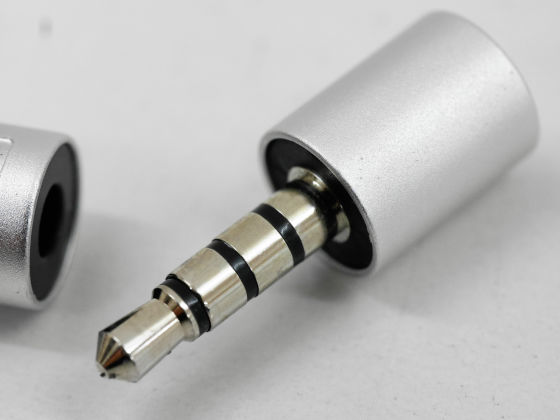 First, update the already installed application,App StoreInstall the application from. Incidentally,AndroidThe application has not yet been upgraded.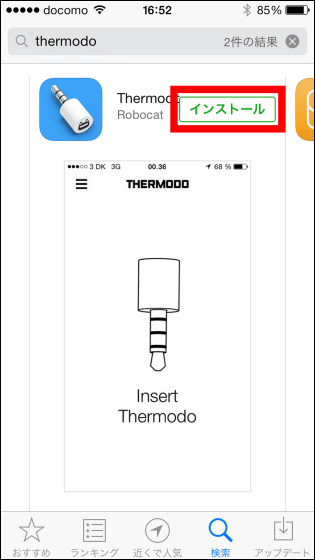 When you start the application, it will show you how Thermodo 1.3.1 has changed, so tap "Continue".



"" Thermodo "asks for access to the microphone" comes out and tap "OK".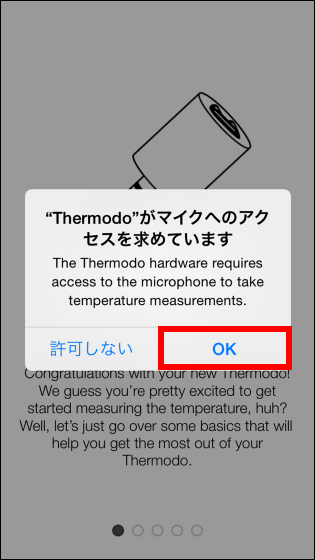 Next is an indication that "" Thermodo "uses the current position information. Are you sure? I want to record where temperature was measured where, also tap "OK".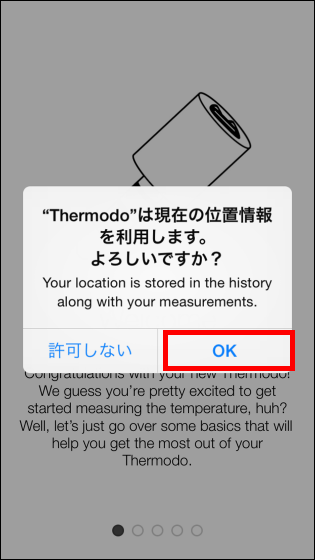 Since "Have fun!" Is displayed, tap "OK, got it!".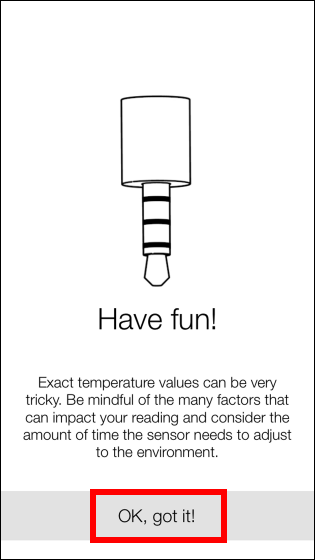 "Insert Thermodo (please insert Thermodo)" ...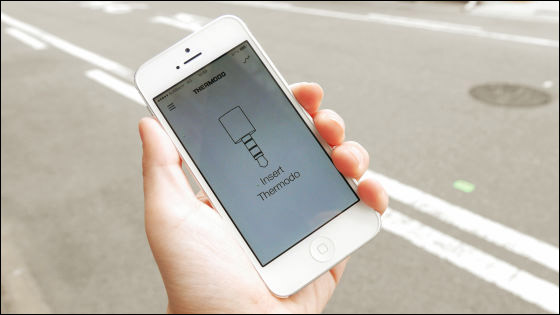 Let's insert the Thermodo into the earphone jack.



Then the screen "Detecting Themodo" appears ......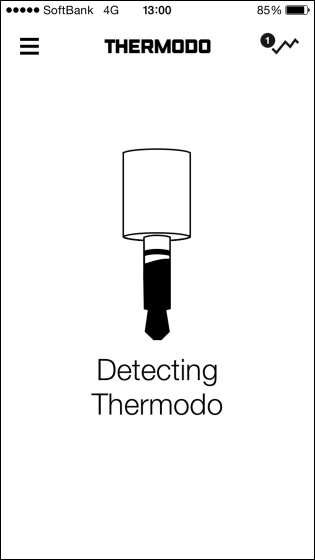 The screen has changed to a line of numbers and waveforms.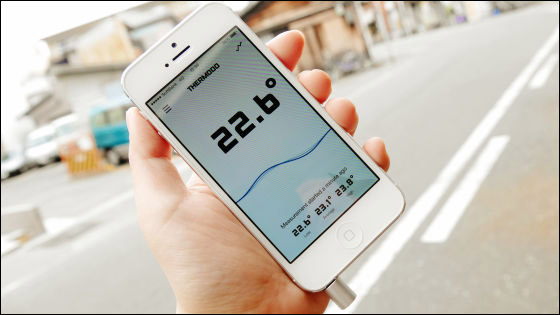 Before using Thermodo, I will start with the settings of the application.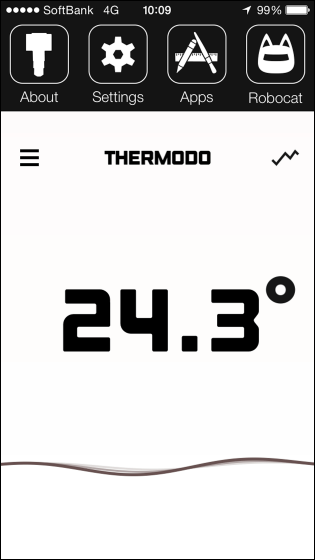 It is written in "About", but Thermodo is also affected by the heat of the user's hands and the heat of the device itself.



Therefore, first turn on "Compensate for device heat" from the "Settings" screen and tap "Regular".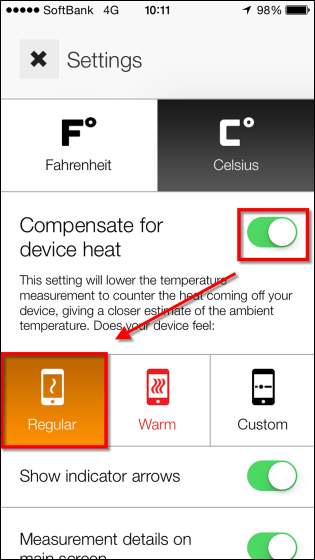 Otherwise, leave the indicator display as default, leave them all on.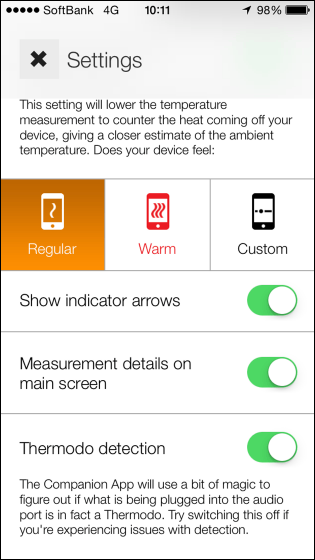 It is complete. Measurement of temperature started from the moment when Thermodo was inserted in the earphone jack. The time elapsed since the start of measurement is displayed at the bottom of the screen, but it can also be hidden from "Settings".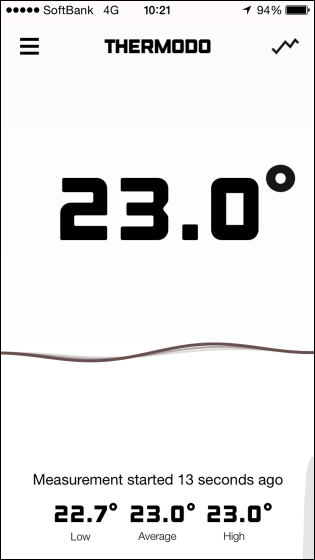 When the Thermodo is pulled out, "1" appears on the graph mark on the upper right of the screen. Tap it ......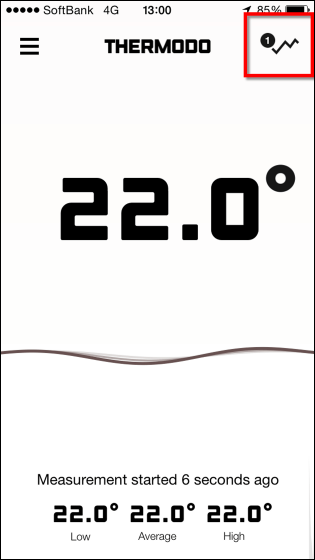 A change list of the recorded temperature was displayed at the time from inserting Thermodo to pulling it out. When and when each heading is measured, the average temperature is recorded several times, so when you look at the details, you can tap the headline if it is OK.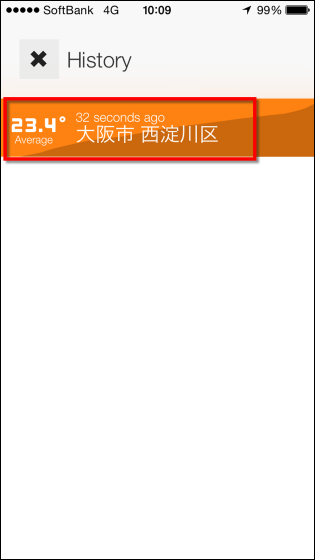 Each recorded data is color-coded according to temperature, and it is displayed like this. Let's slide your finger on the graph.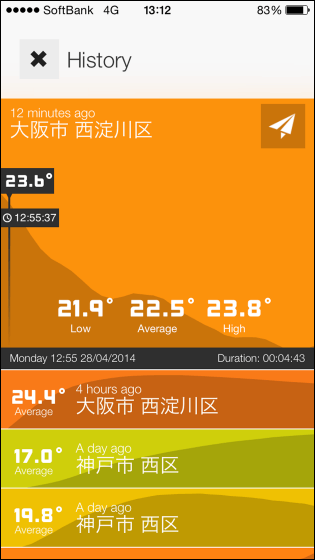 When sliding to the right and letting time pass, the temperature also changes.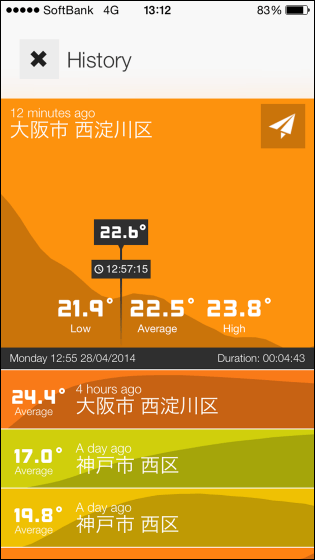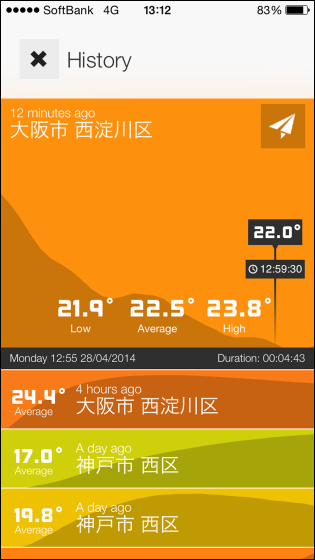 By sliding the screen down in the data list, you can send CSV files of all data by e-mail, or you can search for specific data.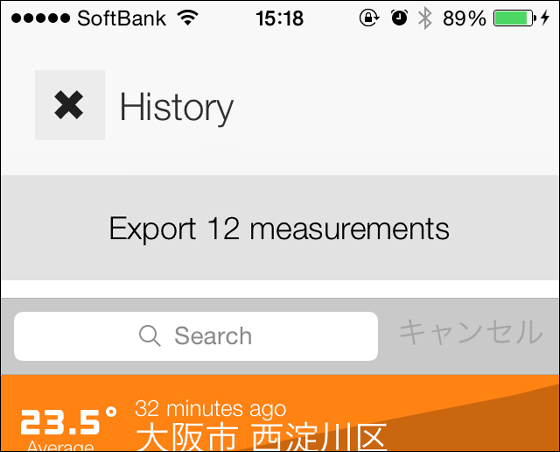 By tapping the paper airplane mark again, I was able to share images with Twitter or e-mail.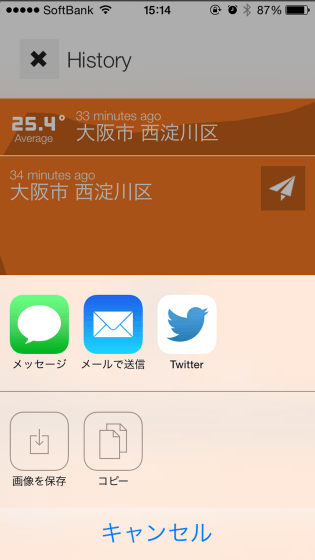 In addition, ThermodoBlack is $ 29.99 (about 3000 yen), Silver's premium version is $ 44.99 (about 4,600 yen)It has become.