"Kaizen" produced by the manufacturing site in Japan spreading to Ethiopia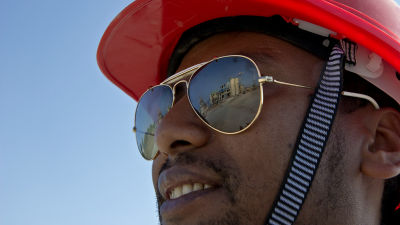 ByDFID - UK Department for International Development

"Kaizen" calls for people in the field thinking about ideas and aiming to improve the efficiency and safety of work, calling it "Kaizen", "organizing" "ordering" "cleaning" "cleanliness" "customization"5SThe slogans and others are well known. Originally Kaizen was born from the manufacturing site in Japan, but this movement is not limited to domestic, it is also rooted in Ethiopia.

BBC News - Japan brings kaizen philosophy to Ethiopia
http://www.bbc.com/news/business-26542963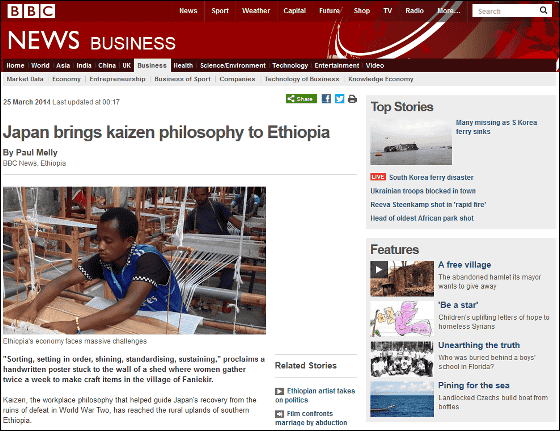 Ethiopia introduces 'Kaizen', a secret of success of Japanese companies | Topics (2009) | News - JICA
http://www.jica.go.jp/topics/2009/20091118_01.html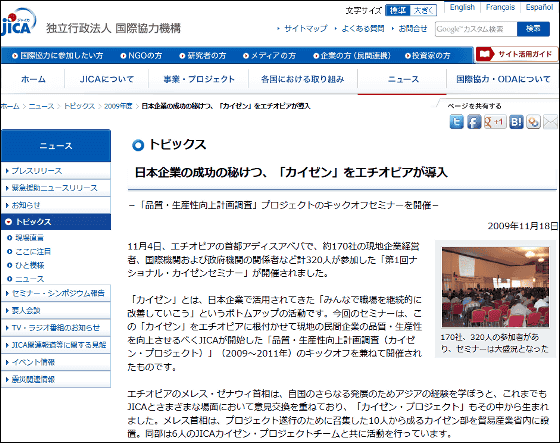 Kaizen was brought to Ethiopia was held in Yokohama in 2008The 4th African Development ConferenceIt triggered. Ethiopia participated in the conferenceMeles ZenawiThe prime minister brought back this idea and spread it for the development of his country.

Ethiopia is the oldest country in Africa, and its history has started around the 10th century BC. It is the second largest country in Africa with 92% annual growth rate of 2.6% annually in terms of population, and the government aims to join middle-income countries by 2025. However, the industry mainly focuses on traditional agriculture, increasing the population of rural areas causes extensive soil erosion and deforestation, and it was difficult to achieve the goal of the government as it is.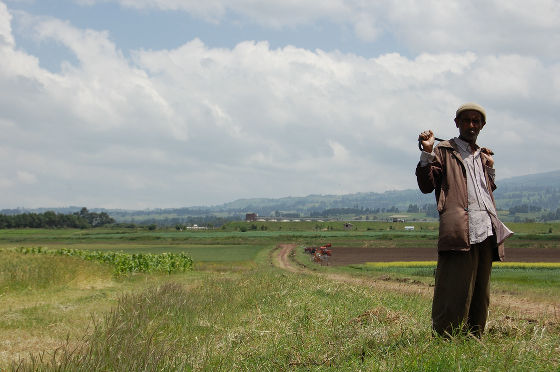 ByInternational Maize and Wheat Improvement Center

There was Prime Minister Zenawi brought back with "Kaizen". Kaizen 's way of thinking is simple, "Keeping the environment of the workplace cleaned and organized", "Instead of waiting for instructions from above, urge people to make creative suggestions" "familiar Work with resources ". To realize this, the "Kaizen Project" team was established within the Ministry of Trade and Industry of Ethiopia and a pilot program was conducted to conduct individual diagnosis and guidance for 30 companies in Ethiopia. Based on the results of the pilot version, a national plan was developed to spread the Ethiopian version of "Kaizen". In 2011, "Ethiopia · Kaizen Organization"Has been made, and spreading of kaizen is done in earnest.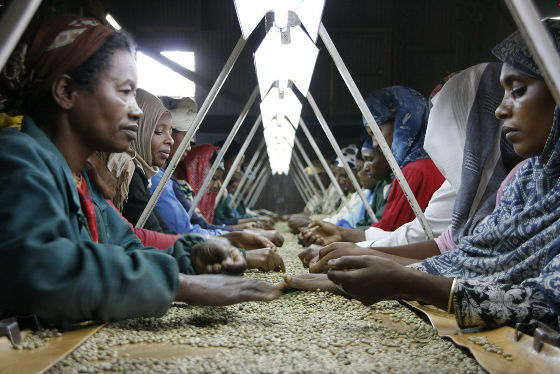 ByDFID - UK Department for International Development

According to Kaizen's organization Getahun Tadesse, in the first few months workplace organization creation and team values ​​are made, followed by the formation of atmosphere to change motivation, productivity, something, innovation and Management is set as a long-term goal. Kaizen has been adopted by more than 160 companies so far, and the number of people who received kaizen training last year has reached 11,000. Handmade fabric manufacturers with handling of products in London and New York "Moya EthiopiaMr. Sarah Abella, the founder of the company, also intends to incorporate Kaizen.

Bonsa Regassa, one of the advisors spreading kaizen, said it was hard to create a mechanism that "workers confidently submit their opinions and consider their opinions in charge" We want to change the working culture of Ethiopia, "he said.

By the way, this is a "Kaizen" poster made in the field. 5S in Japan is "Organize" "Ordinance" "Cleaning" "Clean" "Habitualization (disciplining)" Here, "Sorting (Sorting)" "Setting in order" "To clean (Shining) "," Standardize / Standardize "(" Standardizing ") and" Sustaining ". Successfully translating the shape and meaning of 5S as it is.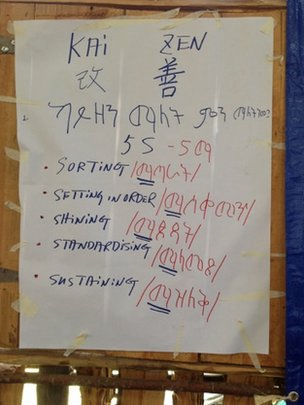 I visited African countries by bike and saw the actual situation with my eyes.Takuya SAITO(Charriderman) said in an article visiting Uganda "Poverty is not natural and there. It may be good to have assistance, but if so, it would be necessary to ask "what to improve". I feel that assistance not seeking outcome appears in this word which African people can easily say "Give me money" "Donnez-moi l'argent", in other words "golden"."Although the opinion is stated, what the Kaizen project and the Ethiopia Kaizen organization are doing is exactly the challenge to this" what will be improved "part.

By the way, Prime Minister Zenawi who took Kaizen back to Ethiopia died of illness on August 21, 2012. While contributing to the economic growth of EthiopiaFrom human rights protection organizations the voice of criticism came up due to restrictions on press freedom and crackdown on the opposition partyAlthough it was there, how will that heritage change Ethiopia?
in Note, Posted by logc_nt