I went to "grano-ya" that I can make original granola by choosing my favorite topping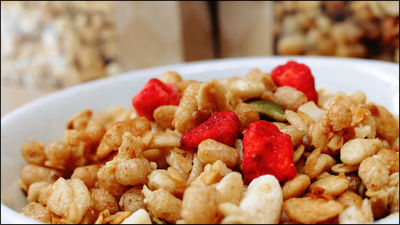 Calbee'sFulhuraYou can freely add your favorite topping toGranolaspecialty shop"Grano-ya"Opened on April 16, 2014 at the food hall in the basement of Hanshin Umeda head office. I was worried about what kind of granola can be eaten, so I went to a freshly opened store.

Grano-ya (Granoya) | Calbee Co., Ltd.
http://www.calbee.co.jp/grano-ya/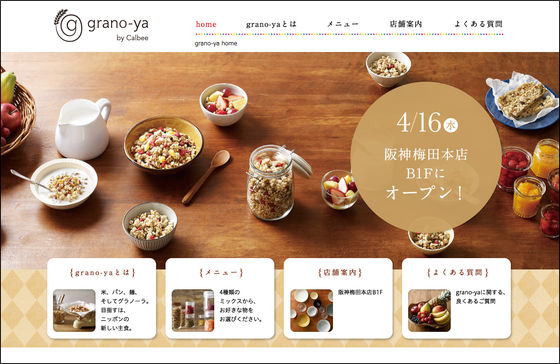 It is on the official page of grano-ya just opened on 16thFrequently Asked QuestionsAccording to Grano-ya how to read the grano-ya. This name is naming that granola and shops (ya) can be recalled.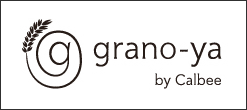 So we arrived at Hanshin Umeda underground floor with grano-ya. Hanshin Electric railway station just outside the department store outlet of Umeda station ......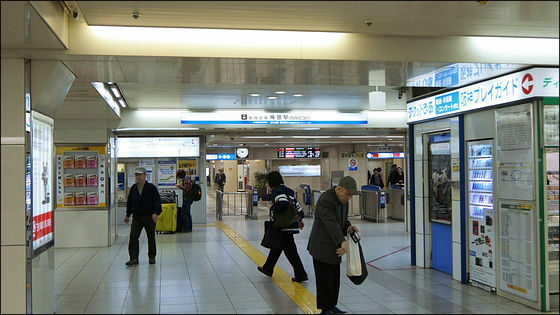 It opened in the Hanshin Food Museum. It should be okay if I arrange it here before opening,GRAND CalbeeAt the time of opening, a row of awesome lines was made, but this time it's nice to be able to purchase with crispy.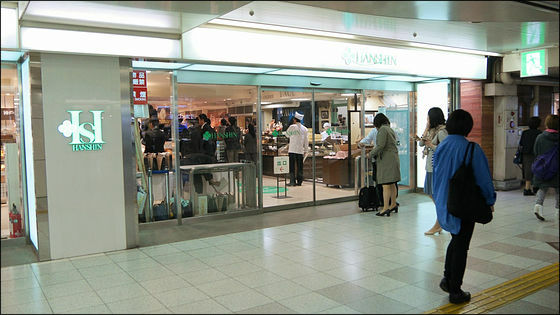 The opening of the food hall is at 10 o'clock and as the open time approaches, "What is there?"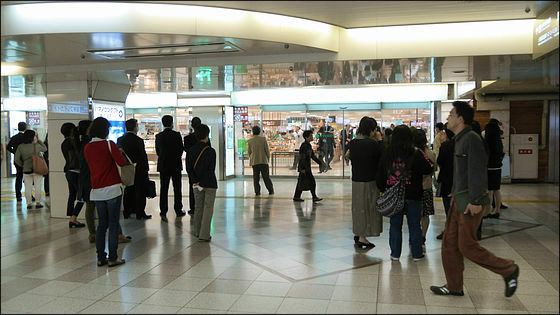 As soon as it opens, let's go to grano-ya.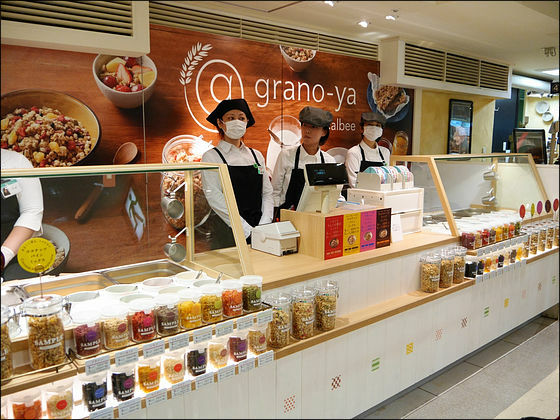 A lot of granola and dry fruits and nuts topping with it are lined up in the shop front.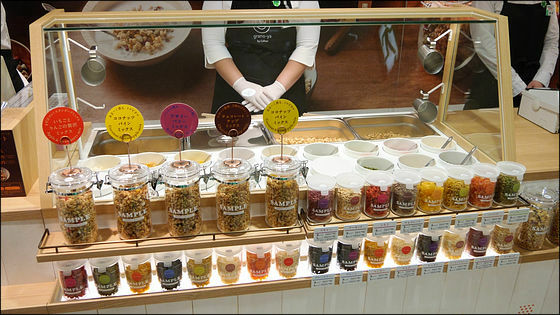 In grano-ya, you can purchase four types of granola: "Ichigo and apple luxury mix" "Coconut pine mix" "Asai berry mix" "Chocolate chip mix (limited time: planned to end of May)". There are two sizes S and L, S size is 432 yen including tax, L size is 1188 yen including tax.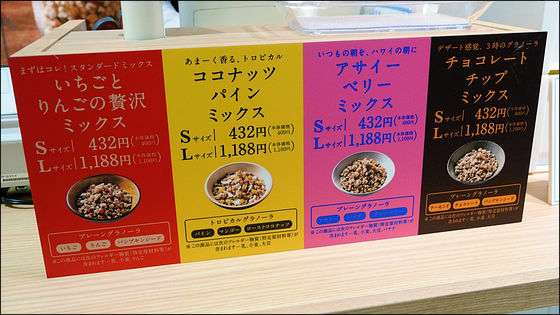 There are 14 types of toppings in all, for example "Ichigo and apple luxury mix" contains three types of toppings, "strawberry", "apple" and "pumpkin seed" in advance. And it is also possible to add up to two kinds of topping. In addition, if you add topping to S size, you need 54 yen including tax, 162 yen including tax when adding to L size.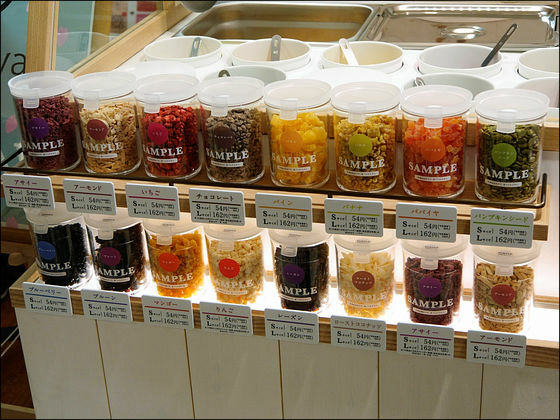 I will order the clerk immediately as soon as I know what granola can be purchased. As the clerk comes to ask for orders when lining up in the front row of cash register, you can receive this order table if you inform Granola and topping you want. And if you hand it at the cash register, you can get granola with the desired topping.



Although you can listen to orders while lining up in the row, the order table needs to be handed directly to the clerk at the cash register, and from there we start packing granola into a bag, so operation is a bit late. Alright room for considerable improvement.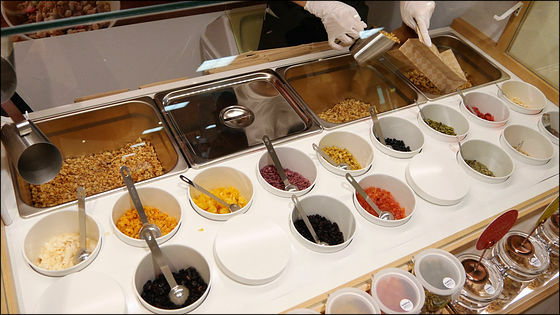 That's why it's safe to purchase. I will look at the contents of the bag at once.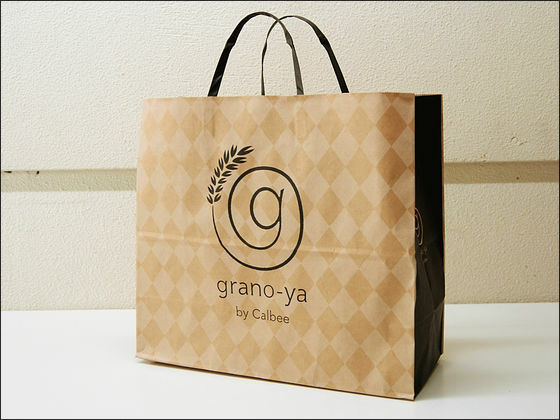 This time purchase one L size of "Ichigo and apple luxury mix", S size of "Coconut Pine Mix" "Acai Berry Mix" "Chocolate Chip Mix" one by one. In addition, I tried topping with papaya on "Coconut Pine Mix".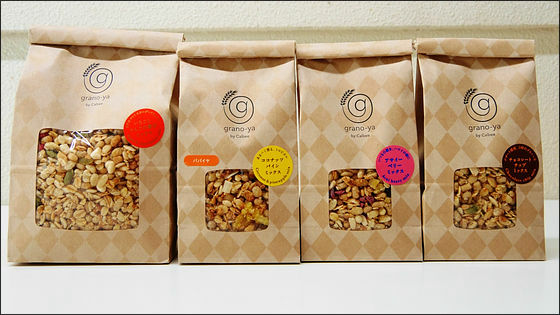 It is like this when aligning L size and S size granola with iPhone. L size is equivalent to 6 to 9 servings, and S size contains 2 to 3 servings of granola.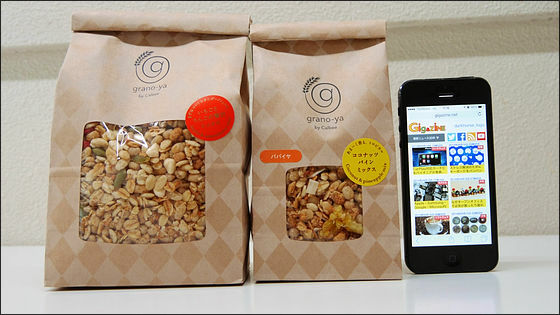 "Ichigo and apple luxury mix" contains strawberry, apples, pumpkin seeds in the topping, and furthermore the granola of the same plane as full-grain on the market is used.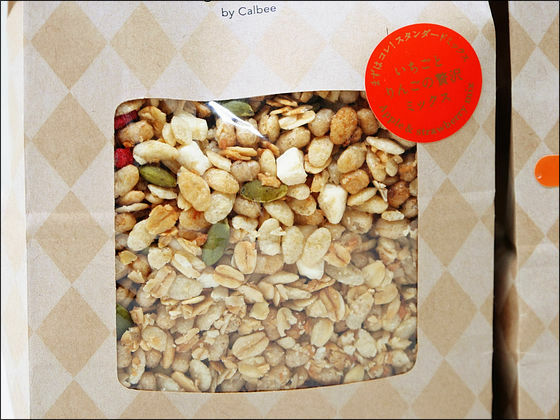 "Coconut Pine Mix"Fullgraphic tropical mixIt uses the same tropical granola (granola characterized by the flavor of coconut milk), and the topping contains pine · mango · roasted coconut. In addition, when adding additional topping, the feeling that the seal of the added topping is stuck on the left side of the package.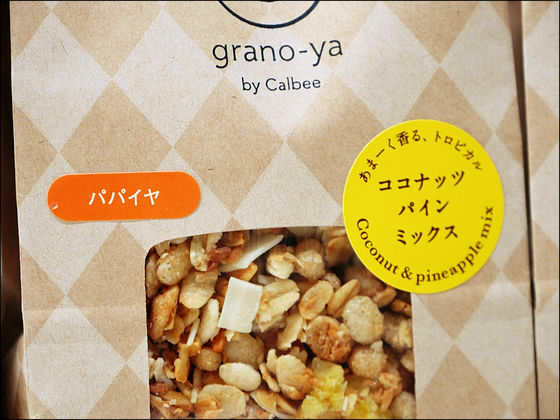 "Acai Berry Mix" contains Plain Granola and Acai Banana Blueberry.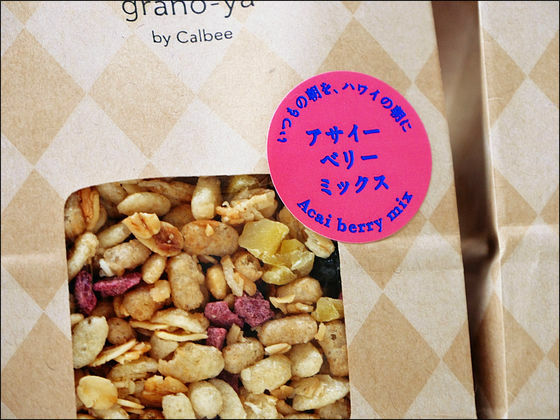 "Chocolate Chip Mix" is a snack granola that can be eaten with a desert sensation, which is a plain granola topped with almond, chocolate, pumpkin seed.



That's why I decided to eat from the standard 'Ichigo and apple luxury mix'.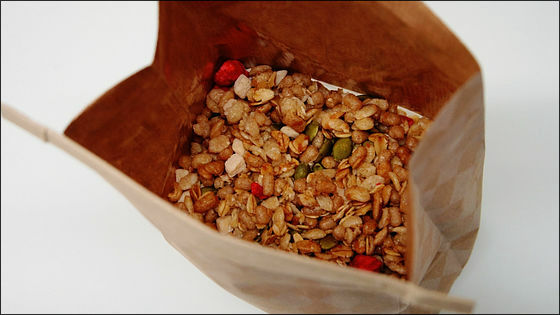 "Ichigo and apple luxury mix" is such a feeling that dried fruits of strawberg and apple are contained more than normal fullgra.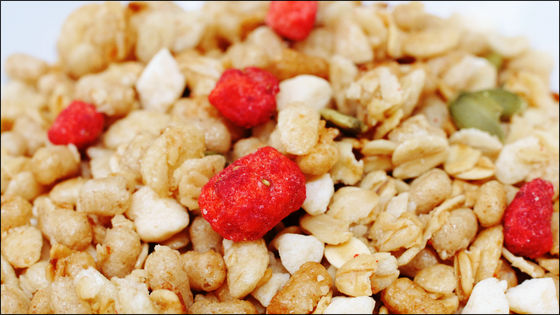 If you compare the two with "Ichigo and apple luxury mix" purchased with grano-ya on the left side and the commercially available fullgra on the right side, the amount of fruit is completely different. In addition, since commercially available full grag contains papaya raisin in addition to strawberry, apple and pumpkin seed, if you want to bring it close to this, add papaya and raisins with topping to "Ichigo to apple luxury mix" OK .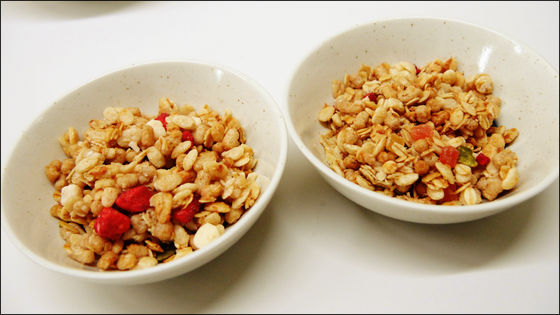 Granola of grano-ya has a clearly larger size of strawberry, apples are not much different in size, but it has been increased considerably. When you actually eat "strawberry and apple luxury mix", it is considerably fruity than ordinary one with sweetness and sour taste of big strawberries. Ichigo's presence is too big to notice when strawberries are in the mouth, but the amount of apples is too much for granola, so even if you do not have strawberries apple plus fruity and refreshing sweetness throughout I will give it.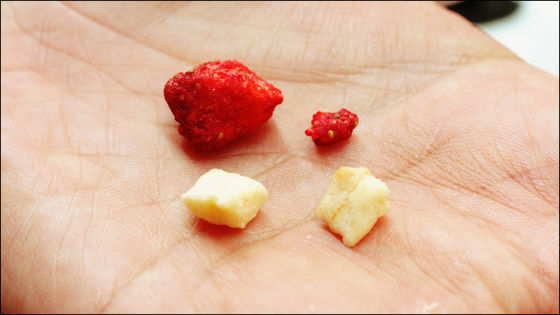 Then we tasted "Coconut Pine Mix" which entered the S size bag.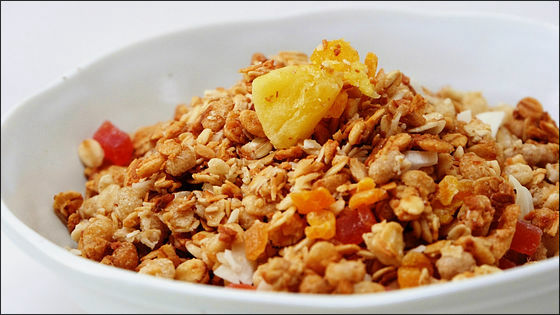 S size grandola was about enough to get all of this in size.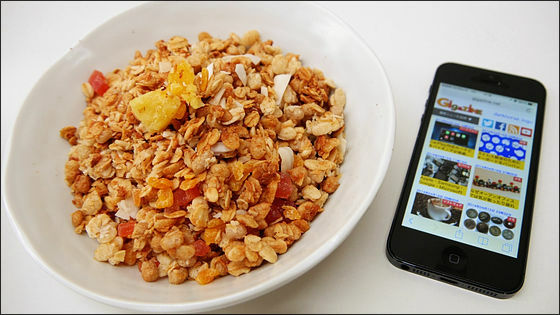 The toppings are pine · mango · roasted coconut, each of which is quite big.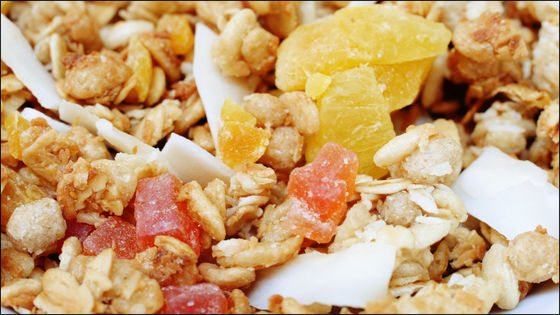 Also, "Tropical Granola" is used for "Coconut Pine Mix", which is a slightly brown color than ordinary granola.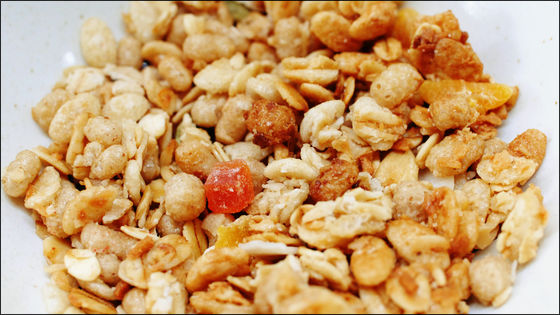 This is said to be a store clerk, "It is recommended to eat with vanilla ice".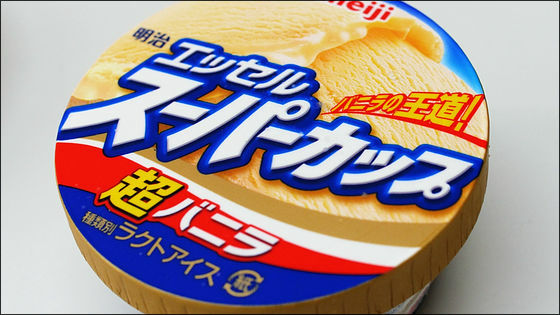 That's why we will be with you. Good with eating with vanilla ice, the powdery texture of granola and the fragrance of big fruits are added to vanilla ice.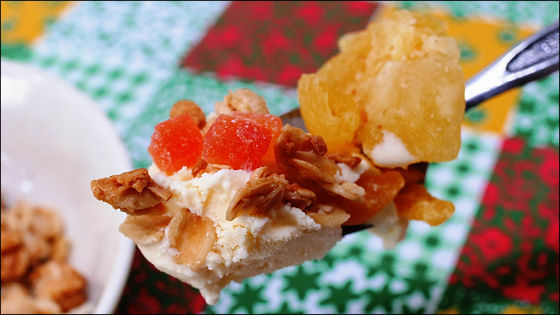 "Acai Berry Mix" was a compatibility with plain yogurt, so I requested cooperation from Meiji Bulgaria yoghurt.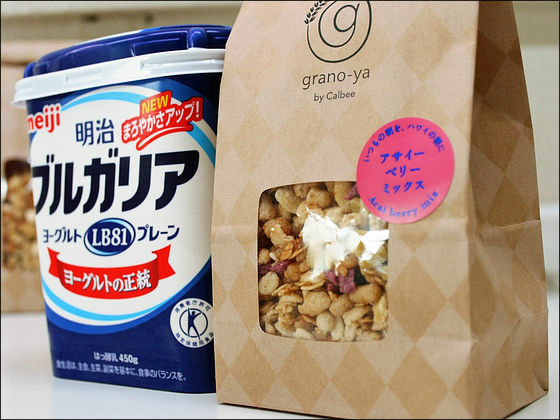 Although the topping is with Acai, Banana, Blueberry, which one is a banana ... ?.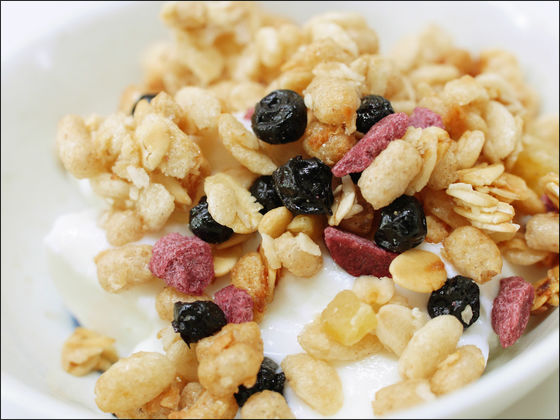 "Acai Berry Mix" is toppings are all fruits, and all of Acai, Banana, Blueberry are outstandingly compatible with yoghurt, so personally the combination of "Asai Berry Mix" × Yogurt was the best.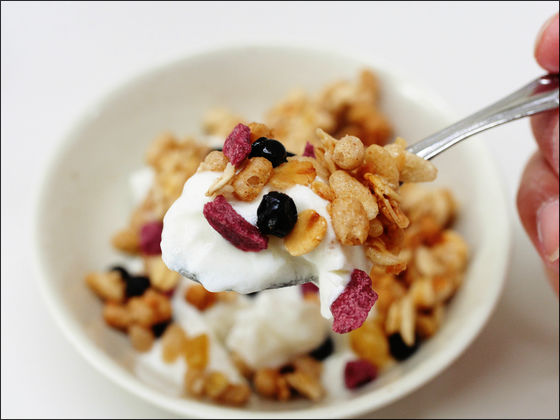 And at the end is the "Chocolate Chip Mix" that is perfect for a snack.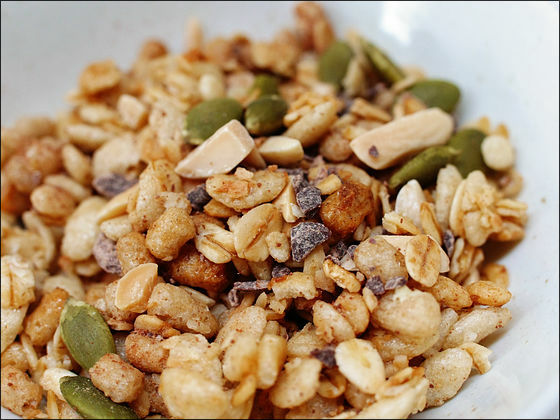 I will apply milk to it and eat it. "Chocolate Chip Mix" was the best for snacks, but since it contains a lot of almonds and pumpkin seeds, you can enjoy a different texture with the other granola and sweetness is not so strong, so it is preferable for adults I got the impression that it is a granola that seems to be rare.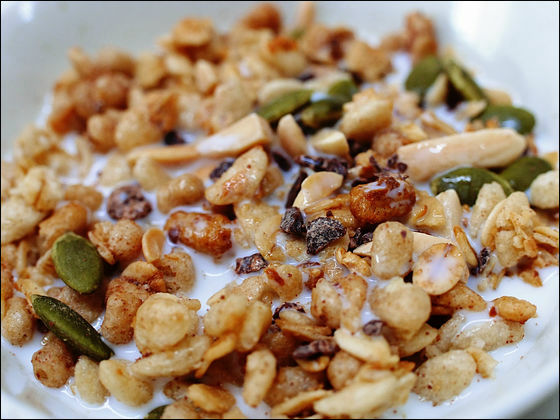 In addition, the commercially available Fullgra was sold at the supermarket at 800 yen including tax of 820 yen. Considering that it is only toppings of fruits and nuts that is different between the ones on the market and grano-ya, the grano-ya is a bit too expensive impression.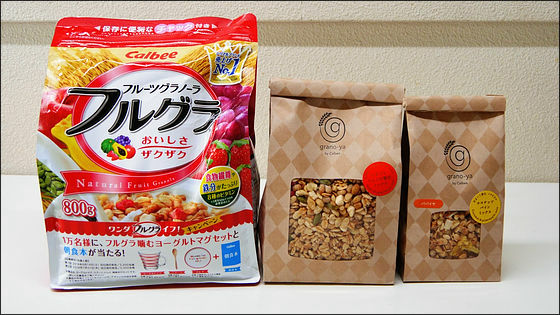 However, you can choose a toppings combination that you can not eat with your favorite ones, and you can create your own granola that suits your taste, so even if you stop by to make the original one once It might be good.