We have eaten the new Mos Burger new work such as cheeseburger using Gorgonzola and veggie teriyaki burger without meat at a stroke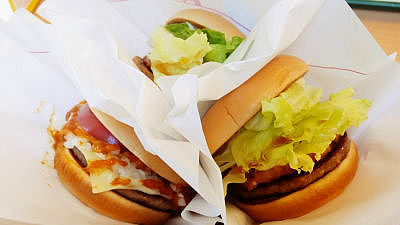 On April 1 (Tuesday) when the new life begins in earnest, Mos Burger will start selling a new work of hamburger · moss rape salad · dessert at a stroke. I went to Mos Burger to taste various menus.

[PDF] Evolution of signboard products "Moschiseburger" and "Teriyaki burger" rich "Rich Moss Cheese Burger Gorgonzola Cheese Sauce" "Teriyaki Burger Corn Opaque Fried" - From customer's voice Only birth vegetables "Baked Teriyaki Burger Corn Freshener" Also released ~ - pr_140312_1.pdf
http://www.mos.co.jp/company/pr_pdf/pr_140312_1.pdf

[PDF] New sense hamburger of "Lettuce delicious" appeared again this year "Moss Natashimi" released for a limited time ~ Selling 6 products from Mos Burger nationwide from April 1 (Tue) ~ - pr_140306_3. Pdf
http://www.mos.co.jp/company/pr_pdf/pr_140306_3.pdf

[PDF] New release of colorful salad "coloring salad of commitment vegetables" with mini-tomato spent a couple of hours at shops ~ Limited time sale on Mos Burger nationwide from Tuesday, April 1 - pr_140306_1.pdf
http://www.mos.co.jp/company/pr_pdf/pr_140306_1.pdf

[PDF] New sensation dessert using vegetables appeared! "Jéréjël mini tomato's tailoring" ~ New release of dessert 5 products for a limited time from April 1 (Tue) ~ - pr_140312_2.pdf
http://www.mos.co.jp/company/pr_pdf/pr_140312_2.pdf

Mos burger will be on April 1 morningRice burger morning salmon "salmon"Since it is the place where we launched the new product, we decided to challenge the new item of lunch at that momentum. On the walls of the shop are newly released rich mos burger and ....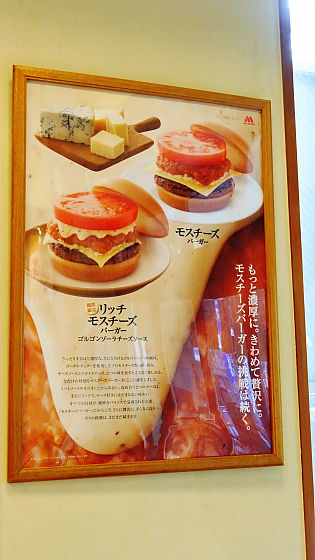 Poster of Teriyaki Burger using cone.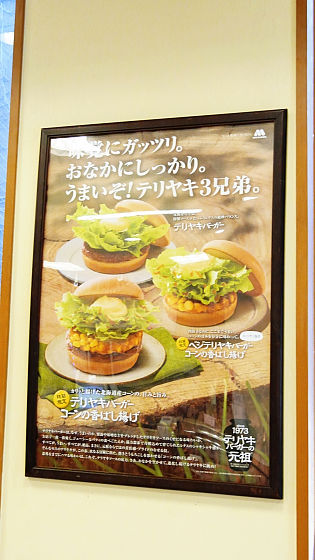 Looking at the menu ......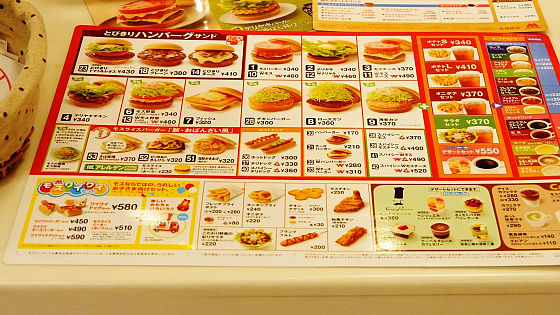 It is possible to order vegetables in part.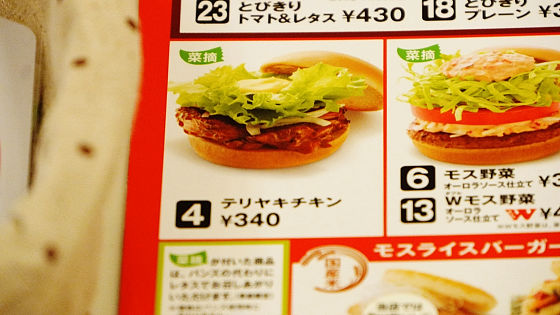 A new dessert of the cup pasticier series was also pasted. I will ask you immediately.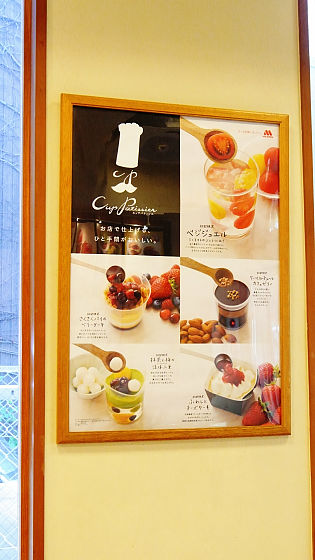 First of all, three hamburgers selling today arrived.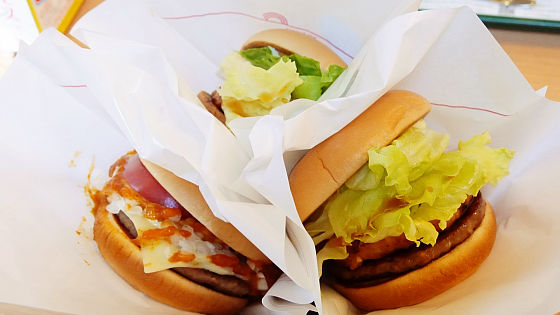 Rich Moss Burger Gorgonzola Cheese(400 yen including tax) is a dish of Moss Cheese Burger plus Gorgonzola cheese sauce.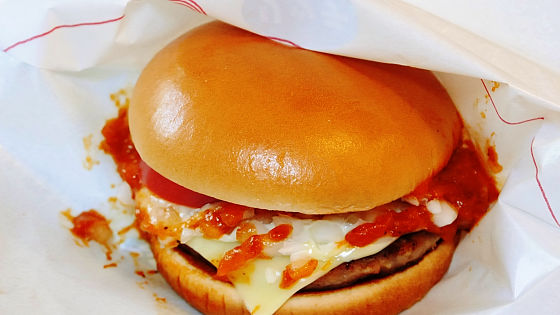 Take the upper buns, you can have meat sauce and tomatoes and it is almost same as Moss Cheese Burger ... ...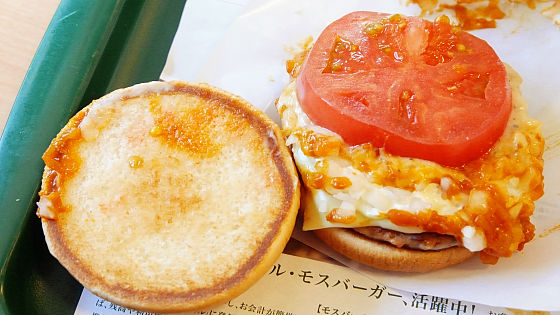 Gorgonzola cheese sauce is included.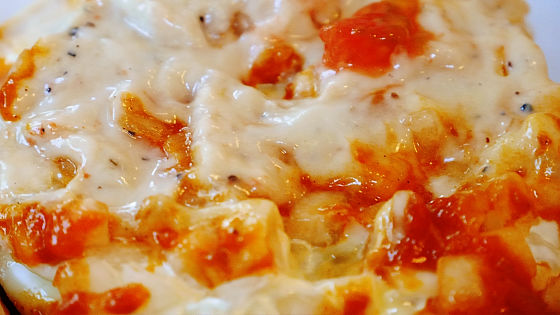 When trying to eat, the rich taste of Gorgonzola is mixed with the taste of meat sauce, tomato sour and beef patty and it is good. When I say Gorgonzola it will be quite a strong cheese, but it was a mild finish.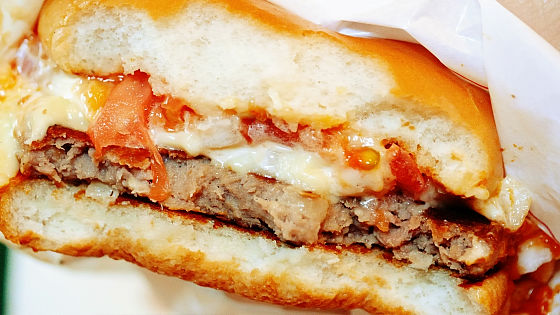 Following the new work of the Teriyaki seriesDeep fried vegetarian potato corn(270 yen including tax) "and"Deep fried Teriyaki burger corn(380 yen including tax) ".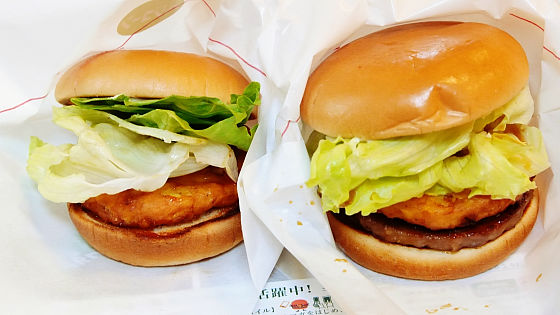 "Fried vegetarian potato stew with corn" is a vege burger that does not use meat using a crushed corn.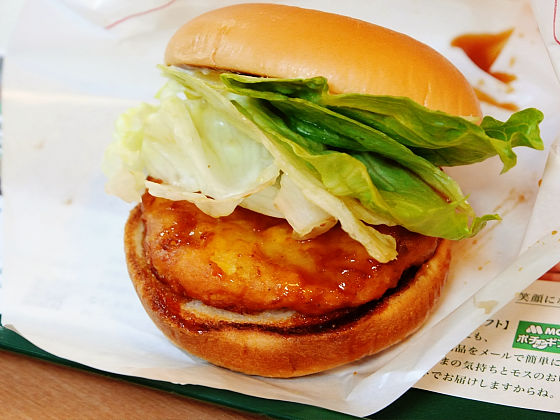 Taking the buns, you can check the concentration of the corn with mayonnaise, lettuce, teriyaki sauce.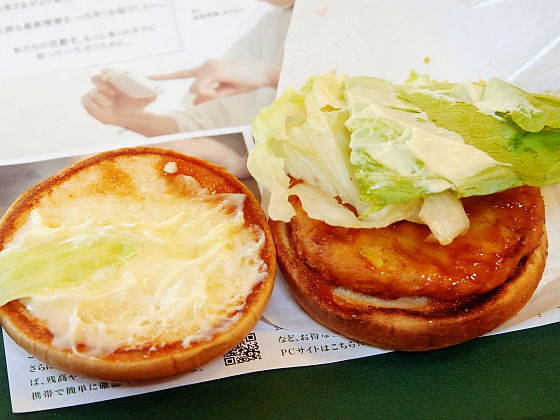 There are grains of corn in the kakiage.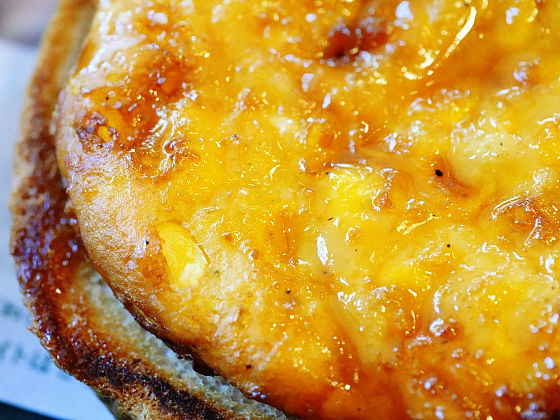 When I try to eat it, the sweetness of corn is quite strong, making mayonnaise and teriyaki sauce also strong taste but not feeling unsatisfactory. Corn with sweetness with bite-petite texture is a presence that can play a leading role.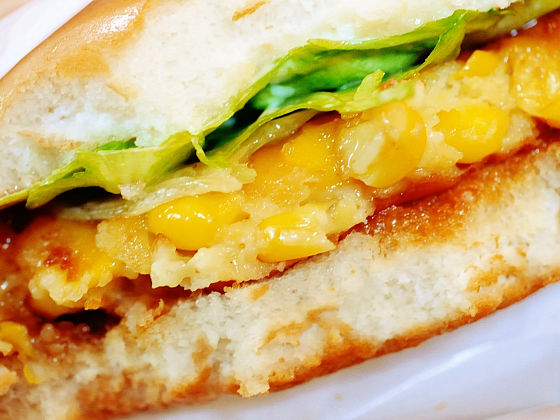 Beef patty is added to the fried beef teriyaki burger corn scented fried bean paste.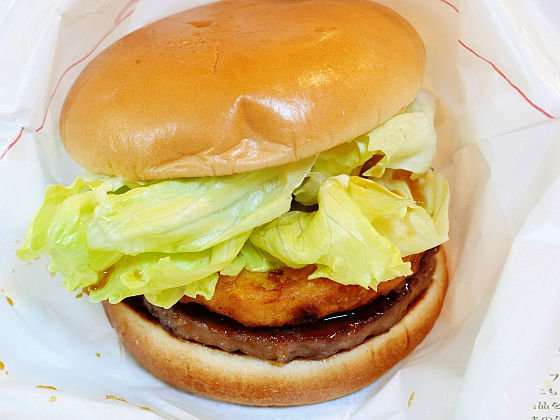 Although the presence of beef patty enters a bit thinner, the taste of corn can be felt firmly even if the flavor of beef patty enters. I do not think much of a hamburger that extruded corn strongly so I feel fresh.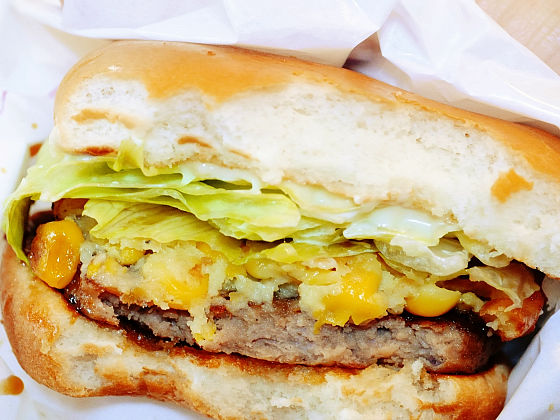 Salad (200 yen including tax) on salad (commodity vegetables using 220 yen lettuce with vegetable and tomato sandwiched by patties on the table is on the table.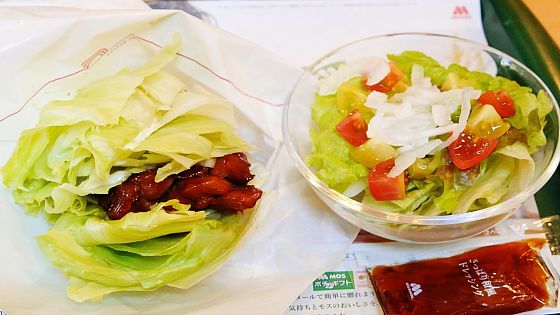 Rapae is "Moss's vegetables moss vegetable tailoring sauce" · "Moss's vegetables Teriyaki chicken" · "Moss's fish fish" · "Moss's rapeseed shrimp cutlet" · "Moss's rape cutlets" · "Moss's rakugo chicken" 6 types. This timeMoss's Lunch Teriyaki Chicken(340 yen including tax) ordered. Both seem to be limited time sale until late August of the season when the lettuce is delicious.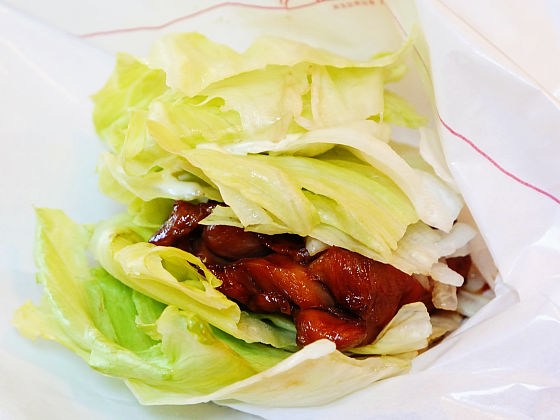 Moss' s pickled vegetable Teriyaki chicken is made with lettuce and Patti is wrapped around, making almost the same except that the buns are changed to lettuce.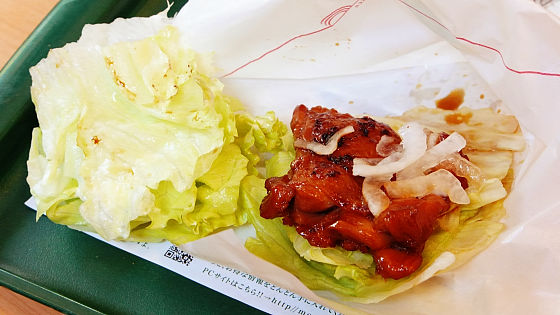 Also full of mayonnaise.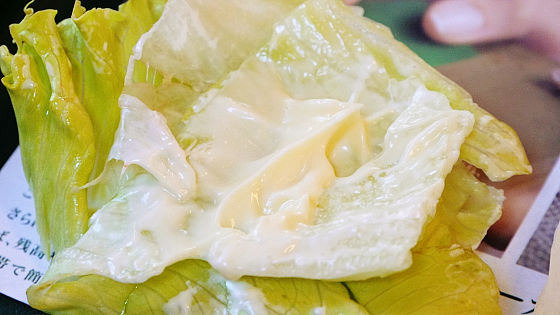 Fresh texture of lettuce with shakijaki is comfortable, it becomes slightly watery and the taste of Teriyaki chicken dilutes, but making lettuce can fully enjoy. I have plenty of vegetables and less carbohydrates, so it seems to be good for when hungry is empty or when it is light dinner.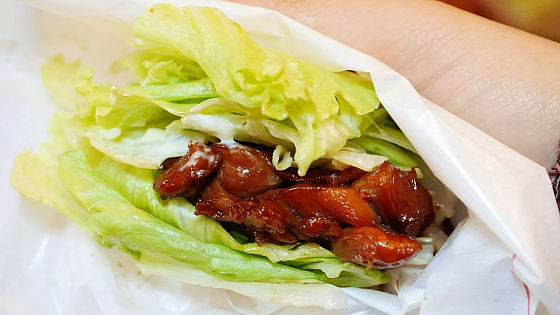 Attentional vegetable coloring salad refreshing Japanese style dressing(220 yen including tax) is a sticking salad that used mini tomatoes in spring and summer tasty season and sprinkled with a shop.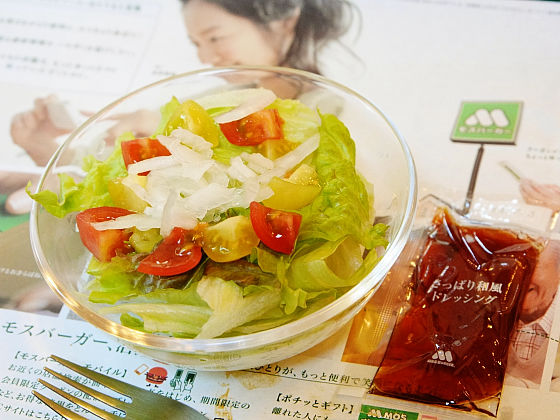 Dressing is Japanese style, use chicken extract and kelp soup.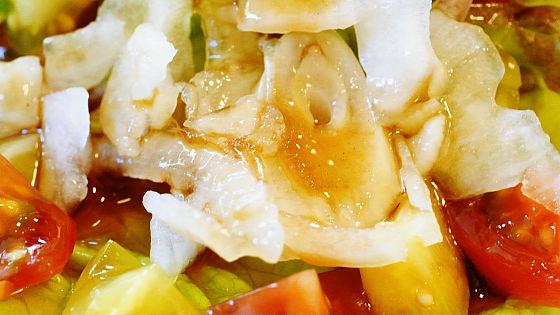 The sweetness of tomato stands out and making dressing makes you feel Japanese somewhere. I am making salad at a shop, lettuce etc are fresh and impressive over other salads at fast food restaurant.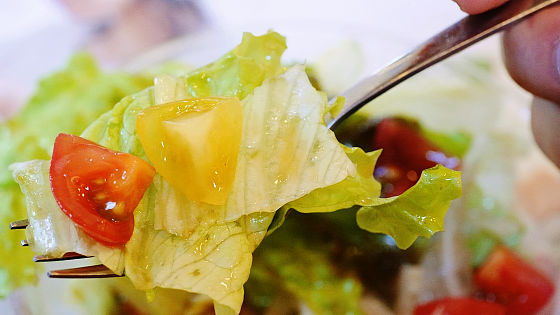 The new dessert of this time is five items "Jéréjéger mini tomatoes tailoring"·"Couvert Tulle Cafe Jelly"·"Cool duality of matcha and plum (cooking lice) ""Fluffy and cheesecake"·"Sakusaku pie berry cakeAll prices are slightly higher at 380 yen including tax.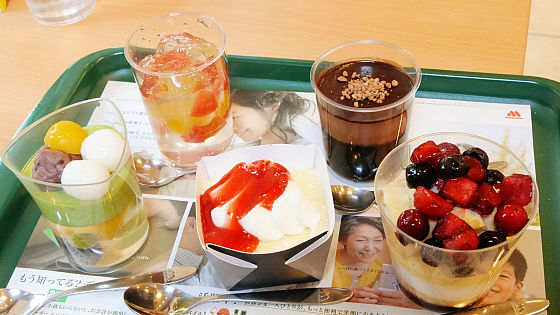 Bézieru mini tomato jewelery is a gem of attention that uses tomatoes sprinkled in shops.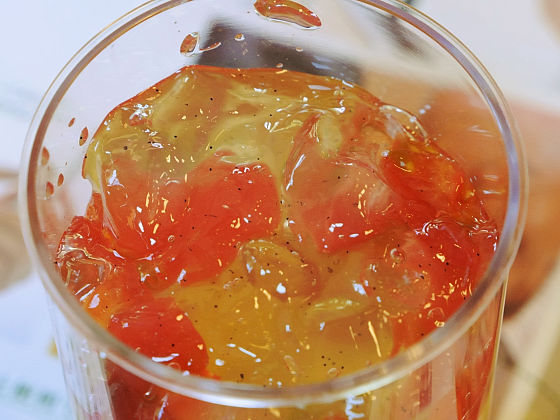 Viewed from the side, the tomatoes are tapiri and beautiful shades.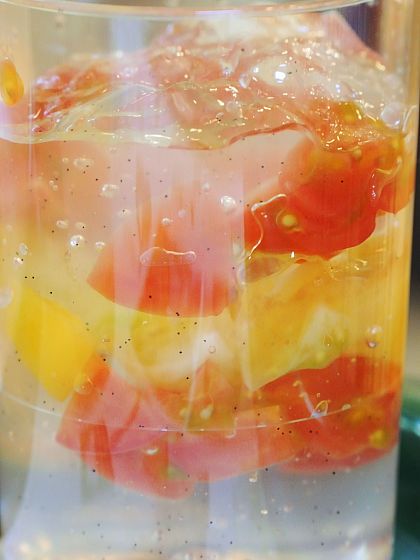 Jelly felt lemon acidity and sweetness, and the tomato taste surprisingly matched. It is perfect for people who like tomatoes because they can eat tomatoes in the sense of dessert.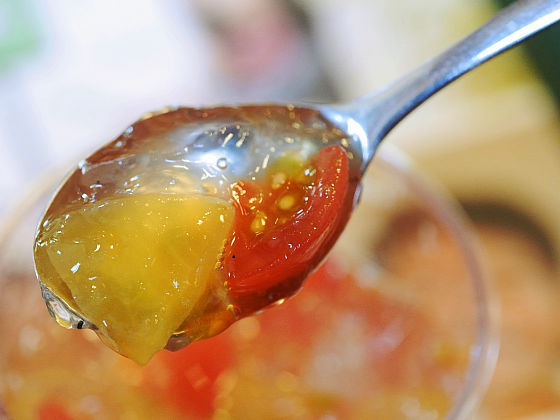 Couverture cafe jelly has cacao darkCouvertur chocolate· Dessert with almond praline · coffee jelly.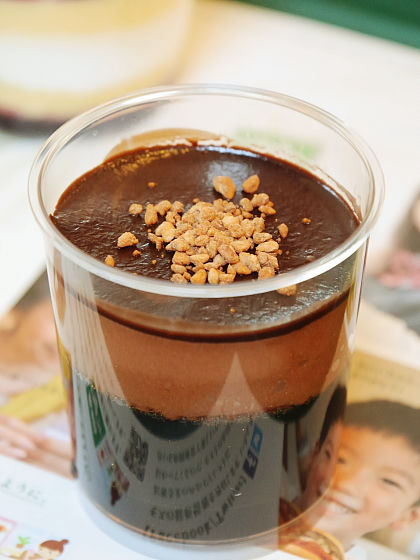 Chocolate spread for topping.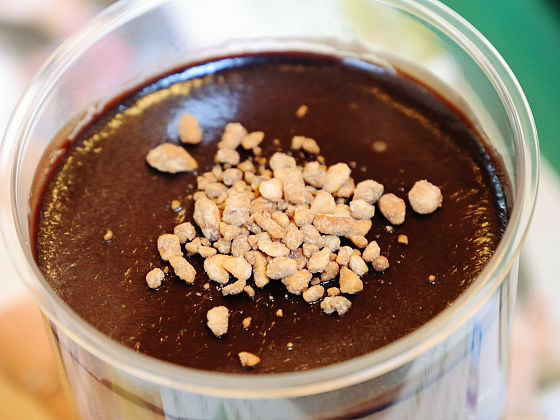 You can see that it is beautifully layered as seen from the side.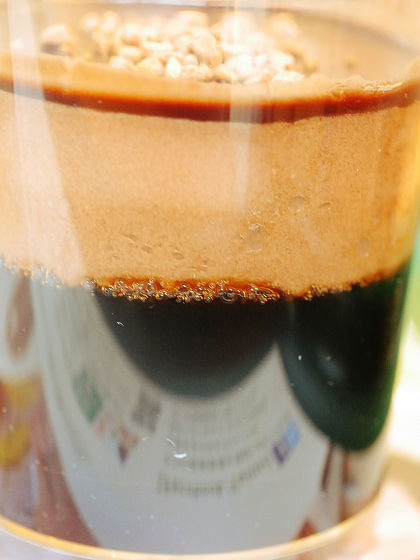 When scooping and eating, the taste of chocolate is rich, and it feels like the taste of almond so it feels like Tiramisu. The crispy texture of the chocolate spread has also become a good accent.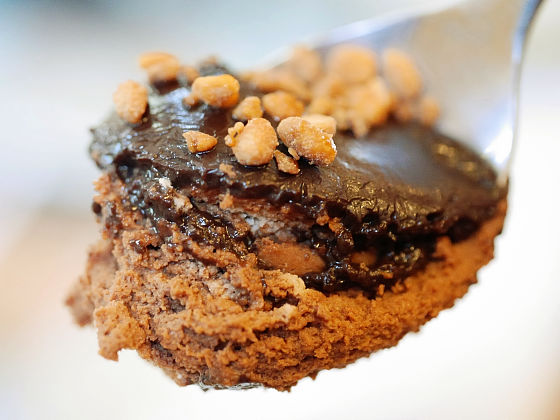 The lower layer is a coffee jelly with good sour and bitter taste, finished in a taste with considerable sharpness.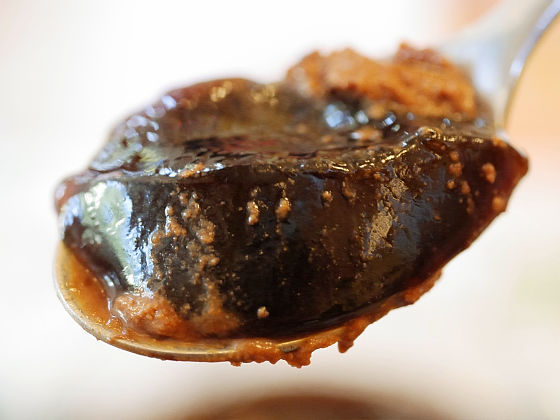 Coffee and dumpling of green tea and plum are toppings of red beans, white eggs, chestnuts on top of Matcha mousse, plum jelly with apricots, gourd beans and red peas at the bottom.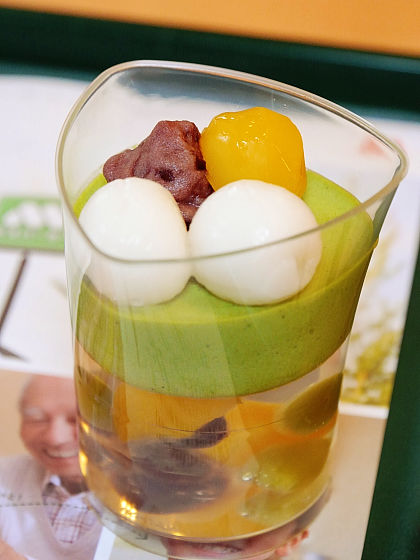 It is quite colorful when viewed from the side.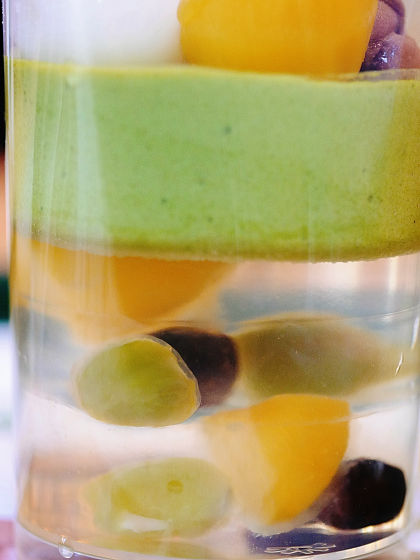 Topping is quite Japanese.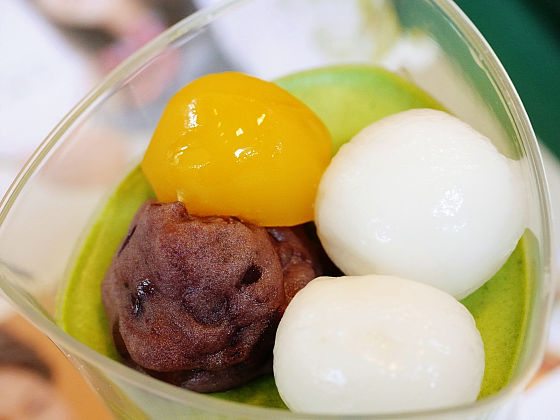 Matcha mousse seems to be finished in eyes as it is slightly thin with both fat content and green tea concentration and the jelly is below.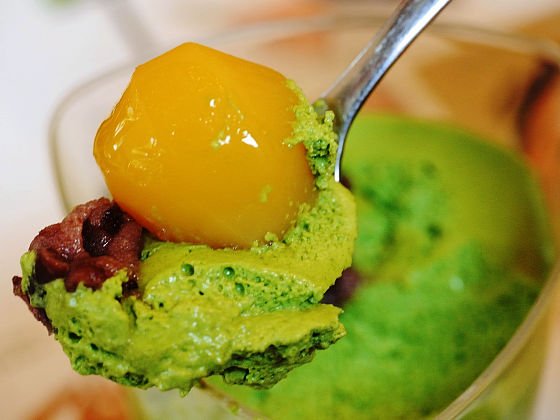 Shiratama has excellent compatibility with red beans and powdered tea mousse with a dusty texture.



Jelly is a Japanese style finish where you can feel the taste of plum. Both azuki beans and apricots are well compatible.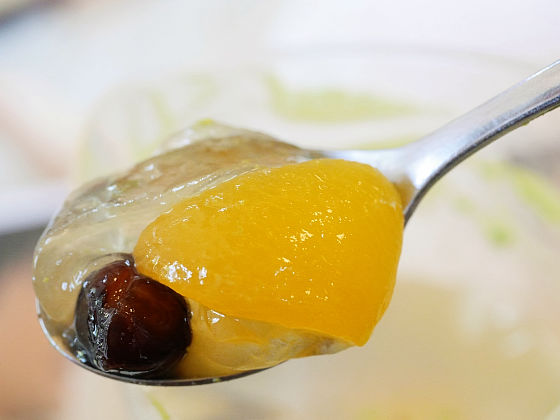 Strawberry juice sauce eye-catching sausage and cheesecake used cream cheese from Hokkaido.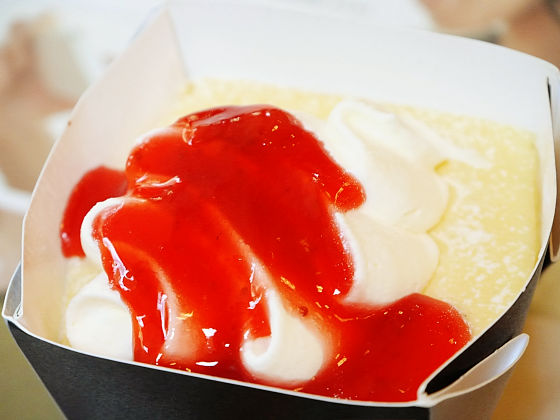 The cheesecake has a rich taste of cheese and sour taste as well. Ichigo's fruit juice-containing sauce has become a good accent.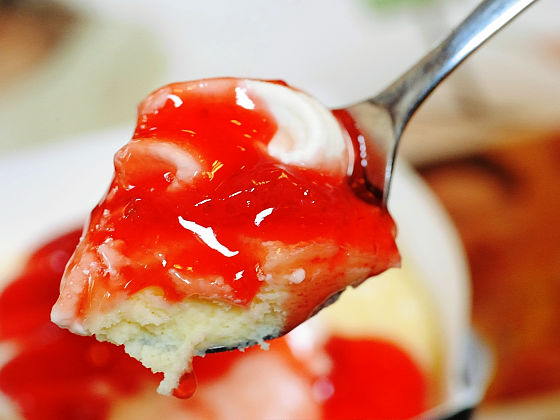 The saucep pie berry cake is topped with plenty of berries, and dessert with pie and custard piled up.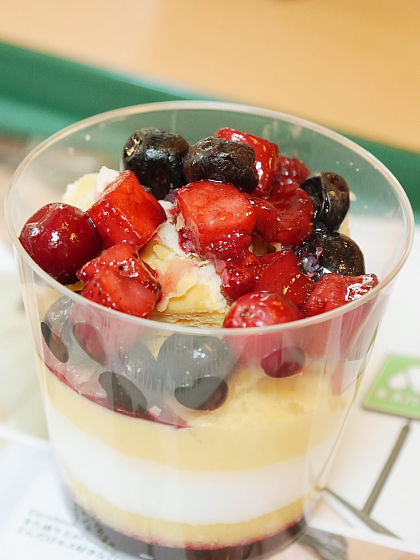 Jelly with custard cream · whipped cream · sponge · berry is layered from the side.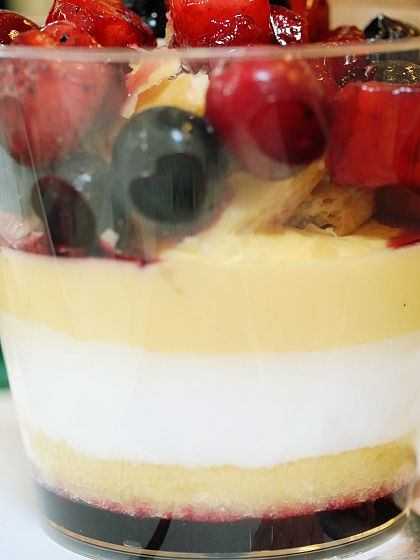 Berry felt the taste of strawberry, blueberry, grandberry, raspberry firmly, it felt good compatibility with crispy pie's dough.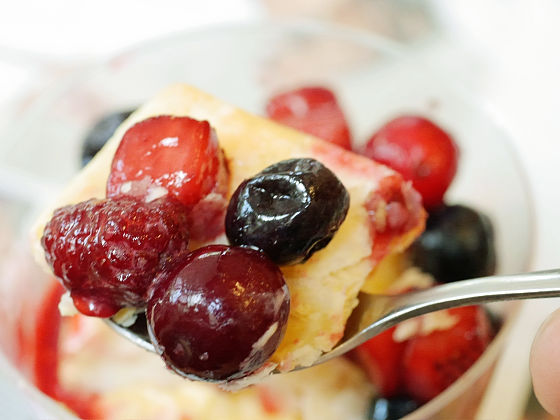 Custard cream and whipped cream are modest in sweetness and good compatibility with berries. Millefeu with sensory berries.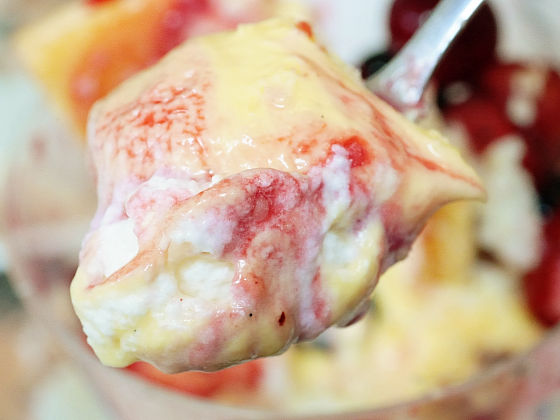 Many new products such as breakfast, hamburgers, side menu, salads, desserts etc. are out, so it is ants that people who have not recently visited Mos Burger seek new discoveries.