IPad 2 sale ended, resale fourth generation iPad Retina model as successor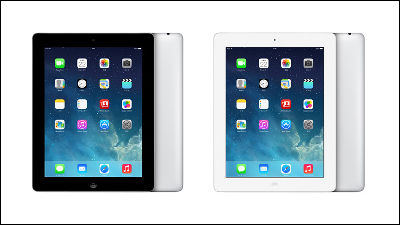 Apple is March 18, 2014, the low-cost model of the 9.7-inch iPad "IPad 2We ended the sale of the iPad Retina display model (4th generation) as an entry model in lieu of announcing the resale. With this replacement, the iPad 2, which has been part of the lineup since its launch in April 2011, disappeared, and the 9.7 inch iPad series are all models with Retina display.

Apple (Japan) - Apple Press Info - Apple, the most affordable 9.7 inch iPad updated to the Retina display model. By improving the camera function and strengthening the performance, the price starts from 39,800 yen
http://www.apple.com/jp/pr/library/2014/03/18Apple-Updates-Most-Affordable-9-7-inch-iPad-with-Retina-display-Improved-Cameras-Enhanced-Performance-Now-Available-Starting-at-399.html

IPad 2, until November 2013 until iPad Air is releasedIt was the thinnest and lightest among the previous iPad seriesIt was a model. By the end of this handling, the 30 pin Dock connector disappeared from the iPad · iPad mini series, and it is supposed to be unified into a model equipped with all Lightning connectors.

The iPad Retina display model sold again is equipped with a dual core A6X chip with quad-core graphics in the processor, the display uses 2048 × 1536 pixels and the same retina display as the iPad Air with a resolution of 264 ppi, and a 1080p HD movie The 5 megapixel iSight camera which supports even the recording is installed, and the camera function and the performance are strengthened as the entry model of the new iPad series. Storage capacity is only 16 GB.

Two kinds of color, black and white. As for the price, the Wi-Fi model is 39,800 yen, the Wi-Fi + Cellular model is 53,800 yen, and among the iPad series including mini, the second lowest price next to iPad mini is set I understand.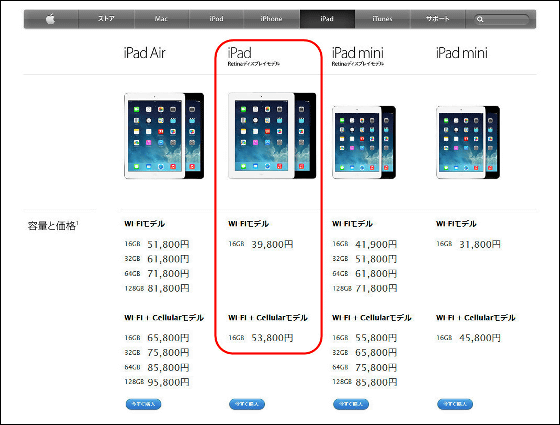 Specifications of the iPad Air and the newly announced iPad Retina display model, iPad mini series can be confirmed from the following.

Compare the models of Apple - iPad - iPad.
http://www.apple.com/jp/ipad/compare/

For Apple's products, in some countries iPhone 5c not yet released in Japan8GB model soldAnd in India, the model "iPhone 4" about 4 years ago is being resold.

What is the reason why the model "iPhone 4" about 4 years ago in India is resold? - GIGAZINE