You can tell the perfect PC yourself "Kyoto University Microcomputer Club teaches how to choose a laptop computer that will not fail"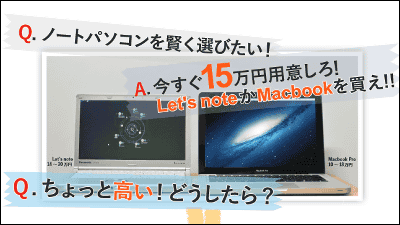 Student circle of Kyoto University "KMC"Self-designates" a circle that creates something with a computer ", reports excellent results at the school festival" November Festival "held in November every year, and spreads the topic. Such KMC explains in an easy-to-understand manner "How to choose and buy a laptop easy to use to live a university life" for new students who start a new life from April.

How to select beta PCs Flowchart - Kyoto University Microcomputer Club (KMC)
http://www.kmc.gr.jp/guidance/2014/pc/beta-flowchart.html

This is a flowchart published in KMC's "How to Choose a Laptop Computer" beta. When answering the Yes / No question, I can find a PC that suits me. I will give it a try.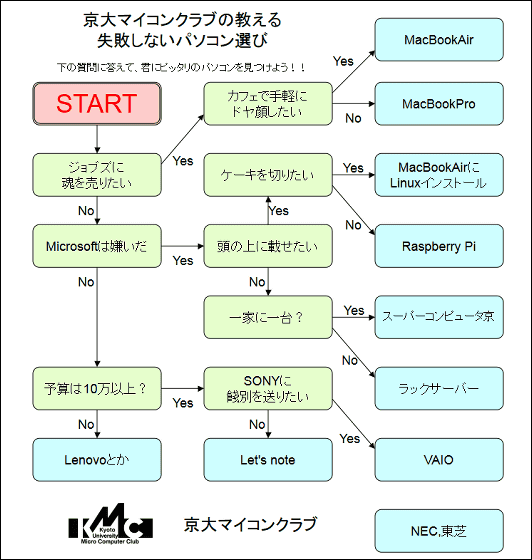 The first question is "Do you want to sell the soul to Jobs?" ... ... suddenly started with exciting questions.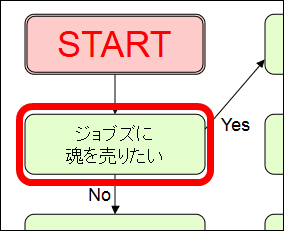 I will try to sell the soul to Jobs. What is next to Yes is "Do you want to face the doha with a cafe?" It seems that MacBook Air is recommended for people who want to face deja, and MacBook Pro for people who do not.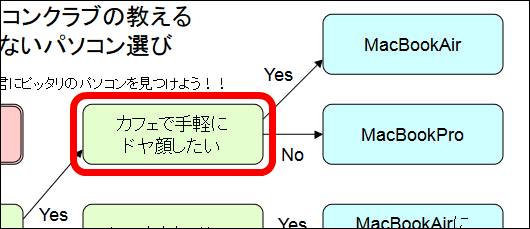 Waiting on the other side of Jobs' stepwriting is a step by Microsoft.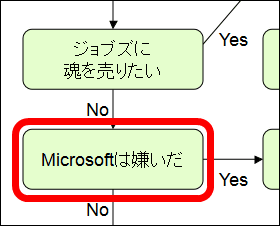 Questions asked by those who dislike Microsoft is "Would you like to put the (notebook PC) on your head?"




Furthermore, the person who wants to put it on the head is screened by "(I want to cut the cake with (notebook PC)" or not.



"I can cook it because I do not have kitchen knife, yeah, it's MacBook Air."

To cook Shiitake mushrooms with MacBookAir. 【A mushroom is cut with with MacBookAir.】 - YouTube


After the question "One in a family?" After answering "Supercomputer Kyo and a rack server". Something is wrong ....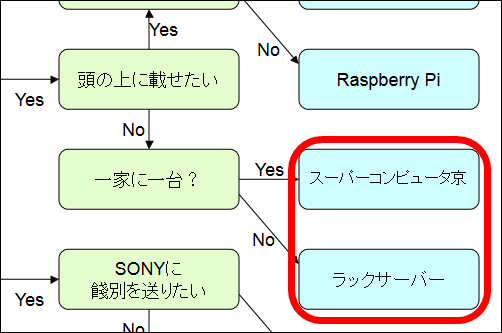 For people who dislike Apple and do not have a budget of 100,000 yen or less, "Lenovo" and so on.SONY who sold PC business"VAIO" for people who would like to send Ginbetsu to them.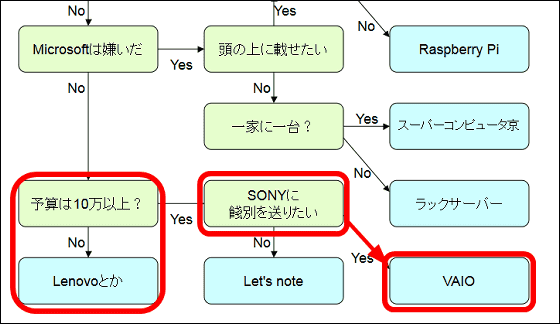 Is that NEC or Toshiba? I think, outside the flowchart ... .... this is…….




In this way, the "beta version" was humorous and full of bias-packed content, but on the KMC site, "Kyoto University microcomputer club teaches how to choose a laptop computer that will not fail"Special pageAre prepared and carefully explained about the basic knowledge on the specifications of the PC and it is becoming possible to understand what kind of PC is necessary for living a university life with a single shot. Also, in addition to the specifications, in addition to the how-to such as where to actually obtain the PC actually is cheap, what kind of purchase should not be done in the contrary, how to enter the guarantee,Recommended PCs selected by KMC membersIt is open to the public, and it is very useful information for newcomers as well as those who want to newcomer or PC.

Furthermore, KMC distributed a flyer near the main gate of Kyoto University headquarters campus yesterday, which is the announcement day of the entrance examination of Kyoto University entrance examination. This flyer condenses the contents of "How to choose a laptop computer that will not fail, taught by the Kyoto University microcomputer club" introduced on KMC's official site, and it is of great use in PC selection.

(PDF) Kyoto University Teaching microcomputer clubs, how to choose laptops that will not fail (Flyer version)
http://www.kmc.gr.jp/guidance/2014/pc/pc-suggest-2014.pdf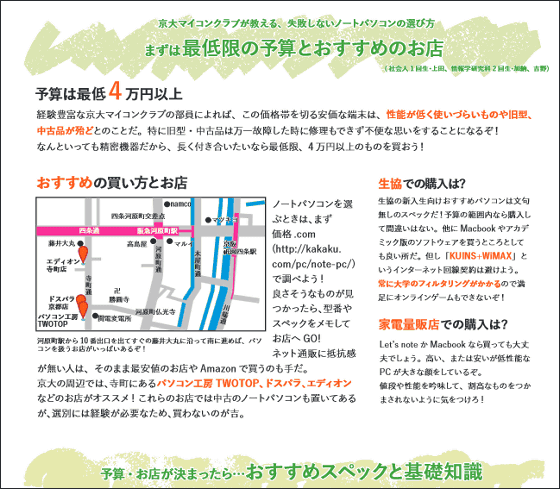 KMC accepts entrance at all times. There are no restrictions on entrance qualifications, and of course, students are OK as well. Detailed briefing sessions for applicants wishing to join are held at Kyoto University Yoshida Minami campus from 18:30 on Monday and ThursdayRegular meetingSo, why do not you visit the Kyoto University campus if you are interested in it?