4K Video Downloader software that downloads movies of YouTube and Vimeo crisply for free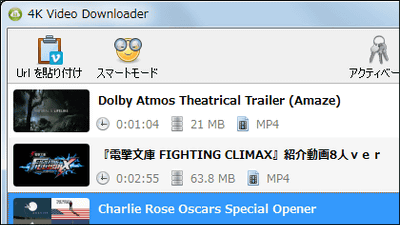 In addition to OS such as Windows 8, Windows 7, and Windows XP, free movie download software compatible with Mac and Linux PC is "4K Video Downloader"is. From YouTube and Vimeo, it is possible to download crisp movies even for multiple movies.

4K Video Downloader | Free Video Downloader for PС, Mac and Linux | 4K Download
http://www.4kdownload.com/products/product-videodownloader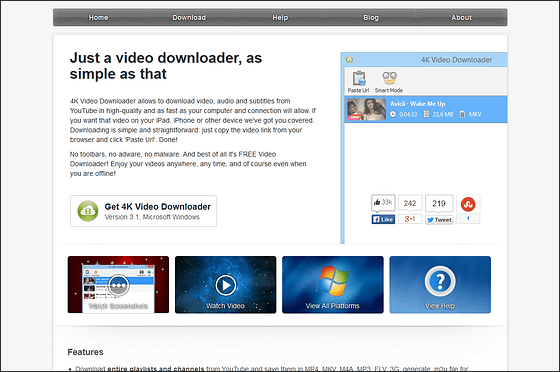 Installation method

To install 4K Video Downloader, click "Get 4K Video Downloader" on the above page.




Click "Save file".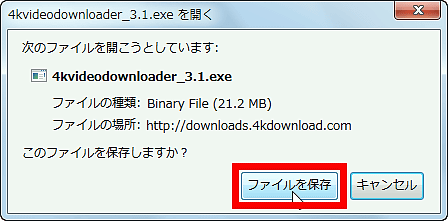 Start up the saved "4kvideodownloader_3.1.exe".




Click "Execute".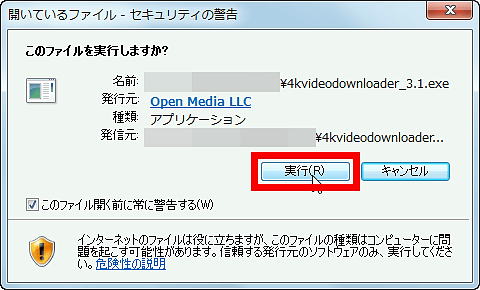 Click "OK".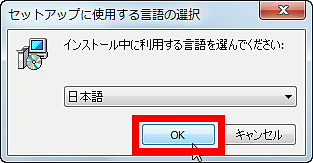 Click "Next".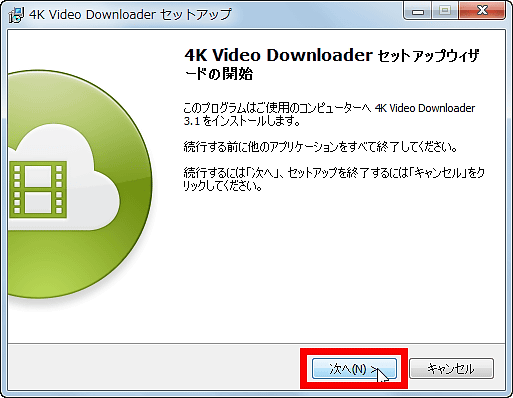 As the license agreement is displayed, check "I agree" and click "Next".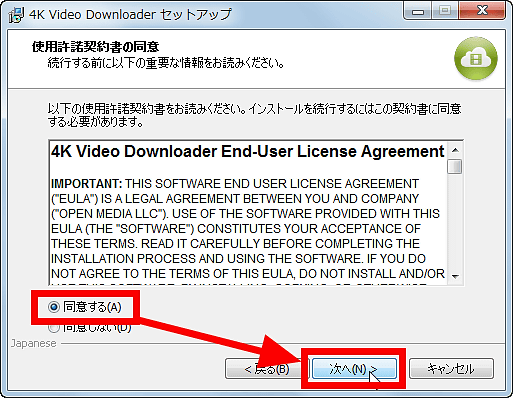 Click "Next".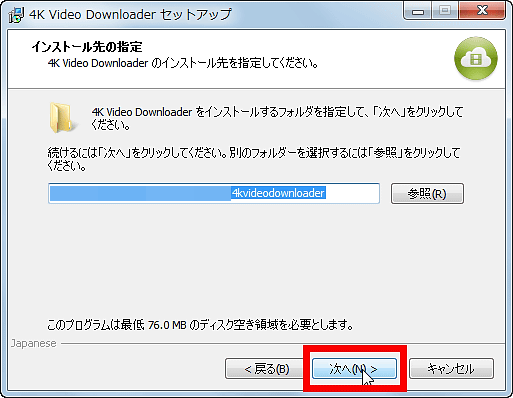 Click "Next".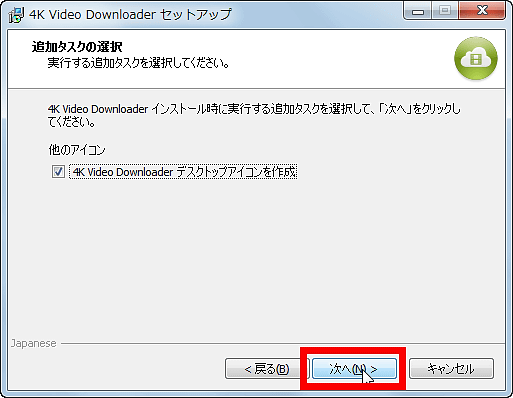 Click "Install".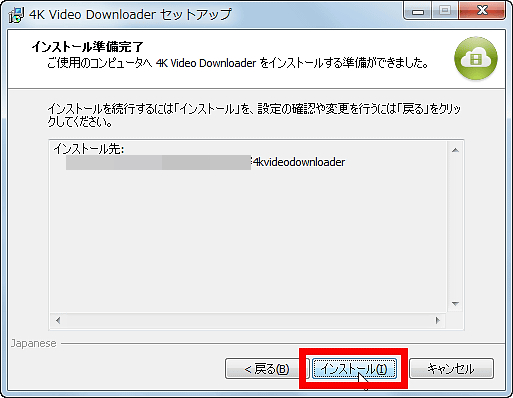 Click "Finish" when installation is completed.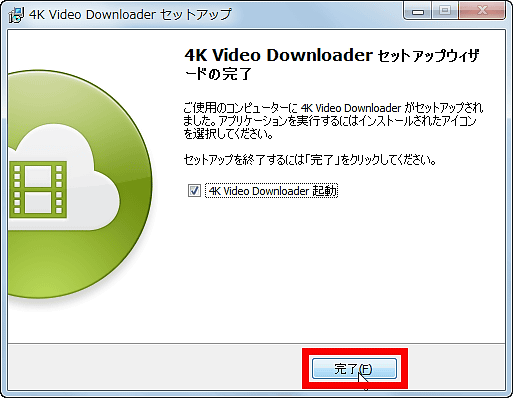 Then 4K Video Downloader will start.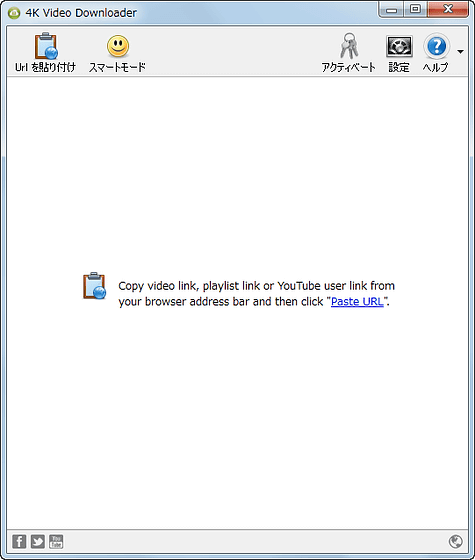 ◆ Download Movie

In fact, let's download the movie120 seconds complete version of Shinkai Makoto × Z meeting animation "Crossroad"I will download it.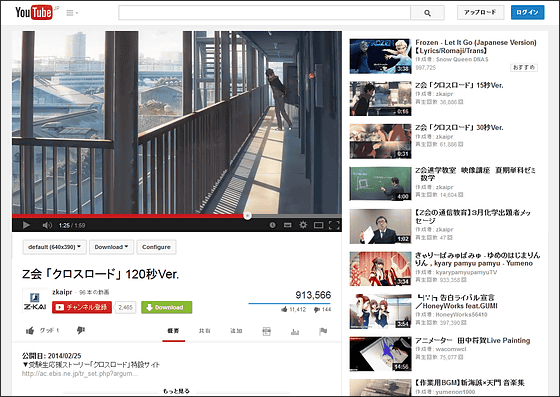 Copy the movie URL from the movie page.




Then click "Paste Url" button of 4K Video Downloader.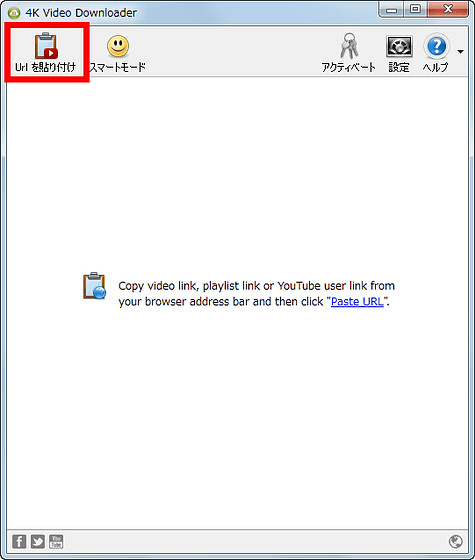 A screen opens where you can make various settings when downloading the movie. The quality of the movie at the time of downloadingQCIF(176 × 144) to 1080p full HD (1920 × 1080) can be selected.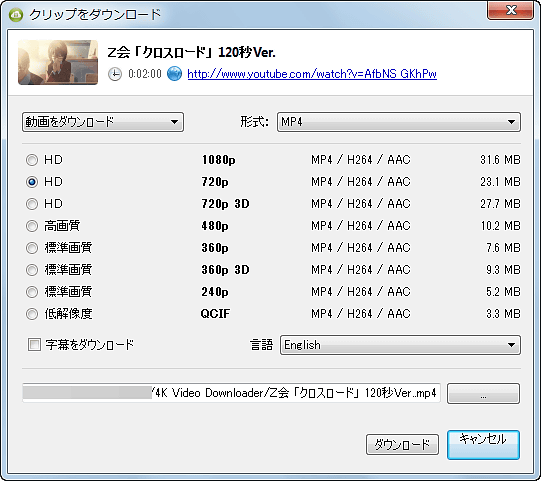 You can also extract and save only audio rather than a movie.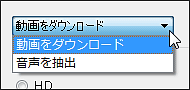 Four sorts of movies are saved in MP4, FLV, MKV, 3GP.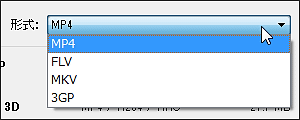 You can also download each subtitle on YouTube.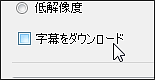 Also, if you click the red frame part ......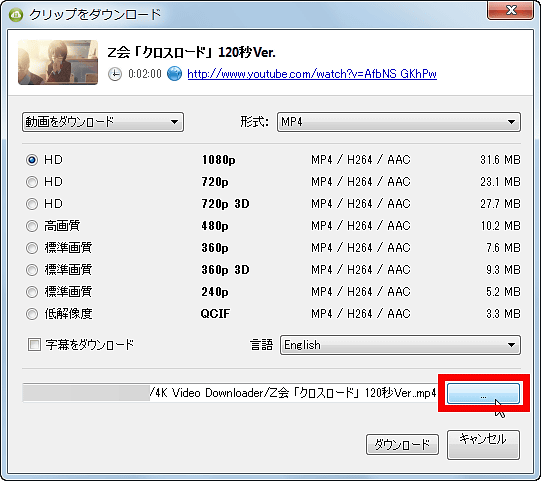 It is also possible to specify the save destination of the movie.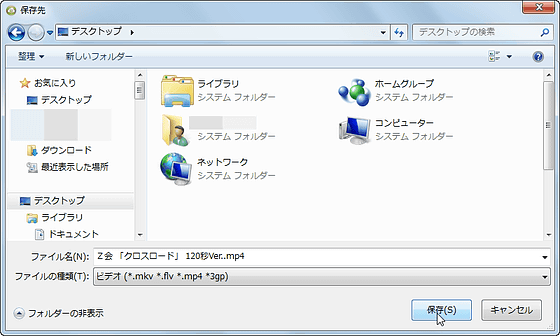 So, if you set your preferences, click "Download".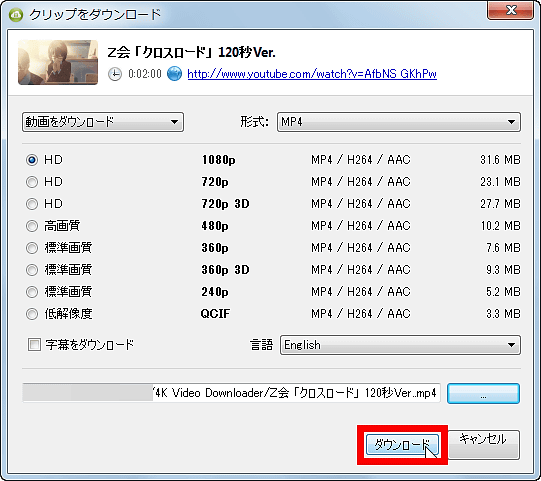 The download of the movie is now started.



Once the green bar disappears, the download is complete.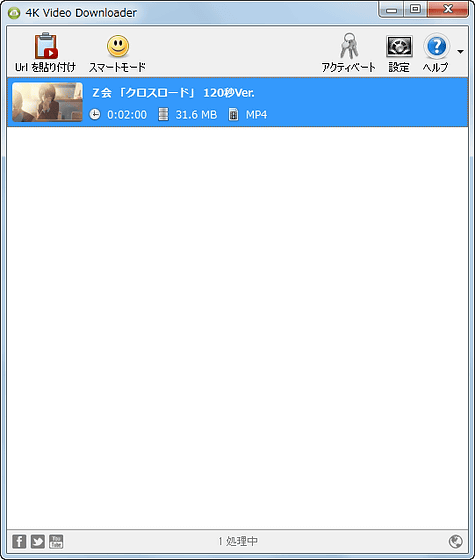 The movie has been downloaded to the specified folder ... ....




Of course it is playable.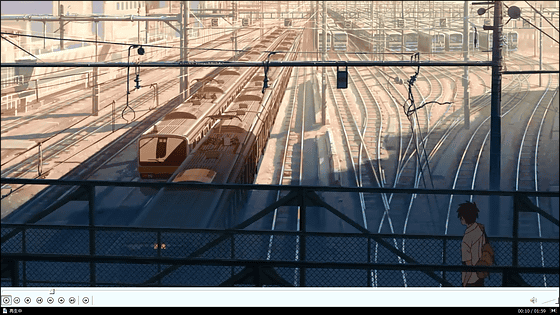 When you start downloading movies, ads are displayed at the bottom of the screen, but you can erase it by clicking on the "hide" button next to the ad.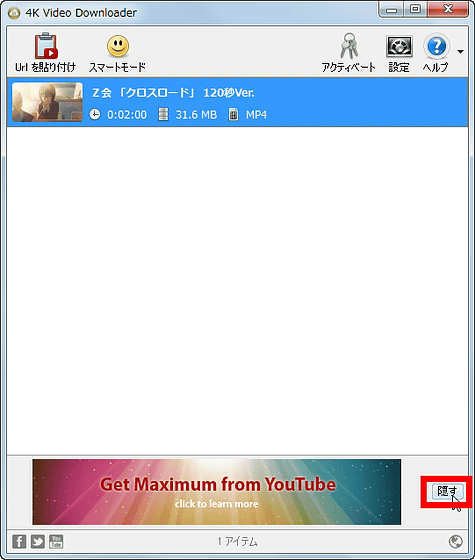 ◆ Download movies more easily
It is troublesome to select the quality and format of the movie each time you download a movie, so if you use smart mode you will be able to download the movie more quickly.

To use smart mode, click "Smart Mode" button of 4K Video Downloader.




A window opens, so check "Enable smart mode".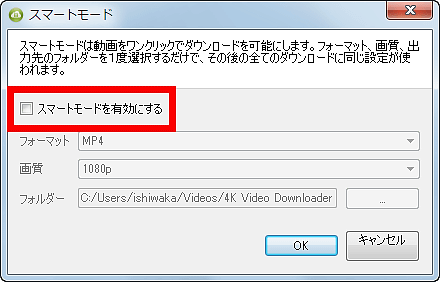 And the format of the movie ......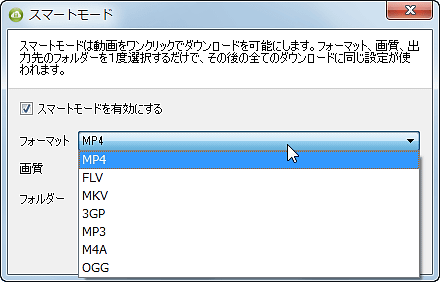 It is OK if you choose image quality etc. when saving.



Click "OK" when setting is completed.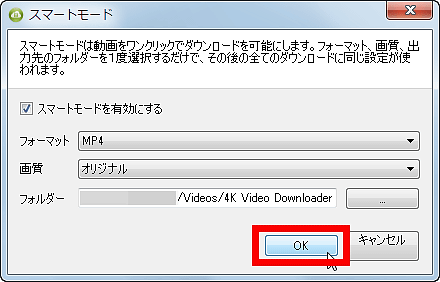 Then the display of the "Smart Mode" button changes.




In this state, copy the URL of YouTube and Vimeo's movie ......




Click "Paste Url" button.




Then various setting screen does not open, download of movie starts immediately.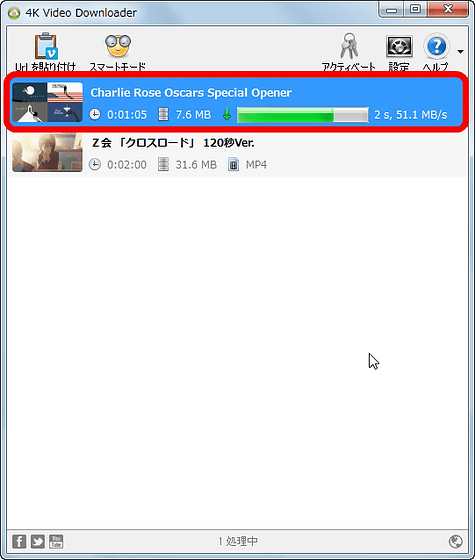 The more you download the movie, the more convenient the "smart mode" stands out.



Also, on YouTubeplaylistBy pasting the URL of the movie you are playing in 4K Video Downloader, you can download the entire playlist altogether.




Combining them makes it easy to download multiple movies.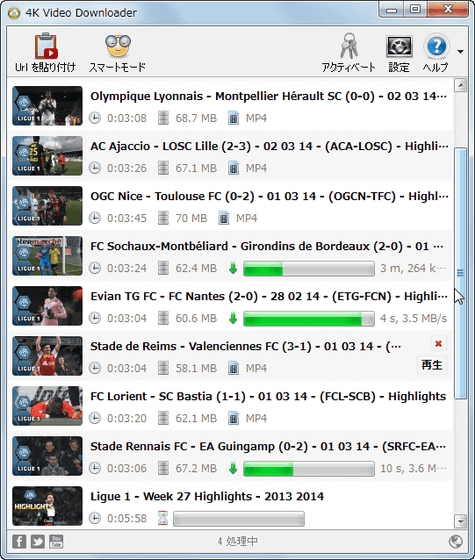 When you close 4K Video Downloader for the first time, this window will be displayed and you will be asked to donate to 4K Video Downloader, but if you click "Cancel" OK. Since this window is not displayed except at the time of the first start, it is safe without being bothered by installing troublesome advertisements and mysterious software.