Speedy high quality translation service "Unbabel" of about 1.4 yen per word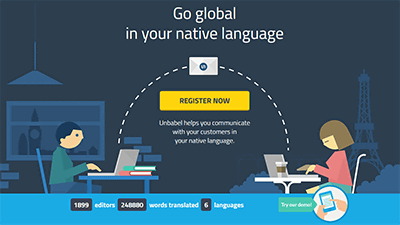 Google translationOnline translation sites such as online translation sites are convenient to use, but when you read the translated texts, the expression is unnatural, the sentences are too difficult, and it seems that translation is necessary again It is also common. Human beings following such machine translation's weak points will allow us to translate quickly "UnbabelIt's service.

Unbabel - Machine + Crowd Translation you can trust
https://www.unbabel.com/

I tried to confirm what kind of translation can be done with Unbabel with sample translations provided free of charge. "It's been snowing heavily for several days here, so I hope there is not much to do with it, but I hope it does not matter a lot." Enter the English message saying "Well then," select the address to receive the translation and the language you want to translate, last Click "Request Translation" to send a request to Unbabel.



After a while, the translation result arrived at the specified e-mail address. The translation translated into the specified French and the original text of English were listed in the mail body.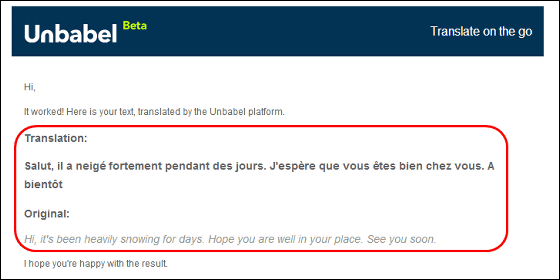 A translation that combines machine translation and human translation includes Japanese translation of "World jumperThere are services such as, but the feature of Unbabel 's service is in a mechanism to speed up translation speed. The process by which Unbabel translates is as follows.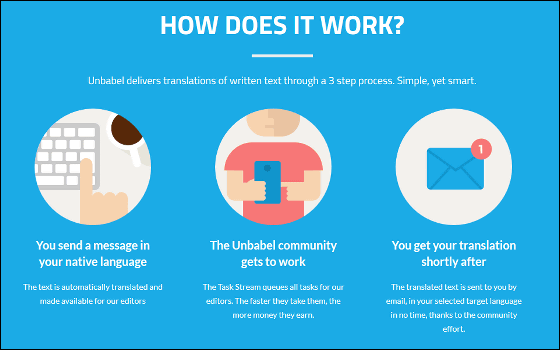 First of all, if you input a sentence which becomes the source of translation, machine translation by computer is done.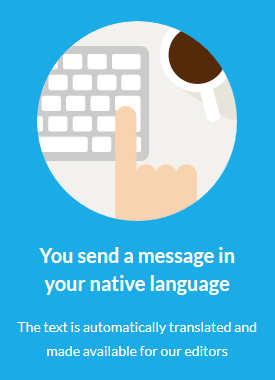 Next, machine-translated sentences are delivered to multiple translation proofreaders registered in Unbabel called "editor", and work to correct expressions and mistranslation that can not be covered by machine translation is done. Interestingly, at this time, the translation of the editor which corresponded earliest was adopted, and compensation is paid. The editor who wants to earn reward will make efforts to complete the work as soon as possible so that the client can obtain the translation earlier.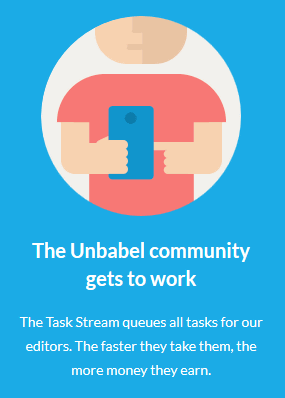 The completed translation will be delivered by email to the client. It is also possible to evaluate the quality of translated sentences, and it is also important that not only quickness but also quality efforts are being done. Thus, Unbabel has become a system that combines both the speed of machine translation and the quality and fine-grainedness of human translation. Translation fee is to be paid by euro, which is one cents per word (about 1.4 yen).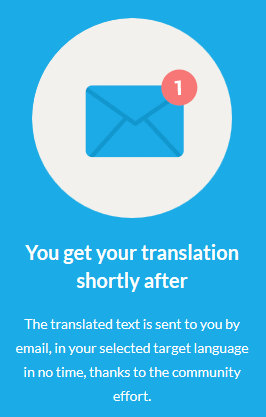 At least three editors to check translations by machine translation are secured for each item so that quality can be secured. The editor has an environment that allows you to work on PCs, tablets, smartphones, etc., and a mechanism for improving speed is built.



When actually requesting a translation, it is also possible to attach annotations such as caution points on translation to the editor, or to select the style from "foolish feel", "friendly" "business" "formal" I will.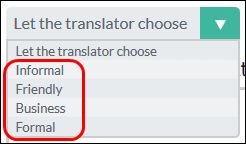 What is very important in the case of translation is "translation database (translation memory)" which makes database of technical terms and expressions and improves the quality of translation, but how does Unbabel cover this point Where you are concerned. Unbabel currently supports six languages: English, French, Italian, Spanish, Portuguese, Turkish, and does not include Japanese. Since it is described that it will expand to more languages ​​in the future on the website, I would like to expect Japanese correspondence.