10 figures that comprehensively summarize methods and tips that use SNS, mail, blogs etc. necessary for future marketing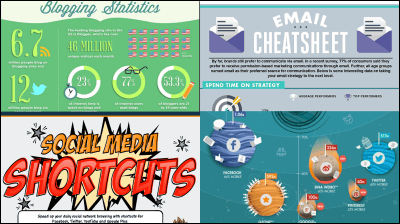 The essence of marketing carried out at various business sites can be summarized as "grasping and creating the services and products that the customer is seeking, communicating that, providing value to customers and obtaining consideration" However, its methods are diverse and new ones are constantly being created. Ten infographics that comprehensively summarize such marketing methods are released.

10 Awesome Infographics to Guide Your Marketing Plan for 2014 - The Buffer Blog
http://blog.bufferapp.com/10-awesome-infographics-to-inform-your-marketing-plan-for-2014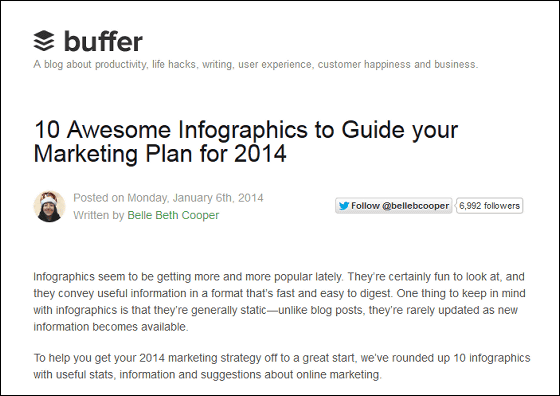 ◆ 01: Statistical data collection of 20 to move 2014
The digital asset management platform utilizing the cloudWebDAMIs summarizing various statistical data collections that account for 2014.




In 2014, a budget of 135 billion dollars (about 13.8 trillion yen) will be put into marketing-related products, and by 2015 25% of the entire advertising market will be spent on Internet advertisement.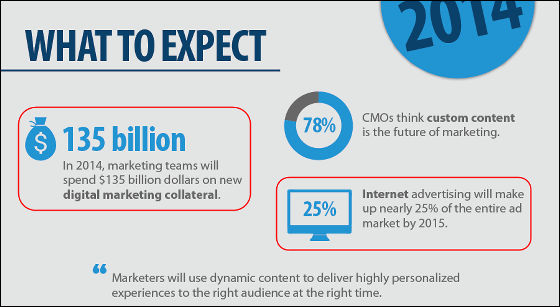 Besides this, increase of e-mail with SNS share button, increase of SNS marketing itself,B2BTrend,Content marketingWe anticipate marketing epidemics of 2014, such as mainstreaming strategy, and graphically design elements to be considered in marketing.

◆ 02: Hints on Utilizing Mail
SaaSProvide various marketing tools such as revenue performance managementMarketoCreates infographic graphics that summarizes marketing and mail data.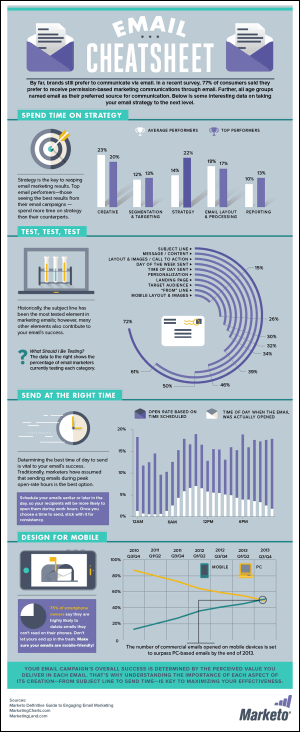 Whether it should be said again, the subject of emails is the subject with the most emphasis, the proportion is 72%. Next, the text is 61%, the text layout and the challenge is 50%, and the point "Which day of the week do you want to send mail?" Is 46% and is in fourth place.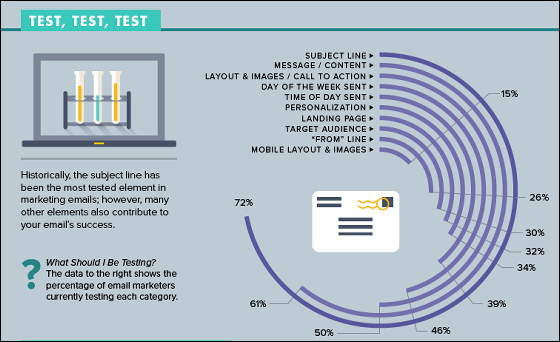 Speaking of recent trends, it is still a mail check on mobile terminals. 75% of users have interesting data showing that mails that can not be read by mobile terminals are deleted as it is.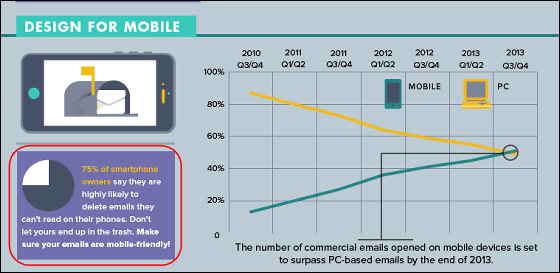 ◆ 03: How to Increase Connections on LinkedIn
According to WebDAM data, in 2014 46% of customers found by marketingLinkedInAlthough it is said to be through, it is the master of marketing that summarized the hints for efficiently connecting with LinkedIn which is a specialized SNS service for businessGrowth hackersTo operateQuick SproutThe following infographs by. (The thumbnail is abbreviated because of very long infographics.The full size is displayed by clicking on the image)




According to Quick Sprout, LinkedIn realizes three times higher conversion rate than Twitter and Facebook.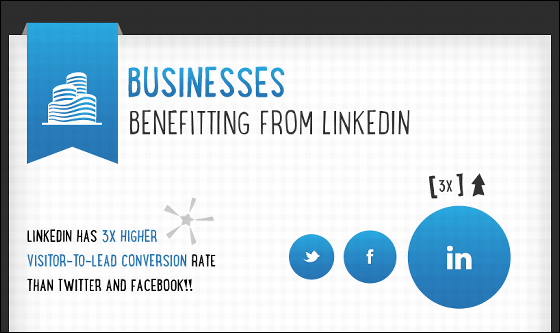 Moreover, it seems that the posting time is most efficient from Monday to Friday morning.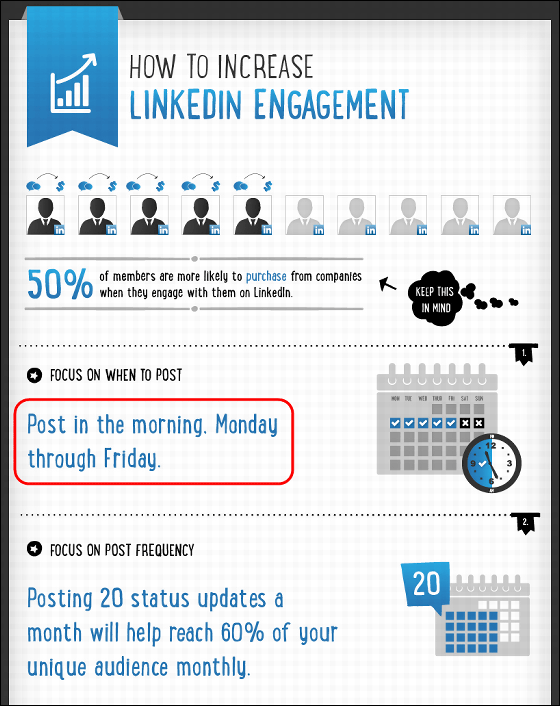 ◆ 04: Tumblr growth data
It is a social microblogging service even while you can hear that blog popularity is disappointingTumblrI continue to grow. (Click the image to see the full size)




Approximately 33 million users are posted, and the number of articles posted has reached about 12 billion, with 38,000 postings being made every minute.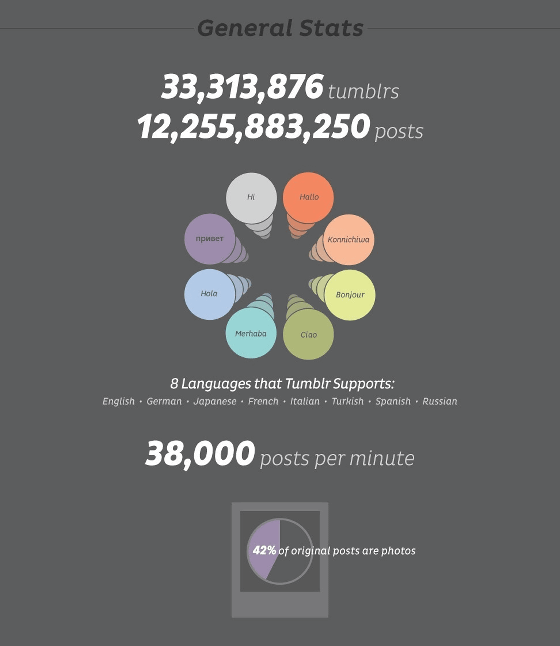 Somewhat old data are shown, but in the year 2010 to 2011, Tumblr showed growth of 218%. This is a higher figure than other SNS services.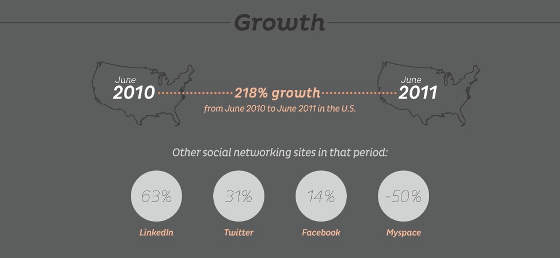 ◆ 05: Various numbers seen on web pages registered in social bookmarks
Provide social bookmark service (SBM) to manage bookmarks on the netStumbleUponHere is a summary of the data of.



The number of web pages added to StumbleUpon every month is 2.2 million. It is 51 figures per minute, which far exceeds the number of newborns born in the United States (8 people).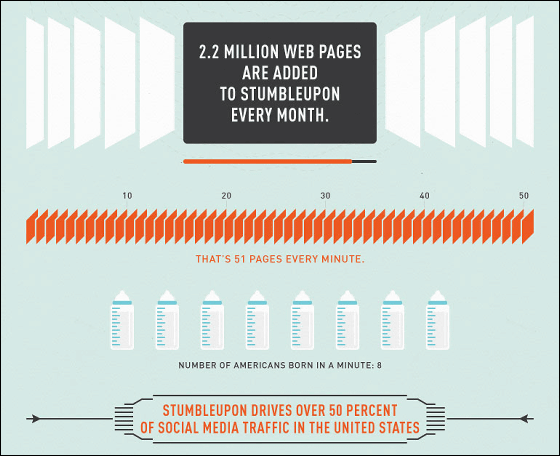 Also, the average stay time on the page via StumbleUpon is 72 seconds, which is about 25% longer than the average average time of 58 seconds. Likewise, the average browsing time is 69 minutes on average, much more than Facebook 23 minutes etc.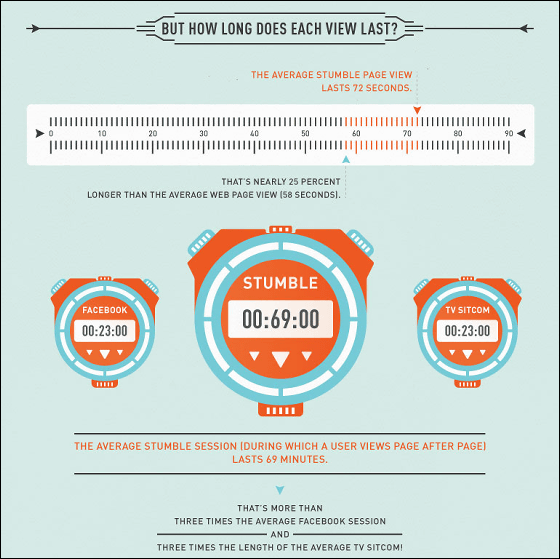 ◆ 06: Layout data for maximizing use of SNS service
To maximize the exposure of various social media, it is important to properly layout and design within that platform. I summarized design templates for various SNS servicesTent SocialIt is an infograph by. (Click the image to see the full size)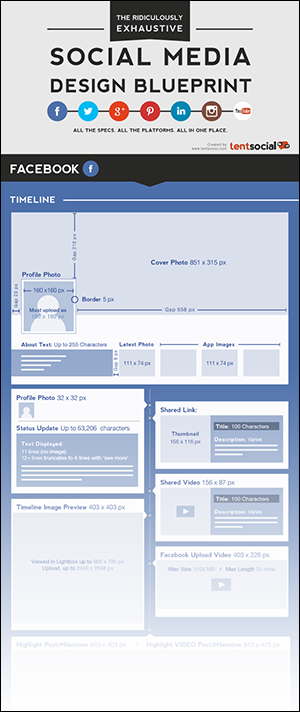 For infographics, Facebook, Twitter, Google +Pinterest, LinkedIn,Instagram, YouTube etc. Although the template of each service is improved day by day, it is better to keep it to the reference level to the last.

◆ 07: By SNS service · Access ratio data from mobile terminal
Here is a summary of usage rates from mobile terminals in various services.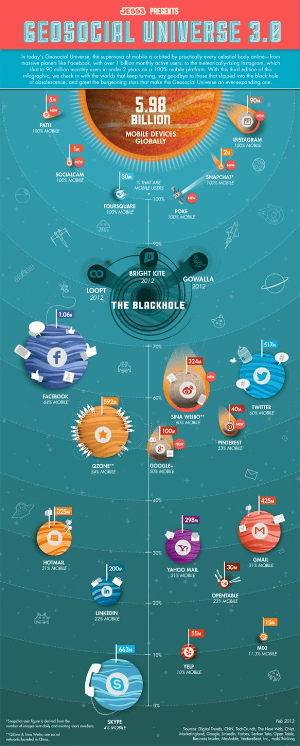 InstagramYaSnapchatServices are 100% mobile usage, while Facebook and Twitter are in the 60% range,MixiThe data of 11.3% is shown.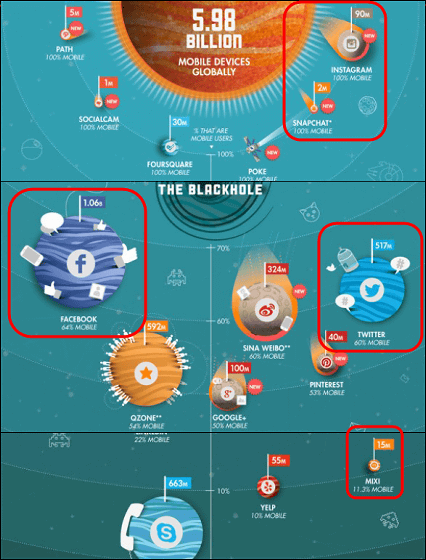 ◆ 08: Shortcut collection by SNS
Although it may not have much to do with marketing, shortcuts of keyboards that can be used when browsing various SNS services are summarized.




Pressing [Alt] + [m] with Facebook's page open on Windows machine, a new message creation screen will be displayed ......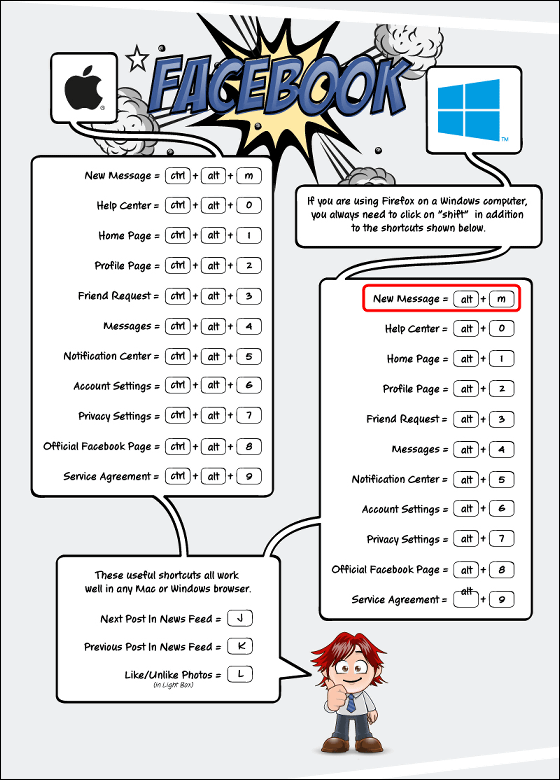 Twitter's reply, retweets, new tweets have shortcuts that you can do immediately by pressing a key.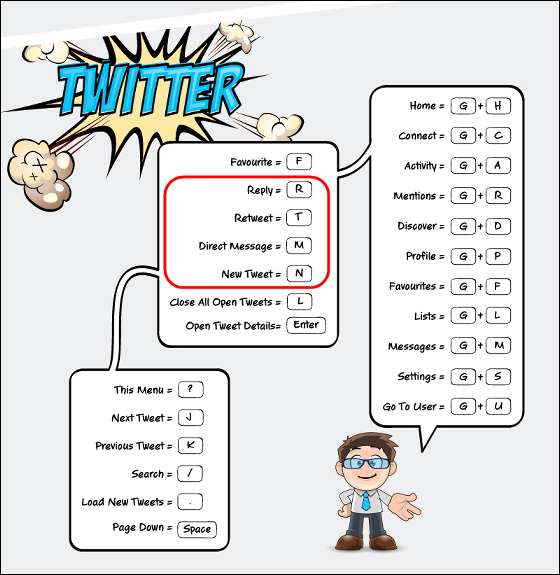 ◆ 09: Currently using blogging
The power of blogs is still big. The one that summarizes the current state of such a blog is the following infograph. (Click the image to see the full size)




In the case of using blogs in a small business, the guidance to the site increased by 126%, and the top three factors that become followers in SNS are based on the content of the blog. Also, there are statistics that 81% of Americans trust advice and information on blogs.




Here is an example of a blog that has generated much profit.Huffington PostIt is 2.33 million dollars (about 240 million yen) per month, the second placeMashableIt also raises revenues of $ 560,000 (about 57 million yen).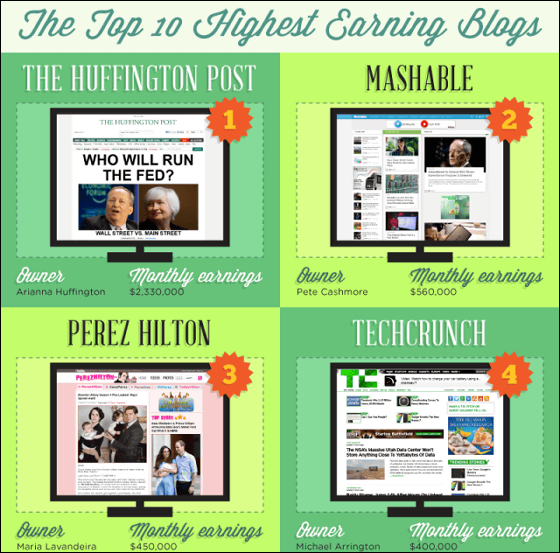 ◆ 10: Application example of content marketing tool
Make appropriate marketing for each countless customers "Content marketingHere is a summary of various tools utilized in the method called called. (Click the image to see the full size)




Curation service, Content creation and other genres, companies providing services are described in detail.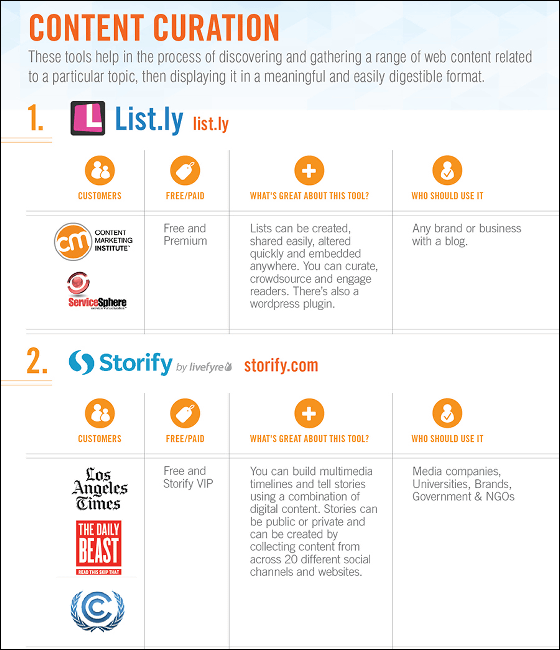 LinkedIn and others are becoming mainstream in the United States, but in Japan it is not so well-known that there are many services and methods that are not familiar to Japan yet, which is a marketing advanced country in the United States . Although not everything can be taken in right now, it seems necessary to quickly check the trend of marketing in the future to get the tide of flow quickly and expand the possibilities of business.