ASUS announces fanless box type PC "Chromebox" with about 10,000 yen discount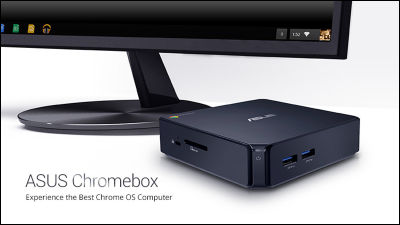 ASUS announced that it plans to release "Chromebox" which is a super-discount fanless box type PC that will be on sale price of 179 dollars (about 18,000 yen) in the near future.

ASUS Chromebox - Experience the Best Chrome OS Desktop
http://promos.asus.com/us/chrome-os/chromebox/

AnandTech | ASUS Chromebox: Fanless Haswell in a NUC-like Form Factor, Starting at $ 179
http://anandtech.com/show/7735/asus-chromebox-fanless-haswell-in-a-nuclike-form-factor-starting-at-179

It is a very small PC kit proposed by IntelNUCChromebox 's CPU similar to Intel' s 4th generation processor Intel 's fourth - generation processor adopting the Haswell architecture "Celeron 2955 U" "Core i 3 - 4010 U" "Core i 7 - 4600 U" It is possible to chose from among the OS I am using Google Chrome OS.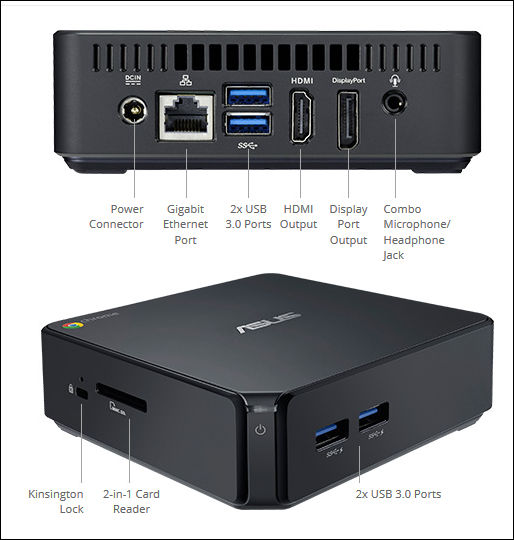 Video output can output two systems of HDMI and DisplayPort, one system at a time, supports dual monitor environment. In addition, the model adopting either Core i 3 or Core i 7 as CPU supports 4 K video output.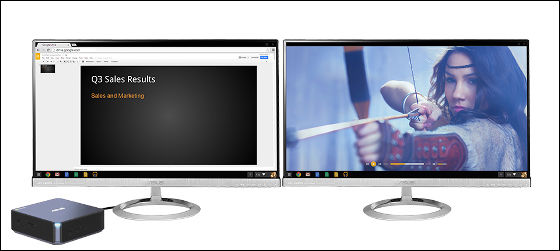 At the same time that it is equipped with 16GB M.2 compliant SSD in the main body storage, it is possible to use 100GB of space on Google Drive for free for 2 years, and use it as a home server for photos and movies Is considered.




The specifications of Chromebox are as follows.
OS:Google Chrome OS
CPU:
Intel Celeron 2955 U (2 C / 2 T 1.4 GHz 2 MB L 3)
Intel Core i 3 - 4010 U (2 C / 4 T 1.7 GHz 3 MB L 3)
Intel Core i7-4600U (2C / 4T 2.1 / 3.3 GHz 4 MB L3)
GPU:
Celeron: Intel HD (200/1000 MHz)
Core i 3: Intel HD 4400 (200/1000 MHz)
Core i 7: Intel HD 4400 (200/1100 MHz)
memory:2GB / 4GB configs, 2 x DDR3 SO-DIMM Slots
storage:16GB M.2 SSD + 100GB space on Google Drive (2 years)
LAN:10/100/1000 Ethernet
Wireless:Dual band 802.11 a / b / g / n, BT 4.0
External terminal:
SD card reader card reader
USB 3.0 x 4
HDMI × 1
DisplayPort × 1
Audio terminal × 1 (microphone input / speaker output)
Power supply:65 W
Size:125 × 125 × 42 mm
price:From 179 dollars (from about 18,800 yen)

Incidentally,AnandTechIt is said that it will be released around March, but it is said to be "coming soon" at the time of article creation, price, release date and time for each model, release schedule in Japan, etc. are not announced.