Mini desktop PC "Windows Stream Mini Desktop" with Windows installed at about 20,000 yen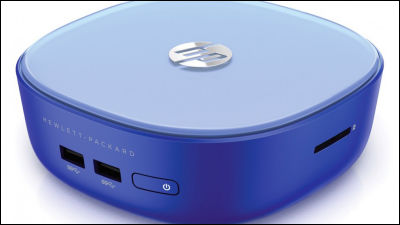 Speaking of low price PC, Google's Chrome OS equipped with "Chromebook"Or"Chromebox"ButRapidly expanding market shareHowever, HP is not a Chrome OS but a mini desktop PC with Windows 8.1 with Bing "HP Stream Mini Desktop"Held in Las Vegas"CES 2015And it is attracting attention because the price is 179.99 dollars (about 21,000 yen) that does not differ from the Chrome OS device.

HP News - HP Reinvents the Desktop PC for the Home
http://www8.hp.com/us/en/hp-news/press-release.html?wireId=1908670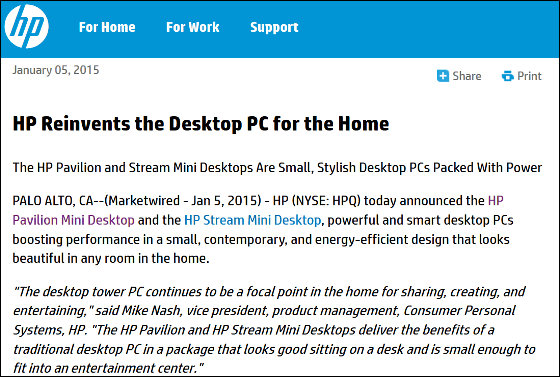 HP's HP Stream Mini Desktop announced that Intel's "Celeron 2957 UThe OS is equipped with Windows 8.1 with Bing. It is an SSD with 2 GB of memory and 32 GB of storage, and 200 GB of cloud storage can be used for free for 2 years with Microsoft's OneDrive.

It is said that HP Stream Mini Desktop comes with a dedicated mouse and keyboard, but it is not clear at this time whether it is wired or wirelessly connectable.



HP has the same type of HP Stream Mini DesktopPavilion Mini DesktopWe announced together. Although Pavilion Mini Desktop is more expensive than HP Stream Mini Desktop with a price of $ 319.99 (about 38,000 yen), Intel's "Pentium 3558 U"Is installed and processing power is higher than HP Stream Mini Desktop. OS adopts Windows 8.1 with Bing, memory is 4 GB · Storage is 500 GB hard disk. Also, the memory can be expanded up to 8 GB and hard disk up to 1 TB as options.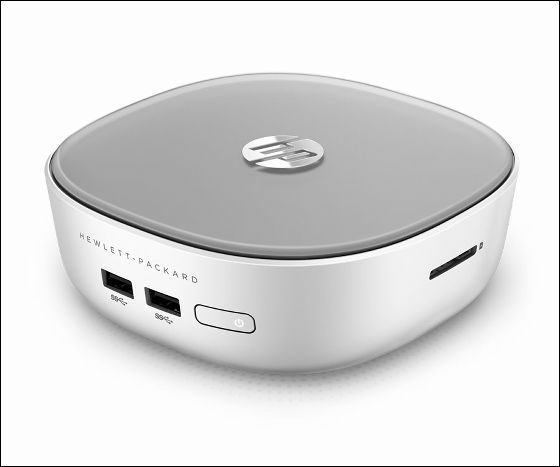 HP Stream Mini Desktop, which can be purchased for only about 20,000 yen, and Pavilion Mini Desktop of about 38,000 yen, from 14th January 2015HP online storeAlthough it is scheduled to be released at the time of writing, it is currently sold only in the US and it is not clear whether it will be released in Japan.