A special content that can catch a glimpse of Apple's history in commemoration of the 30th anniversary from the first Macintosh debut is being released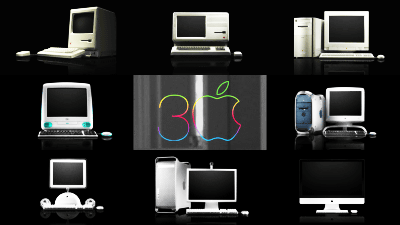 January 24, 2014 is the 30th anniversary since Apple (former company name: Apple Computer) first released the Macintosh on January 24, 1984. Along with this, Apple has released its 30th anniversary content and movies on its website, so that it is possible to catch a glimpse of the history of Apple from the birth of the Macintosh, growth, sluggishness, and the unprecedented success from the resurrection It is.

Apple - Thirty Years of Mac
http://www.apple.com/30-years/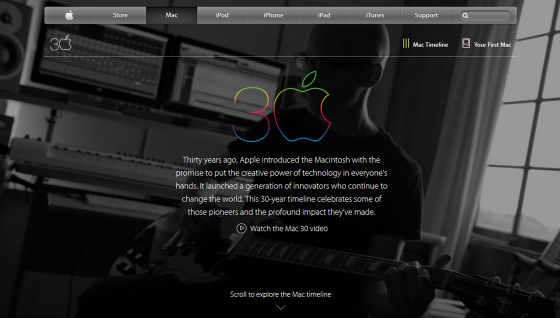 When you open the page, the movie starts first, so close "x" at the top right of the screen to see special content. It is possible to interactively see Apple's 30-year history from "Scroll to explore the Mac timeline" of the page that appeared.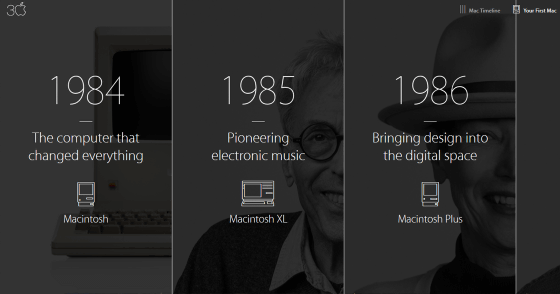 It is possible to see the details of each age. When clicking "1984", the screen of "Macintosh" which became Apple's first model was displayed.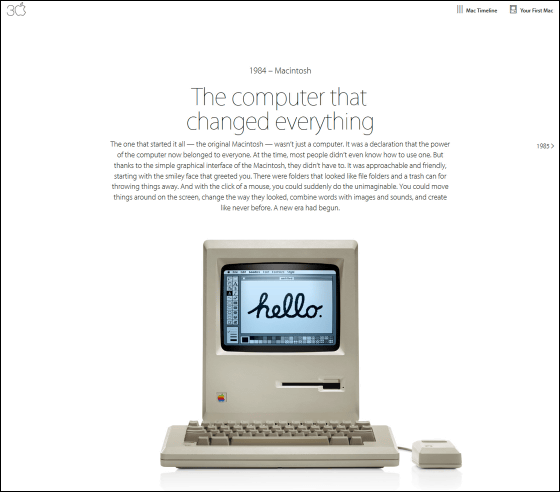 When you scroll down the screen, you can see the picture of Mr. Yuikari Steve Jobs holding the Macintosh and the words of those days.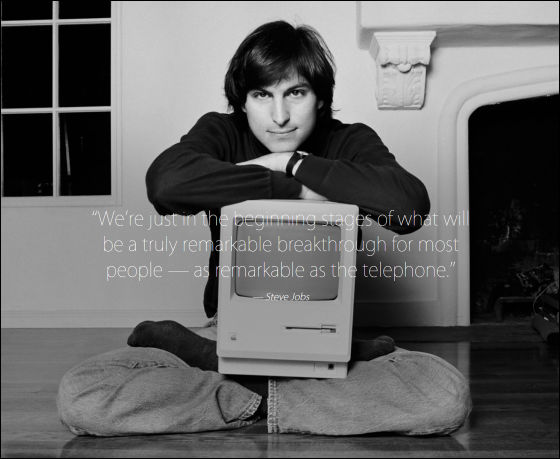 A graph showing how the user was using the Macintosh at that time is also displayed. In 1984,DTPIt seems that the ratio of education-related was high.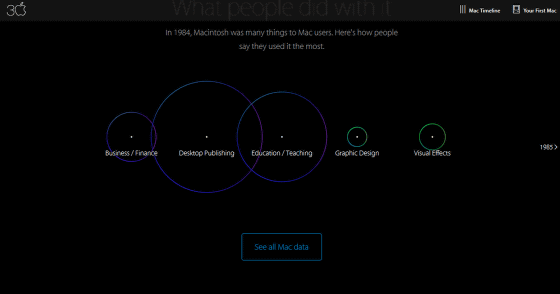 Going down the page to the bottom is like this.




As you scroll to the right, the machines of each age and people and episodes related to it are displayed more and more.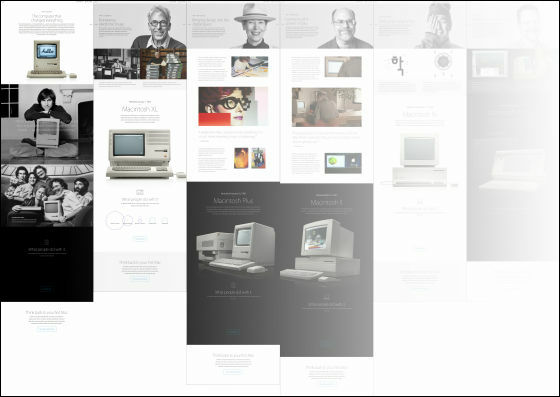 In the page, there is also a corner to vote when the user first got in which machine.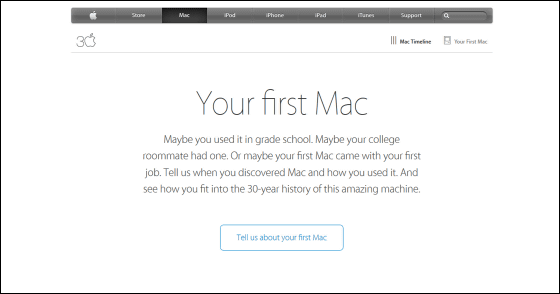 The collected data is shown in the graph below. In the overall statistics, 2009 Mac Book Air is top with 3.5%, then 1984 Macintosh, 2010 Mac mini.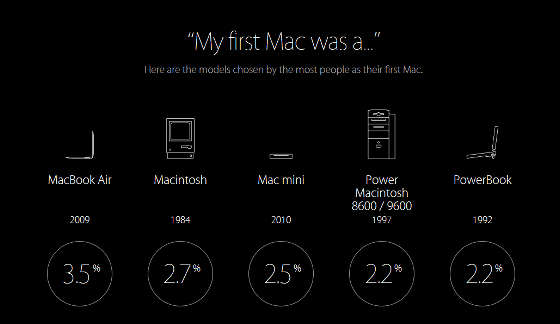 Also, movies created in commemoration of the 30th anniversary are also released.

Apple - Mac 30 - Thirty years of innovation - YouTube


In the movie, musician'sMobyMr. commented, "For musicians who want to do everything like myself, I can not imagine a career without a Mac" ....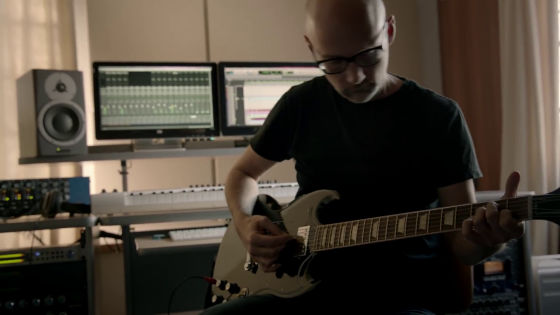 Doctor of medicine who ranks top in research of cutting edge technology of medicalMaki SugimotoHe also praises its achievement by "inspiring the potential of people and raising their work to height".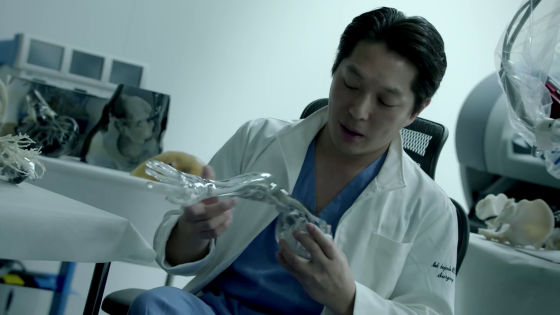 He is a composer of movie musicHans · Jimmer"I forget to sleep and eat as much as a child who was given a new toy and" play "together with Mac" talking about its charm ......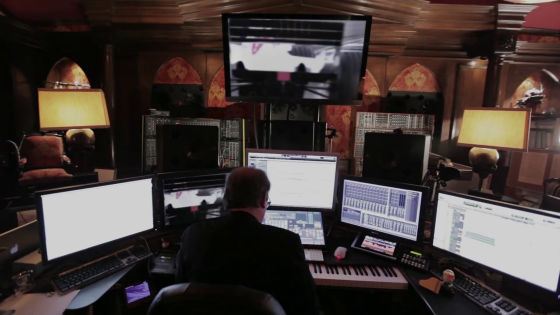 Graphic designerApril · GreymanSan also said, "Without a Mac my work could not have been born - it is exactly the 'pioneer' figure."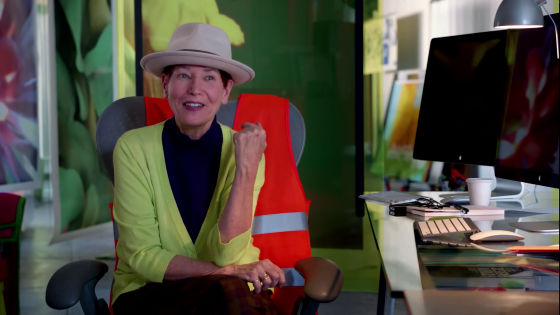 Apple is planning to announce its financial results from 7 am on January 28 (Tuesday) in Japan time. It is also remarkable how the impact of the new product rush such as the iPhone 5s / 5c released in September 2013, the iPad Air and iPad mini Retina models released in October of the same year, and the new MacBook Pro 2 model will appear.