Added ability to send Gmail to Google+ users who do not know their email address

ByCairo

Google revealed that Google + users will add the ability to send Gmail to other Google+ users who do not know their email address. The ability to send e-mail easily to others is convenient, but it will inevitably increase unnecessary mail reception.

Official Gmail Blog: Reach the people you know more easily
http://gmailblog.blogspot.jp/2014/01/reach-people-you-know-more-easily.html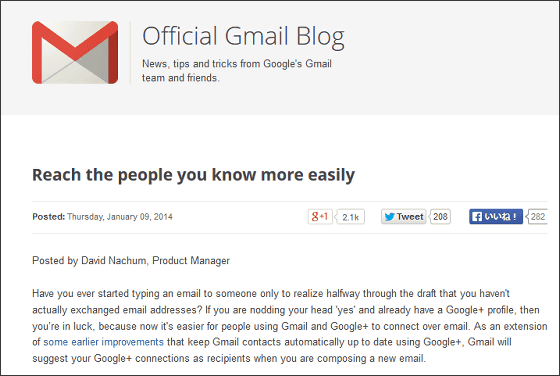 The feature Google added to Gmail this time is a feature (Google+ connection feature) that allows Google+ users to send Gmail to other Google+ users who do not know their email address. How to use this function is as follows.

A contact list for the Google+ account named "Google+ connections" will be added to Gmail's "to field (destination)". By using this list, even if you do not know your email address, you can send Gmail if you use Google+.



If you send an email using the Google+ connection feature, the email will be delivered to the social tab of the recipient's Gmail inbox, and each other's email address will not be disclosed unless you reply to this email,When replying to the received mail, you will be able to check each other 's mail address. In addition, if you are a partner in the same circle on Google+, you will reach the main tab of Gmail.



If you do not wish to receive mail via the Google+ connection feature, you can restrict who you are receiving, and you can filter by Google+ circles. However,By default, it is a no guard state "Receive from all Google+ users"If you do not set it individually, it is necessary to pay attention that a large amount of mail may arrive.




Since 2011, we are encouraging to associate various services you offer with Google+, for example, you need a Google+ account to comment on YouTube. Because there are so many opportunities for Google+ accounts to use Google's services, the newly added "Google+ connection" feature seems to be a service that affects many users.

During the next few days, we are going to send an email to urge all users with accounts on both Gmail and Google+ to make inbound settings. People with a Google+ account may need to carefully set the reception settings because adding a Google+ connection feature may result in a large amount of unsolicited junk mail.