Light and shadow we thought of in socialist Bolivia to correct the disparity society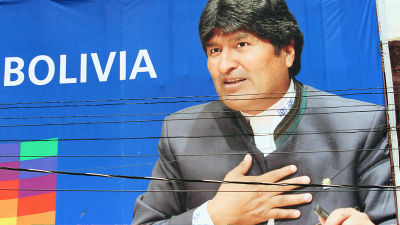 Regular and irregular expansion is proceeding in Japan, but what will happen if we promote this is a glimpse of the situation in Latin America. It was a theme that can not be avoided while traveling the liberal routes by the rice administration and the socialist routes by the anti-American administration, Latin America. Among them, he became president as the first indigenous systemEvo MoralesHas made various nationalization including natural gas and is striving to rectify disparities.

Hello,Takuya Sudo @ circle around the world bicycle @ Charridermanis. Bolivia was a country without money, but people were calm and secure. Chile who has a high income disparity feels a dangerous atmosphere. Even so, it is Chile who is progressing, Bolivia is at his own pace and road construction is unlikely to end. I tried to think about what is going on in this country in Bolivia who encountered a large blockade demonstration or a presidential speech.

Bolivia in South America is around here.

View Larger Map

◆ encounter a blockade demonstration
Following Mexico and Guatemala, I have encountered, even in some way, a road blockade demonstration that is regular in Latin America. Outside of BoliviaEl AltoIt was a large scale that lasted ten or more kilometers, and the capital, La Paz, which was blocked by the trunk line leading to the bottom of the basin, was as good as stopping her breath. However, as this was scheduled, it was not that much confusing. I was perplexed because I did not know, but the demonstration itself was not a spirit atmosphere, it was a bicycle so I was able to pass safely.

Those who walk through the toll gate before El Alto.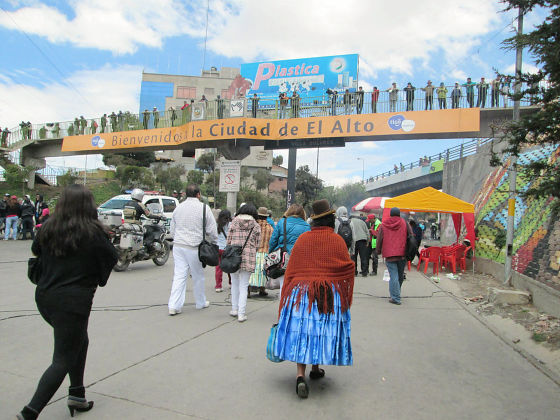 People sitting in protest activities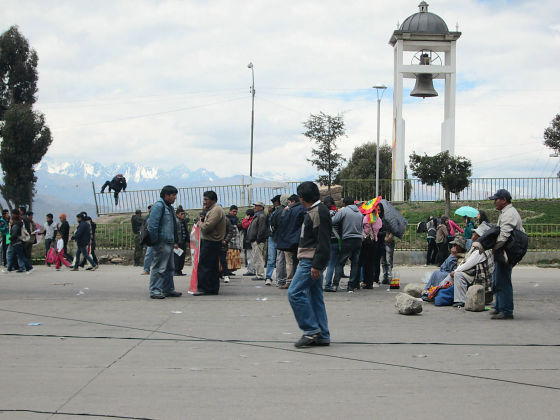 Proceed under the pedestrian overpass.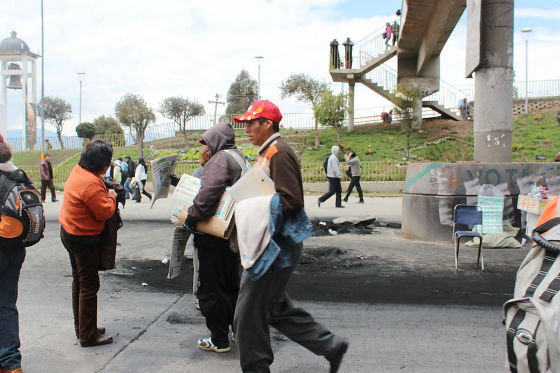 Traces of burned tire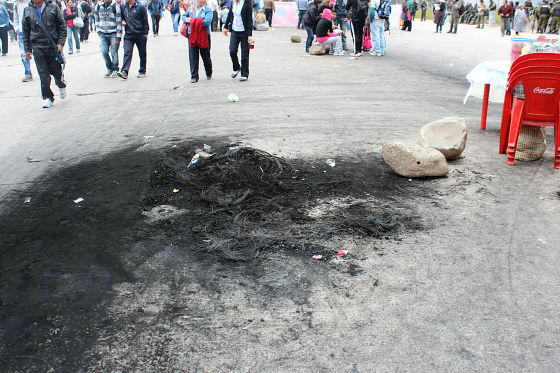 Young people talking to each other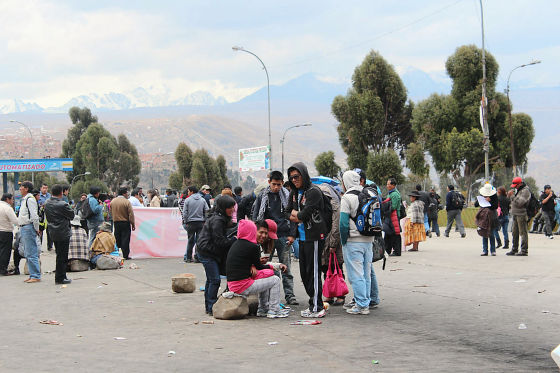 If I was worried about the rising smoke, I was relieved with the stall sausages. Even though a lot of people gathered, the peddler is only selling things.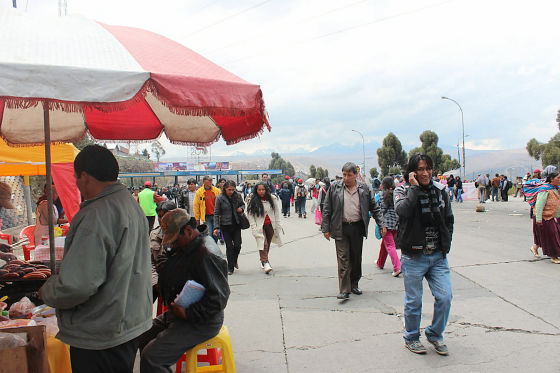 People who have no choice but to walk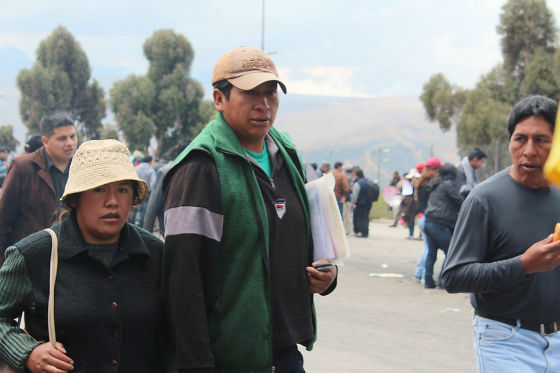 A road blocked by a chair or desk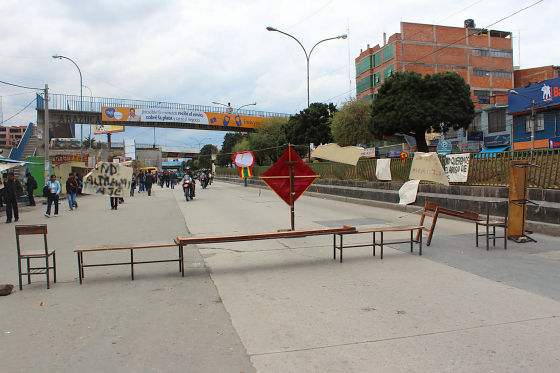 A police officer on a motorcycle is on a tour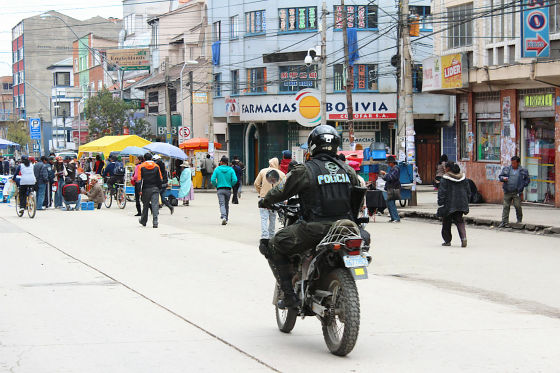 The trunk line in the city became a pedestrian heaven and it was a chaos situation.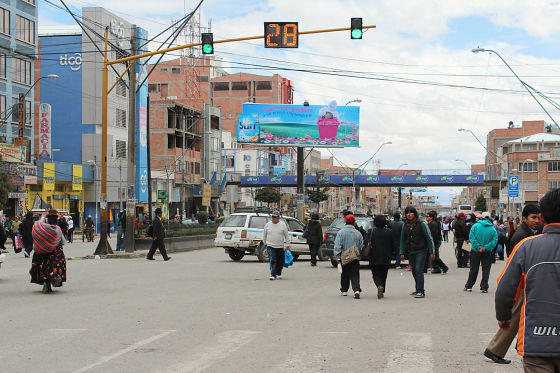 Stuck track groups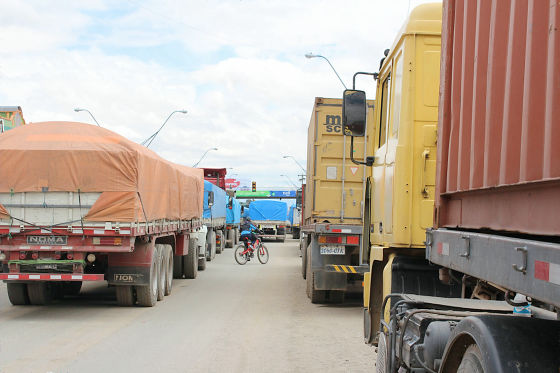 People were gathering over and over several tens of kilometers instead of blocking one place.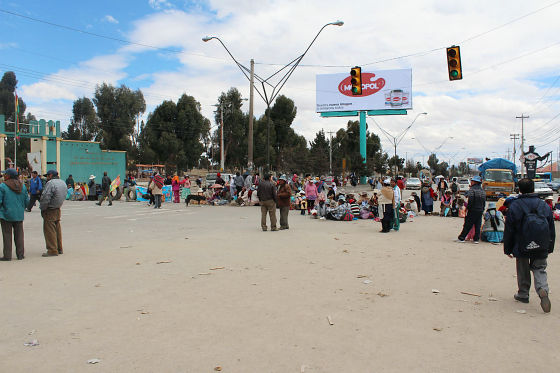 The figure with a little child.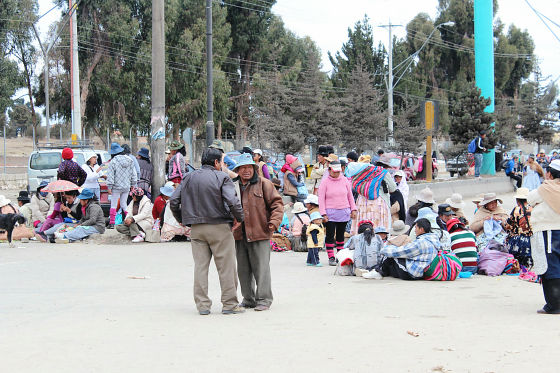 The women's team is knitting while dealing chatting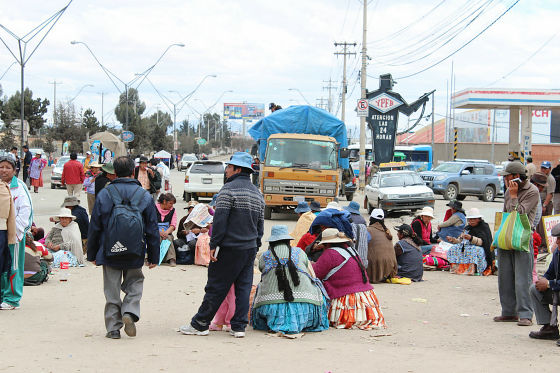 Banner of the Bolivian flag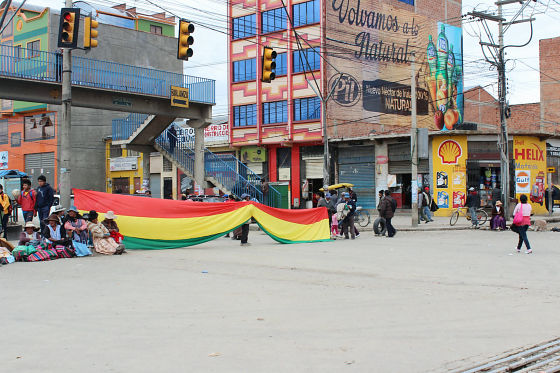 Vehicles that can not move with those who are standing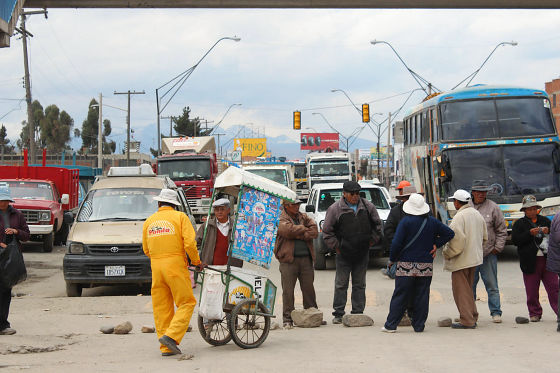 People sitting in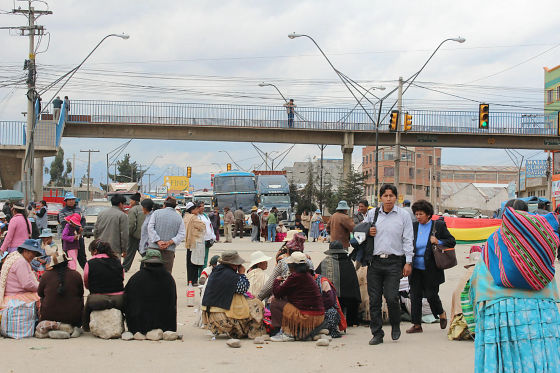 Knitting here as well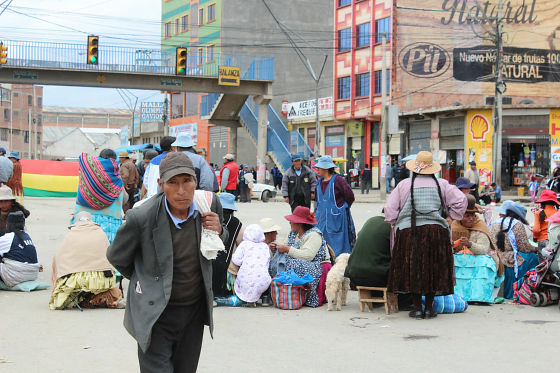 The branch road that joins the main trunk line is also blocked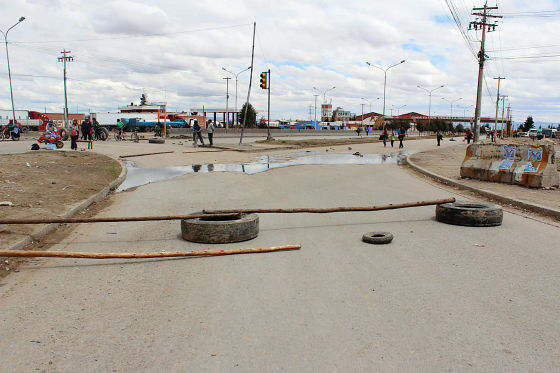 Even in such a place the children were playing well.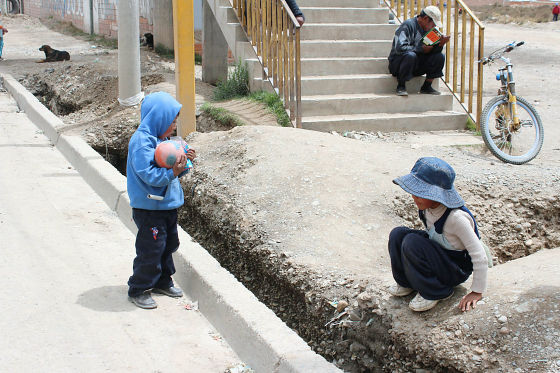 It's a relaxing atmosphere.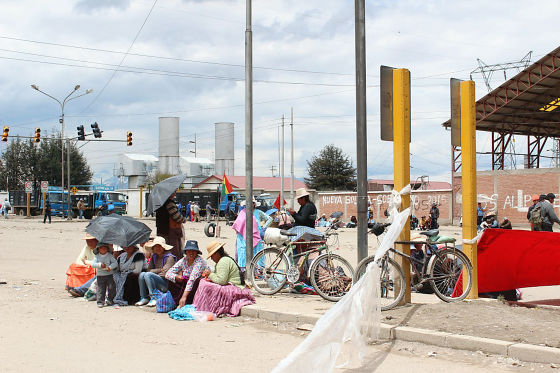 Tank lorry also stuck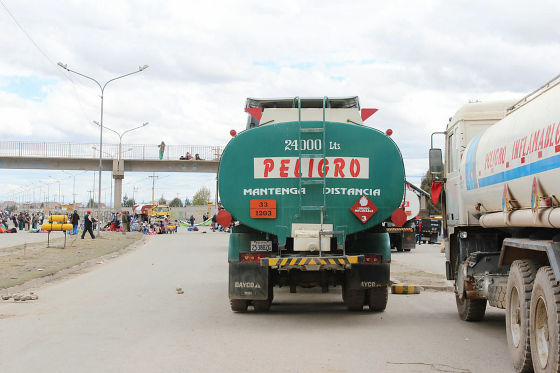 Protest activities that remain quite suburban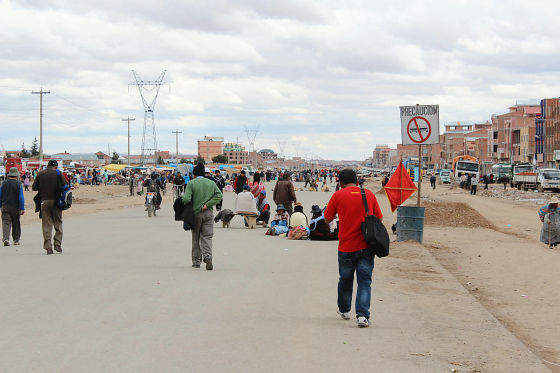 Although I was nervous at first at first, even if surrounded by rarity, I said "I do not need to worry because Bolivia is calm," so I laid a leisurely bike.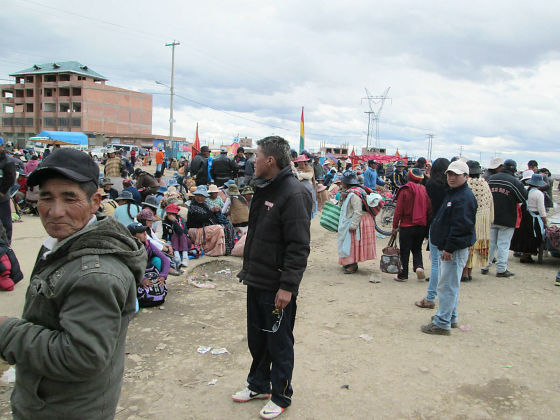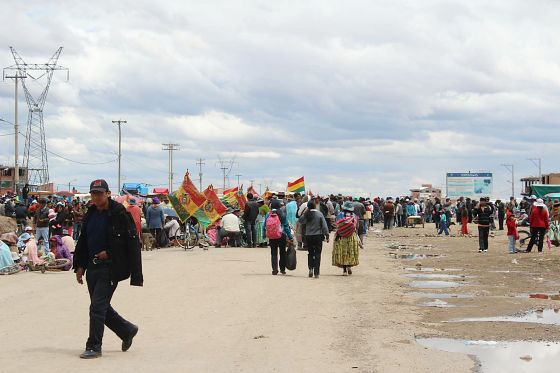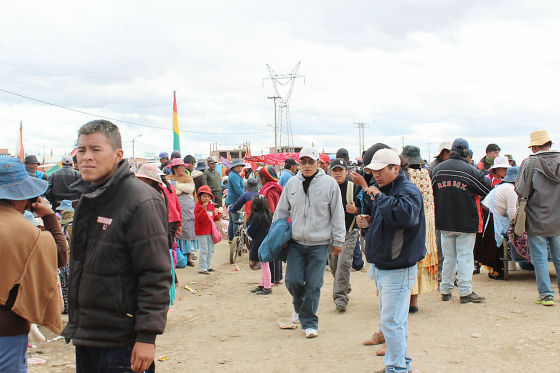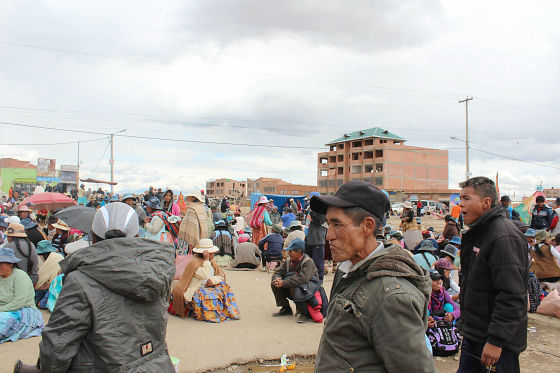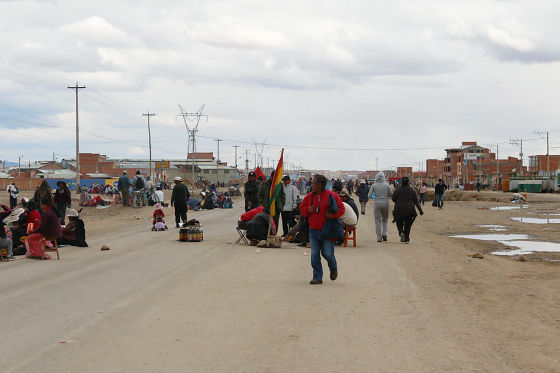 The flag of Bolivia overflowing in this road blockade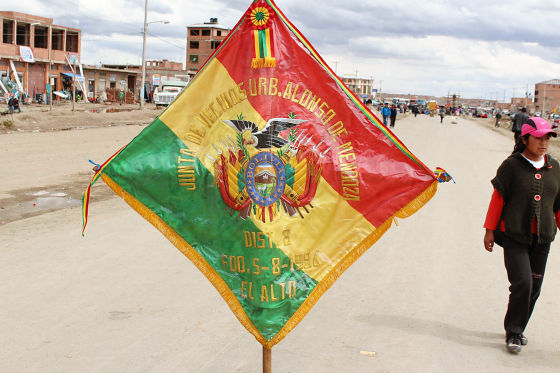 The large bus was also stopped. I do not want to encounter road blockade demo in a short journey.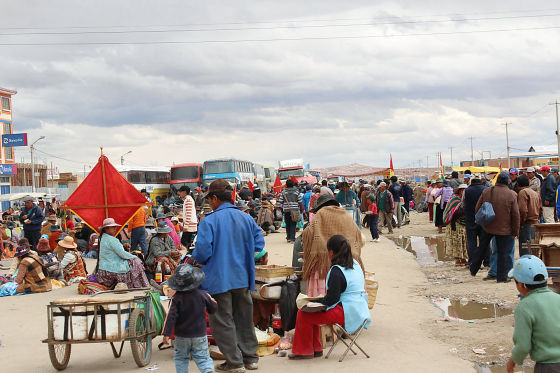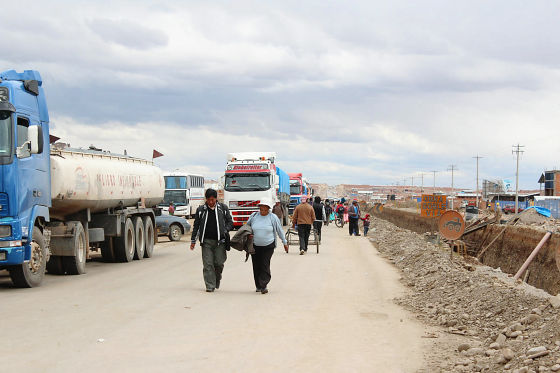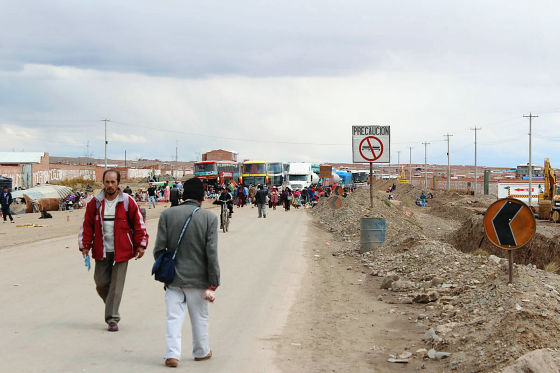 Pass through the large bus and escape the road blockade demonstration.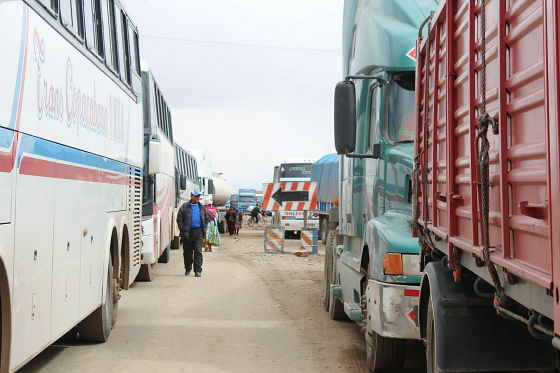 I also encountered a road blockade demo while driving the train line the next day.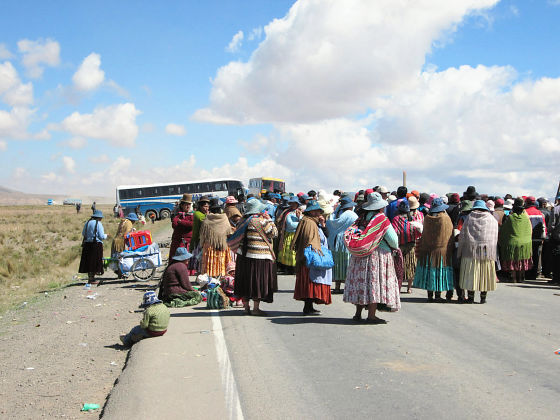 ◆ Bolivian Gas Conflict
A street blockade demo like this happened 10 years agoBolivia gas disputeIt plays an important role in. In response to the government's opportunity to export natural gas, many casualties came out due to the crushing action of armed troops to deal with it, caused the supply shortage to La Paz, the capital where approximately 900,000 people live by highway blockade. As a result, the coalition government at that time collapsed and the president exiled to America. It is one factor contributing to the socialization that makes President Morales elected. October 2013 was the tenth year since the incident occurred, and a special feature was assembled in the newspaper.

The heading "Bolivia has changed on 17th October". This day was the day Sanchez's former president who took command of arming suppression resigned.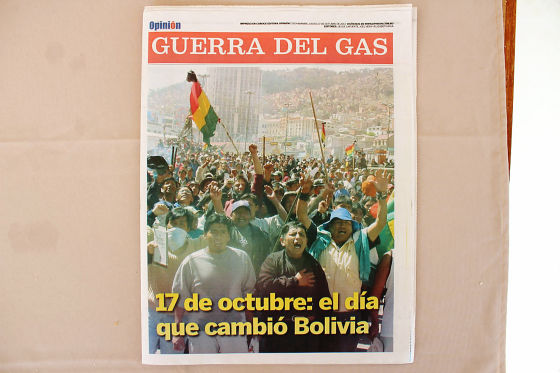 Dead and coffin by demonstration



Demonstration team and tank at the time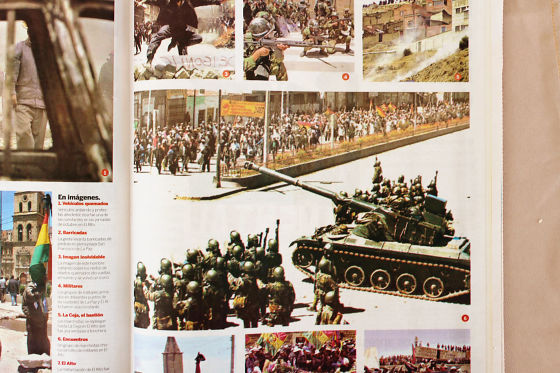 The current administration aimed the gun at the citizenFormer president Sanchez (nickname Goni)I want the handover of the US to the exiled United States, but there is no indication of realization.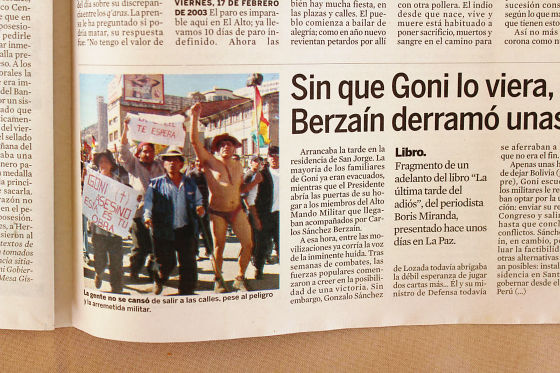 Former president Sanchez of Indiana's aunt and prisoner.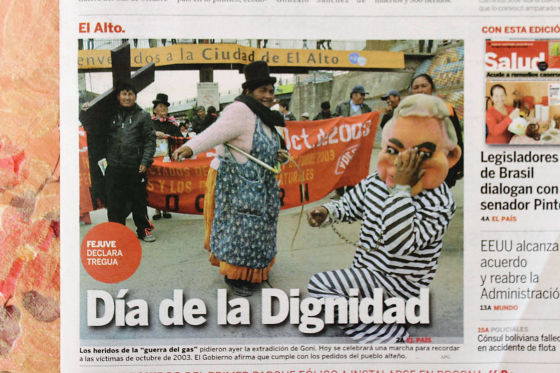 ◆ Presidential speech
On the afternoon of October 11th I stayed in Bolivia, I was setting up an event at the center square of the capital city of La Paz. When asking the ladies of indiana wearing native costume in the neighborhood, it is told that "There is dance in the night" and try to extend their legs. If I thought that I would do it even in an outdoor concert, President Morales appeared in a political gathering like a respect for women's rights.

Sitting in a chair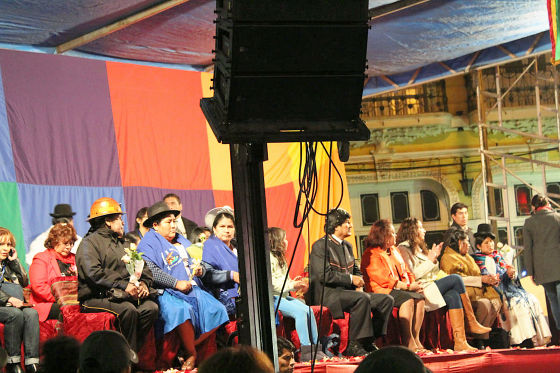 President Morales to make a speech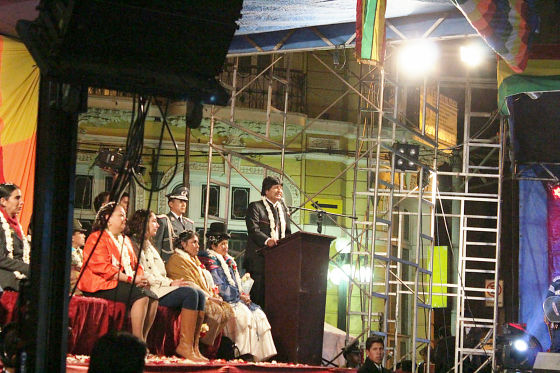 It is also reflected on a large screen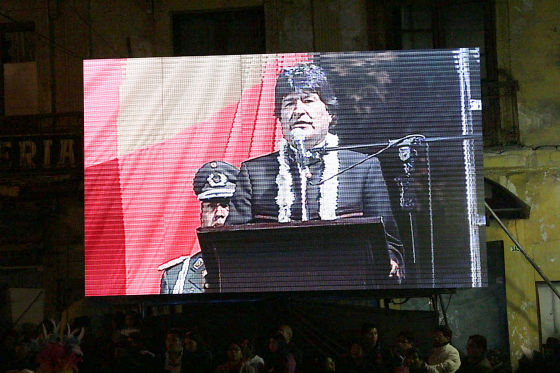 The audience watching the speech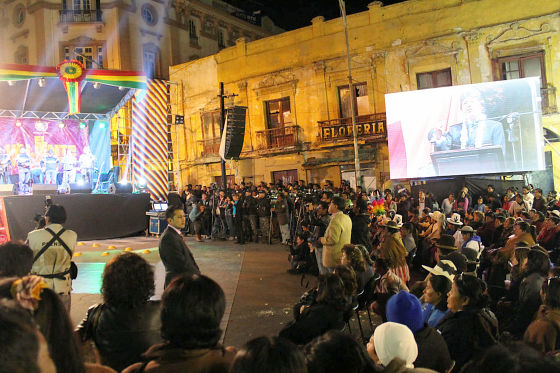 A lot of people were listening to the speech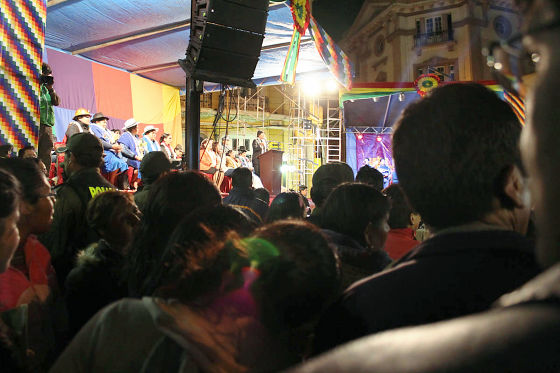 President Morales who speaks hotly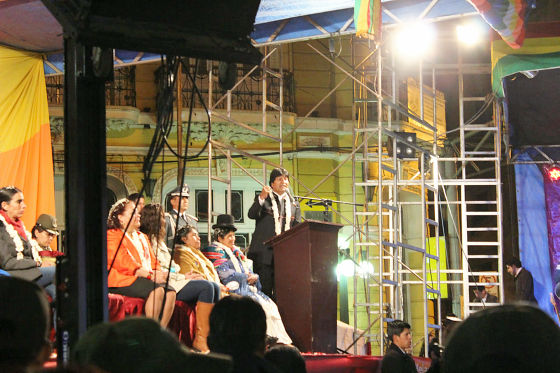 After the speech was over, it was protected by the SP, and the venue was left after a while.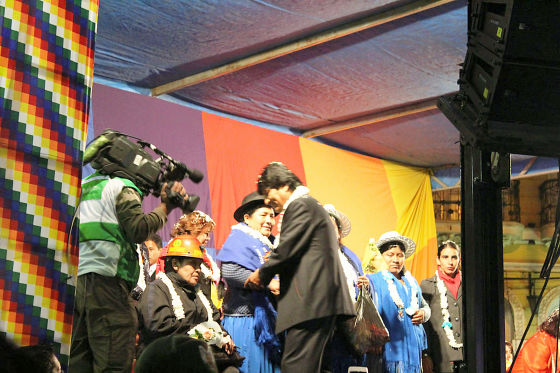 When all the speech endsFolkloréThe concert started. It was truly a country of South America that political gatherings will be lively.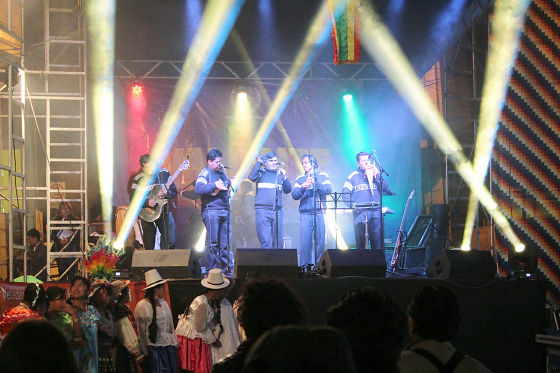 People who danced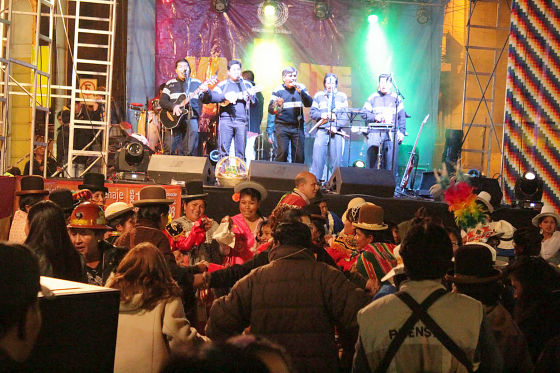 It was fun to carve steps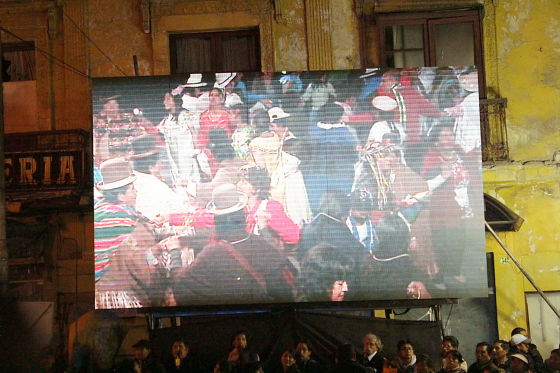 It is politics of Bolivia that is stable under President Morales since 2006, but before that time the president has frequently replaced with coups and political change. Wikipedia's "President of BoliviaLooking at the item of "Such a feeling ... ...."

Rene Barrientos Ortuno 1966 - 1969
Luis Adolfo Siles Salinas 1969 - 1969
Alfredo Ovando Candia 1969 - 1970
Military Union 1970 - 1970
Juan Jose Torres Gonzalez (1970 - 1971)
Military association (Jaime Florentino Mendieta Vargas, Hugo Banzer Suarez y Andres Selich Chop) Hugo Bansel Suarez 1971 - 1971
Hugo Banzer Suarez 1971 - 1978
Victor Gonzalez Fuentes 1978 (President of the Military Union)
Juan Pereda Asbun 1978 - 1978
David Padilla Arancibia (1978 - 1979)
Walter Guevara Arze 1979 - provisional 1979
Alberto Natusch Busch (Alberto Natusch Busch) 1979 - 1979
Lidia Gueiler Tejada (1979 - 1980 provisional)
Commander Association 1980
Luis Garcia Meza Tejada (1980 - 1981)
Commander Union 1981 - 1981
Celso Torrelio Villa 1981 - 1982
Commander Union 1982 - 1982
Guido Vildoso Calderon 1982 - 1982
Hernan Siles Zuazo 1982 - 1985
Victor Paz Estenssoro 1985 - 1989
Jaime Paz Zamora 1989 - 1993
Gonzalo Sanchez de Losada (Gonzalo Sanchez de Lozada) 1993 - 1997
Hugo Banzer Suarez 1997 - 2001
Jorge Quiroga Ramirez 2001 - 2002
Gonzalo Sanchez de Losada (2002 - 2003)
Carlos Mesa Gisbert 2003 - 2005
Eduardo Rodriguez Veltze 2005 - 2006
Juan Evo Morales Aima 2006 -


A portrait of the president who was raised in the capital city La Paz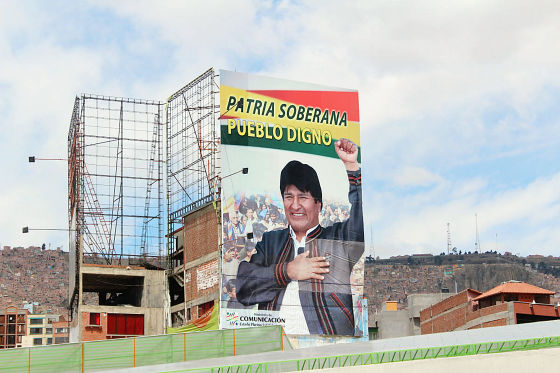 There was also a signboard of a figure wearing a helmet while driving while building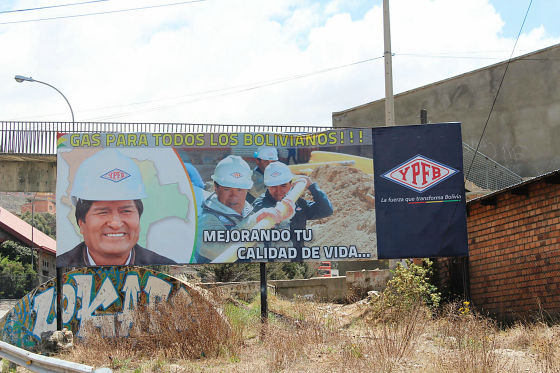 In the local city Orlo.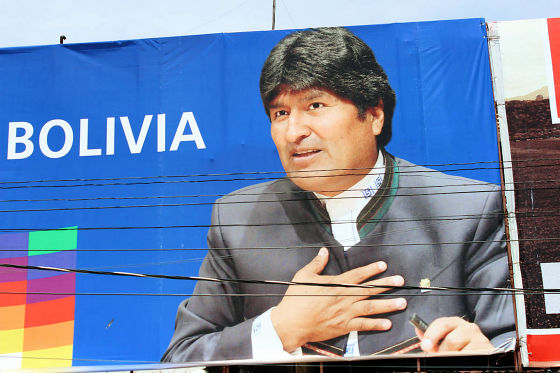 President Morales, who has gained wide support in Bolivia, will run for the election at the end of 2014 and win the election, the long-term administration will continue. However, as compared with the fact that the president of the United States fulfills his term of office in the second term and eight years, the way the president of the leftist regime of Latin America will repeatedly elect a re-election, like President of Correga of Ecuador and President Chavez of Venezuela, It is no use doubt that new leaders will not come out ".

Socialist route
In Bolivia, which promotes socialist routes, the shadow of foreign capital has become thin. In neighboring countries Peru, Chile is a potato chip anywhere "Lay's"Many types are in handmade bags. Fast food also has Burger King, but McDonald'sWithdrew in 2002, It was only the local capital fried chicken shops. However, the economic development of Bolivia was delayed, I did not seem to be able to finish road construction someday, and I felt a marked difference compared to Chile, where Peru and the heavy truck for the mine run, which had been scraping the mountain with heavy machinery .

Since taking office in 2006 President Morales has nationalized various companies in Bolivia from socialist routes.

· In October 2006,Foreign companies accept nationalization of resources such as natural gas

【Rio de Janeiro】 Ten foreign companies including Brazilian state-owned oil company Petrobras, which is conducting natural gas mining in Bolivia, from 27 to 29 Bolivia President Morales nationalized resources such as natural gas declared in May I concluded a new contract to accept the declaration with the government.

· In January 2009,State-owned natural gas company

【Cochabamba · Bolivia 24th NNN = Plensa · Latina】 Bolivian President Morales signed a declaration on nationalization of the natural gas field "Chaco" which British BP and others are financing.

· In May 2012,Nationalization of telephone company Entel

President Evo Morales declared Entel's nationalization on May 1, 2008.
Entel officials say that during the nationalization process, the country is investing 2 billion Boliviano.
This amount largely exceeds the government's perspective at the time of declaration of nationalization.

· In May 2012,Nationalization of assets of Spanish companies

May 1 (Bloomberg): The Bolivian government nationalized the domestic assets of Spain's Red Electric, which operates the domestic electricity grid.

· In February 2013,State-owned airport management company under the umbrella of Spain

President Morales of Bolivia announced on August 18 that it would nationalize the airport management company SA Beribia Airport Service SA (Sabsa) under the umbrella of Spanish infrastructure company Avertis (ABE.MC: stock price, corporate information, report).

As a result,Income disparity shrinks in seven years under the Morales administrationIt seems that the achievements have been out for a while, such as doing. Trial and error continues so that the benefits of natural resources are distributed to the people of Indiana who make up the majority of the people.

Located on the outskirts of El AltoChoi GuevaraAn object with a motif. Guevara has lost her life in Bolivia.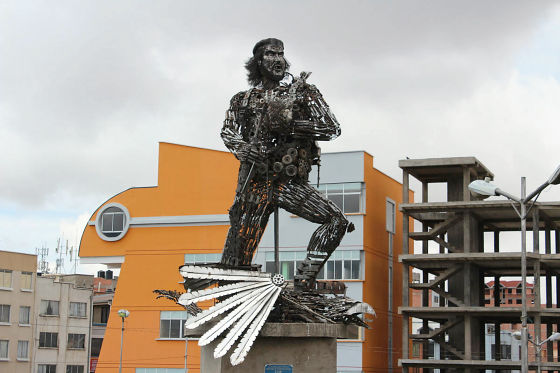 Portrait in the capital city La Paz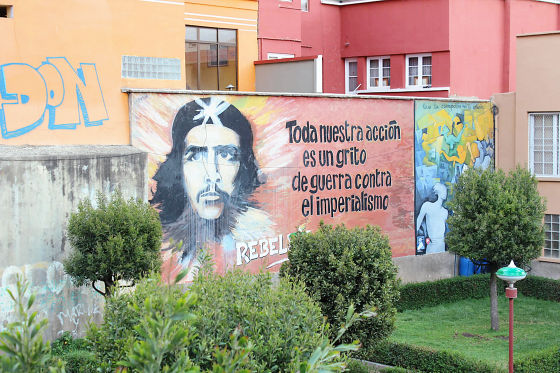 There was also a mural painting that seemed to be a socialist state like the one seen in the former Soviet Union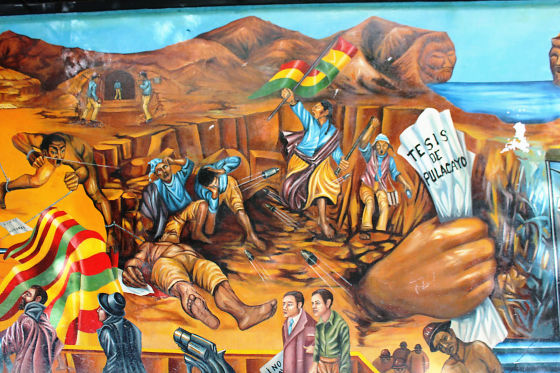 It is said to occupy half of world reservesDevelopment of lithium ionAlso, with the holding of Dakar · Lari, we will also focus on attracting tourists and the outlook for the Bolivian economy may be bright. However, I am worried that competitiveness is likely to decline due to socialist routes, and neighboring countries Peru and Chile are progressing at present. In Venezuela, which pioneered the nationalization of crude oil, the monetary value of the domestic currency declined from misconduct, the inflation progressed and the economy was confused. "Government seized goods and arbitrarily forcibly pushy economic policyIt is a situation, and if politics makes a mistake when it makes it a socialist route, it can be a serious thing.

Why do not you think about the liberal and socialist routes of Latin American countries because Japan is growing in disparity?

(Sentence / photo: Takuya S. Narou Charriderman
Cycling around the world for a bicyclehttp://shuutak.com
Twitter@ Shuutak)