I went to a ruffle gun Osaka shop where I can have a long queue and have eaten ramen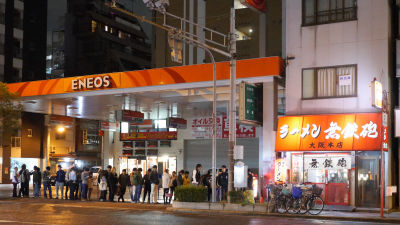 Nissin 's cup noodles taste of famous ramen shop "Famous store series No ruffles Concentrated pig boneAfter eating, I was concerned about how similar it was to the taste of the actual store, so I decided to go to the Osaka store and try to eat.

Ruffle
http://www.muteppou.com/

Arrived at a ruffle. Despite the cold evening, a long line was formed.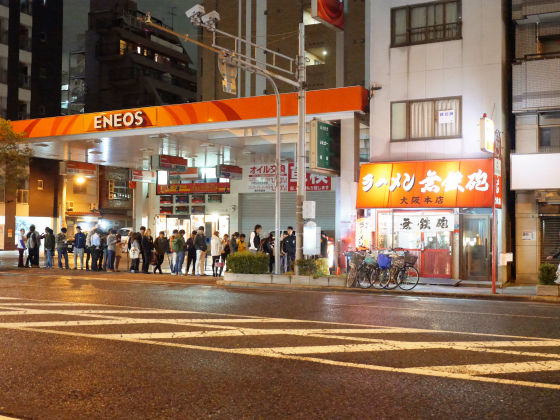 The number of people in the queue is about 40 people.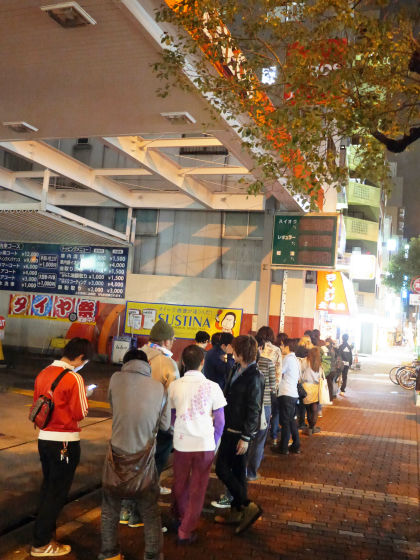 After 40 minutes, I will advance to the front of the queue.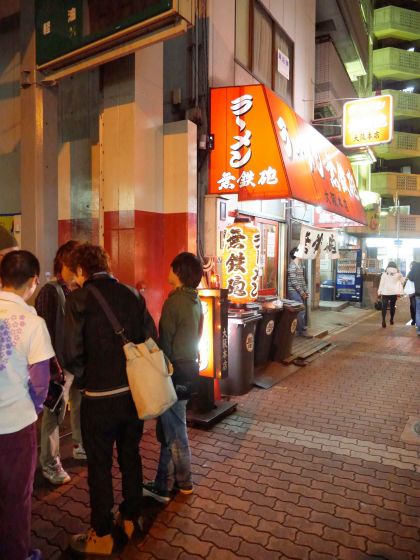 I entered in line for about an hour. I will buy a ticket.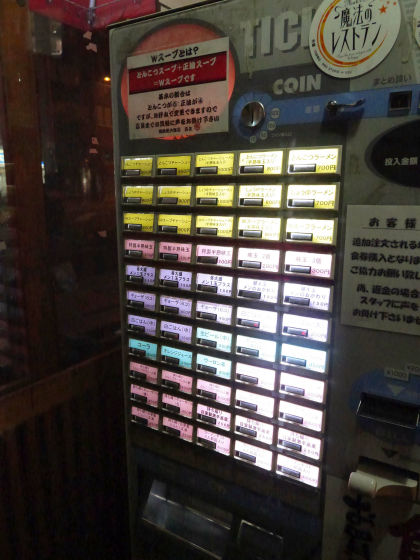 Using water and domestic pig only "Tonkotsu ramen(700 yen including tax) "· Osaka shop limited fish sushi mainly Japanese style soup"Soy sauce ramen(700 yen including tax) "· You can blend these soups at any ratio"W soup ramen(700 yen including tax) "three different flavors can be chosen. This time I tried Tonkotsu Ramen to compare and eat with cup noodles.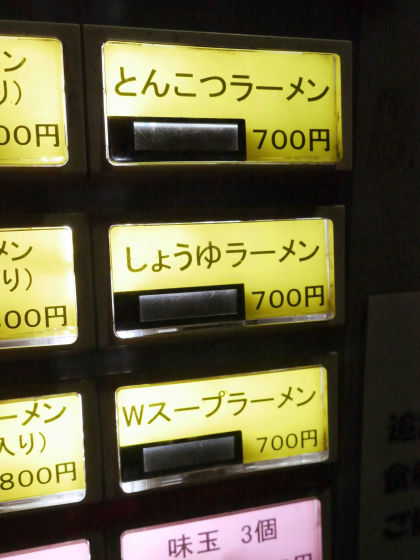 You can choose your choice of noodles, soups and leeks when handing your tickets. Although it is not written on the poster, it is also possible to select the presence or absence of chemical seasoning.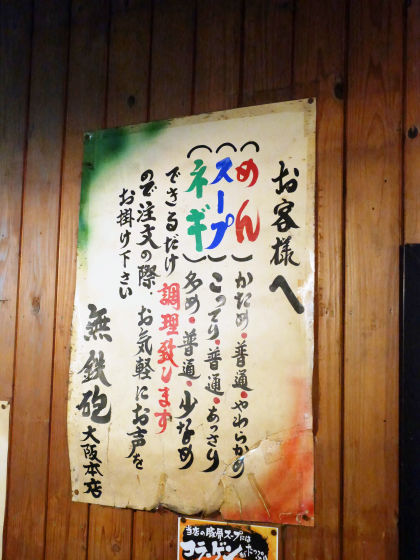 Tonkatsu ramen arrives in about 5 minutes sitting in the seat waiting.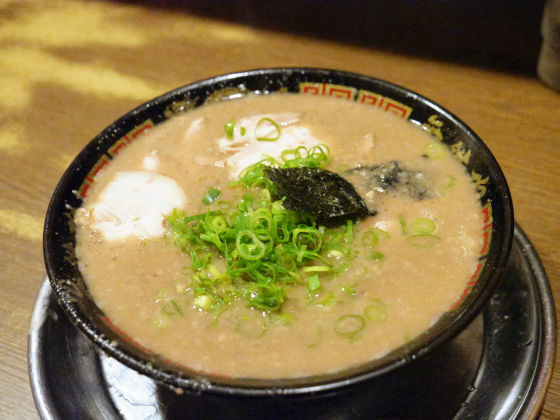 Soup is not cloudy pork bone soup, but soy sauce pork.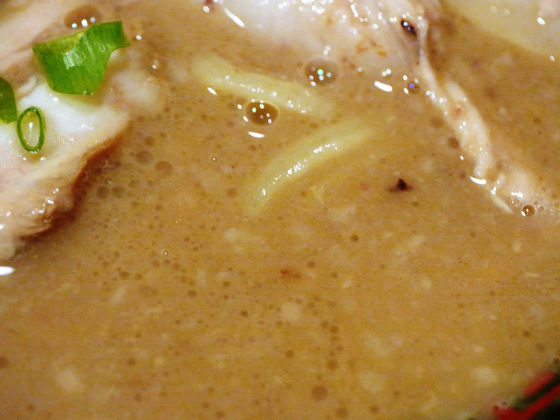 In western Japan a classic blue tuna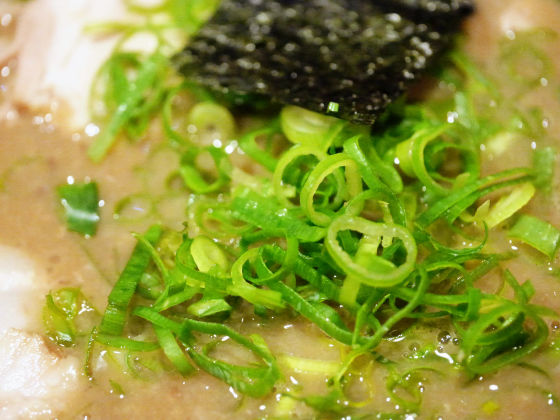 Below the green onion is Menma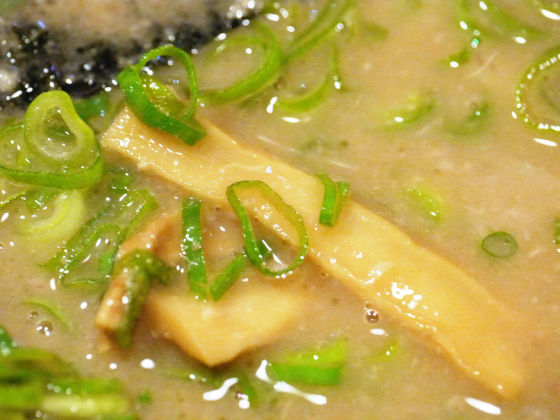 Glue



There are also about 4 sliced ​​barbecued slices.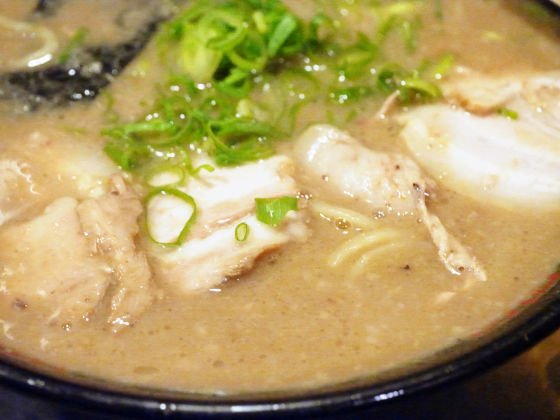 When eating soup with noodles, I feel the powerful taste of pig bones like Hokkaido noodles' tonkotsu soup further enriched, which is suitable for the word "rich". If you compare Tonkotsu Ramen to a coffee, the frightening soup is a pig bone espresso, the taste of pork bone · pig fat · pork is blended in the soup and the umami of thick dough pigs matches soy sauce. Slightly thickened crumbled noodles and soup and fat entangled well, excellent compatibility.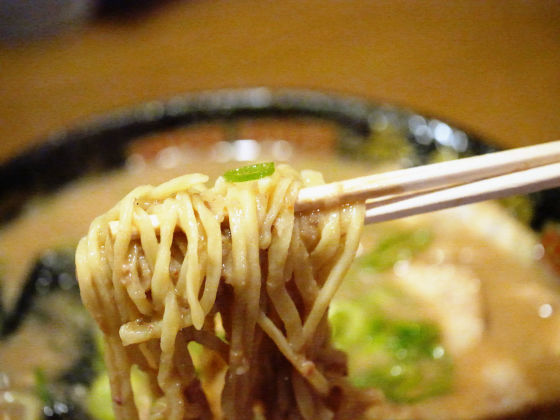 Limited time-limited store "no fright"Pig bonesWhen I visited, when I visited in the day I have a memory that the viscosity was lower than the Tonkotsu ramen I ate this time, but because the visit at night this time the viscosity of the soup is high, it is slightly oxidized and fresh I felt that it was missing. According to some catastrophy clerk, the soup before the morning business at 15 o'clock is the best.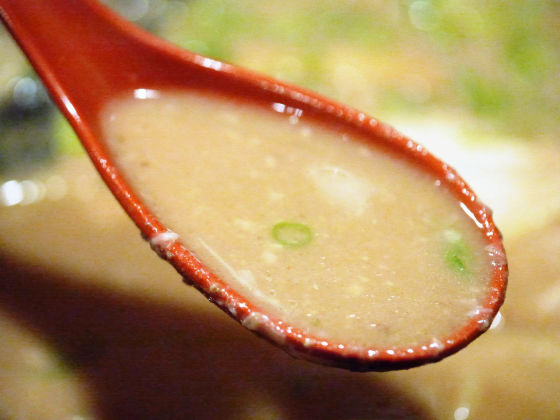 Chashu has a lot of fatty but high-quality fat that melts with your mouth. It seems to be delicious even if you cook on rice and eat it.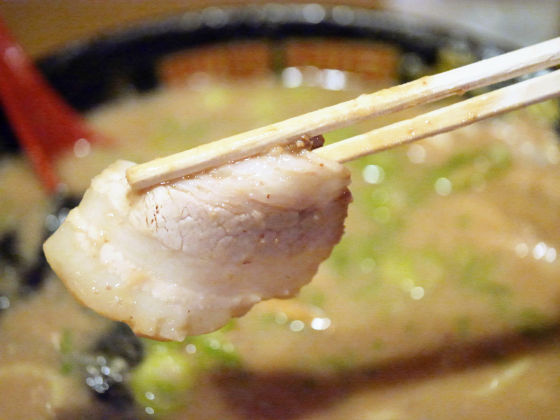 When I finish eating noodles, I feel like Kyushu ramen that I can order substitute balls (150 yen including tax).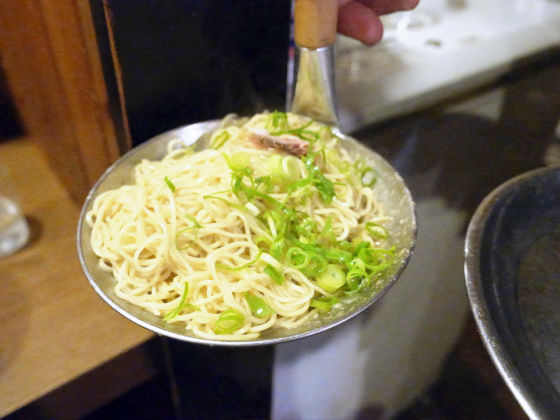 The clerk inserts a substitute in the bowl.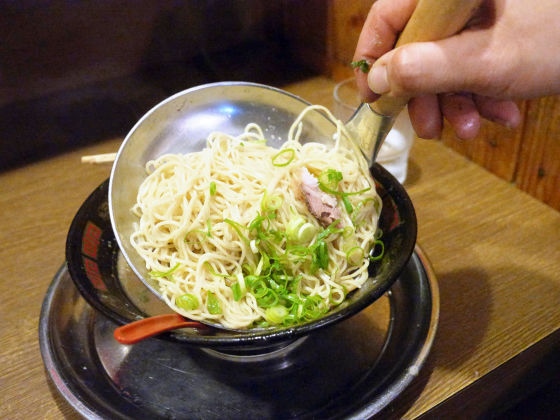 Noodles can be selected from medium thick noodles and thin noodles. This time I asked for thin noodles.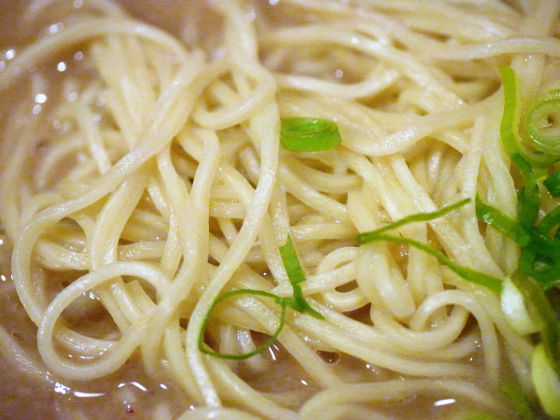 If you put a substitute ball, the soup will become thin, so put "Ramen noodles" at the counter.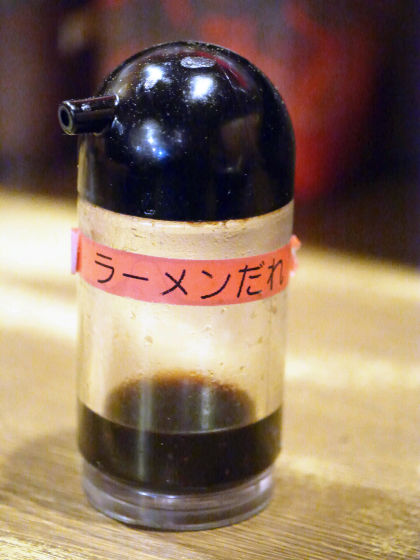 To avoid saltiness becoming too dense, it is recommended to put in a tiny fraction while tasting.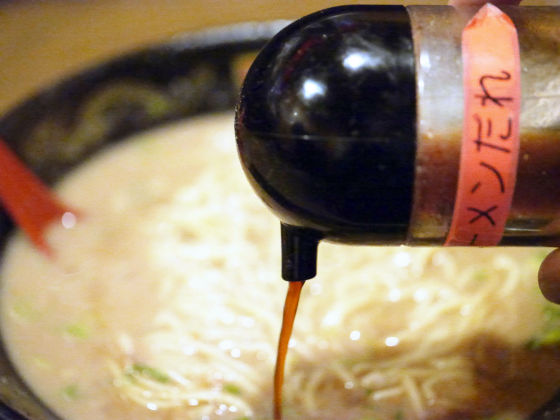 Small noodles are often used in HakataLow water additionSmall noodles. Although the entanglement with the soup is fine, the impression that the noodles have lost somewhat soup. The thickness and texture of the noodles are partly due to their preference, but it seemed that middle-sized noodles are more compatible with soup.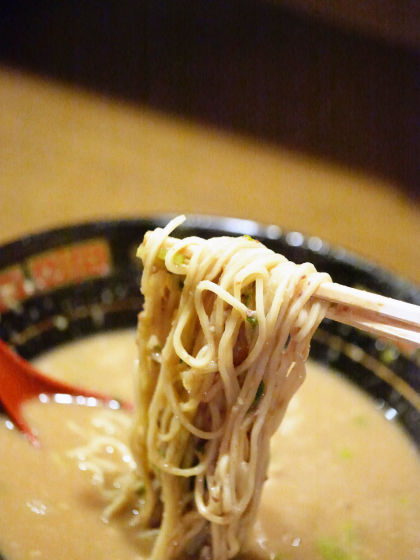 I will also put a desktop garlic sauce.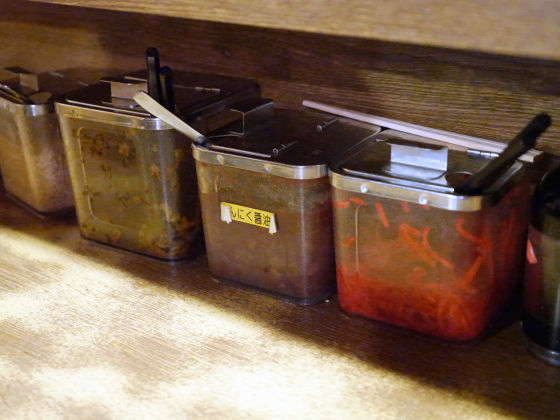 If you put too much garlic and soy sauce, the taste will change so you can put in it a little at a time.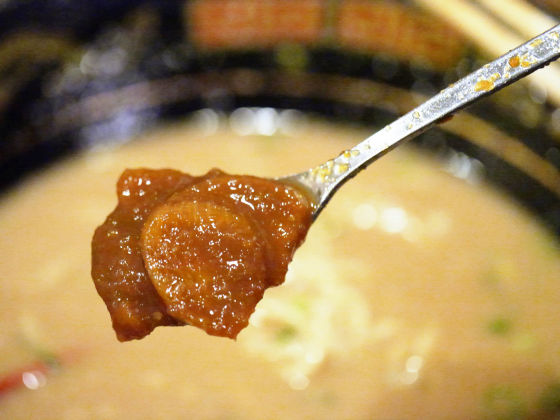 The taste of punch of garlic matches the taste of pork bones. Although strong tastes collide with each other, they complement each other's goodness. People who like spicy ramen are hot spicy, and those who want to taste like Kyushu are also recommended to put in red ginger.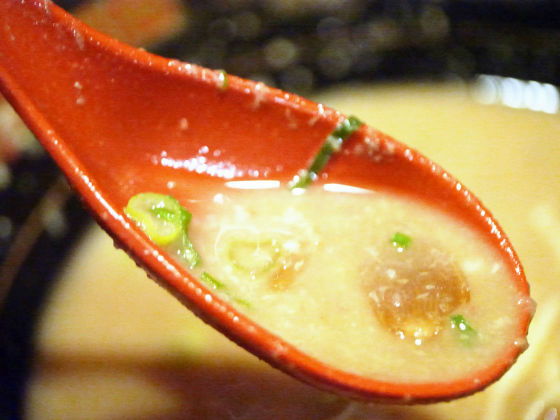 As a comment by comparing cup ramen and shop's Tonkotsu ramen this time it is difficult to express ramen in a cup noodle shop, it is difficult to express its taste and umami, so in cup noodles it is a vegetable oil I felt it was supplementing with. Because ramen you eat at a shop is 700 yen including tax, and cup ramen is made with 199 yen including tax, it makes it taste commensurate with the price, so it may be interesting to compare it eating.