The release date of "Star Wars Episode 7" is decided, shooting starts in the spring of 2014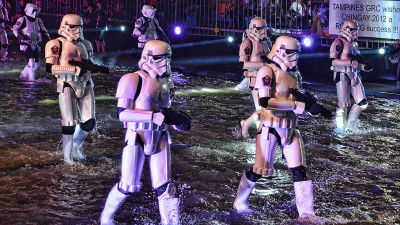 ByChoo Yut Shing

"Star Wars Episode 7" supervised by J · J · AbramsThe release date ofDecember 18, 2015I decided to have an official announcement.

Star Wars: Episode VII to Open December 18, 2015 | StarWars.com
http://starwars.com/news/star-wars-episode-vii-to-open-december-18-2015.html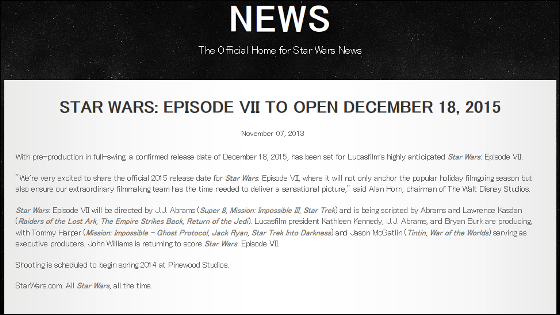 A new work of the "Star Wars" seriesDisney's acquisition of LucasfilmWe started to move toward realization.

About episode 7, Disney said from the beginning that it is going to be released in 2015, so it is not surprising so much on December 18, 2015, which was announced this time, but as the fine figures came out, the project I have a feeling of concreteness.

As previously reported, J · J · Abrams, who was a fan of Star Wars and was the director of the movies "Star Trek", "SUPER 8" and "M: i: III". Screenplay was directed to Abrams and a screenplay of "Strikes of the Episode 5 Empire" and "Episode 6 Return of the Jedi" with Star Wars of the pastLawrence KasdanHe writes.

Speaking of "Star Wars", music such as the magnificent main theme and "Imperial March (Darth Vader's Theme)" that is used when a villain appears at a villain appearance or in an unsteady atmosphere are widely known, but books Also worked on this original scoreJohn WilliamsIt is decided to be in charge of music.

I took pictures at the Pinewood Studios from the spring of 2014.
in Movie, Posted by logc_nt