Hiroshima oyster and snow crab seafood used seafood soup pasta was eaten by Jolly pasta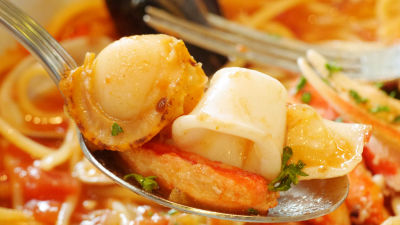 Yesterday 7th November is 24Beginning of winterwas. Jolly pasta began to serve soup pasta which used plenty of Hiroshima oyster and seafood as a winter menu from November 7th, so we went to eat in advance to anticipate the winter mood even though it is not so cold.

Fair Menu | Menu | Jolly Pasta - Pasta Specialty Store -
http://www.jolly-pasta.co.jp/jp/menu/fair/

Arrived at Jolly pasta.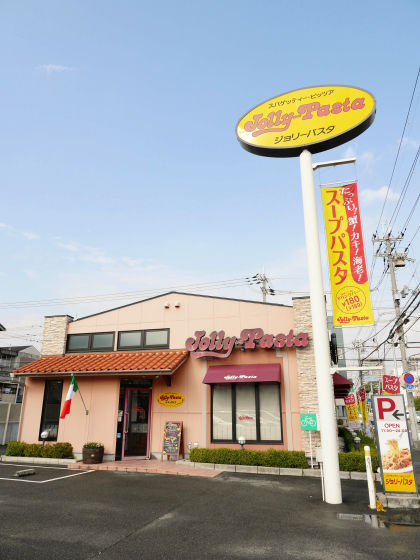 "Plenty crab! Oyster! Shrimp! Soup pasta" and that.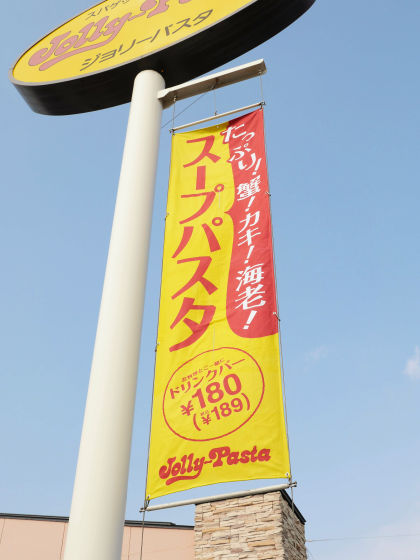 Oyster cream pasta seems to be recommended.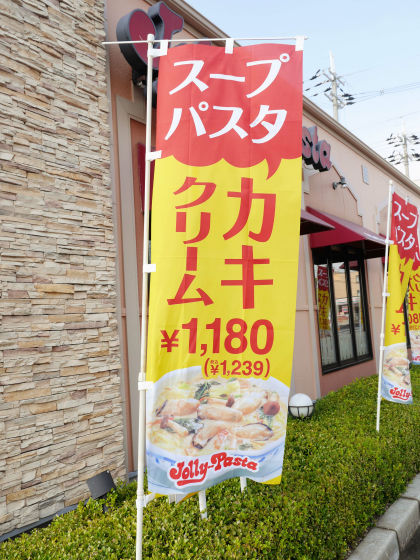 Four fair menus of this time are also pasted to the shop front.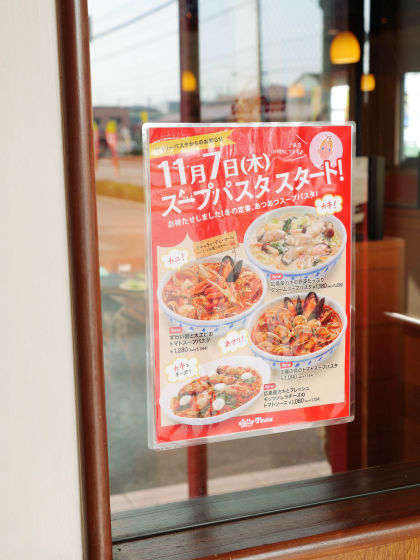 When I arrived at the table, a menu of soup pasta fair was placed on the table.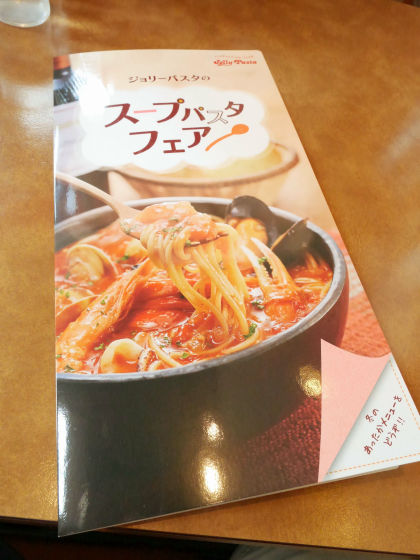 Four items of this fair menu are available for this time. I will place an order immediately.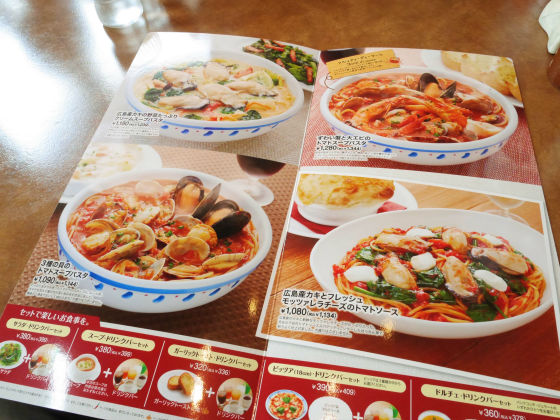 Wait 10 minutes for the menu to arrive. Big ingredients are conspicuous in any of them.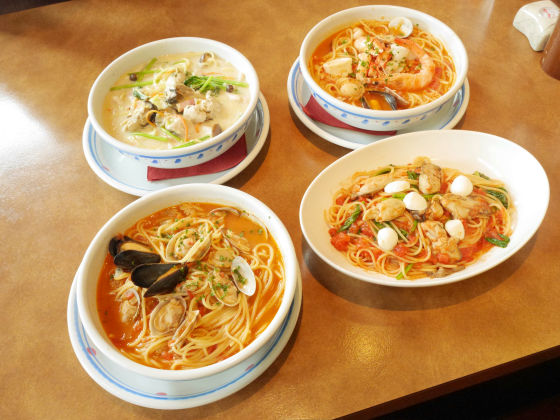 "Hiroshima oyster vegetables plentiful cream soup pasta(Tax included 1239 yen) "is rich cream pasta with spinach with good compatibility with oyster.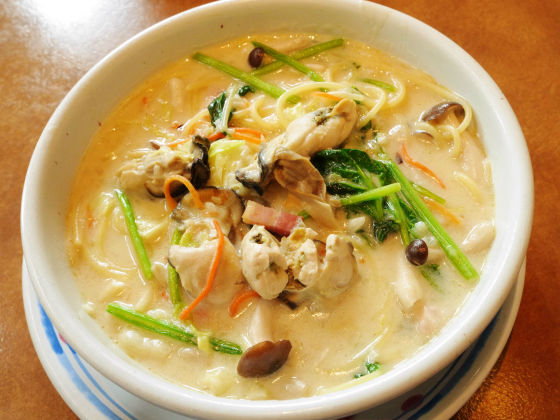 Even if you look at oysters from above only 5 or more are included.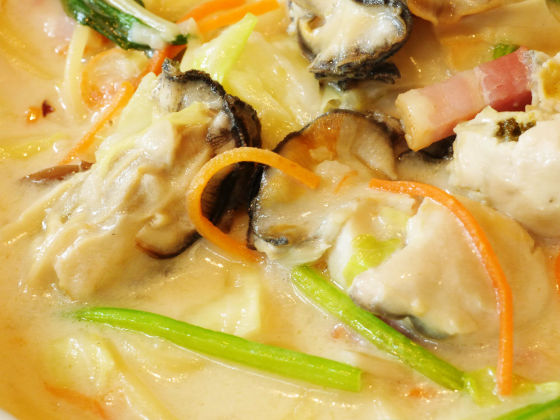 It also contains ingredients that are compatible with cream pasta such as bacon and mushrooms.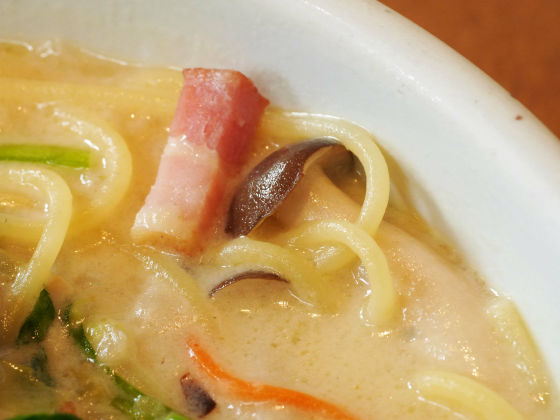 The cream soup is melting in the deliciousness of oysters and vegetables, and although it is not stickiness or richness that it dropped as much as stew, it often entangled with noodles. The taste of oysters, the taste of the cream and the taste of the vegetables are well-balanced and the menu is rich in richness, but the cream pasta has a slightly harsh impression.



As Hiroshima oysters are contained a lot, the satisfaction is high. Although there is no texture made as a raw eatable prepuri, umami is solidly packed, and compatibility with cream soup is also good.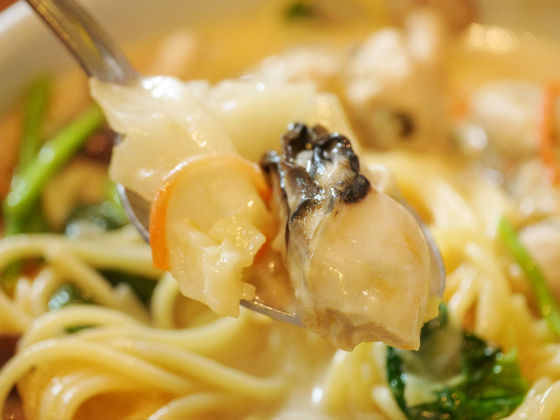 Vegetables of mushrooms and spinach are also good with cream soup. However, I felt that the amount was smaller than the menu picture. Maybe vegetables were included in a lot.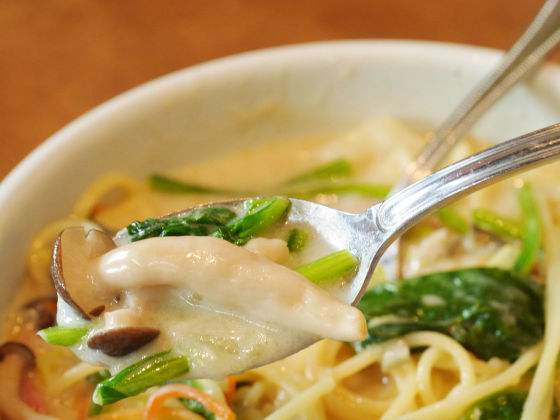 "Snow crab and large shrimp tomato soup pasta(1344 yen including tax) "is crunchy crab meat, stick meat, crunchy crustaceans such as loose eggs and large shrimps, and soup pasta.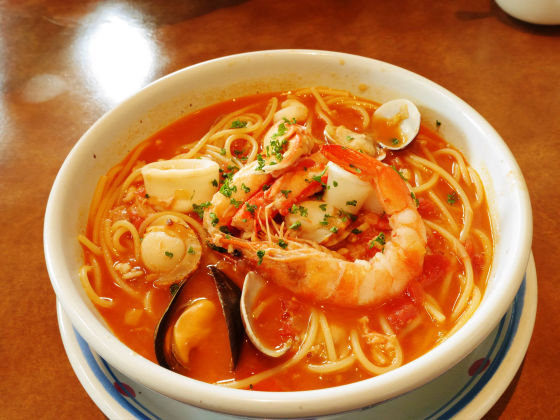 Fine crab claws and stick meat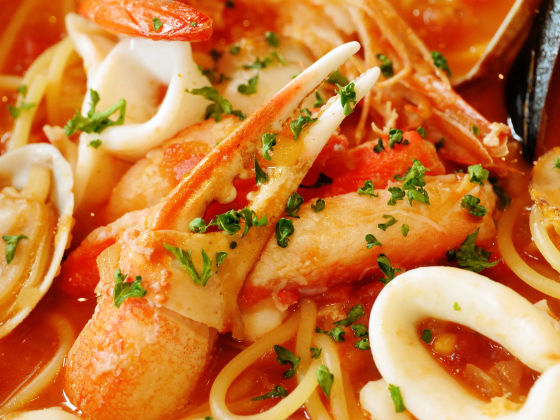 Large shrimp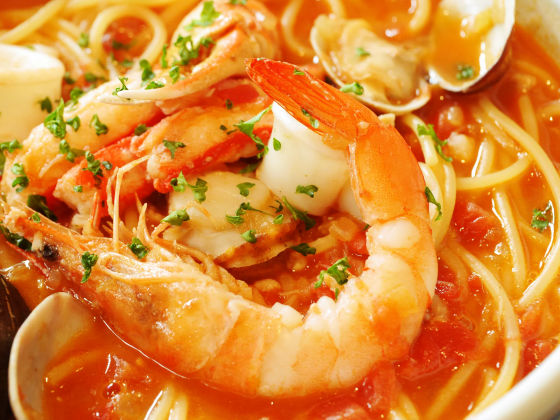 It also contains squid, scallops, mussels etc, plenty of delicious fish and shellfish.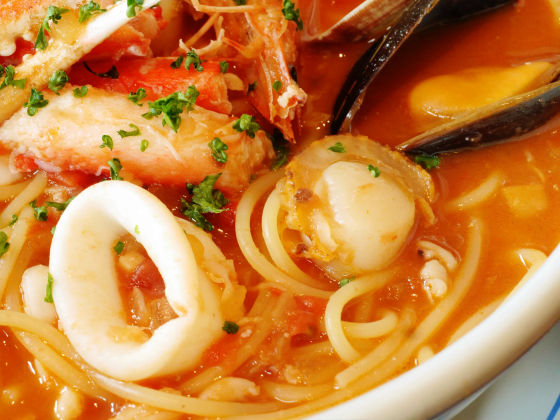 More than a taste of tomato plenty of seafood tastebouillabaisseSoup of complex seafood taste like. At the same time as umami, I felt a little of the fish's habit, so it seemed like a little more spice could be effective. Soup is not entangled in pasta as cream soup, but salty is never too strong, and the compatibility of noodles and soup is also good.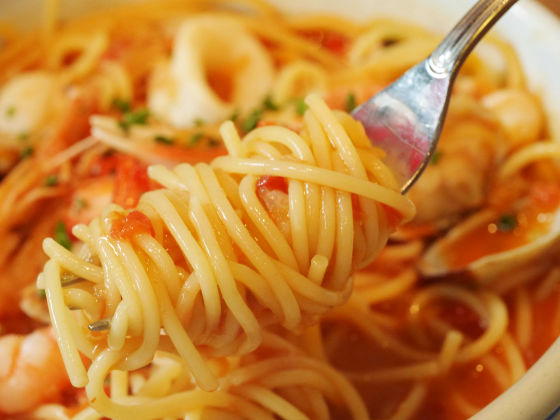 There is only a large shrimp and you can enjoy a crisp texture made with prepuri, and the umami remains firmly.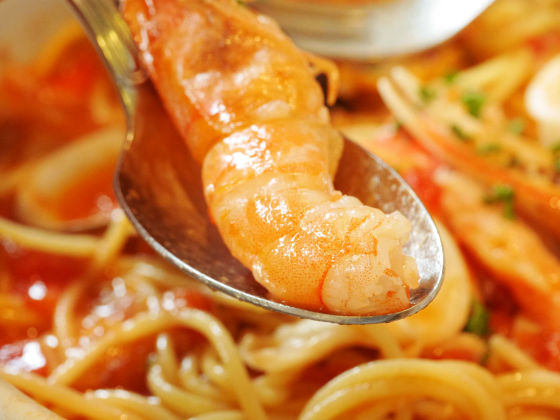 Shells and crabs have melted out into soup, and a little umami is lacking, but you can enjoy enough as ingredients.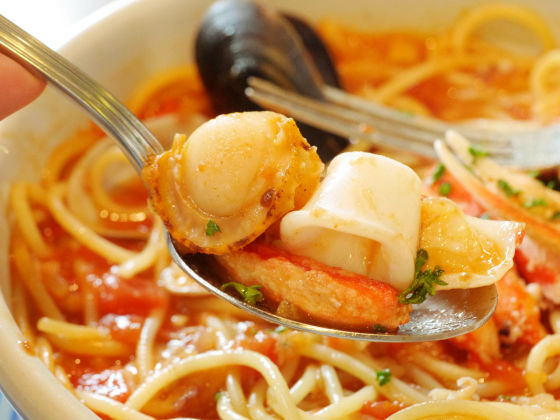 When I scooped the bottom of the soup, I found a crab loosen from the bottom. It was felt that loose odor was largely out of flavor.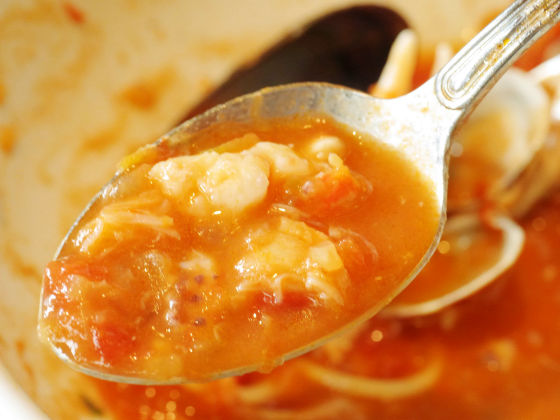 "Three sea shell tomato soup pasta(1144 yen including tax) "plenty of clams, plus mussels and scallops enter the tomato base soup pasta.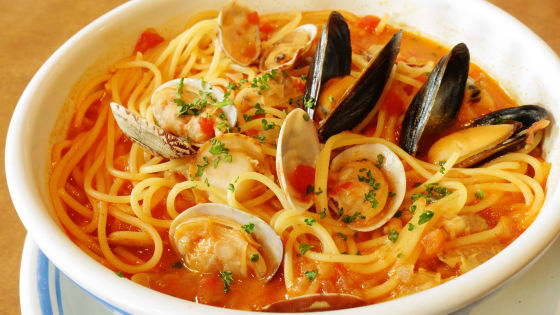 Clams and scallops with shells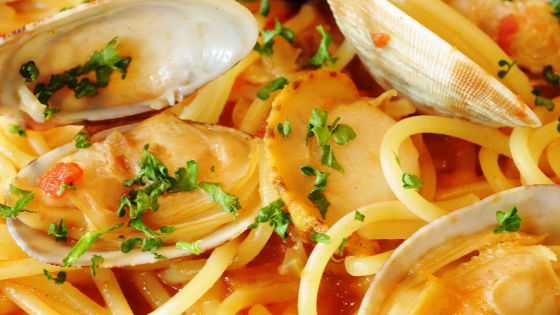 A piece made with large shell mussels.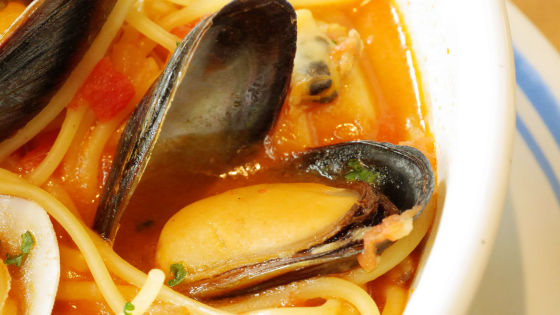 Because the same raw materials are used, there are places like "crab and large shrimp tomato soup pasta" a bit, but the shellfish is abundantly used in tomato soup as shellfish is abundantly used. Shellfish has no soil odor and muddy, and it also matches well with the acidity of tomato.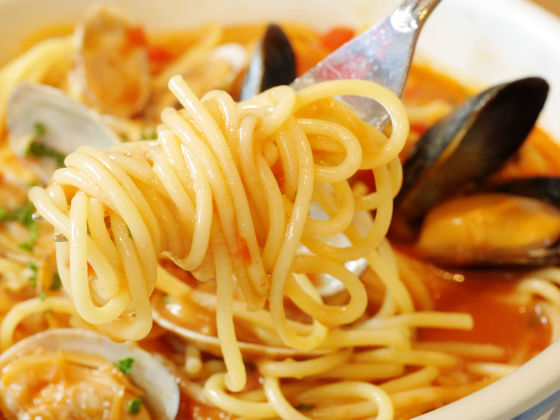 There is no particular habit of mussels, a peculiar umami. The texture is also the same as ordinary shellfish.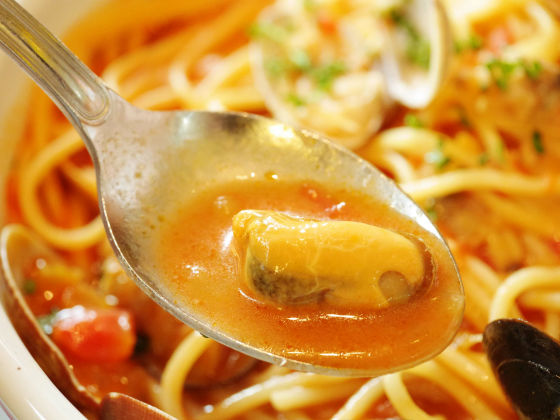 Among the three types of shellfish, there are many amounts of clams and the strongest taste was felt.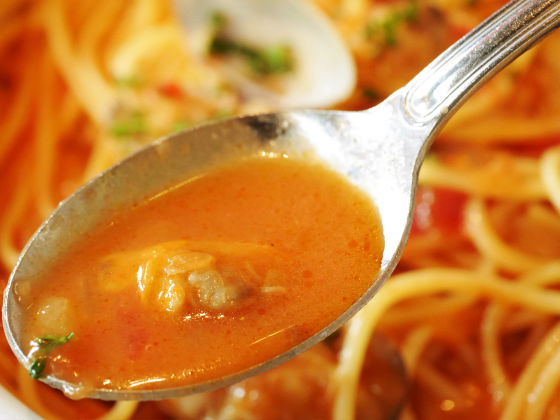 The scallops with strings also have firm taste. However, this soup pasta seemed to be a little expensive among the four kinds I ate today, as the ingredients are not gorgeous.



The last item is "Hiroshima Oyster and Fresh Mozzarella Cheese Tomato Sauce(1134 yen including tax) ". Plenty of oysters are on the ingredients of Italian color of mozzarella cheese, tomato and spinach.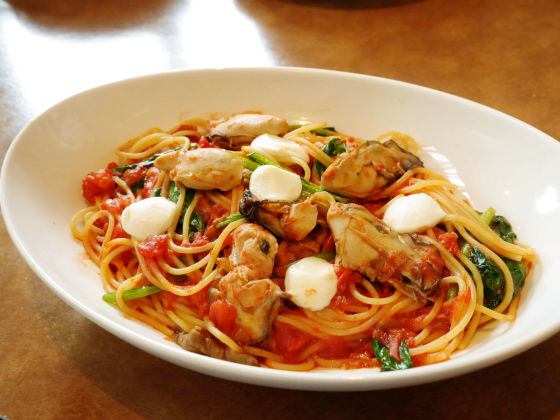 Although ingredients are a combination like Margherita, spinach, not basil, is used.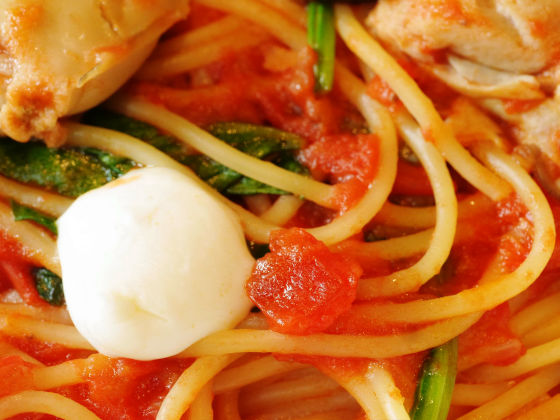 Oysters had more than 5 sizes of medium sizes.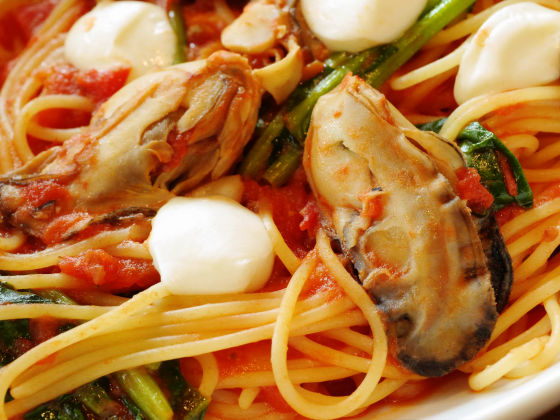 When eating pasta, the taste and flavor of the oyster is felt strongly from the tomato sauce, and the impression that the deliciousness of the seafood is transmitted directly from the soup pasta. Naturally soup pasta tomato sauce entangled with noodles, feel the strong taste and sourness of tomato oyster too.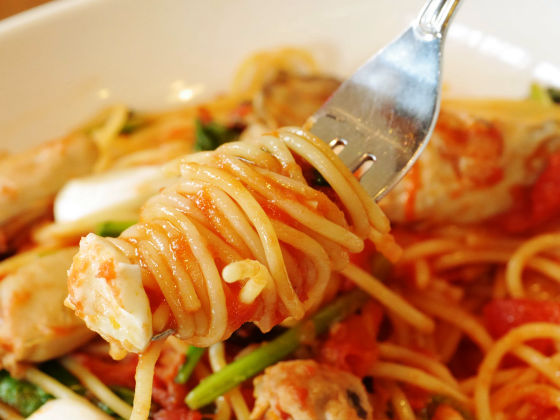 Impression that oyster has firm taste than soup pasta eat. There is a good compatibility with eating with tomato sauce, so it is a pleasant place for those who like oysters because it contains a lot.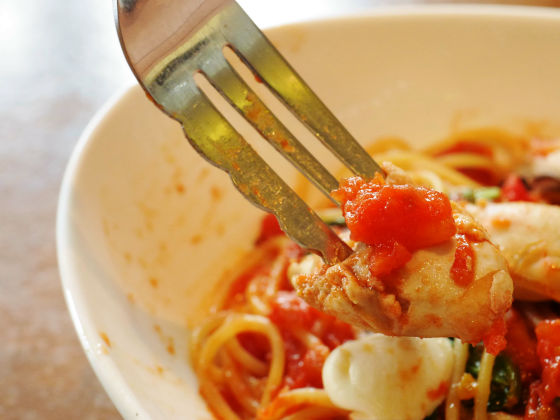 Mozzarella cheese is easy to get tired of the same taste when it is oysters, so it makes me refresh my mouth. Spinach, not basil, is used, but the texture of spinach is also an accent of pasta. Because the flavor of tomatoes and oysters will be made use of, it is the correct answer with the choice of spinach rather than basil.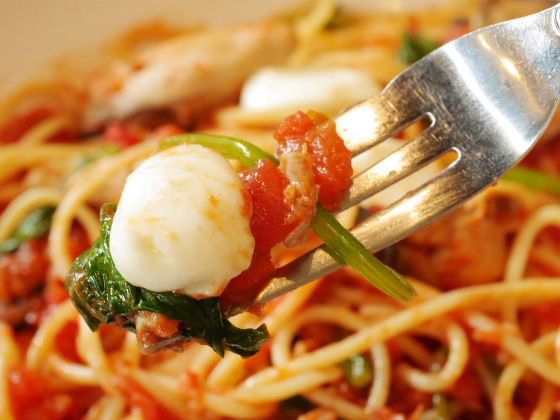 Both menus are sold for a limited time. Even though menus are somewhat expensive, there are plenty of ingredients and a lot corresponding to the price. It is recommended when you want to eat delicious food with a little expensive money.