I have eaten "Harima Nada Oyster Baked Bowl" that I can not stop the taste of a large grain oyster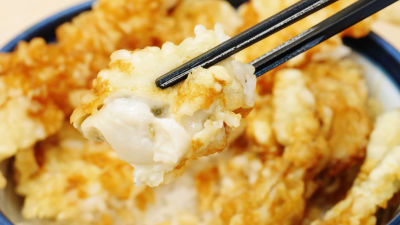 Ships of domestic oysters began around October, and it has come to be seen at shops menus and supermarkets as well. Temple also included oysters for a limited time only "Harima Nada Okabe Bakery BowlWe are selling it from Monday, October 21. Oyster rice bowl of this year is larger than the last year oysters and steaming them quickly steamed, so that the softness increased and the umami was finished as condensed, so we went for a shop I have done it.

Tenaya | New Menu | Harima-nada Okabe Bakery Bowl
http://www.tenya.co.jp/season/index.html

Arrived at Tenya.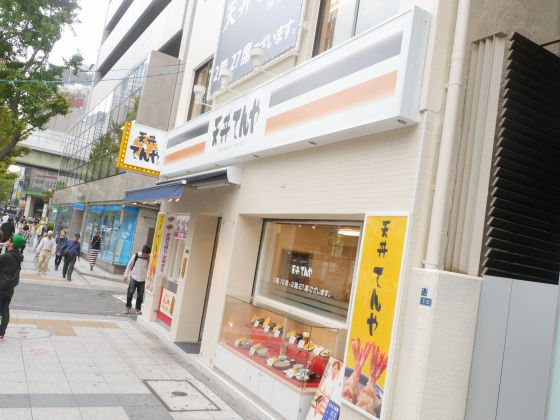 Appeal new products even at stores. Enter the shop.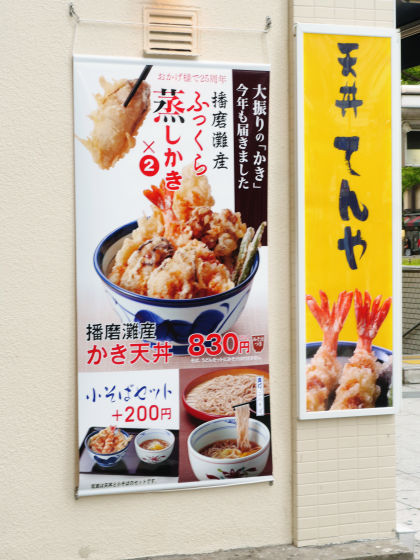 Even if you sit in a seat there is a menu of new items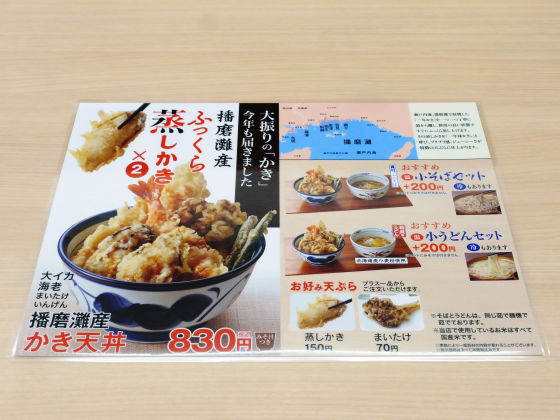 Even the wall appeals. I will order an Harima Nada Okake bakemon.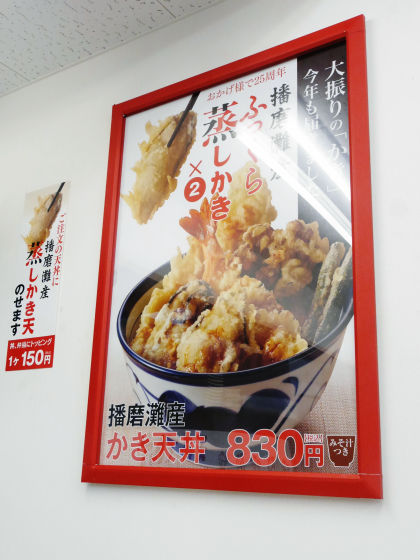 Waiting 5 minutes Harima Naka kaki bowl (830 yen including tax) arrived in a while.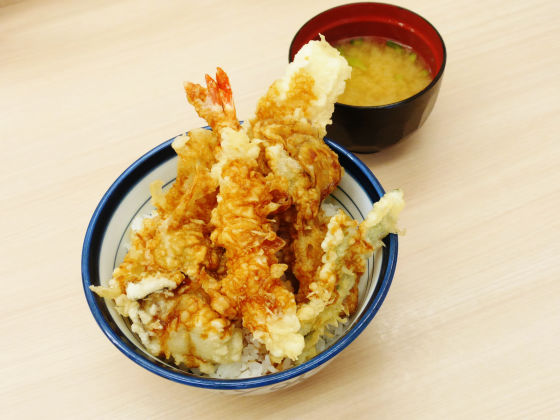 You can see the large oyster tempura in front of the bowl.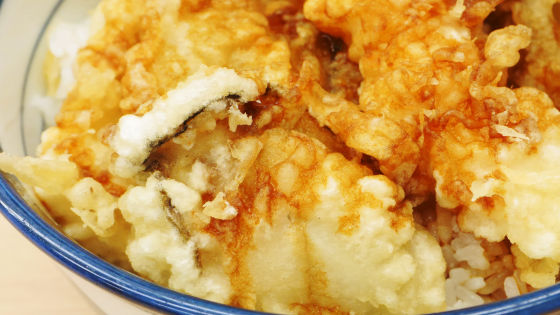 Two large oyster tempura are contained, and it seems to respond to eating.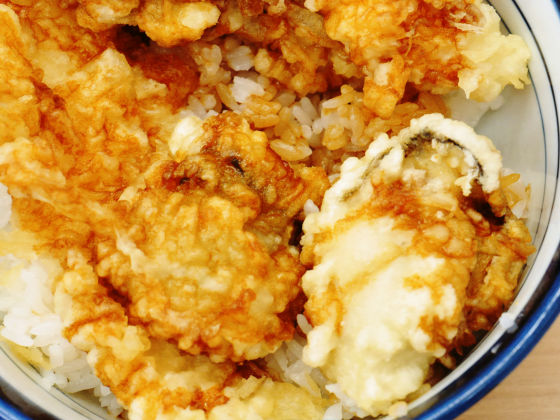 Tempura, like an autumn leaven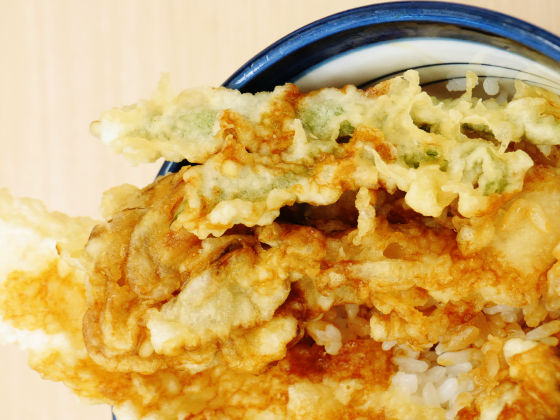 A large squid that began offering from October 21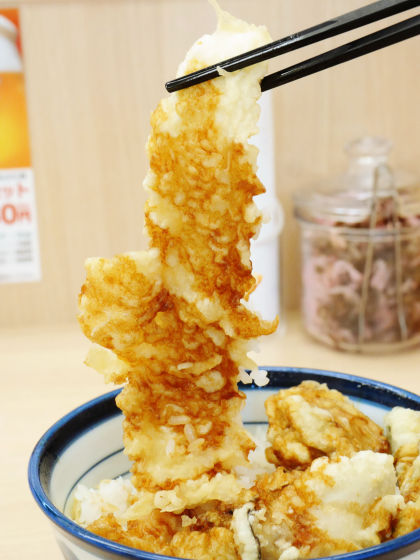 In the bowl of rice, classic prawns are also on it.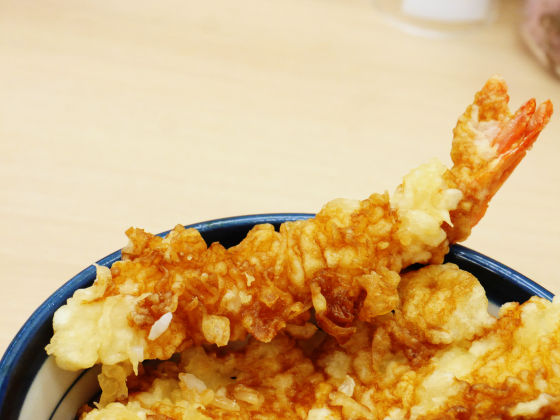 I will eat from oyster tempura while it is warm.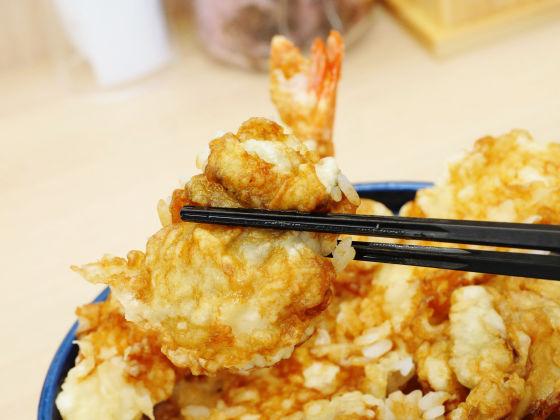 Oysters, also called "milk of the sea" are rich and creamy taste, a soft texture. The umami is more condensed than raw oysters, so that the oyster flavor is superior to the sauce of a bowl of rice bowl, you can enjoy the taste and sweetness of oysters firmly. Tempura and fried oysters are thick with only clothes, some of them are small in contents, but because there are two oyster tempura packed with big clogs, people who like oysters can be quite satisfied.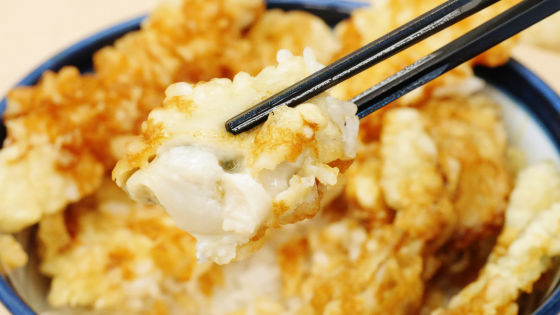 As you eat, the green oyster's intestine appears, but it is not as hinty as it looks, you can eat it without any discomfort.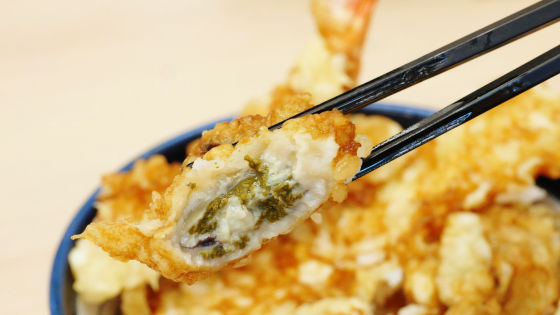 Autumn is a seasonal mai, long used vertically.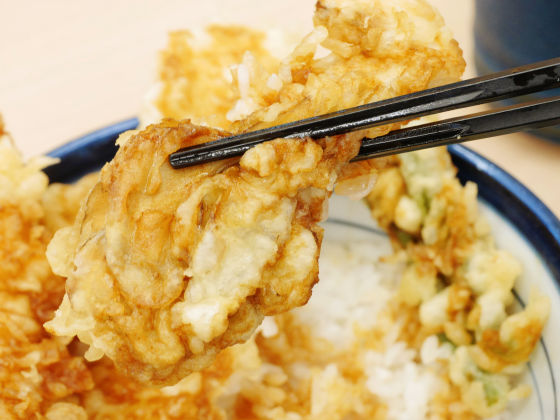 I feel the taste and smell of dance mushrooms firmly because of the seasonal ingredients. It is good that the texture remains firmly different from boiled ones.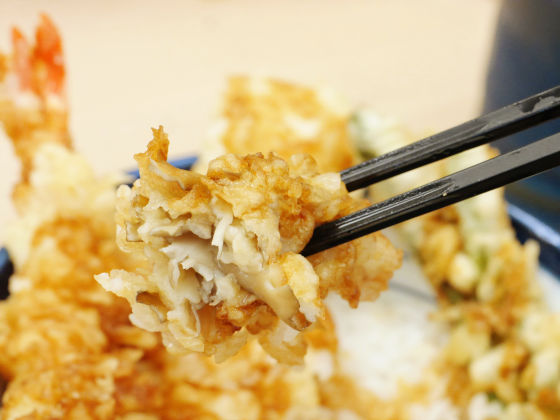 Though the things made in China and Thailand are used, the sweetness is firmly felt.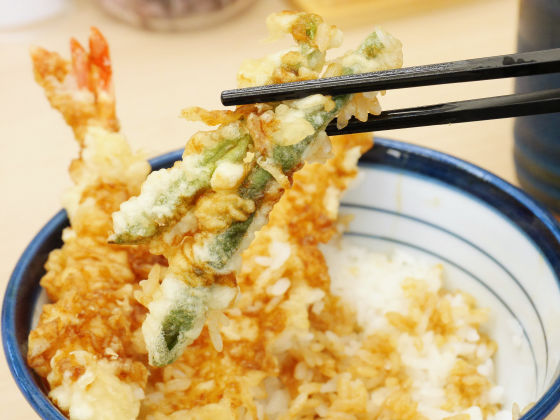 The length of the big squid is about the diameter of the bowl, and it seems that it will be twice as large as the squid on ordinary turtle.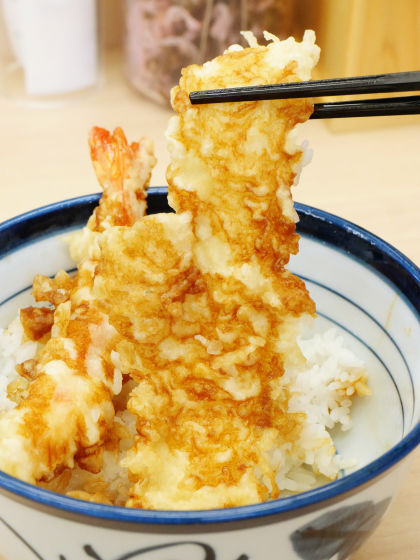 While feeling elegant texture, it feels good compatibility with those of the bowl of rice with exquisite deep-frying that does not feel stiffness. This great squid will be used in the future for "original grand All-star bowl" and "shrimp large squid bowl."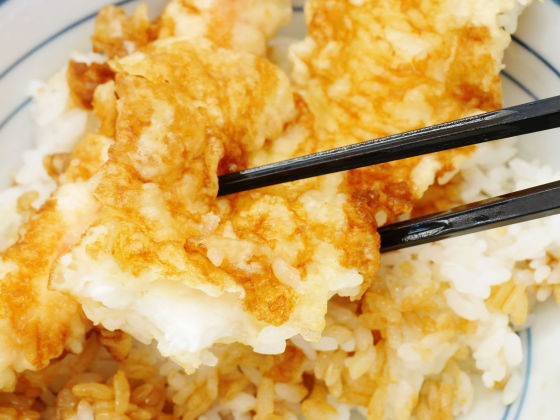 Two shrimps are used from the global shrimp shortage the other day"Top Bowls" "Ebisu Soba" ended sellingHowever, the tempura of the shrimp is also firmly placed in the Harima Nada cooking rice bowl.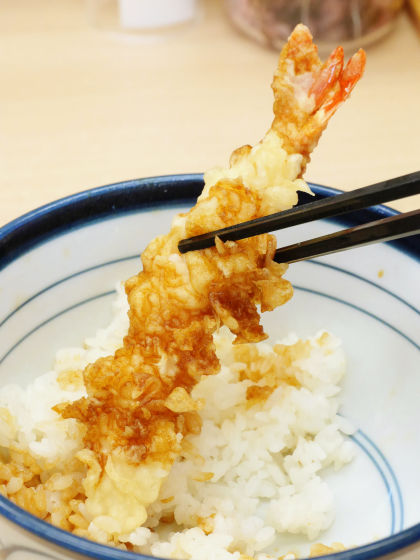 Tempura of the protagonists continues, but even if you eat at the end the classic shrimp is still well-catered with the taste of the shrimp and the delicacy of the shrimp with the shrimp made with prepuri. Tempura of shrimp is a single item and it is 200 yen including tax, even steaming sky is 150 yen including tax even if you order separately, so you can see how price of shrimp is rising as you compare prices .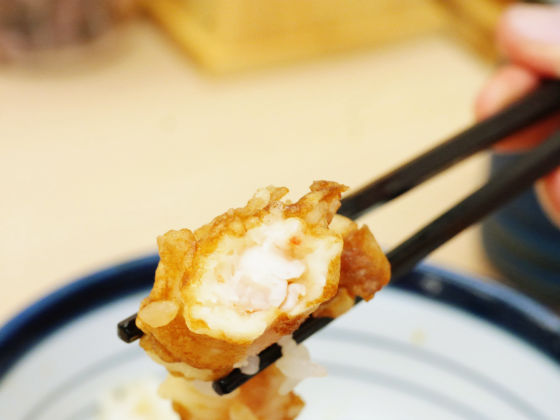 The Harima Nada Okabe Tennis Bowl is a menu for a limited time. Although it is not cheap if you look at only the price of 830 yen including tax, the oysters with large grain are big squid in 2 grains, and also the shrimp with price rises, so this price is enough, so the satisfaction is high considering the taste and the amount must.