Accident occurred when Galaxy S4 ignited during charging, the cause is unknown for now


An accident happened that Samsung Galaxy S4 about 1 month after purchasing ignited while charging. According to the user, I kept the cable inserted for charging while I was asleep, got up at midnight and ignited when I noticed that the terminal was burning. Initially, at the store we did not accept terminal exchanges but we had a point of "repairing", but as soon as the news site inquired, we softened the attitude and responded to the exchange of the terminal as a special case.

Samsung Galaxy S4 catches fire while charging - Emirates 24/7
http://www.emirates247.com/business/technology/samsung-galaxy-s4-catches-fire-while-charging-2013-07-09-1.513659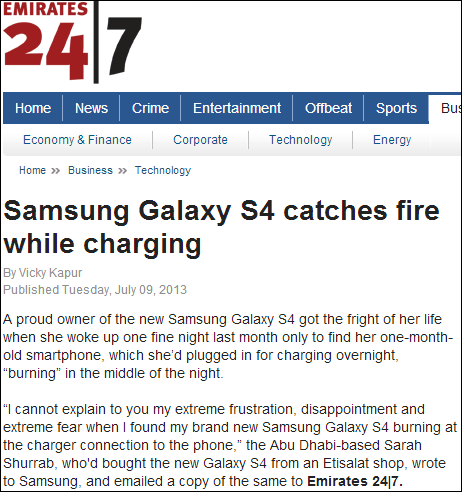 Sarah Shurrab living in Abu Dhabi is an early adapter saying that Galaxy S4 was sold at UAE immediately. However, I came across an accident in which Galaxy S4 ignited in just one month since I bought it.

On this day by Sarah, I kept the USB cable plugged in Galaxy S4 to charge it while I was asleep, when I suddenly awoke around 2 o'clock in the morning, I heard that it was firing from Galaxy S4 is. About 3 hours have passed since charging started.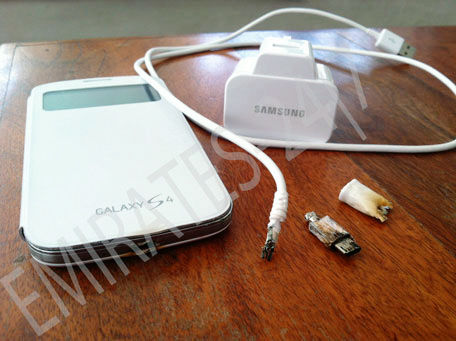 Burned-in main unit USB port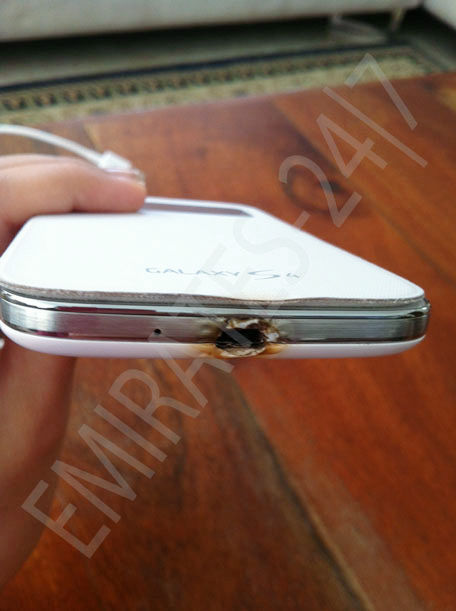 There is no change in the cable itself, but the USB connector part inserted in the Galaxy S4 is scorched and frustrating.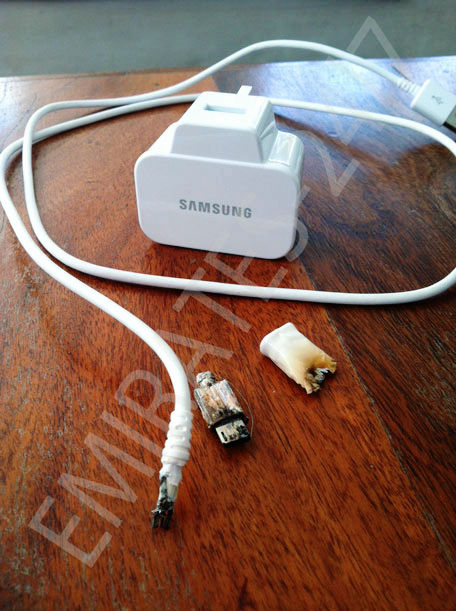 Mr. Sarah told me to bring it to the shop I bought immediately and exchange the terminal, but at the store I was told only to "repair", it will be turned to another shop. So the retailer told me that Samsung can only recover the terminal and send it to the repair, since basically no terminal exchange will be done even if there is a defect. Also, Mr. Sarah purchased only the flip cover separately, it seems that it was cited as the reason why that point can not be exchanged.

Sarah who is not convinced, this is the same as Samsung and a news site ·Emirates 24 | 7Sent to. In Emirates 24 | 7, I got a response to Samsung Gulf Electronics regarding this fact and got a response saying "We are conducting a thorough investigation to identify the exact cause of the accident."

A while later, Emirates 24 | 7 received a message from Mr. Sarah that "Samsung's response has improved since Emirates made an inquiry." According to Sarah, it may be that the Samsung side recognized that it is a serious problem as a result of an inquiry from the news site, so after exercising terminal exchange that is not originally done as an exceptional measure , She seems to have replaced the flip cover.

It is a good thing that there was exchange correspondence, but after all it is unknown why Galaxy S4 ignited so far.In Galaxy S III, the battery expands to a bunpan while chargingThere is an accident to happen, but is he having the same trouble, what is it ...?