Mister Donut 's "Miss Card Club Card Service" is over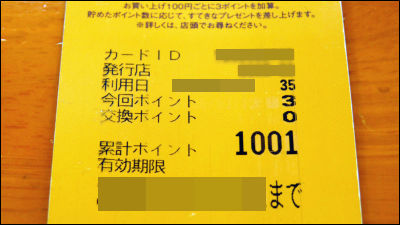 It was revealed that Mister Donut 's "Misdoclub Card Point Service" which could be exchanged for various goods when saved up to the prescribed number of points will end on September 30, 2013 (Monday). Even after October 1, you can use points until the expiration date of your card is reached, but it will end as soon as the goods exchange is gone.

Misdoclub card Point service end notice | Goods & amp; Campaign | Mr. Donut
http://www.misterdonut.jp/goods/misdoclub/pointend/index.html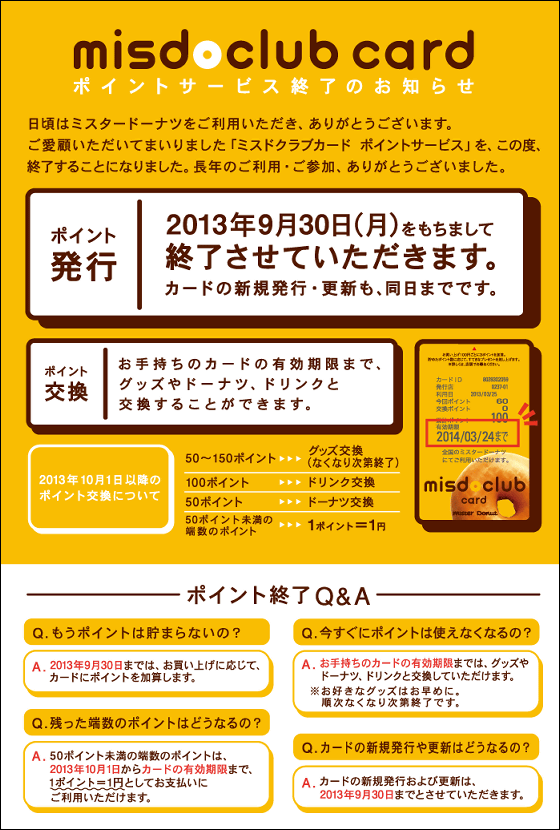 The point service of the misdoclub card is that three points will be added at 100 yen when purchasing the item with Mr. Donut. The point validity period was 1 year from the first use, and we were able to receive goods and favorite donuts according to points.

The current point-specific goods look like the following.

◆ 50 points
· 1 favorite donut
·Pon de Lione de Criss
·Pon de Lion Duskin Sponge (for kitchen)
·Pon de Lion and Nakamachi Hand Towel

◆ 100 points
· 1 cup of your favorite drink

◆ 150 points
·Colorful Tumbler
·Misudo Aviste Ballpoint Pen

Once you got practical goods such as dishes and chopsticks according to the season at 200 points or 500 points or save 1000 pointsPon de Lion stuffed dollThere was also a time when I got it.

However, this biggest goal of Pon de Lion stuffed toy exchange ended on February 28, 2013. As an alternative to this, 1000 point items were not prepared, and the lineup of high point products per 500 points was gradually shrinking, so I thought that there was something going on with a change in policy , There is no way point service itself will end ......

New issue / renewal / point issuance of misdoclub card will be stopped on 30th September 2013 from now on, and after that the points can be used until the expiration date of the card. In addition to being able to exchange with the above mentioned 50 point ~ 150 point goods, for fraction of less than 50 points 1 point 1 yen, it means that it can be used for payment at the time of donut purchase.