Free pay movie conversion software "WinX Mobile Video Converter" will be available for a limited time only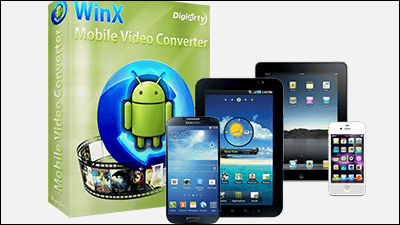 High-speed movie conversion software that can convert with multicore CPU and AMD 3DNow! · SSE 3 · SSE 2 · MMX etc. at maximum at 15 × speed (1 minute for 15 minutes movie)WinX Mobile Video ConverterYou can get it free of charge. Originally it is 49.95 dollars (about 4750 yen), but for a limited time it is "zero yen", obtaining license code is also oddly simple.

Get software! WinX Mobile Video Converter - the best Android video converter software for all Android iOS mobile devices
http://www.winxdvd.com/mobile-phone-video-converter/index-jp.htm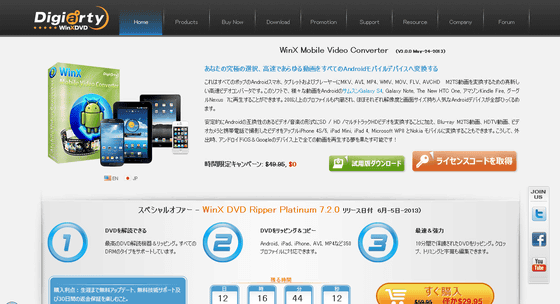 When you visit the above site, click "Get license code"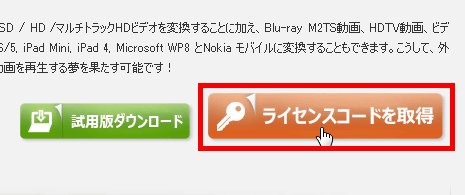 Click "next step"




Since the license code comes out on the upper right, I copy




Next, return to the first page and click "download trial version"




Launch the downloaded installer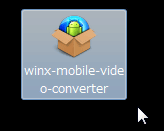 Click "Next"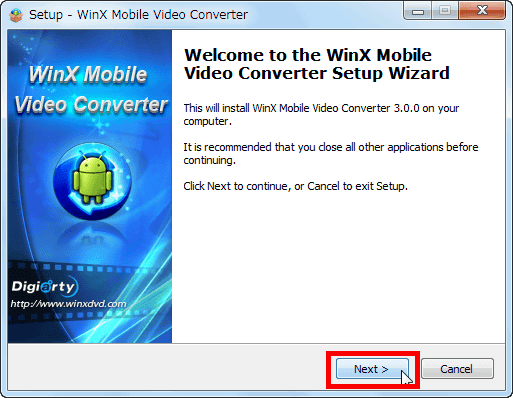 Please check above and click "Next"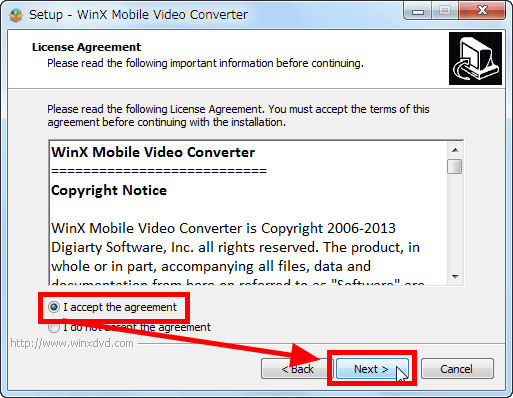 Click "Next"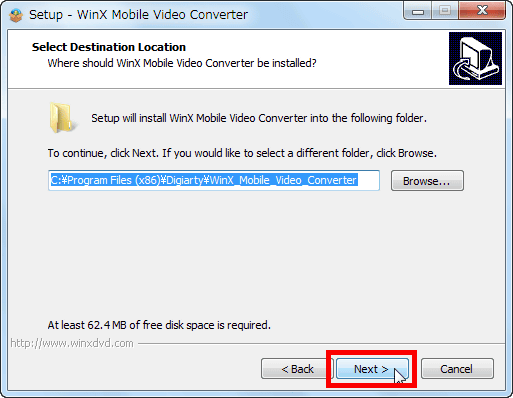 Click "Next"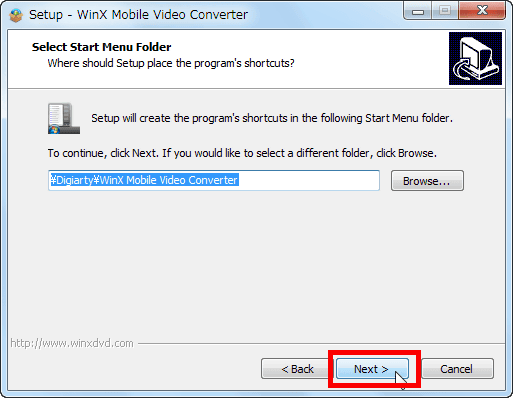 Click "Next"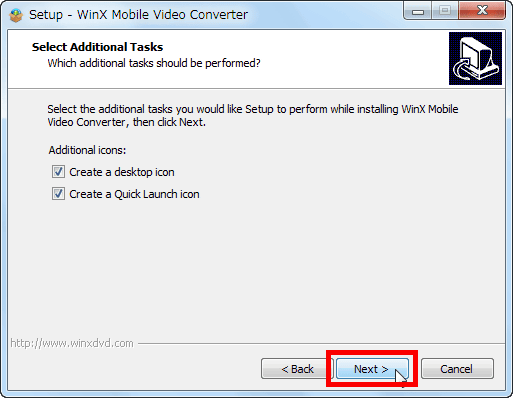 Click "Install"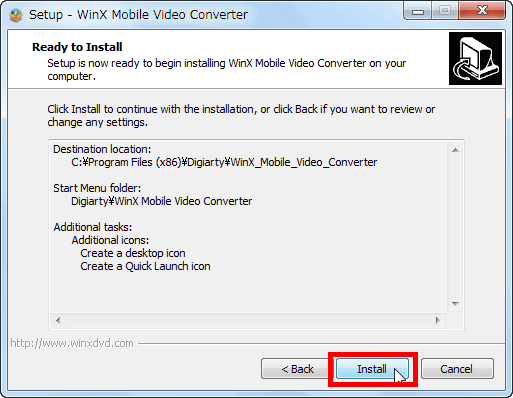 Click "Finish" to automatically start up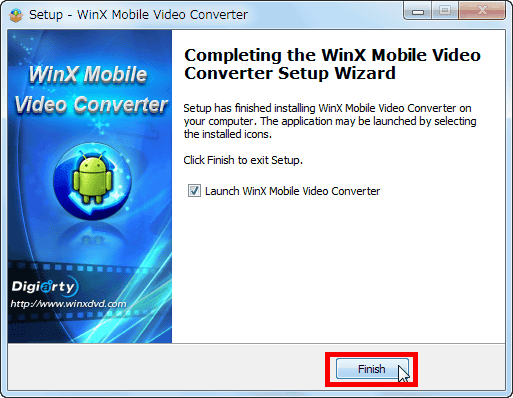 Since this window comes up when it starts, paste the license code you copied earlier into "Enter License Code Here"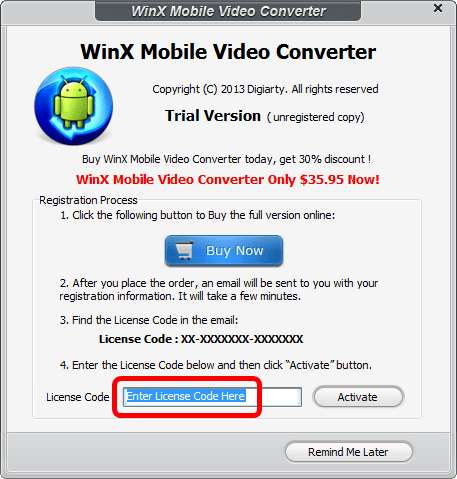 Click "Activate" to authenticate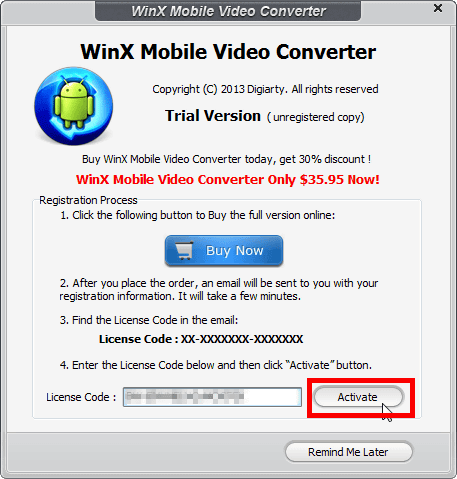 When the following window appears, it is successful, so click "OK"




This is the main window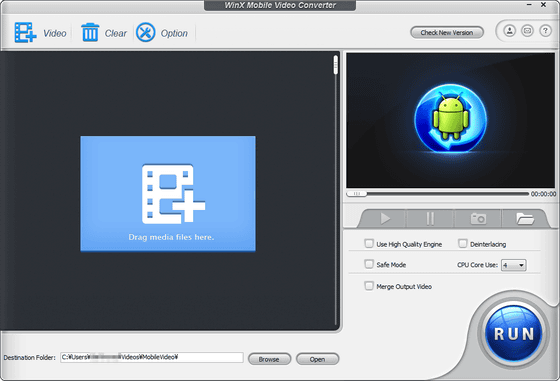 It's easy to use, just drag and drop the movie file you want to convert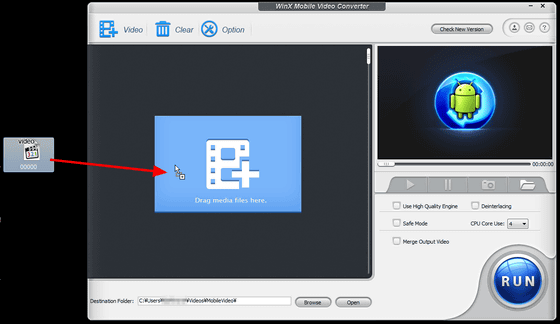 Automatic analysis will start




For example, you can convert movies from "To Music" to MP3 · AAC · iPhone ringtone · AC3 · WMA · AIFF · CAF · DTS · OGG · AU · RA · WAV (lossless) · FLAC (lossless) · ALAC (lossless)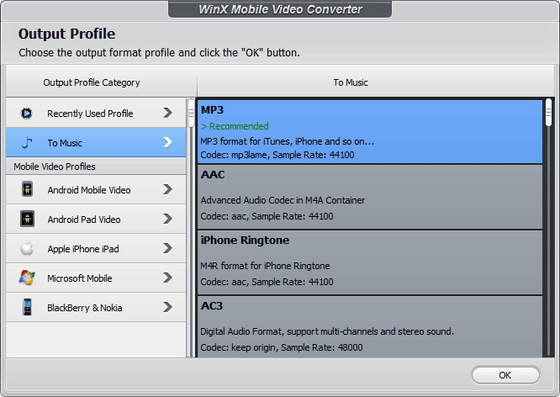 Also, if you select "Android Mobile Video", it is possible to convert with one shot for Android smartphone as below, and convert for "HTC", "Samsung", "Google" "Huawei" "Acer" by manufacturer In case of other LG etc., it is possible to choose "General" OK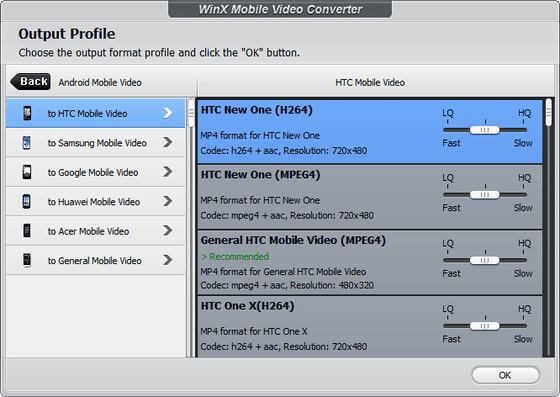 Similarly, for Android tablet, select "Android Pad Video", then "HTC" "Samsung" "Amazon" "Google" "Huawei" "Lenovo" "Acer" "Asus" Otherwise "General" Choose OK



If you choose "Apple iPhone iPad" for Apple's iPhone / iPad / iPod touch, Apple TV etc. OK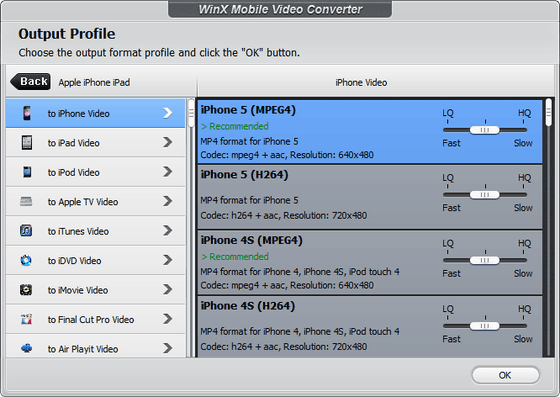 If you choose "Microsoft Mobile" you can convert it for Xbox and Surface



If you choose "BlackBerry & amp; Nokia", you can even convert it for Blackberry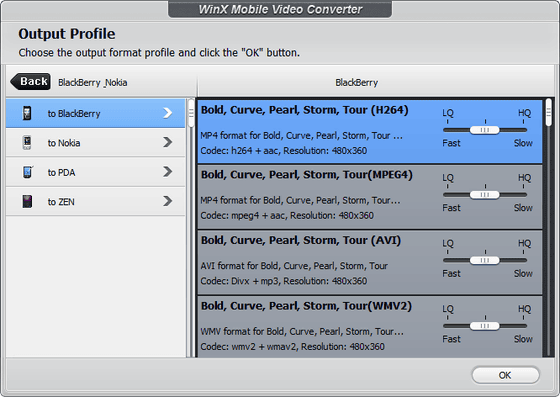 This time to convert for iPhone 5, select "iPhone 5 (MPEG 4)" and click "OK" to return to this window, so click on "RUN" to start conversion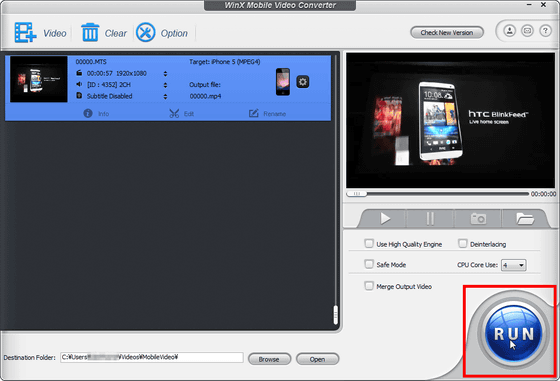 Converting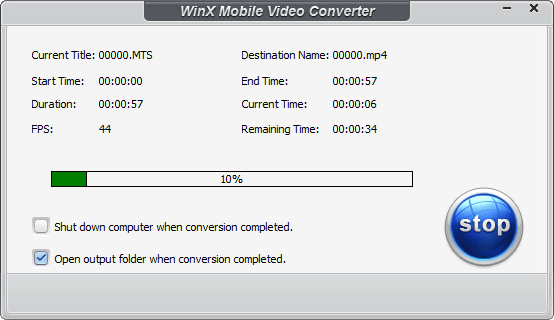 When it finishes, such a window will appear, so clicking "OK" will automatically open the folder containing the converted movie




Also, if you want to edit the movie before converting, click "Edit"




Volume can be adjusted from "General" tab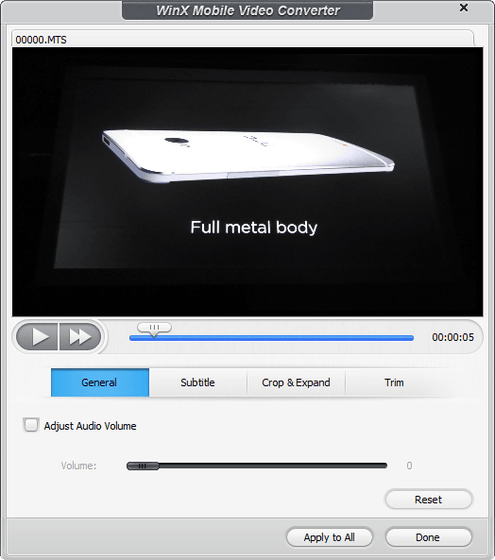 Subtitle file can be read from "Subtitle" tab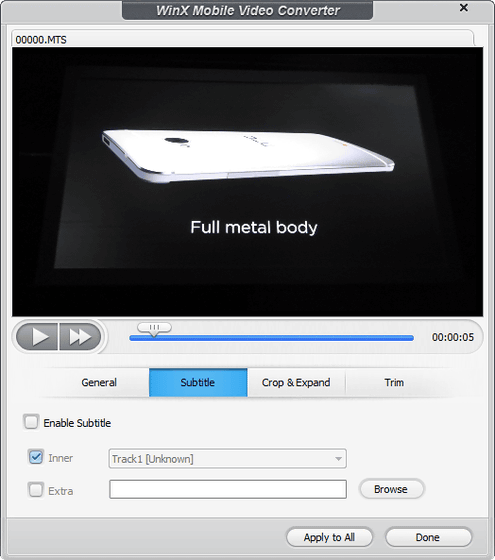 'Crop & Expand' can be cropped and cropped and expanded to specified resolution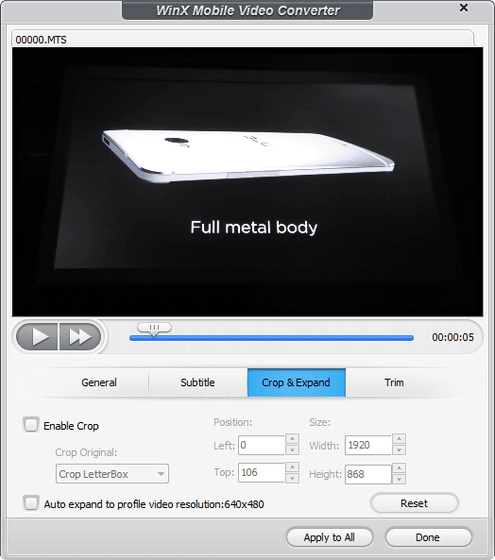 "Trim" is trimming, it is possible to cut out from a specified number of seconds to a designated number of movies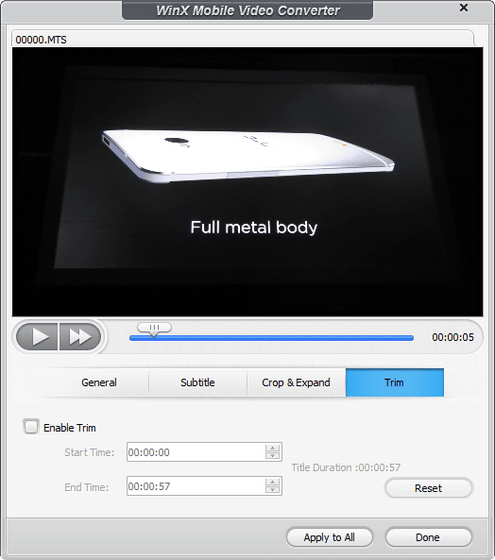 Click "Rename" in advance to edit the information embedded in the converted file




In this way it is possible to edit various tag information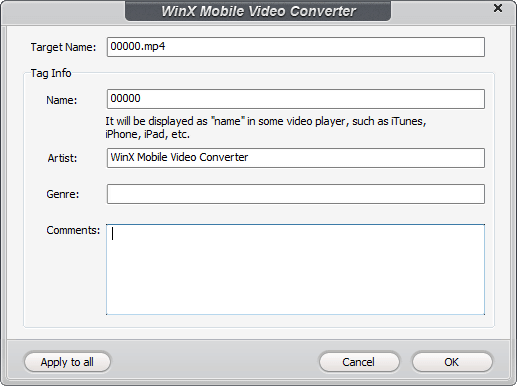 Click this gear icon to further change the bit rate etc.




Then you can change the bit rate etc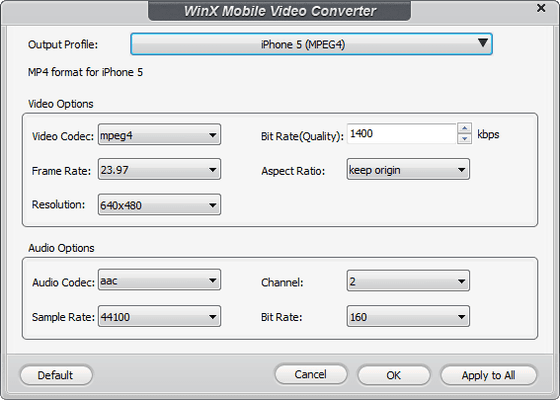 Besides, it can also deinterlace, combine multiple movies, batch processing, but as expected it is only a certain degree of completeness and stability that you sell for a fee.