Japan Animator · Directing Association "JAniCA" expresses that it is against the proposal to revise the child pornography prohibition law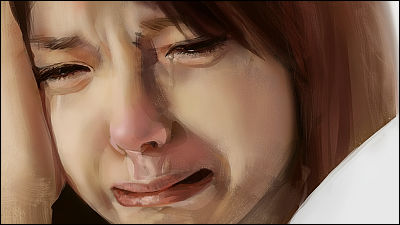 ByGrady Ng

Mainly side of manga · publication · doujinshi etc. alreadyContinue to object against the child pornography prohibition lawHowever, from the side of animation, there is also a movement to agree with this movement.

【PDF file】 Statement against the proposal to amend the Child Pornography Prohibition Act
http://www.janica.jp/press/press20130530.pdf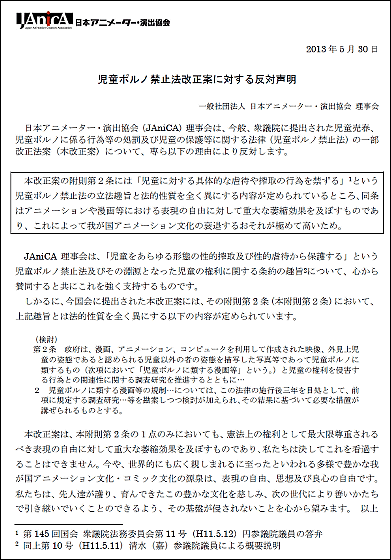 The purpose is pretty clear, and it is summarized as follows.


Article 2 of the supplementary provision of this revision proposal declares contents completely different from legislative purpose and legal nature of the child pornography prohibition law "prohibit the act of child abuse or exploitation specifically" The article exerts a serious atrophic effect on freedom of expression in animation, manga, etc, and because of this it is extremely high that the animation culture of Japan will decline.

Incidentally, the bill itself has already been submitted to the Diet yesterday at 13:30 on 29 May.

An amendment plan for the child pornography prohibition law was submitted to the Diet | Taro Yamada Official website
http://taroyamada.jp/?p=3145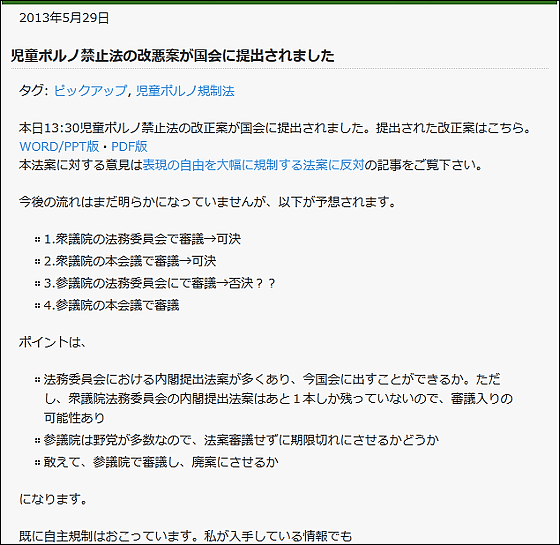 Future trends are not yet clear, but the following is expected.

1. Deliberation by the Legal Committee of the House of Representatives → passed
2. Deliberation at the plenary session of the House of Representatives → passed
3. Discussion by the Legal Committee of the Upper House → Denied? Is it?
4. Deliberated at the House of Councilors plenary session

Points,

· Many bills to be submitted by the Council at the Legal Affairs Committee can be issued to the Diet now. However, since there is only one remaining bill to submit the Cabinet of the House of Representatives Legal Affairs Committee, there is a possibility of deliberation
· Since the opposition party is large in the upper house of the House of Councilors, whether to let it expire without discussing the bill
· Dare to deliberate at the House of Councilors and make it a scrapped bill

.

"Comic Market Preparation Committee" "Nationwide Doujinshi Immediate Sale Liaison Committee" "Japan Manga Artists Association" "Japan Magazine Society Association Human Rights and Speech Special Committee" "Published by the Japan Book Publishing Association of Japan" Committee on freedom and responsibility "

There is also a story that lawyers are advancing pressure "Do not defend child pornography and child prostitution".

A talk that lawyers are saying that the pressure of "defending children's prostitution and child prostitution cases" is advanced. - Togetter
http://togetter.com/li/496107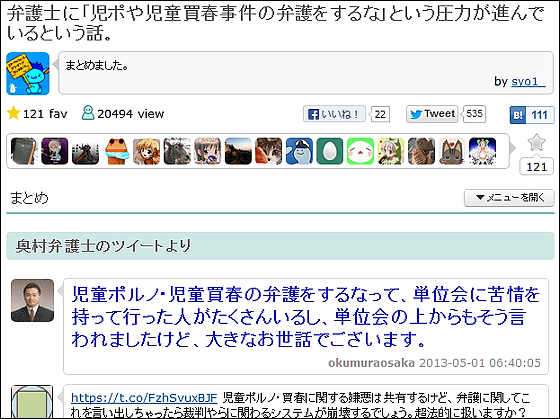 In Korea, as well as this Child Pornography Prohibition Law, we revised the law on sex protection of children and adolescents, the so-called "Achon Law" in order to regulate animation, manga, etc., as follows.

Freedom of expression and "protection of children's sexuality" - a stuttering note
http://d.hatena.ne.jp/beniuo/20130512/1368374349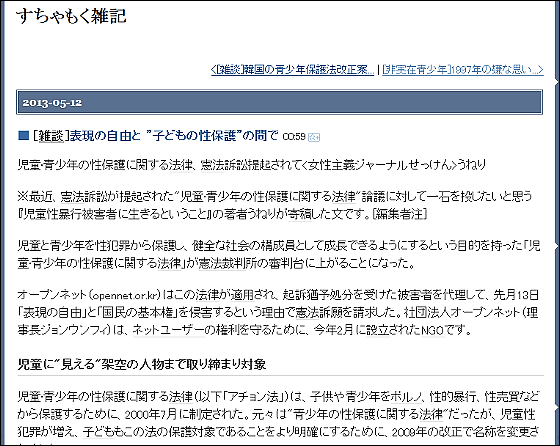 Looking at Article 2, 5, "Children / Youth Utilizing Obscene Items" is an action that falls under any of the 4th, when a person or an expression that can be recognized by children, adolescents, children or youth emerges And to express other sexual acts. The objects are in the form of films, videos, manga, games, images, images, etc. via a computer or other communication medium.

And what about it,I will not obey "actual damaged children" to protect "children of expression"It means that it is like the following situation.


This ruling received a public opinion that Achon law does not protect 'actual children who are victims' in order to protect 'children of expressions'. Although we do not protect children and young people in real life, we have to ask whether or not to allocate human resources and budget to regulate and oversee the expressions excessively.

Rather, the Information Disclosure Center revealed that the number punished after the revision of the law increased by 22 times, "The country protects children and young people from sexual offenses simply by mass production of criminals It is difficult to see it as what you did. "