I went to Misdo to eat a colorful donut "Hello Kitty Donut" with a ribbon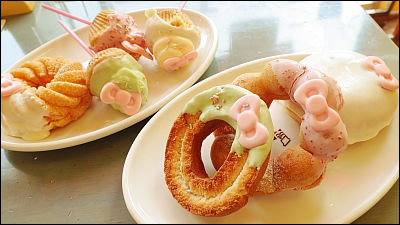 It is an attraction of USJHello Kitty's Cupcake · DreamAnd Mr. Donut collaborated "Hello Kitty Donut"Was released on April 1st. When you release 3 kinds of cupcakes that imagined Hello Kitty's cupcake / dream playing on a cupcake in the manner of a coffee cup in an amusement park and 4 kinds of donuts that treated a ribbon that is Hello Kitty's trademark So, I actually went to Mister Donut and ate it.

Misdo HELLO KITTY Hello Kitty Donut | New Item | Mister Donut
http://www.misterdonut.jp/m_menu/new/130401_001/

Arrived at Misty.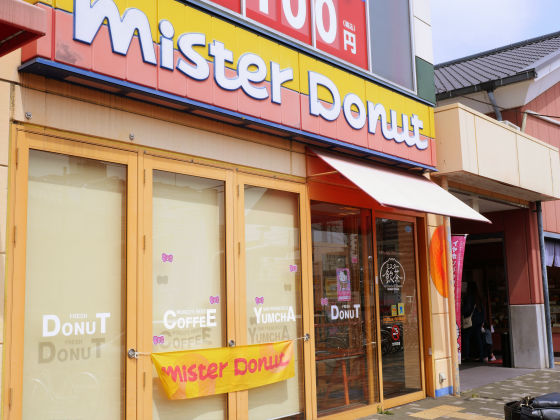 Hello Kitty ribbon is also attached to the door.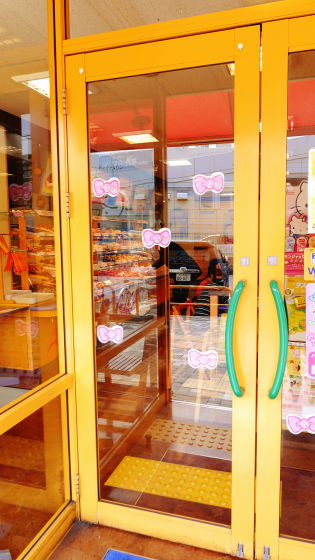 When purchasing a product that includes Hello Kitty donuts for 600 yen or more, it is said that earphone jack ribbon can be obtained in the first arrival.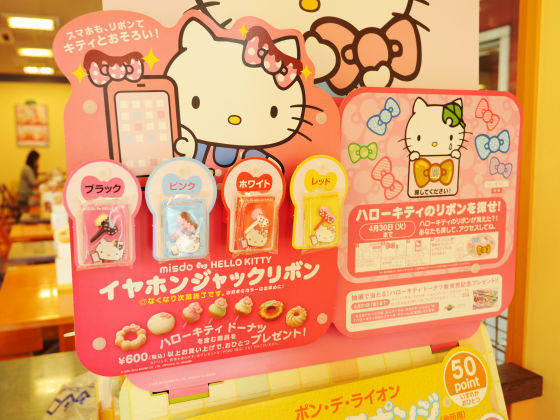 I will continue to purchase items.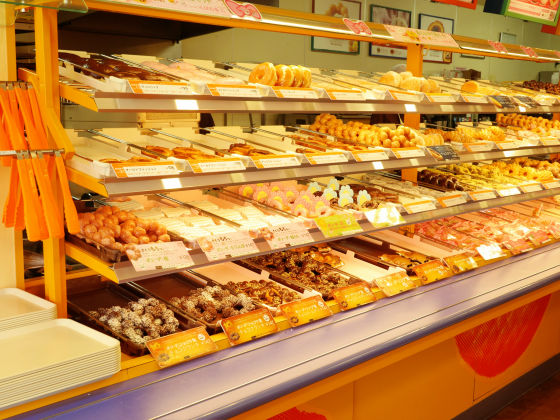 This is a newly released Hello Kitty donut, seven in all.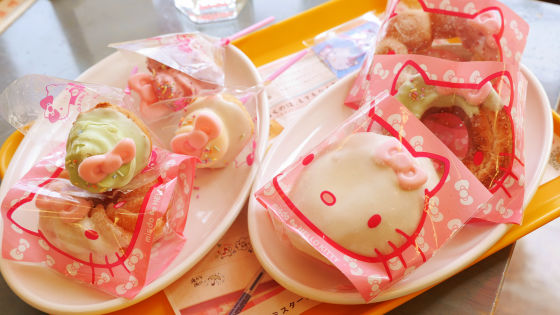 The donut is in Hello Kitty's package.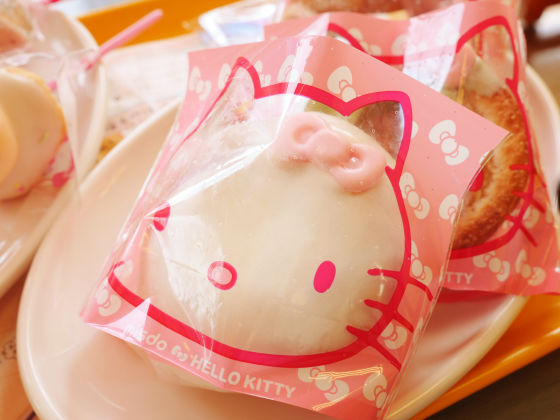 It is like this when taking out the donut from the package.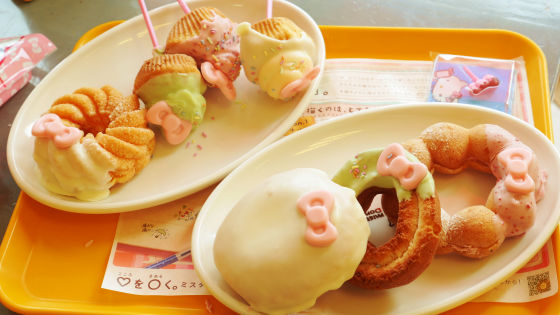 It is a cute decorated donut that makes you feel a waste of waste but you can try it quickly.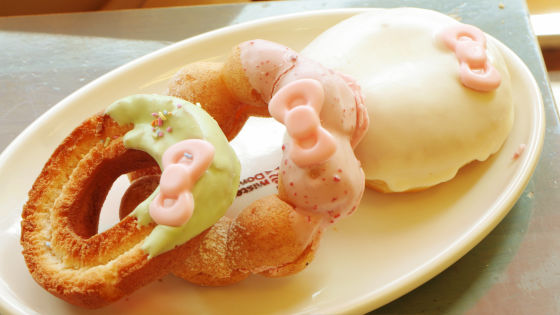 First of all, "Green apple fashion (tax included 157 yen)"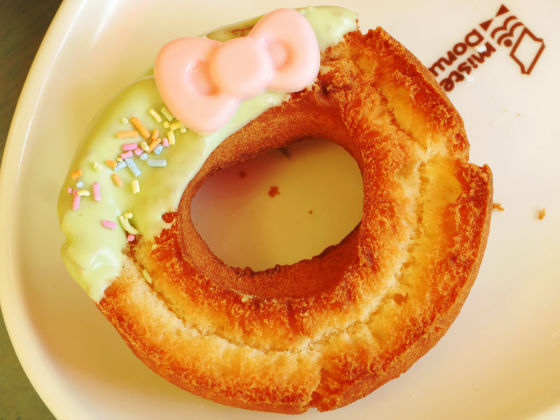 I coat chocolate with green apple flavor on top of old fashion, sweet and sour scent drifts.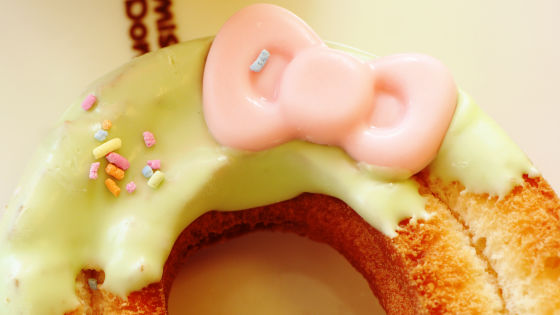 A color spray on chocolate.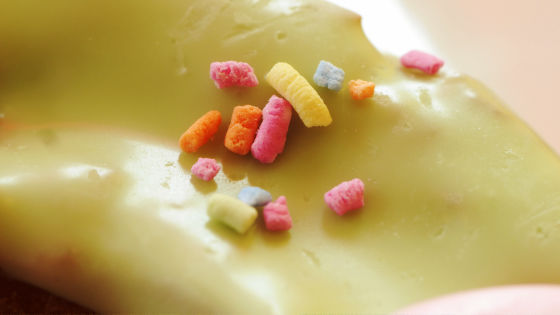 Sweet and sour chocolate put on top of the crispy dough matches. It is a light pale green, but I am shading a little bit, but it is not too sweet, it has a refreshing taste.



Next is "Pon de Ichigo Whip (157 yen including tax)" using Pon de Ring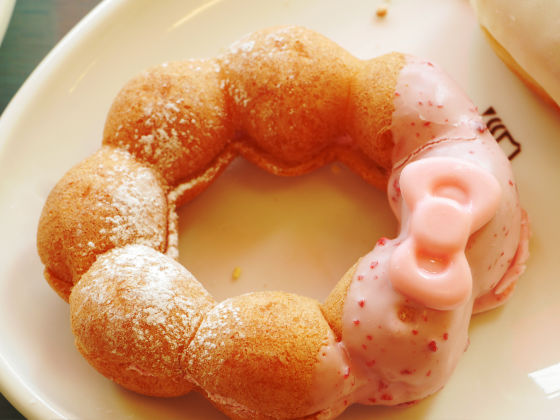 I coat dough with strawberry chocolate with crumbling, and I pink a pink ribbon on top.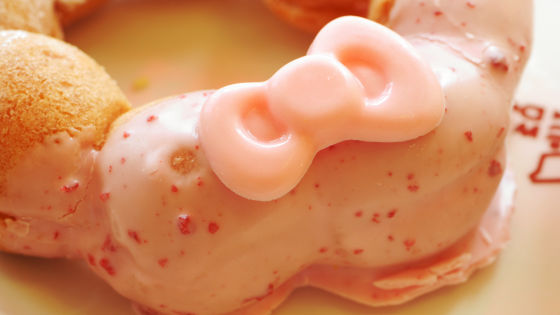 Form of strawberry whip between dough.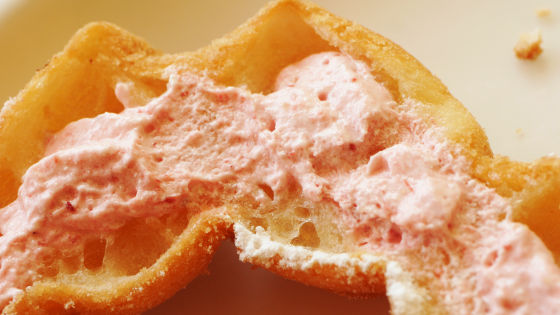 Fluffy soft texture with texture of texture and cream · chocolate of sweet and sour strawberries are combined, finish like appearance and taste finish like spring. It is more sweet and sour than a green apple, and if you like strawberry sweets it seems to be particularly delicious.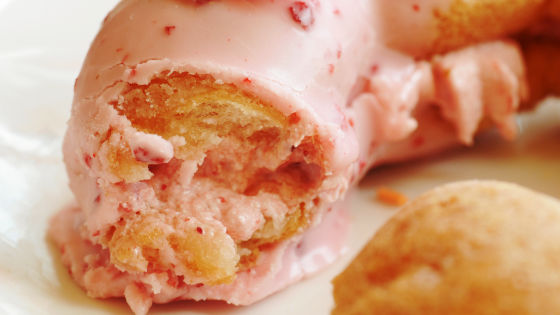 The whip was soft and stuck out from between the fabrics.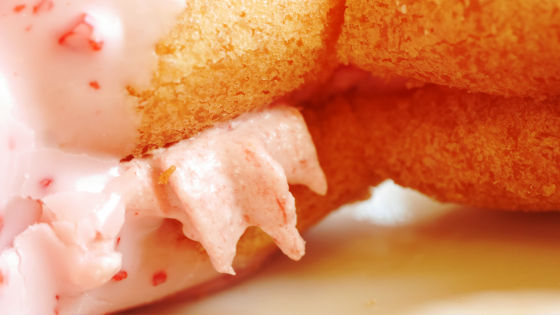 Subsequently, "Blue apple whip (157 yen including tax)"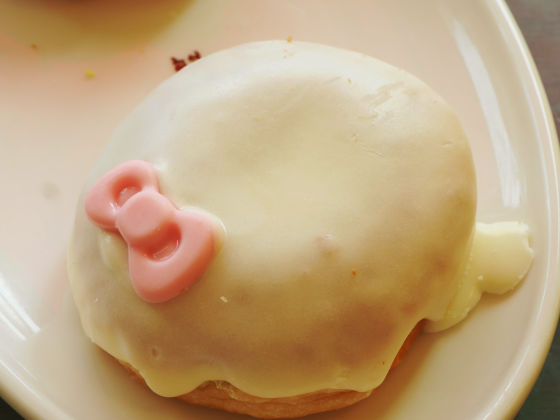 It is coated with plenty of white chocolate.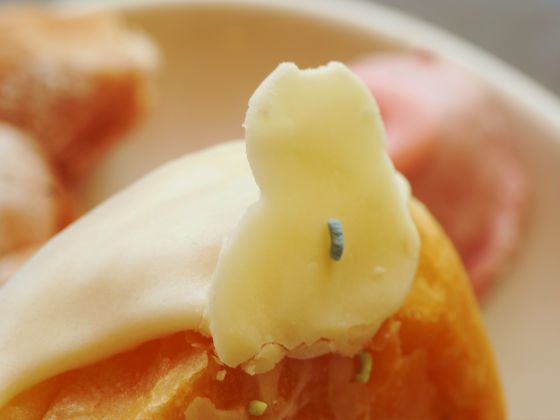 Because chocolate is easy to dissolve, it seems better to eat quickly without holding it for a long time.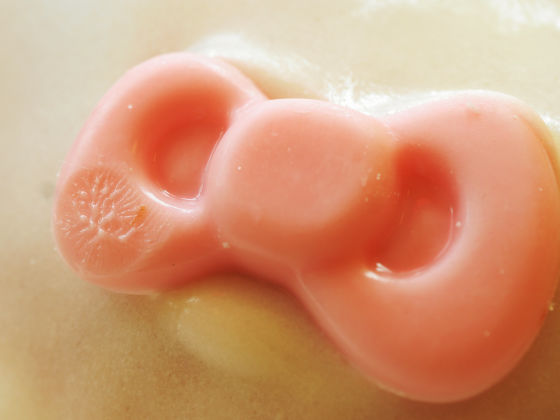 White chocolate is a slightly rough taste, but it tastes like milk candy, it goes well with sweet and sour blue apple whip. Because it is fluffy and light texture it is possible to eat crisply.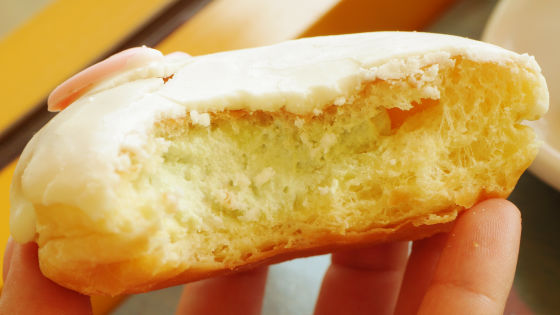 "Orange Cream French (157 yen including tax)"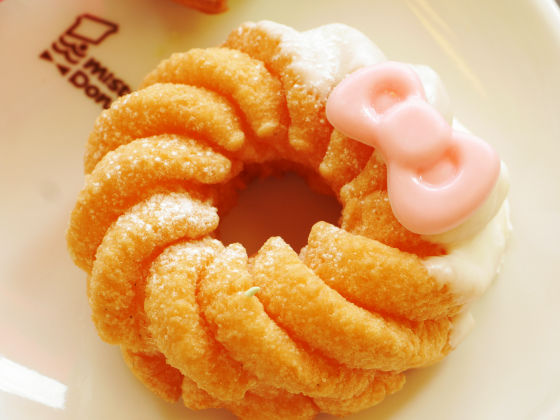 This is also a white chocolate coating topping the ribbon.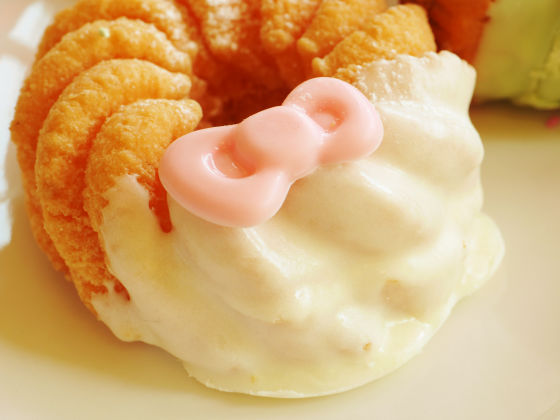 Orange cream is caught between fabrics, and a refreshing fragrance of orange will drift as you bring your face closer to the donut.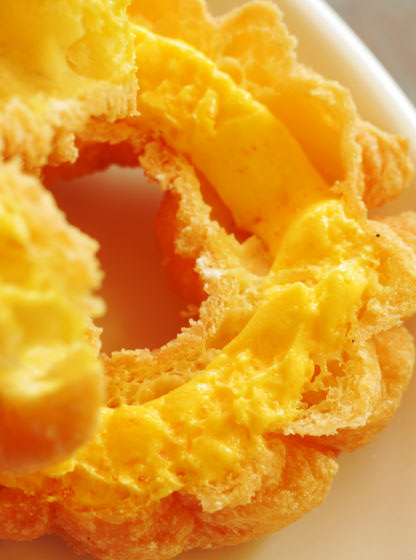 It is also combined with a white chocolate with a strong sweet taste, but since the flavor of oranges comes out front, it seems better to avoid someone who is not good at orange scent used for sweets and has no sour taste Feeling.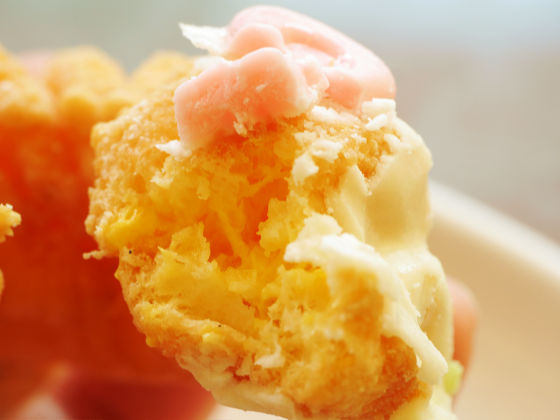 The pink ribbon was not strawberry taste, it was the taste of the standard white chocolate.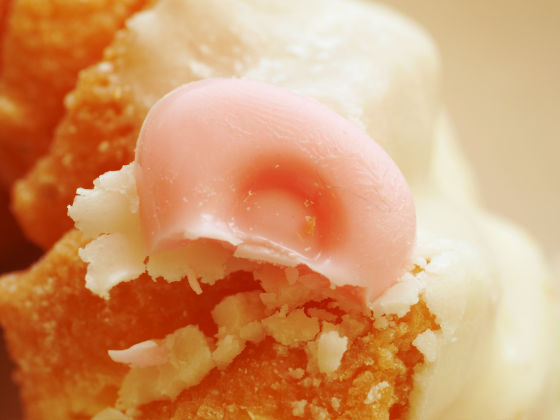 And I will eat three kinds of cupcakes. The cupcake is a stick type, which is also wrapped in a package drawn by Hello Kitty.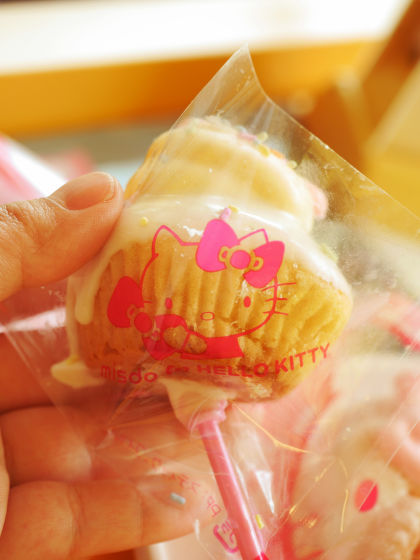 Take out "Orange Cupcake (136 yen including tax)" from this package.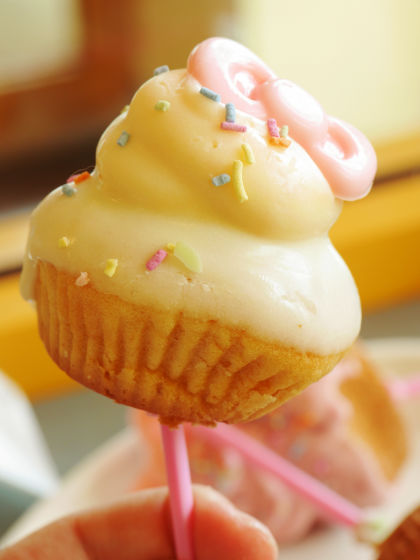 It coats white chocolate on a cupcake shaped like a soft cream, with a pink ribbon and a pastel color spray as a topping, anyway it looks cute finish.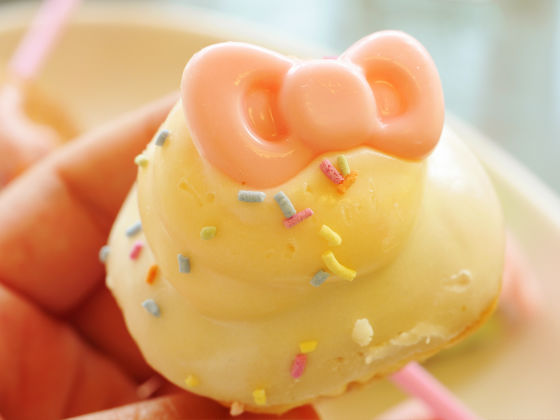 White chocolate is used plenty.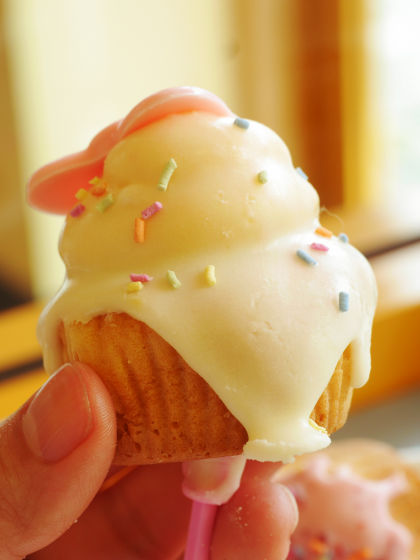 I tried doing it.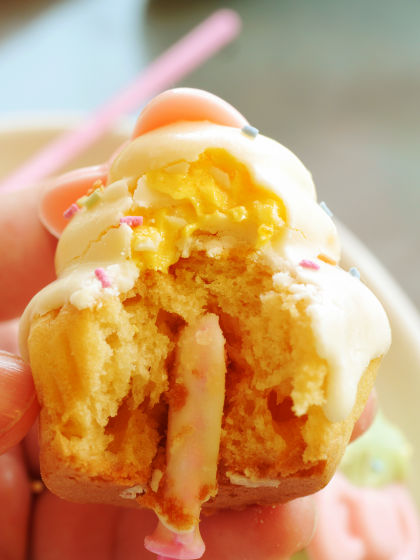 Orange cream with orange jelly under the cupcake and under the white chocolate.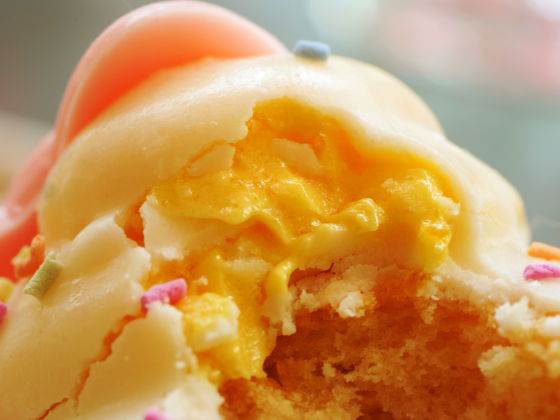 To stabilize, the tip of the stick was coated with white chocolate.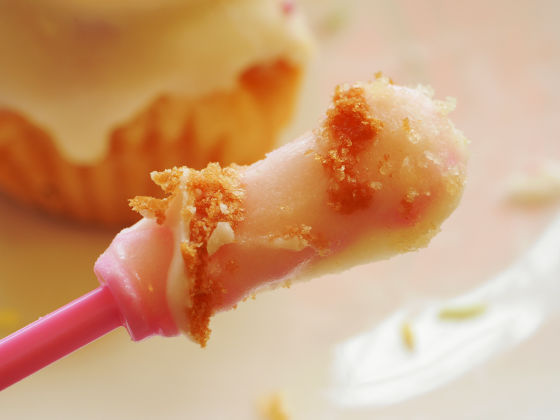 Below the chocolate is the appearance of Hello Kitty.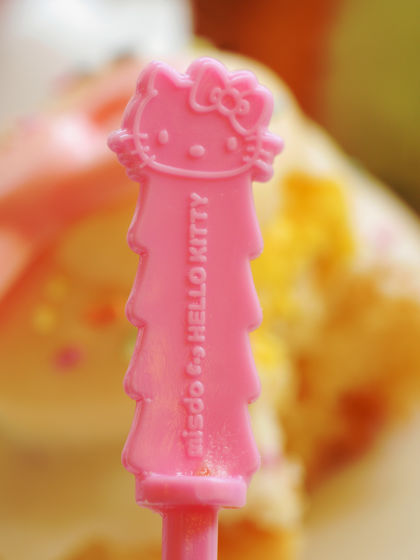 Next is "Ichigo Cupcake (136 yen including tax)"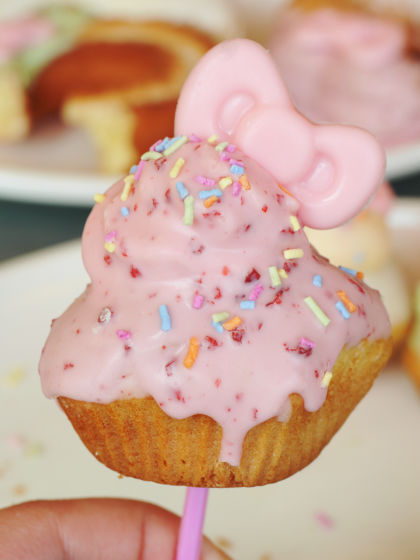 Here Ichigo Whip is used.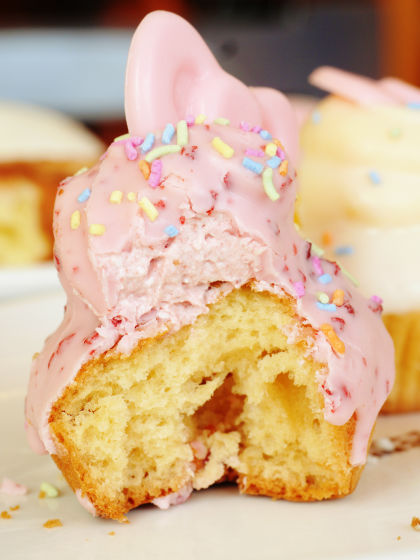 Because of the plenty of color spray, because there are also strawberry tsubutubu in chocolate, there is also a crispy texture.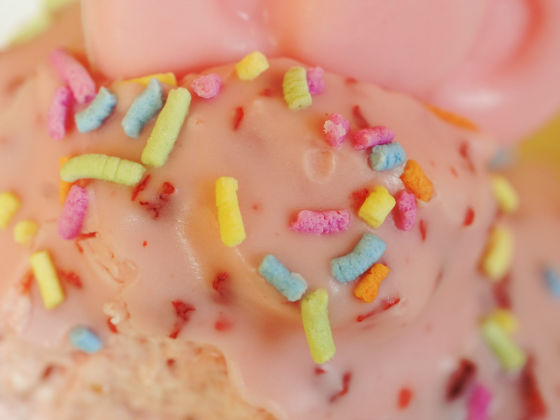 I feel like a little child will be delighted with the impression that it was made into an assy because it is not fried donuts in oil and the size is also mini size.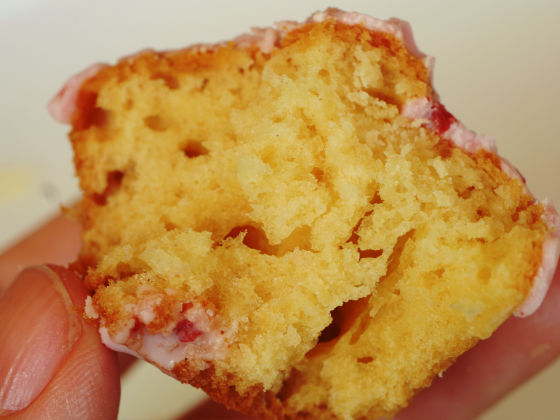 The last is "Green apple cupcake (136 yen including tax)"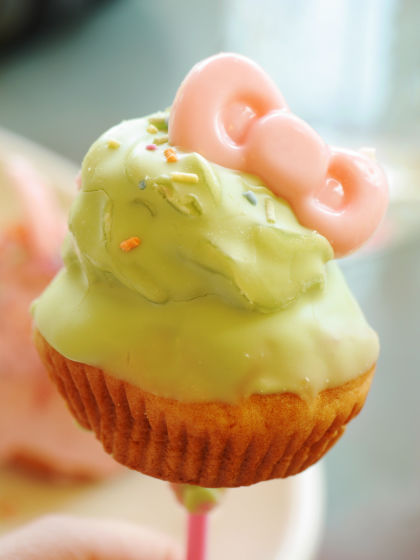 Here also chocolate is used for stick for adhesion.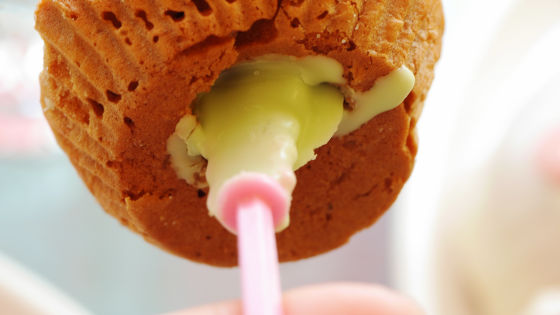 A figure of color spray on the surface.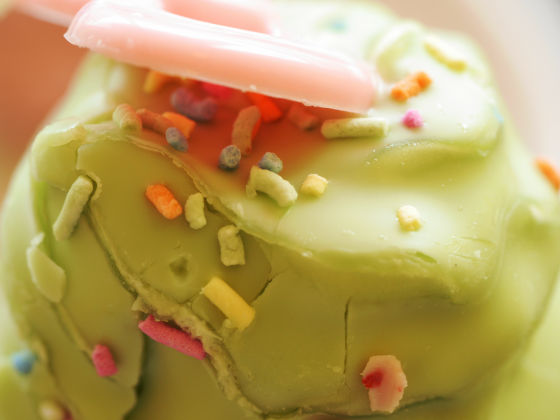 This was a refreshing combination of blue apple whip × blue apple chocolate.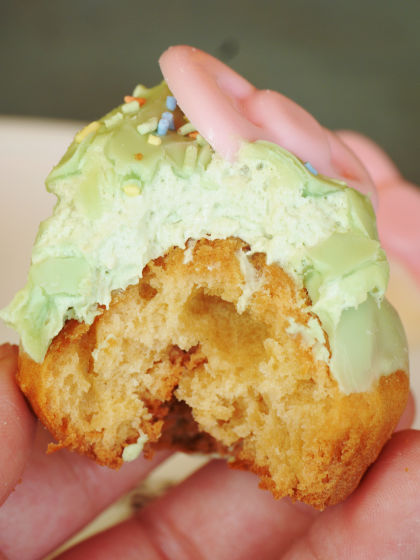 When ordering all 7 types, the total is 1036 yen, getting earphone jack. Besides pink, there are red, black and white earphone jacks so that they can be chosen, but as it ends as soon as it is gone, those who want to choose a favorite color as soon as possible.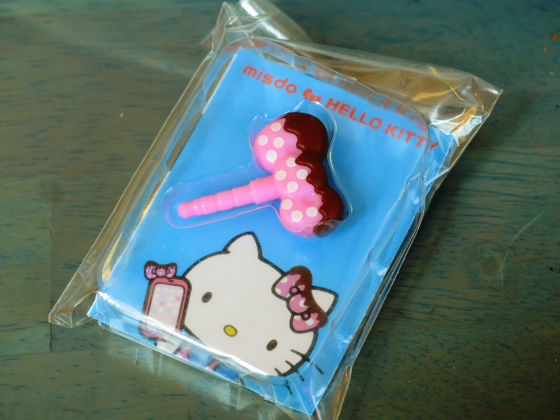 Anyhow it looks cute donuts, the taste is like spring feeling centered on sweet and sour. Of course it would be nice to eat it in a shop, but it was finished in a cupcake with donuts that would make you want to bring it out on a picnic on a nice day.

This earphone jack isGIGAZINE summer gift articleYou can also get from.