I tried "Freshly raised potato taste (Takumi) salt ponzu taste" using 100% salt of Nagasaki prefecture Gotojima Nada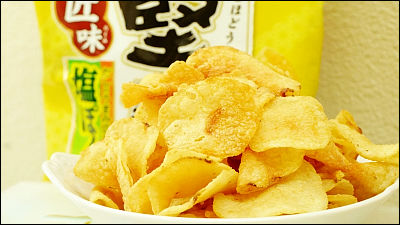 From crispy and hard texture 'hardened potato' series to newRubber potato taste (Takumi) Salt ponzu flavor"Was released on March 18th only at convenience stores. It is said that it is becoming an attentive potato chip using 100% salt in Nagasaki prefecture's Gotojima prefecture, so I tried to eat it compared with the standard staple potato lightly taste.

News Release "Rubber potato taste (Takumi) salt ponzu taste" | Calbee Co., Ltd.
http://www.calbee.co.jp/newsrelease/130313.php

A picture of Yuzu in the package.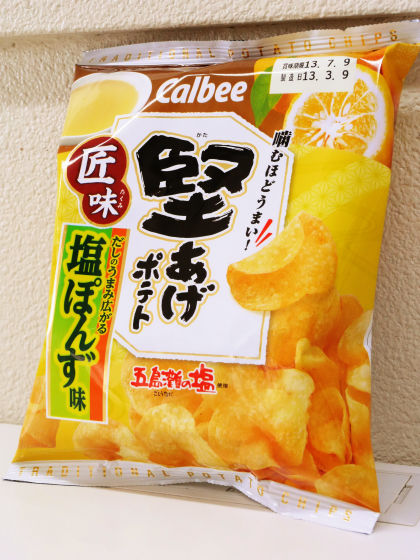 "Raised potato taste" series is a new series of "hardened potatoes" sticking to raw materials and taste, and it is said that 100% of salt of mellow Nagasaki prefecture · Goto island is used.



The calorie is 383 kcal per 75 g of meal.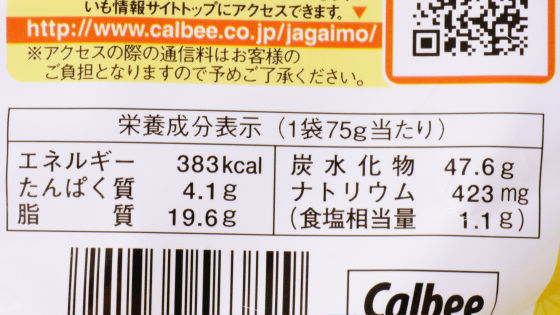 Not only soy sauce, but also seasoned bonito extract seasoned. In addition to Yuzu Powder, Shikuwasa fruit juice powder is also used.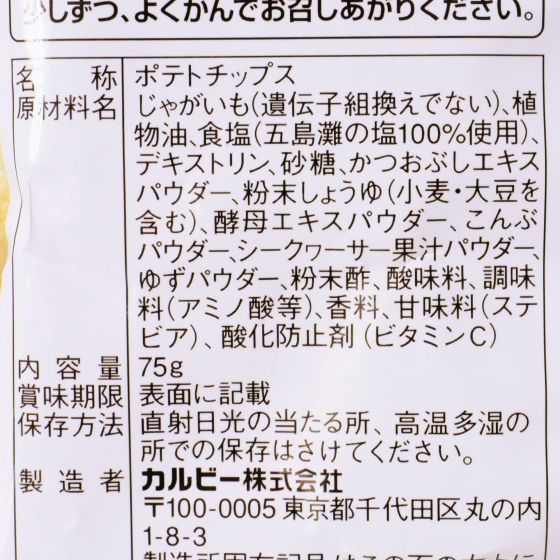 When I opened the bag, the fragrance of citrus which I refreshed was fluently spreading.



Looking like this when you try it on a plate.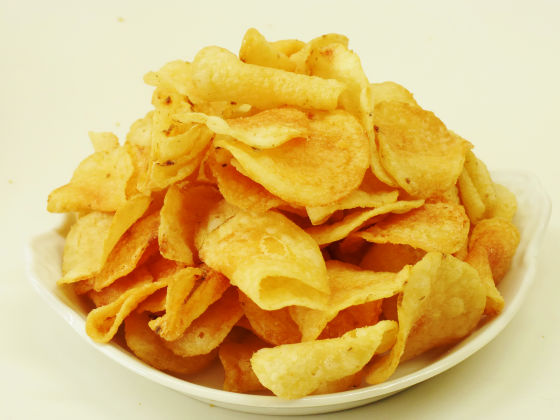 When you put it in your mouth it feels sweet somewhat, then the sourness and aroma of citrus spread. It is difficult to distinguish whether sweetness I felt at the beginning is sweetness of soup or sweetness of salt because of the strong taste of pomu but acid taste is not "just sour" just as it tends to snack confectionery, It is a fragrance of Yuz firmly.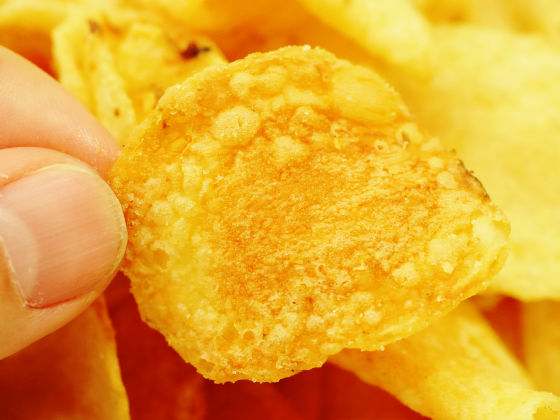 There were salt figures on places on the surface, but it does not seem to be "like plenty".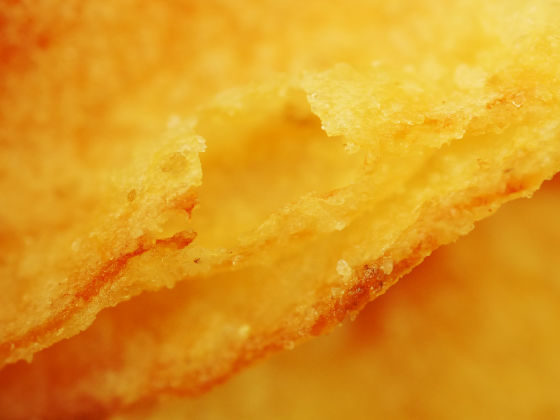 I tried to compare it with the taste of the hard-potato potatoes.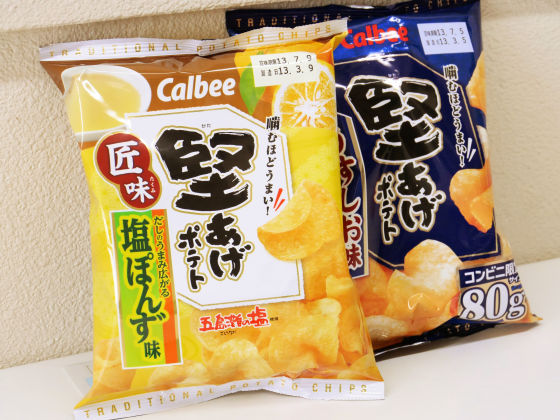 There is no such thing as scent spreads even if you open the bag here.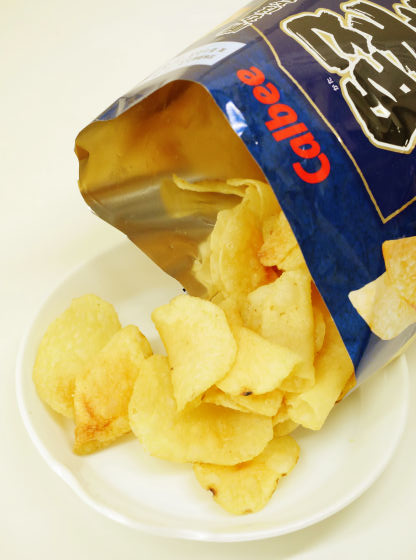 I tried it on a plate.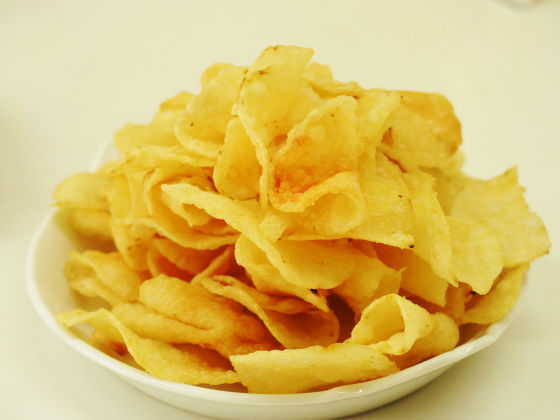 When looking side by side, the color is darker on salt ponzu.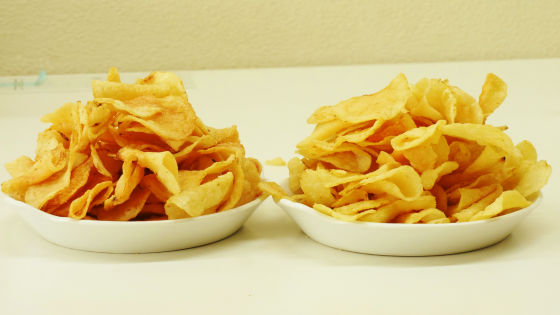 When I ate tasty taste after salt ponzu it became somewhat unsatisfactory that salt ponz seemed to have a stronger taste. The flavor of the potatoes is felt firmly with taste and taste, but it seems that some people feel that it is easier to eat the salt ponzu taste as much as Ppu has been refreshed.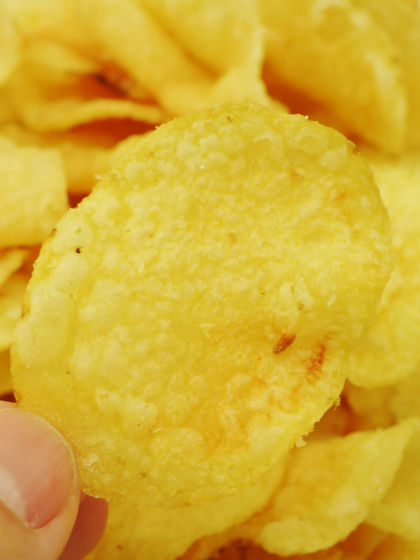 That is why I felt the flavor of citrus firmly, it was finished because it was a bit different from sourly only potato chips, so it is recommended for people who like challenging usual flavors and people who like ponzu .