Besides McDonald's the American fast food is full of hamburgers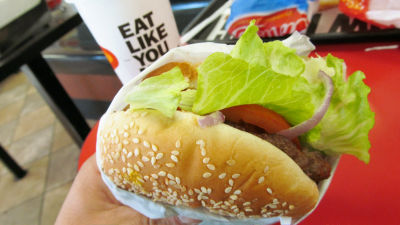 There are only McDonald 's and Burger King' s in Japan, but in the United States a lot of fast food chains are making hamburgers. Hamburger competition over 300 million people stomachs. The lunch of the popular fast food chain was terrible. In the American hamburger chain, the shape of potato that can not be seen in Japan. All you can drink is like a waterfall.

Hello,Around the World Bicycle WorldIt is Takuya Sudo @ Chaliderman. In the United States1 Dollar MackI was eating a hamburger all by myself.

◆ Wendy's (Wendy's)
In 1969 he was born in Columbus, Ohio's capital cityWendy's"Although it was widely deployed in the management of Daiei and Zensho in Japan, the franchisee (FC) contract did not continue, once all the stores had withdrawn, we are now re-landed in Roppongi and Omotesando in Tokyo. As the nationwide hamburger chain, McDonald's is the third largest scale following the Burger King. We have 6560 stores throughout the world.

Red haired, braid, freckles girls are markers.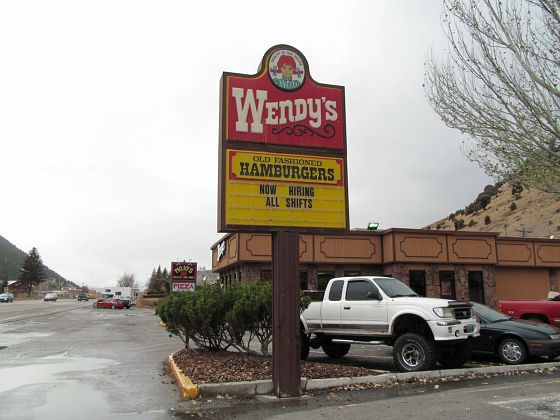 The appearance of the building.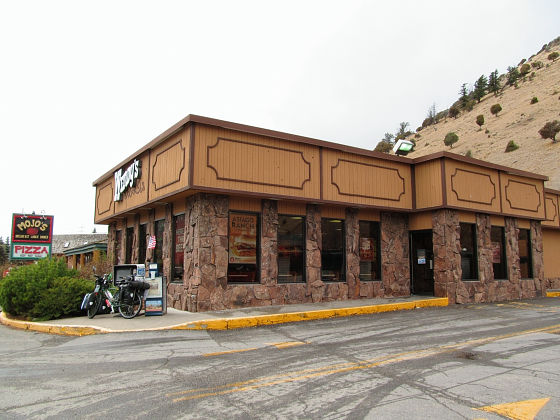 A single hamburger set ($ 5.99: about 556 yen), the total of potatoes and drinks to medium size (59 cents: about 55 yen) and taxes (39 cents: about 36 yen) totaled $ 6.97 (about 646 yen) It was.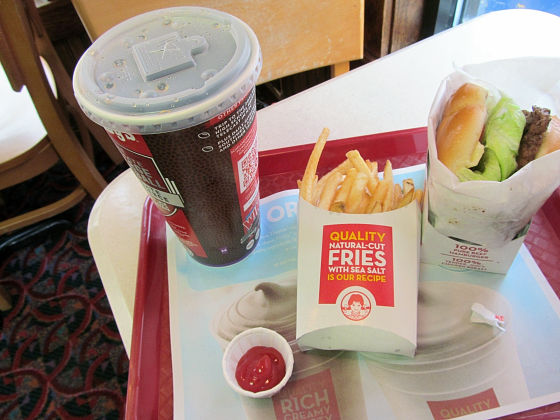 It is an irresistible shaped patty, but it was baked like a hamburg cooked at home and it was delicious.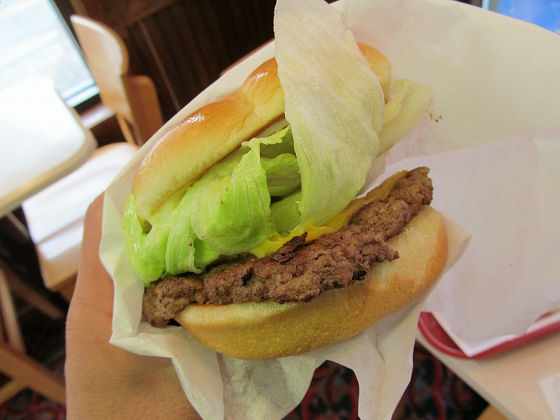 ◆ Arctic Circle

It was born in Salt Lake City which is the capital city of Utah state in 1950Arctic Circle"And 73 stores in seven states in the western United States centered on Utah.

"Arctic Circle" means the Arctic Circle.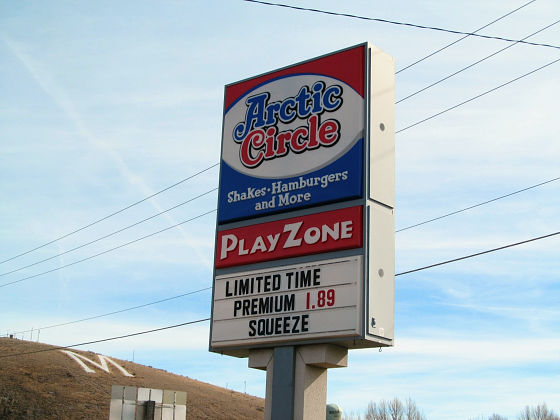 The appearance of the building.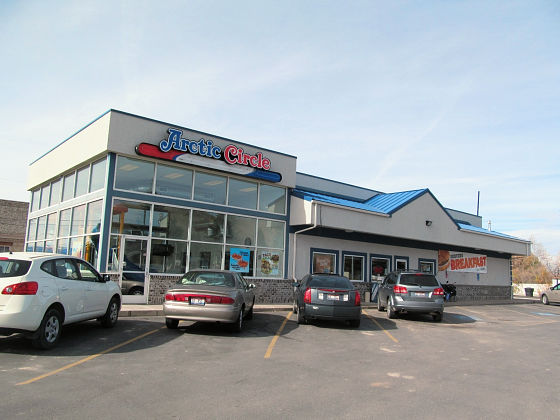 "RANCH BURGER COMBO" set menu for $ 6.14 (about 569 yen).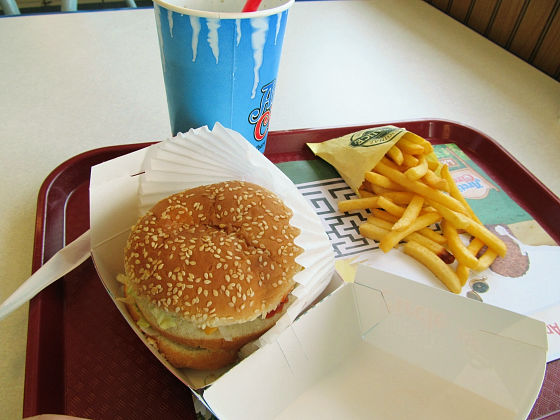 After eating Wendy's I ate, so the hamburger felt something unsatisfactory ... ....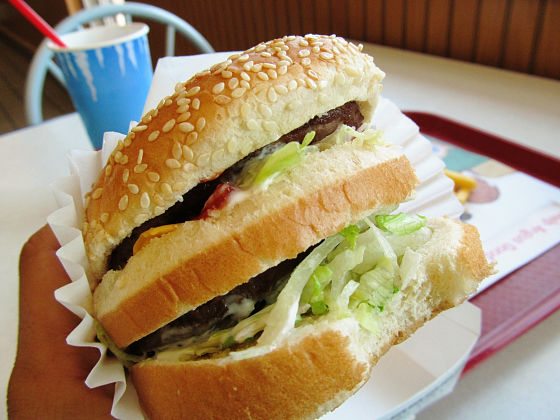 ◆ Carl's Jr

It was born in Carpinteria in California in 1941Carl's Jr."We are developing 1349 stores mainly in the West of the United States. CKE restaurants seems to have management rights, the western part as "Carl's Jr." Eastern part as "Hardee's", etc.

A cute ☆ mascot is drawn.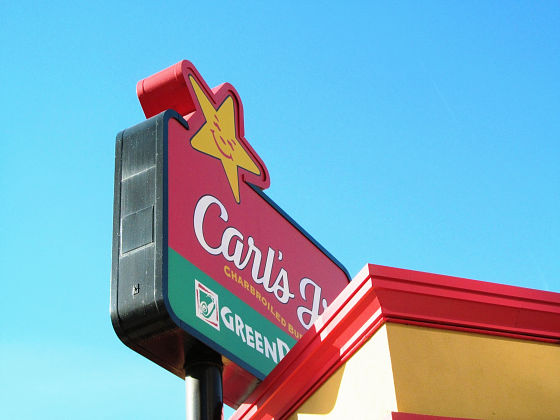 The appearance of the building.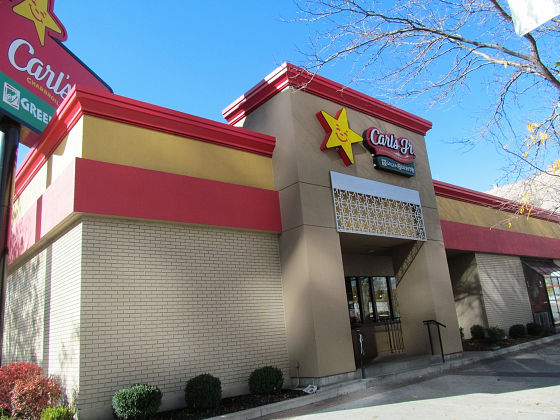 The hamburger was delicious as usual.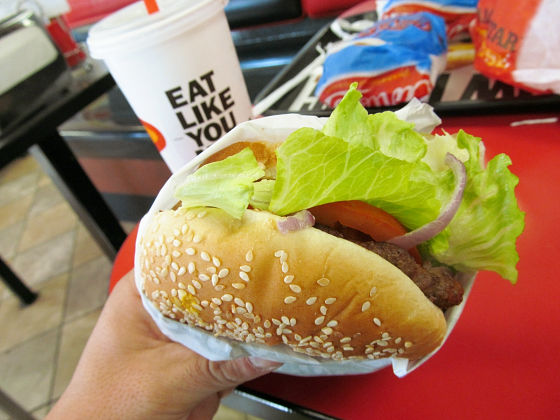 ◆ Arby's

Born in Youngstown, Ohio in 1964Arby's"More than 3,400 shops are deployed throughout the country. Since roast beef is the main, it is not a hamburger chain, but I often saw it while driving. It seems there was a time when it was also in Japan.

A sign that shaped a ten-gallon hat on the signboard.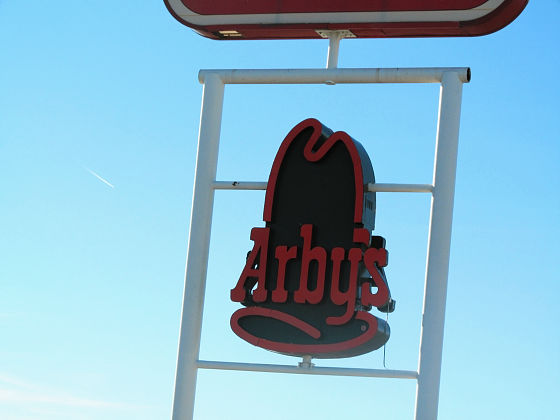 Appearance of building (shop installed at gas station)



It costs $ 7.60 (about 705 yen) on the set menu. Sandwiches sandwiched between roast beef and meat juice overflowing when you eat a bite. The picture is a slender bread, but there was also a product that sandwiched roast beef in the same buns as hamburger.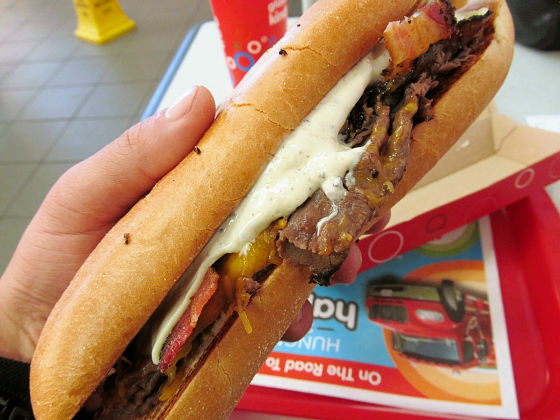 Spiral fries (curry fly) is the birthplace of Arby's. It tastes firmly and it goes to the mouth even without ketchup.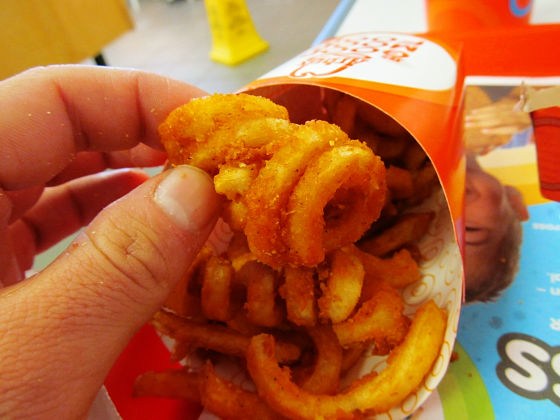 ◆ Jack in the Box

Born in San Diego, California in 1951Jack in the Box"We are deploying more than 2,200 stores in 21 states mainly in the western part of the United States and the southern part of the United States.

Text based signboard.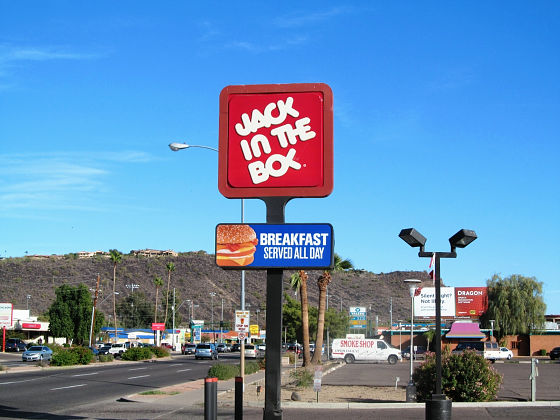 The appearance of the building.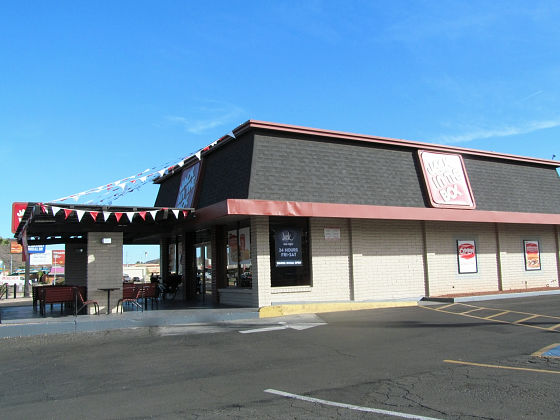 It was a total of $ 6.44 (about 597 yen) with a set of hamburgers ($ 5.89: about 546 yen) and tax (55 cents: about 51 yen).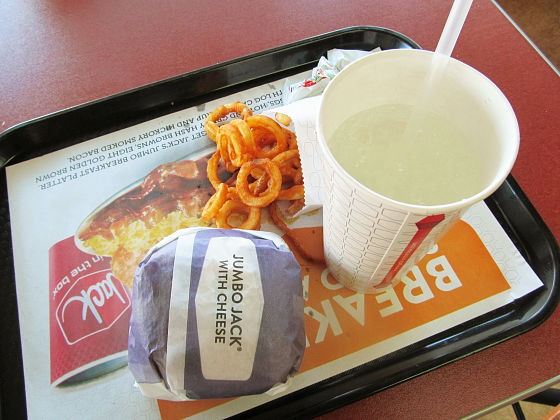 This hamburger is also common.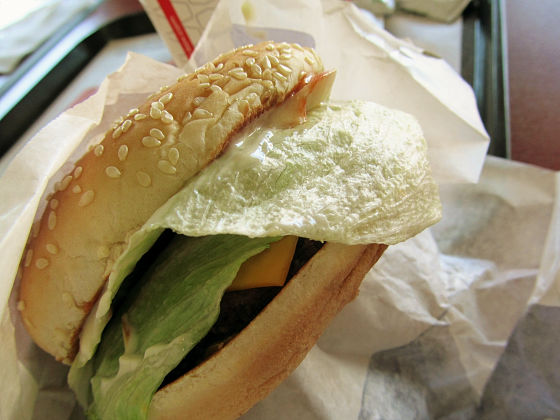 This is also a spiral french fries.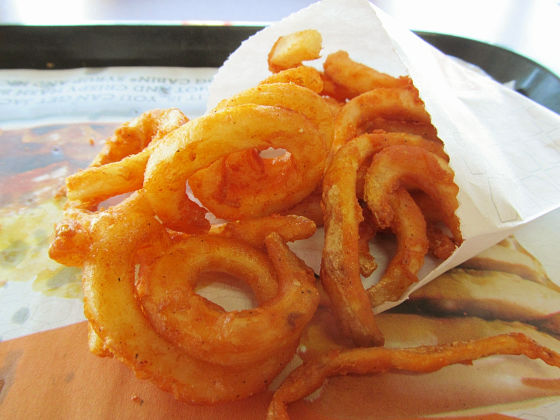 ◆ Whataburger

It was born in Corpus Christi in Texas in 1950 "Whataburger"We are deploying 740 stores mainly in the southern part of the US from Arizona State to Florida State.

The theme color is Orange for the trademark that treated W.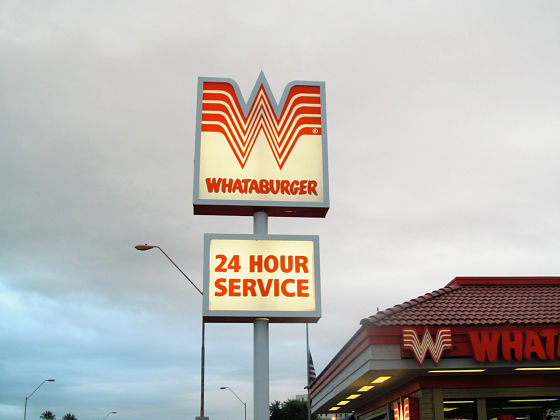 The appearance of the building.



It was a total of $ 5.84 (about 542 yen) with a set of hamburgers ($ 5.34: about 495 yen) and tax (50 cents: about 46 yen). I am ordered to be ordered, but I have a lot of it.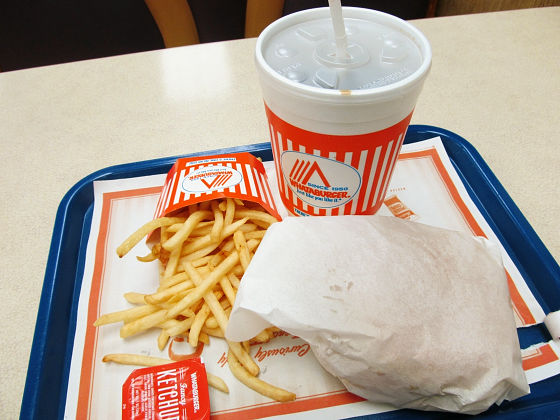 The hamburger that came out was a big laugh. Also on the official website is written "Since 1950, we've proudly served a bigger, better burger" "bigger and delicious" seems to be the theme of Whataburger.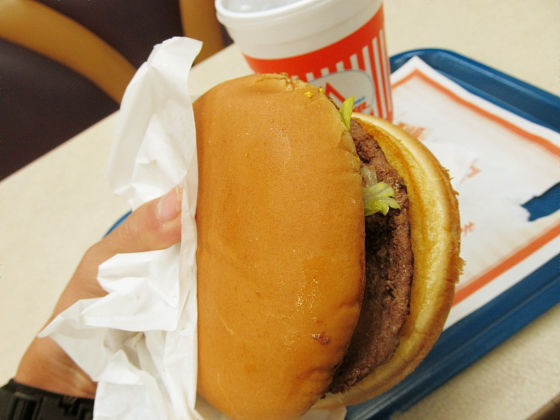 ◆ In-N-Out Burger

Born in California's Baldwin Park in 1948In-N-Out Burger"We are developing 281 stores mainly in California. Although it was founded since long ago, the number of stores is small, probably because I am particular about the taste.

Normally, the signboard of this arrow is out, but it was not a store that I went.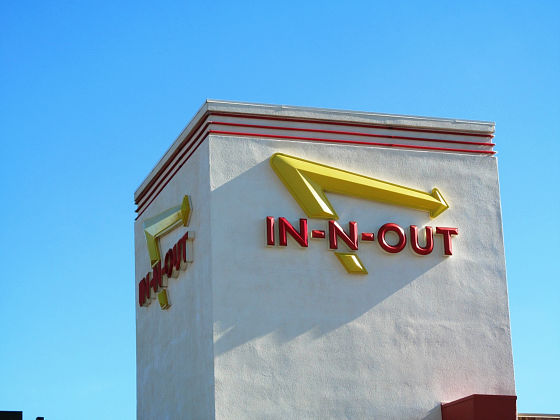 The appearance of the building.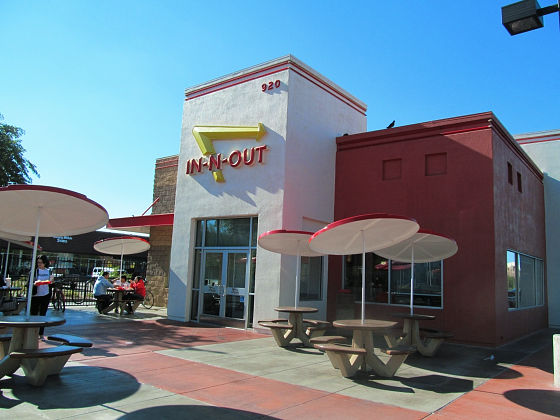 Fried potatoes (1.50 dollars: about 139 yen), drink M size (1.45 dollars: about 134 yen), taxes (57 cents: about 53 yen) total to Double-Double hamburgers ($ 3.20 for about 297 yen) It was $ 6.72 (about 623 yen). In-N-Out Burger does not have set menus in particular.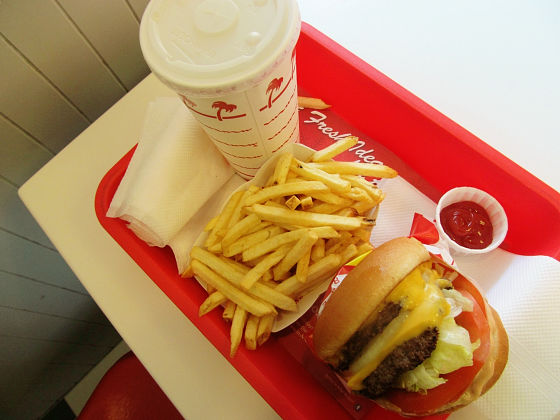 This is the only menu.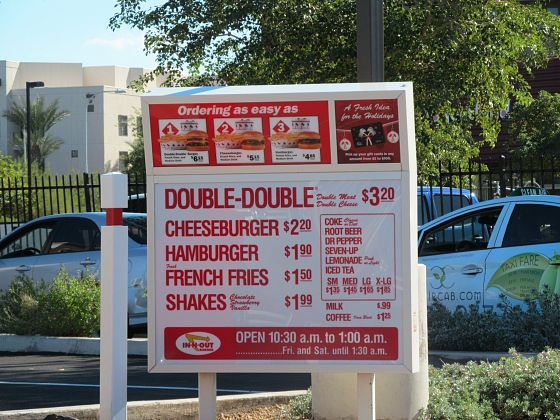 Juicy beef patties burnt with baked buns and fresh vegetables. I also understand Americans get hooked. Fried potato using raw potatoes was also plain seasoning and it was different from other hamburger chains.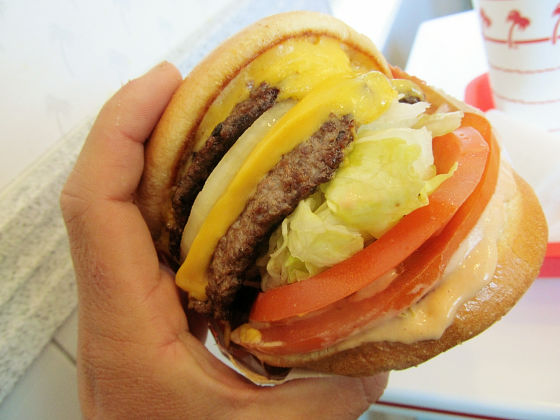 I just went lunchtime, but the interior of the shop crowded with lots of visitors.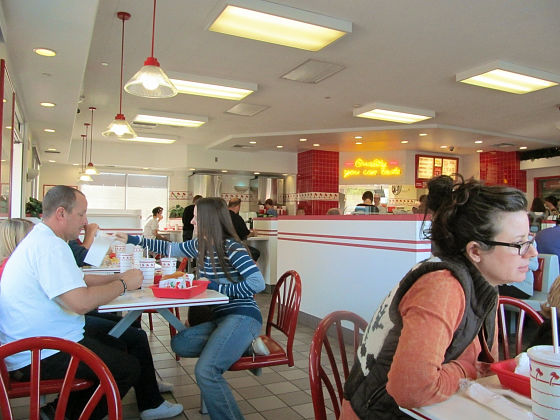 The parking lot is also full. And there was also a queue in the drive - through, and one clerk heard ordering and handled it earlier than Mike.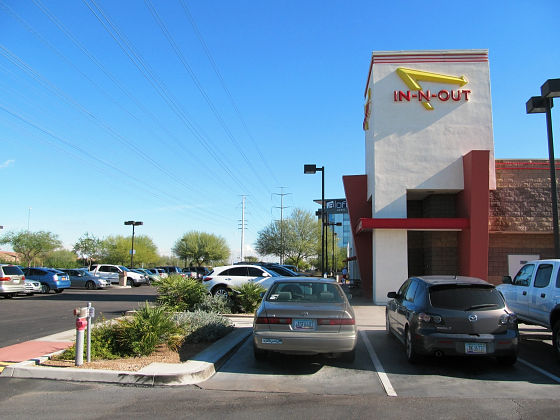 ◆ Burger King (Burger King)

Headquartered in Miami-Dade County, Florida "Burger King"We are developing stores all over the world. In the national hamburger chain, it is the second largest after McDonald's. It is often seen in Mexico, and in the Americas North America there are stores in most countries except for the island country. In Japan, once withdrawing, there is re-entry, now it is the operation of Lotteria (Korean corporation).

A sign that feels like American.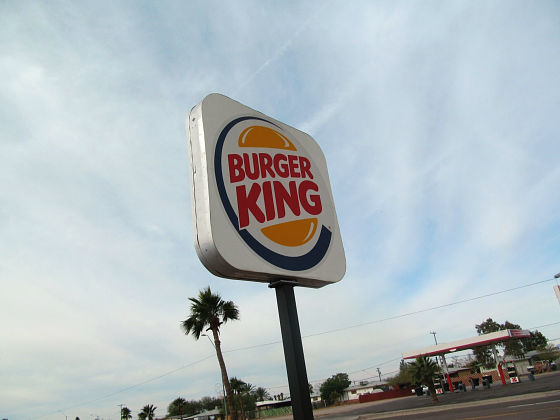 The appearance of the building.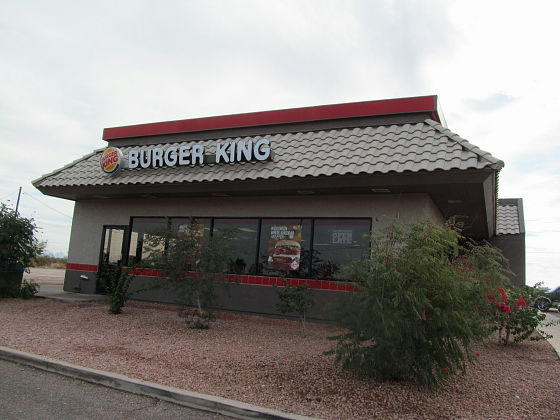 The set menu of Whopper ($ 5.99: about 556 yen), Tax (62 cents: about 58 yen) totaled $ 6.61 (about 613 yen). A campaign commemorating the 55th anniversary from the launch of Wapper in 1957 was held, and a coupon ticket attached to the receipt of the discount shop came with a free item of a wapper (3.79 $) free of charge.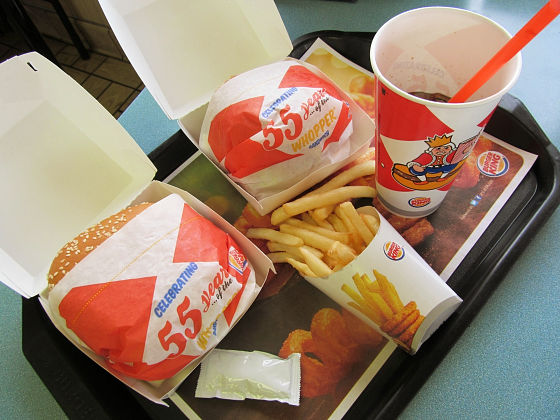 Although comparative advertisement seems to be done, Wapper is more like myself than Big Mac. The vegetables were fresh and we ate and responded.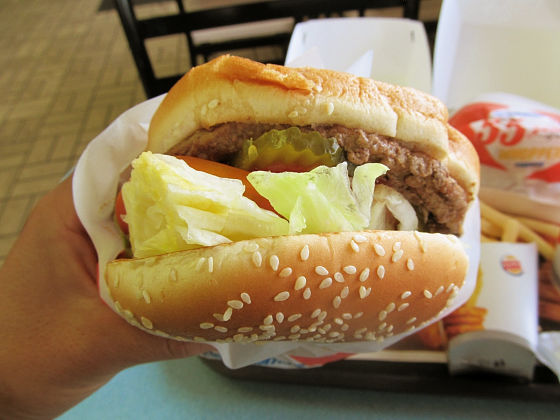 ◆ McDonald's (McDonald's)

The number of stores in the whole world has been passed by the subway, but still "McDonald's"Is the world's fast food chain. More than 34,000 stores worldwide, more than 14,000 stores in the United States deployed. America First place in sales of all fast food chains,There is a difference of 3 times from the second place subway.

Mark of M familiar in Japan.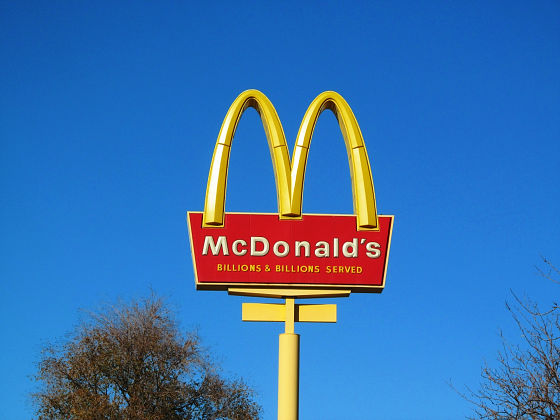 The appearance of the building.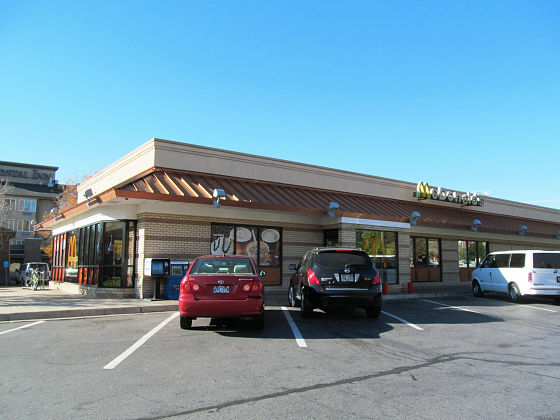 While I was staying in America I used McDonald's many times, but I feel like eating it occasionally, but it is not particularly tasty and it is junk food.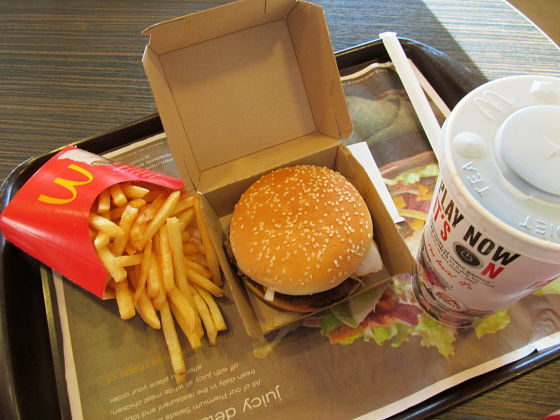 The flag store 's Big Mac set in northern Arizona is $ 7.54 (about 699 yen).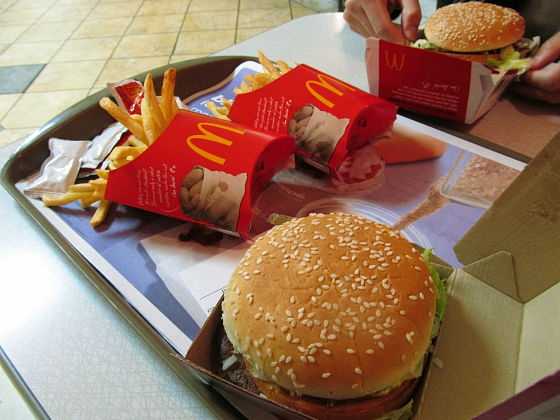 McDonald's two cheeseburger set in the neighboring town of Grand Canyon costs $ 8.37 (about 776 yen). It is a high pricing setting for sightseeing spots, but it was $ 5.41 (about 502 yen) in another place.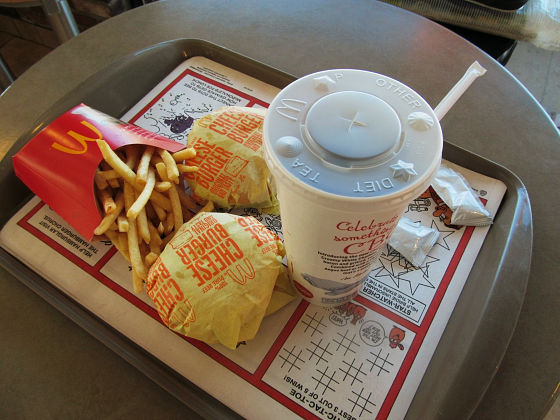 Two signs stood out conspicuously in the north-south and east-west.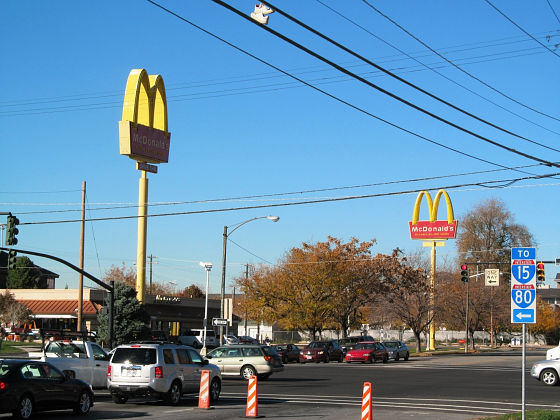 There was notice of the next McDonald's town on the road.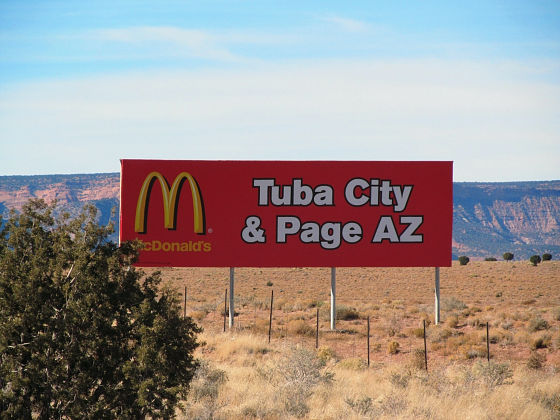 "Promotion that six cheese burgers are $ 4.99 (about 462 yen) (only from 4 pm)".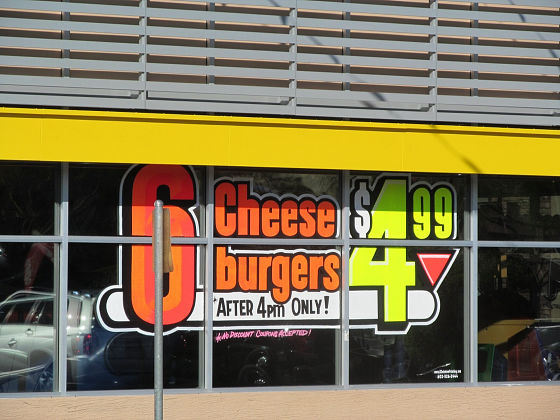 ◆ How to use American fast food

When you place an order, you will receive a cup first. Let's have a drink before hamburgers are ready. If there is a drink server inside the store, you are free to change. It will be about 3 times as fast as Japan, so do not be confused.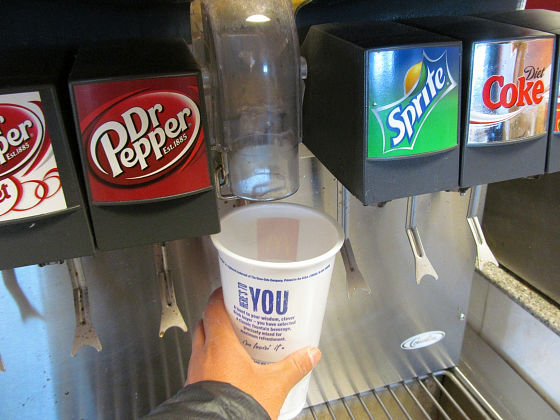 For Carl's Jr. this is like this.

Carl's Jr.'s drink server - YouTube


McDonald's will look like this.

McDonald's drink server - YouTube


The straw is also thick.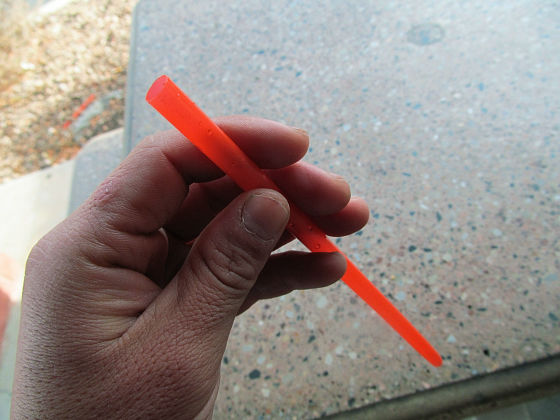 Even ketchup on potatoes is a self catering small cup.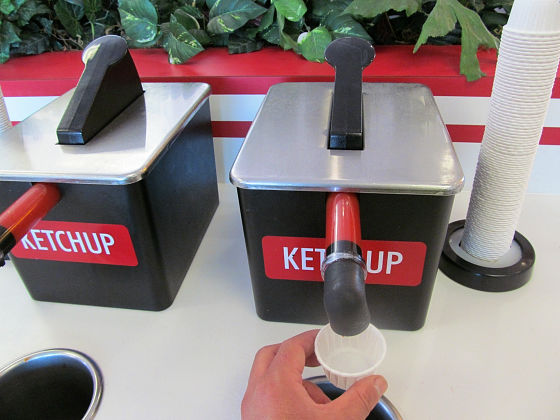 Ketchup may have small bags in it. Two types of sugar and sweetener to put in coffee.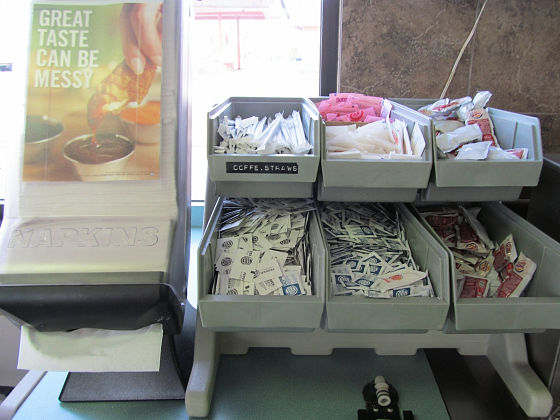 ◆ This is not only for American hamburgers

"Sonic Drive-In" specialized in American car society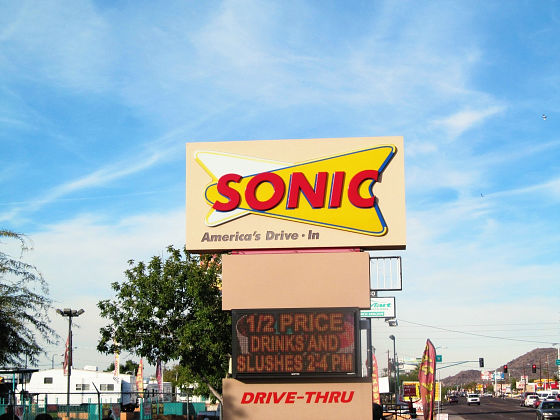 I have not seen such drive through in Japan.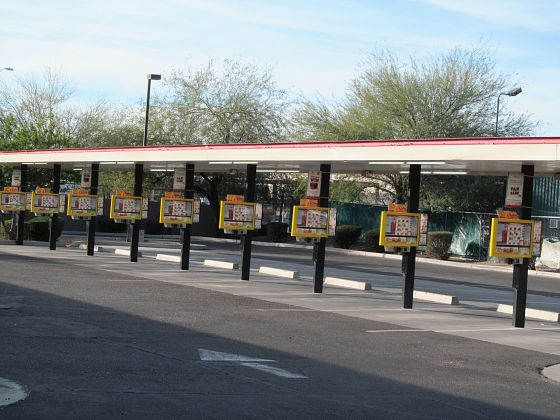 Dessert also sells hamburgers even at the main "Dairy Queen".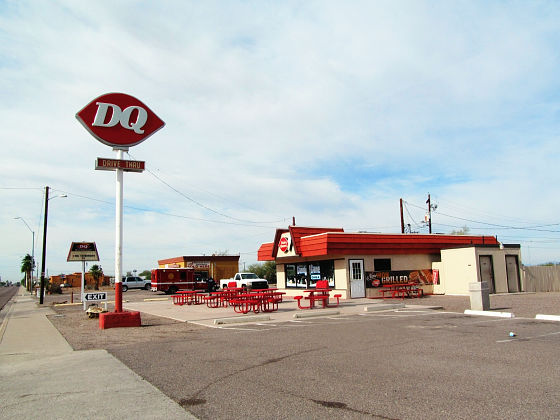 "Smashburger" I saw for the first time in Arizona last in America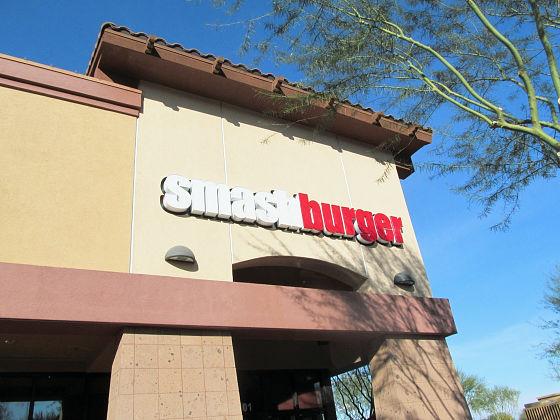 The item of the English version of Wikipedia's hamburger chain has a link in the common American fast food list,


A & amp; W
Arctic Circle
Back Yard Burgers
Big Boy Restaurants
Blake's Lotaburger
Burger King
Burger Time
Burgerville
Carl's Jr.
Checkers / Rally's
Cook Out
Culver's
Fatburger
Five Guys
Freddy's Frozen Custard
Fuddruckers
George Webb
Gino's Hamburgers
Good Times Burgers & Frozen Custard
Hardee's
Hot 'n Now
In-N-Out Burger
Jack in the Box
Jack's
Johnny Rockets
Jollibee
Krystal
Maid-Rite
McDonald's
Nation's Giant Hamburgers
Original Tommy's
Roy Rogers
Runza
Shake Shack
Smashburger
Sonic Drive-In
Spangles
Steak 'n Shake
Swensons
Wendy's
Whataburger
What-A-Burger
White Castle
Winstead's
Zippy's

45 types of hamburger chain only. There are also other sandwiches, hot dogs and chains of Mexican food, so America's fast food is too competitive. Because this time was only the West of the United States, I do not know anything about the hamburger chain in the eastern United States.

Why do not you try out various things if you all have the chance to go to the holy land America of hamburgers? I liked hamburgers like Wendy's, Whataburger, In-N-Out Burger, Burger King, Arby's.

(Sentence / photo: Takuya S. Narou Charriderman
Cycling around the world for a bicyclehttp://shuutak.com)