"ANY's BURGER" tasting review that you can eat hamburgers of super mega "meat x meat" that can not be eaten by hand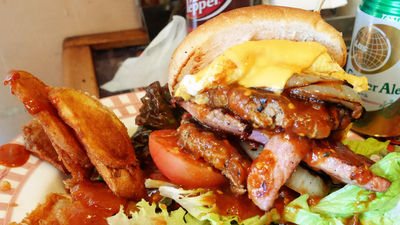 Burger King and Freshness Burger offer hamburgers that are larger than common sizes, but it is said that "American hamburgers are not such a thing!" It is said that hamburgers, which are huge and eatable, can be eaten as "ANY's BURGER"is. It is said that it is offering an American burger sandwiched between hamburgers with a burger that has extra thick bacon in a bean pastry and a honorable pork chop that seems to be satisfied on its own, so actually go and eat I have done it.

GourNavi - ANY's BURGER (エ ニ ー ズ バ ー ガ ー) (Tanimachi / Tanimachi 4 chome / Hamburger)
http://r.gnavi.co.jp/sgb3x1jr0000/

ANY's BURGER (Anyee's Burger) - Tanimachi 6-chome / Hamburger [Eating Log]
http://tabelog.com/osaka/A2701/A270204/27014493/

The address of ANY's BURGER is "Shin-Tanimachi 2nd Building, 7-1-39 Tanimachi Chuo-ku Osaka-shi, Osaka Prefecture", it is a few minutes on foot from Tanimachi 6-chome subway station Tanimachi Line / Nagahori Tsurumi Greenland Line.


As you walk from the station of Tanimachi 6-chome, you will see a signboard of a girl with a hamburger.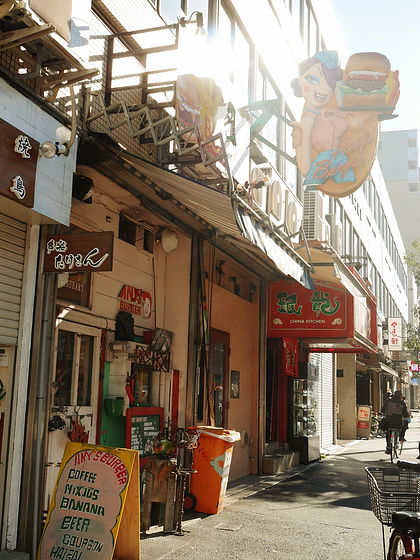 Looking at ANY's BURGER from the front like this.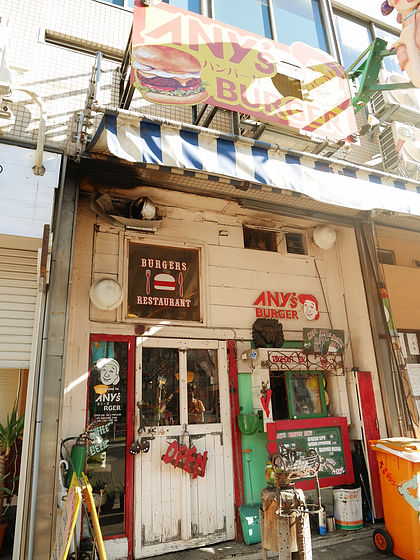 There was also a small window for takeout.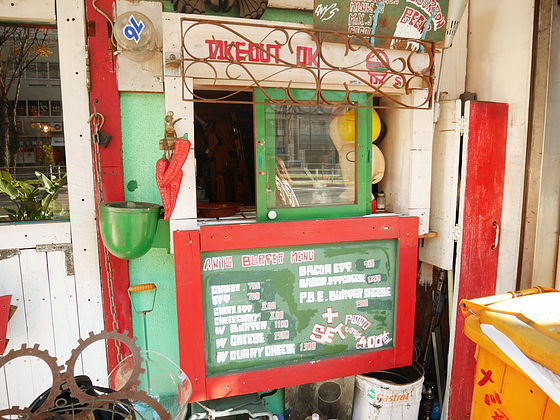 The inside of the shop is decorated with plentiful accessories, and there is atmosphere like American restaurant. Seats are counter seats ......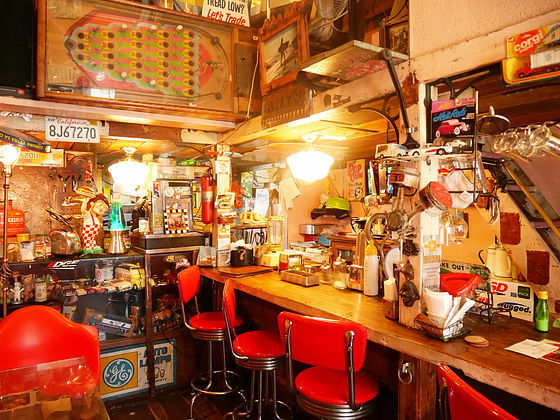 There are table seats for two people and three people.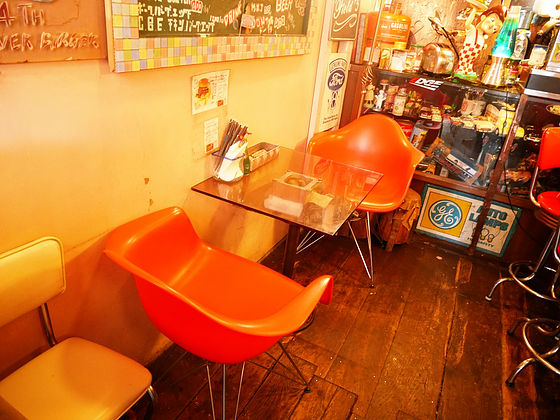 American small items were used until the paper napkin that is placed on the table.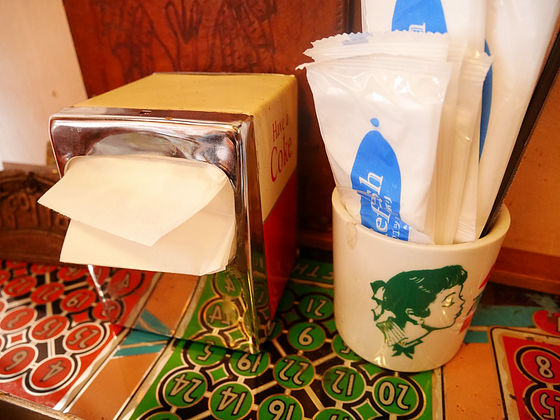 Although it is supposed to be able to rise to the second floor, it is said that there are many seats on the second floor.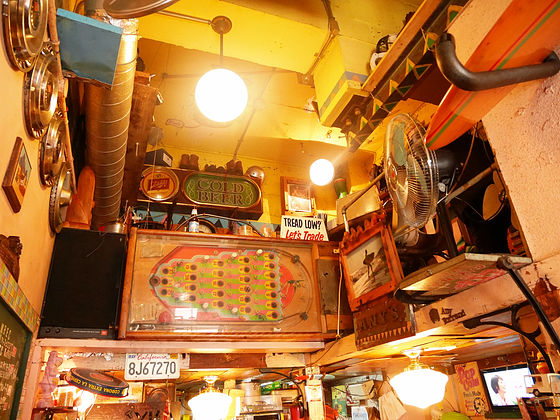 There are a lot of hamburger menus, and the popular one is "bacon and egg cheeseburger" and "bacon and egg curry cheeseburger". You can add potatoes and drinks at plus 400 yen and drinks can choose either cola · ginger ale · doctor pepper · coffee. This time I ordered 3 types of "W Bacon Egg Cheese Egg Burger" (1400 yen including tax), "Bacon Egg Cheese Egg Burger" (1200 yen including tax), "Pork, Burg, Egg" (tax included 1200 yen).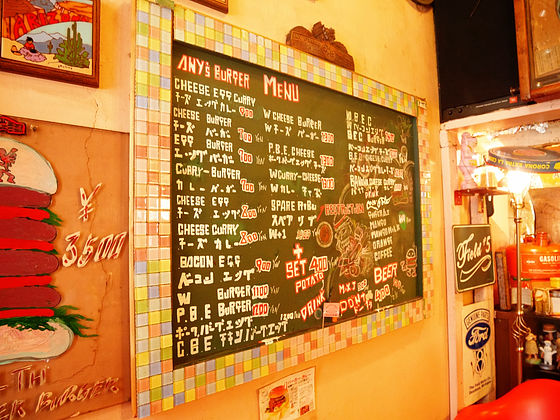 Besides hamburgers, dinner time from 17 o'clock also offers rice-based menu such as omelette and spare ribs.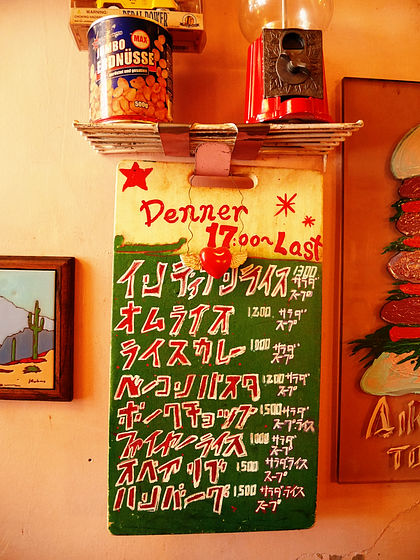 I will go to see the second floor seat until the order arrives. Going up the stairs behind the counter seat ... ...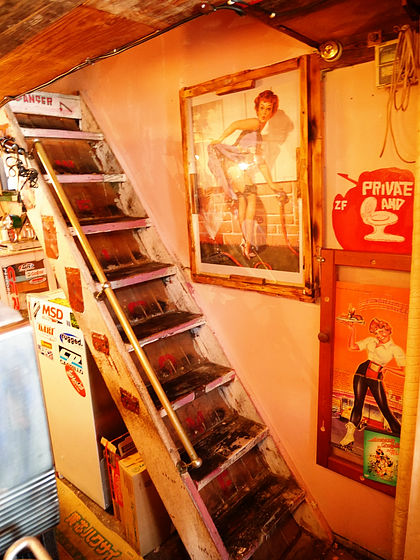 There is a toilet just up the stairs.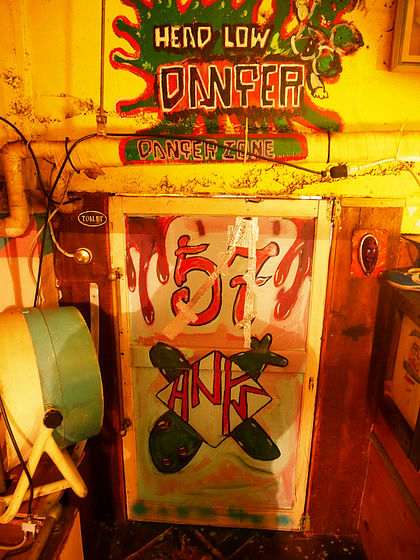 Making the interior of the toilet tall.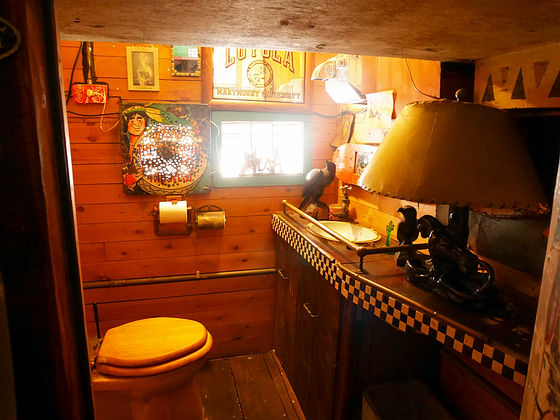 There is a sofa seat opposite the toilet, so I can sit down calmly. Two pairs will be full.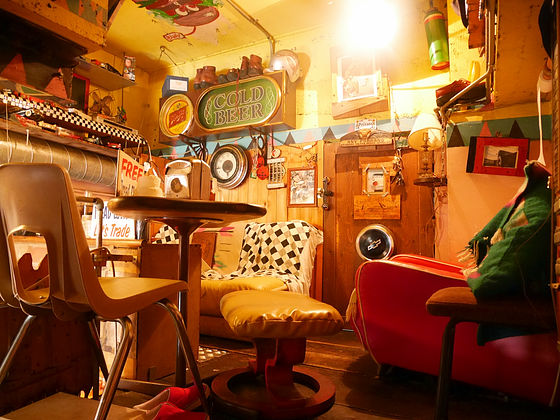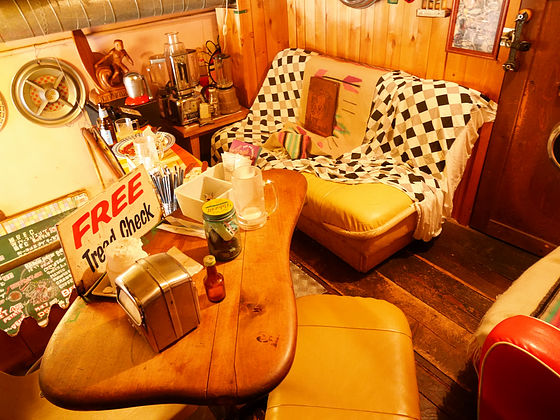 So, a huge hamburger arrived in about 15 minutes. The picture below is "W Bacon Egg Cheese Egg Burger" from the top, with buns, cheese, eggs, grill onion, beef patty, 2 thick bacon, grilled onion, beef patty, tomato, lettuce, and buns It is a terrible sized hamburger.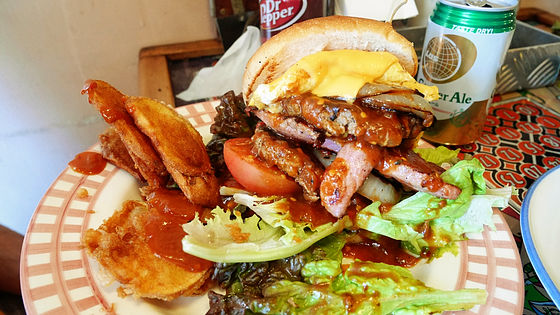 It is like this when I put the iPhone 5s next to it. I usually give paper bags that can hold burger by hand, but since any burger is too big to collapse, I finally eat it with a knife and a fork. This time I ordered W Bacon Egg Cheese Egg Burger so it's too big to go into paper bags, so I decided to eat with a knife and a fork from the beginning.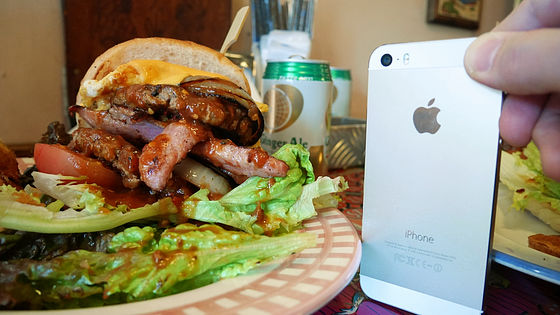 Also compare Bacon Egg Cheese Egg Burger with iPhone 5s. W Bacon and egg cheese Egg burger is small compared to, but still it is a size that is likely to be classified as an oversize at a common hamburger shop. The composition is almost the same as W bacon and egg cheese egg burger except that beef patty is one.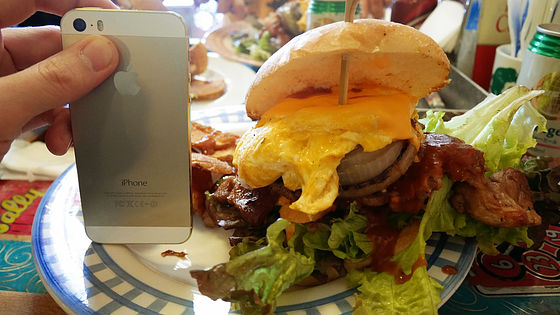 I wonder how you can eat from where, OK if you cut out the size that can be seen in your mouth for the time being, OK.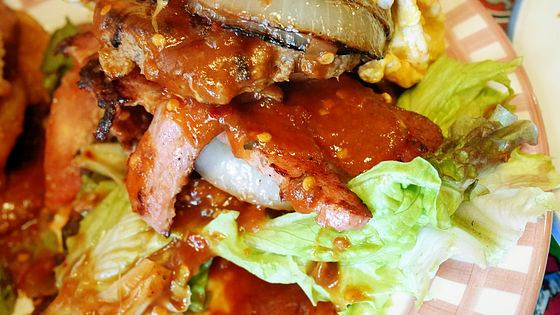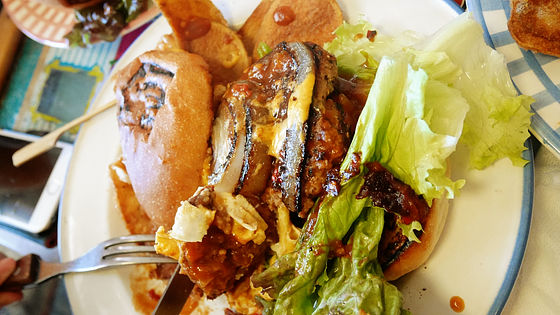 Bacon was fried calico with something like clothing. It was baked bacon when I came last time. It may be because the ingredients are cooked differently depending on the day.



And this is Pork, Berg, Egg. From the top, we have a sense of weight that will be disjointed unless stuck with a skewer with the composition of buns, cheese, eggs, grill onion, pork chops, beef patties and lettuce. I thought it was a small burger and ordered it, but according to the shopkeeper Corre is the huge hamburger among the three items I ordered this time.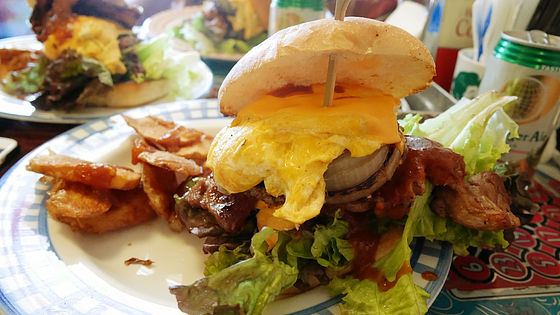 Potatoes attached in sets are homemade potato chips with thick cuts.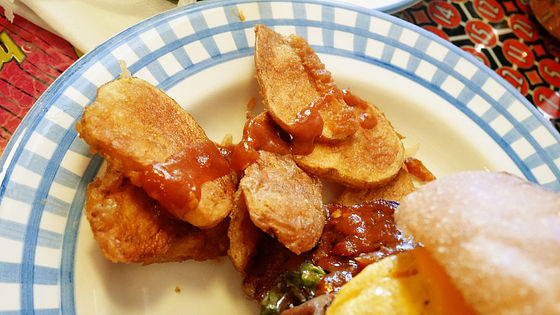 Potatoes are deep fried while thick and you can enjoy the crispy texture.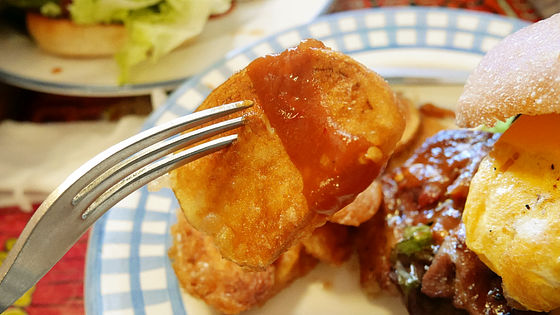 Cheese and eggs are almost assimilated, but it looks very tasty.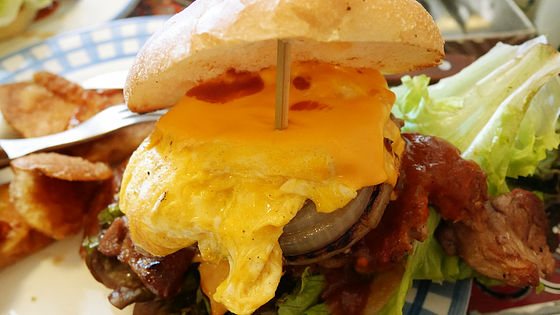 A huge one was used as a pork chop protruding from the left and right.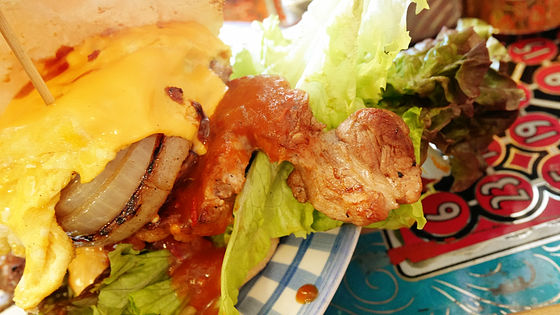 Beef patties are also bigger size and I feel bigger than patties of burger king's wappers.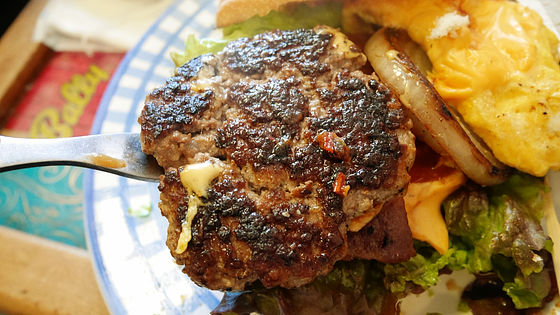 I tried to cut each beef patty and pork chop.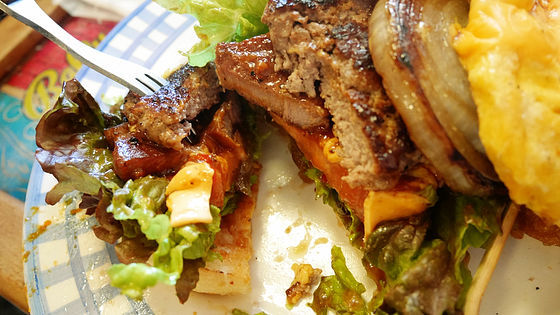 When eating juicy beef patty and pork chops in one stroke, the inside of the mouth is filled with "meat". Either burger is huge anyway, so it seems like I'm eating a lot of bread plates with ingredients rather than hamburgers on the way. Because it is enough for men's dinner, it may be sunk if it feels like "I want to eat a hamburger for a bit because my hungry was empty."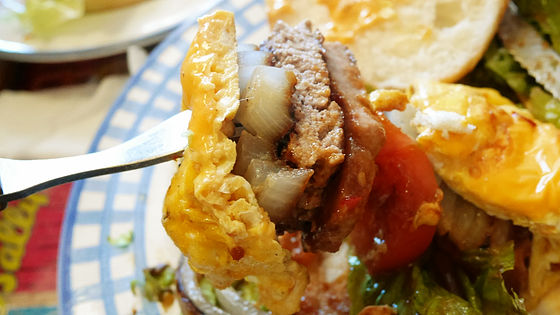 Burger usually used homemade curry sauce is also popular, but the day you visited was sold out. The "bacon and egg curry cheeseburger" I ordered when I visited before was like the following, the spicy spicy curry using apple was outstandingly compatible with the hamburger with full volume.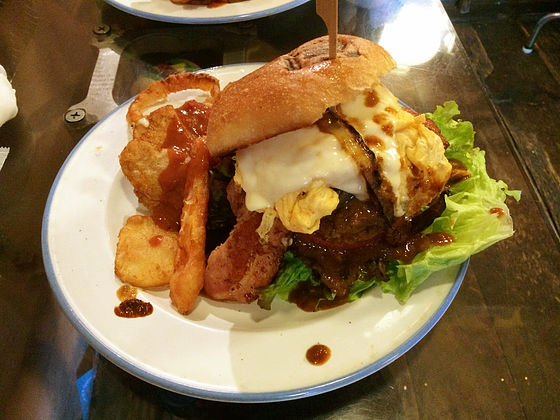 There seems to be an extra huge burger of "AIR 4 TH TOWER BURGER" of 3500 yen. Even though it is a hamburger of a tough size to hold with one hand, how much will it become a huge hamburger as it becomes 4 stages ...?