"PowerDock 5" which can charge while refreshing five units such as iPhone, iPad, iPod etc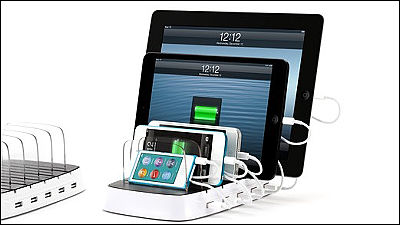 If you use a lot of equipment such as iPhone / iPod etc on the iPad, the cable may become tangled or the charging space may get messed up, but taking up space, up to five devices are refined and refined The stand which made it possible to charge while "PowerDock 5"is.

IPad Charging Station | Multiple iPad Charger | Griffin Technology
http://store.griffintechnology.com/powerdock-5-device-charger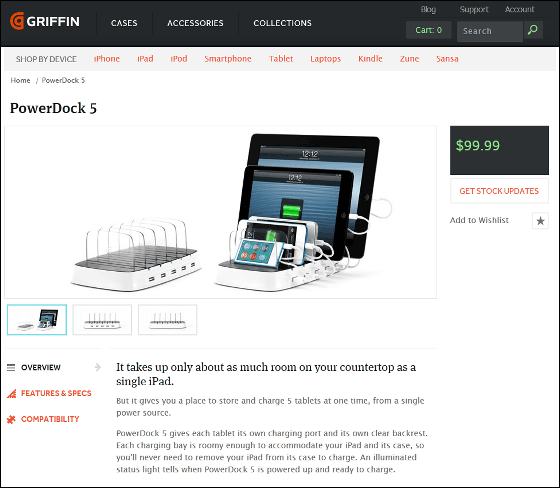 Here is the main body. Spacious space is secured with a transparent partition, it is possible to stand the iPad with the case attached.



The opposite side is like this. If you can secure one power supply, you can charge 5 iPads and iPhones at the same time.




The power consumption of each charge stand is 10 W. It is a specification that will inform you that the status light will light up when charging is over. The price is $ 99.99 (approx. 9000 yen) and it will be on sale soon.




Items that can charge ten more iPads simultaneouslyMultiDockAlso exists.

The compact, flexible way to charge and store your iPads | Griffin Technology
http://store.griffintechnology.com/multidock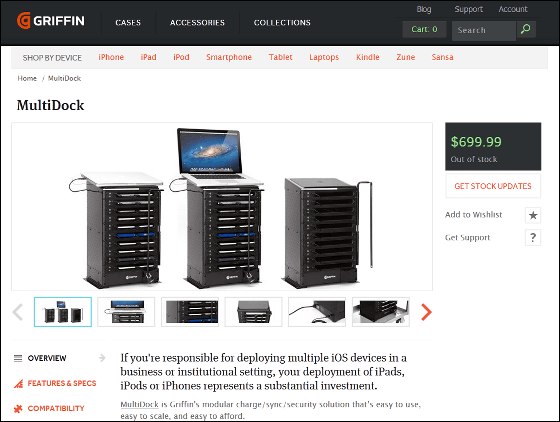 Height 47.2 cm × width 29.9 cm × depth 23.2 cm, weight 18.6 pounds (about 8, 4 kg). It's a bit larger footprint than the A4 paper, so you can install it without taking up space.




The size of each charging space is 2.19 cm in height × 20.49 cm in width × 22.79 cm in depth, unlike PowerDock 5, it will be used after removing the case. Charging status can be confirmed with LED light.




Ten iPads can be charged simultaneously at the same time.




PC is compatible with Mac OS X v10.5.8 or later, iTunes 9.0 or later, Apple Configurator can be used with v1.0.1.




Voltage is 110 ~ 220V.




Up to three MultiDock (30 slots) can be connected to the host computer, and the power consumption in each charging slot is maximum 10 W. It is an American safety standardUL certificationIt is registered in the company, safety is guaranteed.




The price of MultiDock is 699.99 dollars (about 62,000 yen). Both items can be shipped to Japan, but MultiDock is currently out of stock.