Cloud's notepad service "Catch" not missing ideas that come up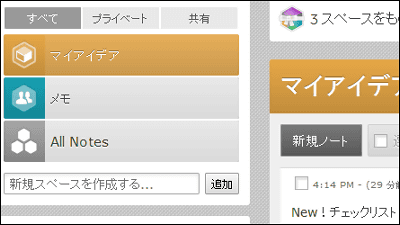 Ideas inspired, URLs / texts of pages you care about, photos, images, sounds, memos can be saved from anywhere, notepad service that can also be shared with someone "Catch"is. Tag settings and reminder functions to make searching easier, and iPhone and Android smartphone applications are also available.

For account creation, operation method etc. from the following.

Catch.com
https://catch.com/

To create an account, click "Get Started" on the above site.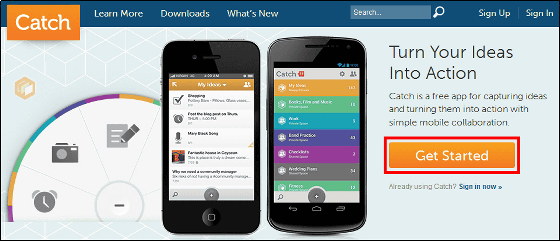 Enter user name, e-mail address, password and click "Create account". It is also possible to use Google, Facebook account.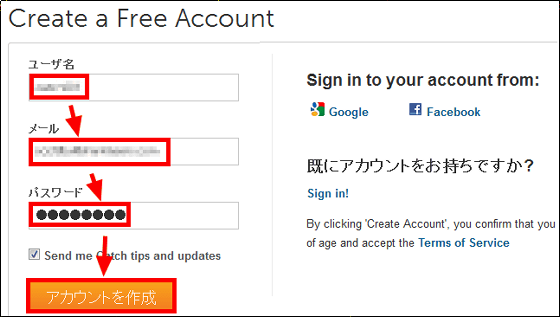 The page of the account you registered will be displayed.



If you want to create something like a folder called space and make it easier to organize saved items, enter the space name and click "Add".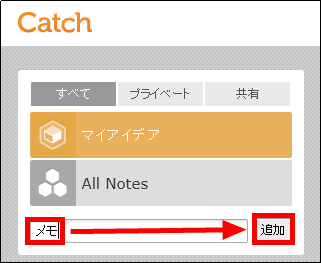 In this way space is newly added.




To add notes and ideas to the created space, click on the new note.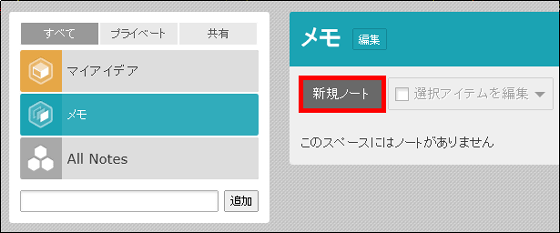 Enter contents to be saved and click on the part where time etc is displayed. If you want to add tags for easy retrieval later, enter "# Tag Name" in the saved content and if you want to add multiple tags, you can enter further commas and "# Tag Name".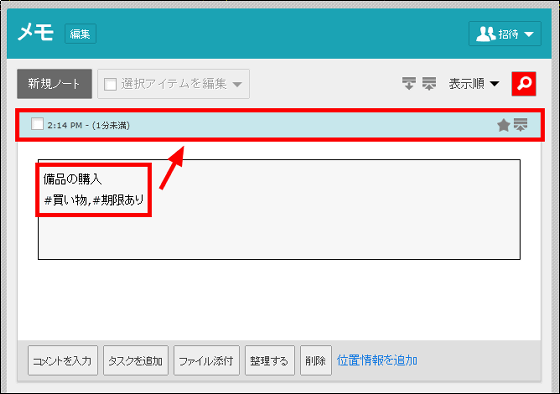 The entered content will be in a collapsed state.




To search the tag and check the saved content, click the red button in the upper right, select the second button from the left of the filter, click the tag you want to check, the tag is registered The contents are displayed.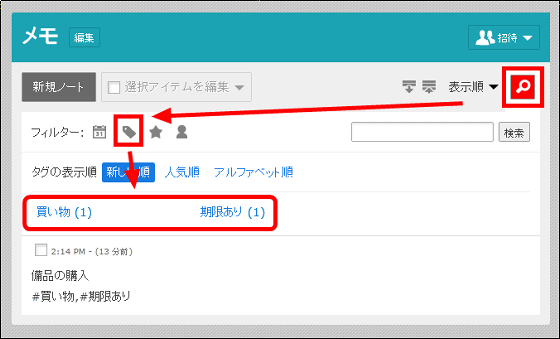 To edit the saved contents, click the contents to edit.




Since the editing screen is displayed, click "enter comment".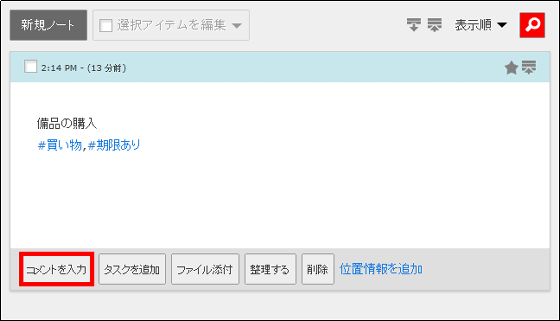 In this way, it is possible to add comments.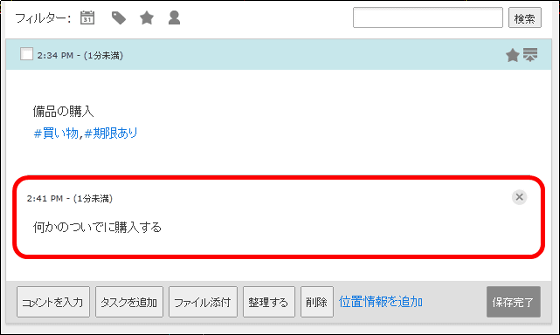 You can add tasks like this by clicking "Add Task".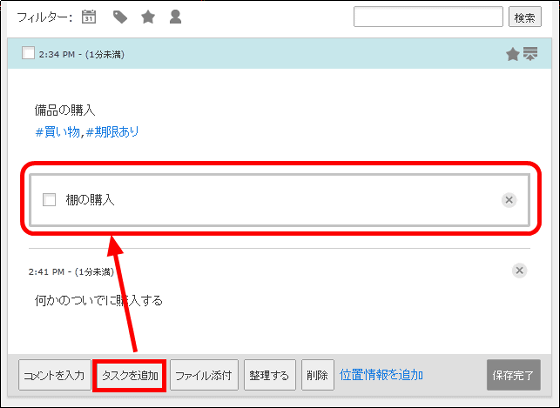 To share a space with someone, click "Invite" in the upper right, enter the email address of the person you want to share, and click "Send".




Click "OK".




Since the following e-mails will arrive at the person you share, if you are not using smartphones, click "invitation confirmation" above.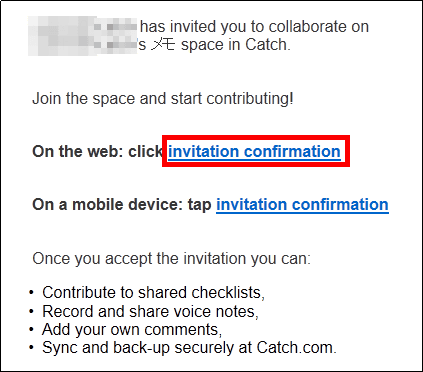 Click "join this space".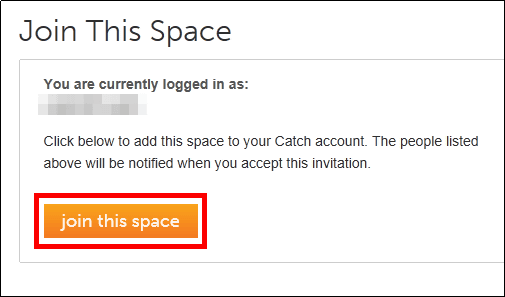 If you click on Share, you can see that a space ("Memo" here) has been added.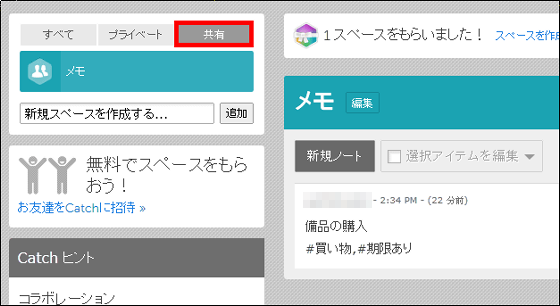 Next, when you save the URL / text of the page you are watching on the browser (here IE) to Catch, you need to add a function to the browser,Function addition pageClick on "Download the accelerator now >>>" in.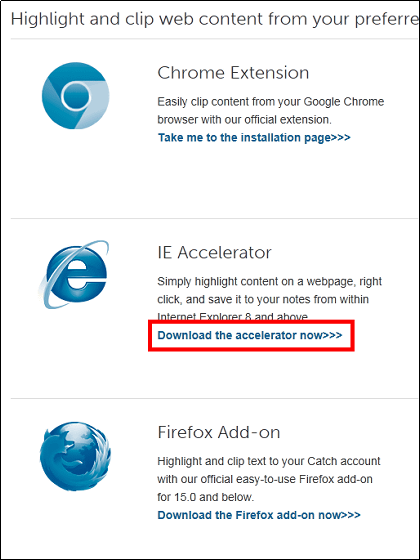 Click "Add Catch Notes to the shortcut menu in Internet Explorer 8".




Click "Add" to install the function.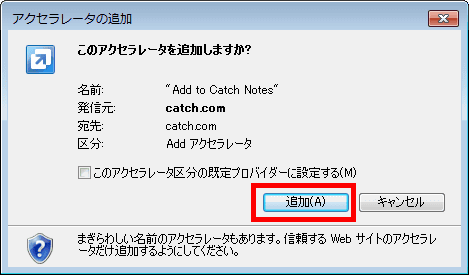 In fact, if you want to save the URL of the page you are viewing, right-click on the page you are viewing and click "Add to Catch Notes" from "All Accelerators".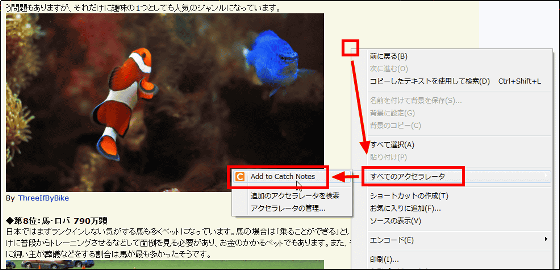 The page title and URL are saved in Catch.




If you want to save the text, select the text, right click and then click "Add to Catch Notes" from "All Accelerators".




Title, URL, and selected text are saved as follows.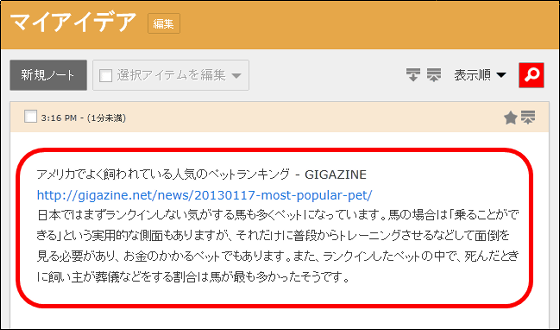 There are also applications for iPhone, iPad, Android smartphones, so it is possible to save ideas and memos that come up anywhere at any time in Catch.

Catch Notes for iPhone, iPod touch, iPad found in the iTunes App Store
https://itunes.apple.com/jp/app/catch-notes/id355424047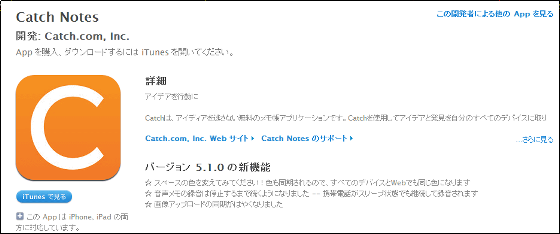 Catch idea to act - Google Play Android application
https://play.google.com/store/apps/details?id=com.threebanana.notes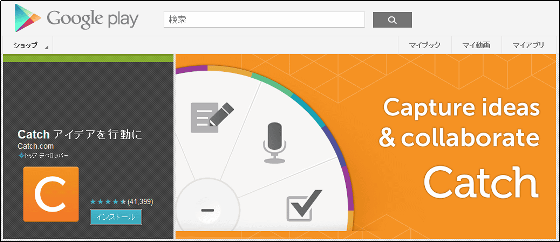 Incidentally,Paid service, You can add more space and increase the storage capacity.