Difference in size by country of Coca-Cola seen around the world Pet bottles & cans Various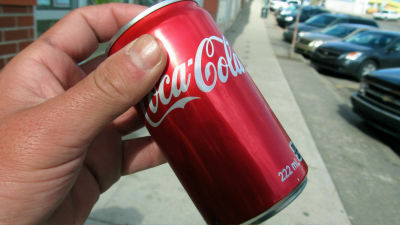 I was excited when I found a 440 ml can coke. Coca-Cola has a line-up of items from an affordable size you want to drink a little when you do it, to party sizes you want prepared when people gather. Since I was interested in the size of such Coca-Cola, I tried collecting cans and plastic bottles that I can get at the destination. The size you see in Japan is also quiet. When you compare the world, there seem to be some similarities.

Hello,Takuya Sudo @ circle around the world bicycle @ Charridermanis. Since entering the USA, the intake of Coca-Cola is surely increasing.

◆ I will arrange from a small size
150 ml (United Arab Emirates)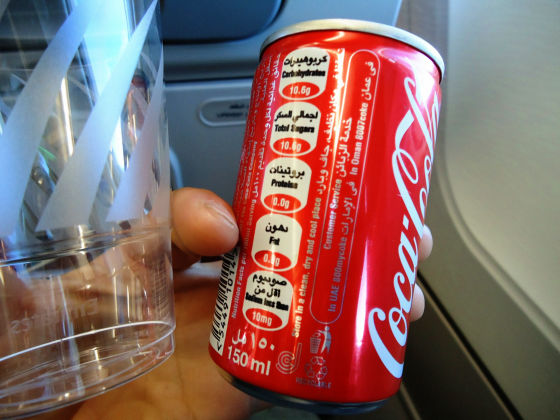 160ml (Japan)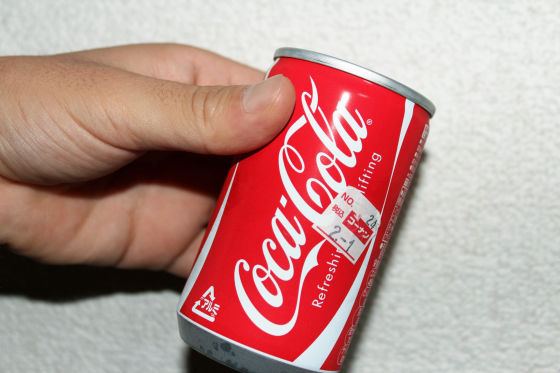 200 ml (Botswana)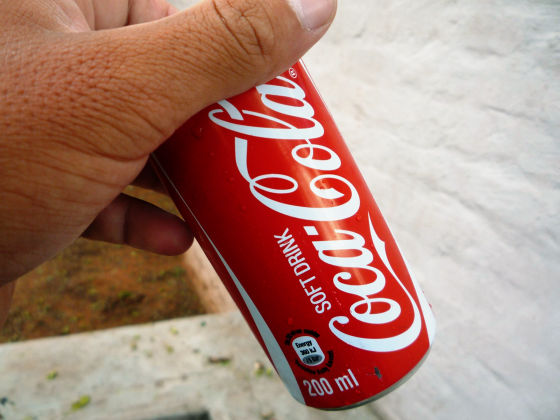 222 ml (Canada)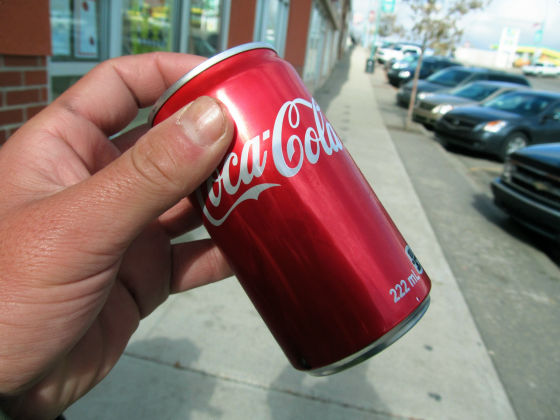 250 ml (Korea)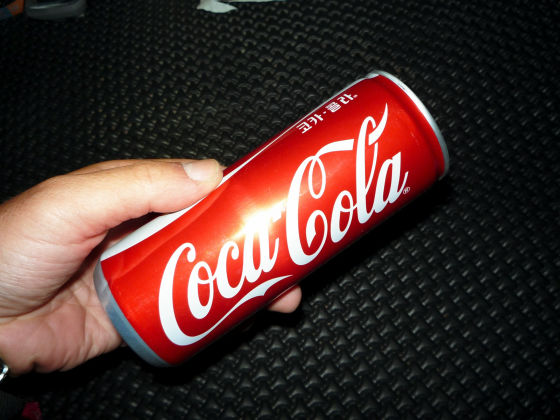 300 ml (Zambia)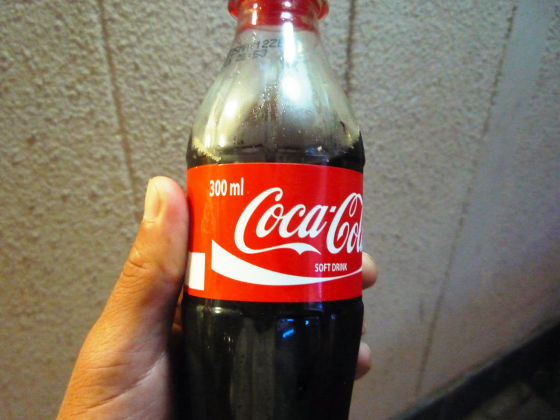 330 ml (Namibia)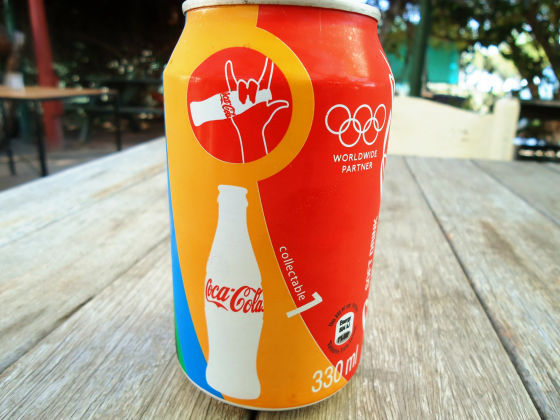 350ml (Japan)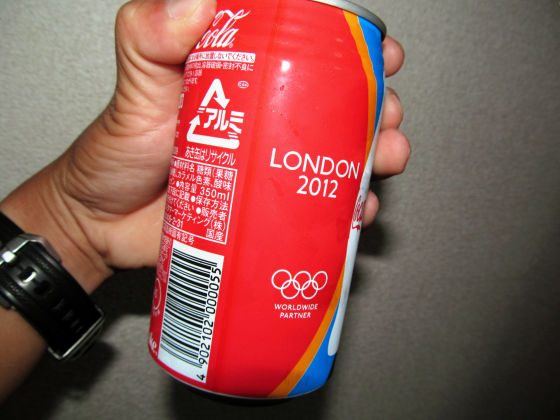 350 ml (Mari)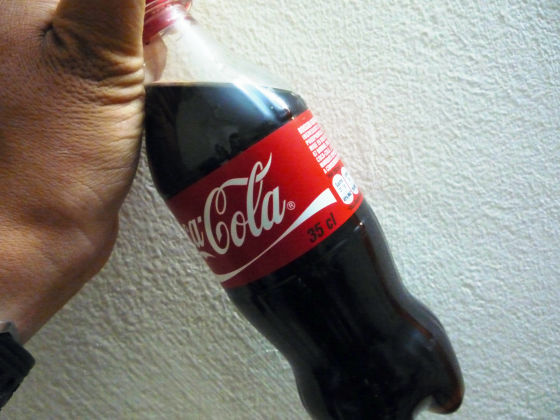 355 ml (Canada)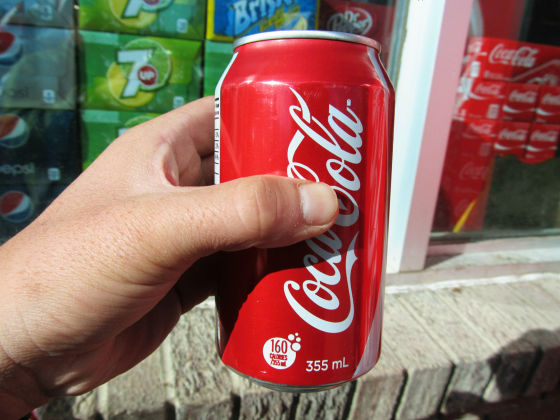 355 ml (12 oz, America)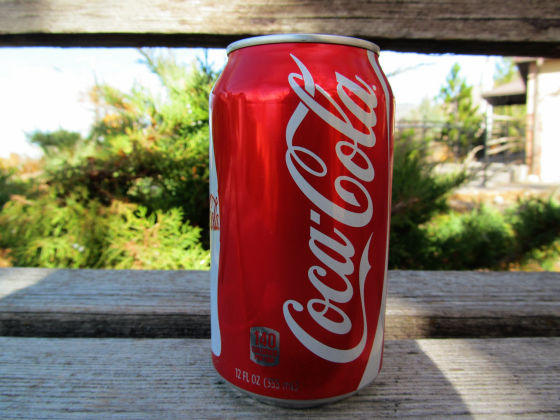 355 ml (China)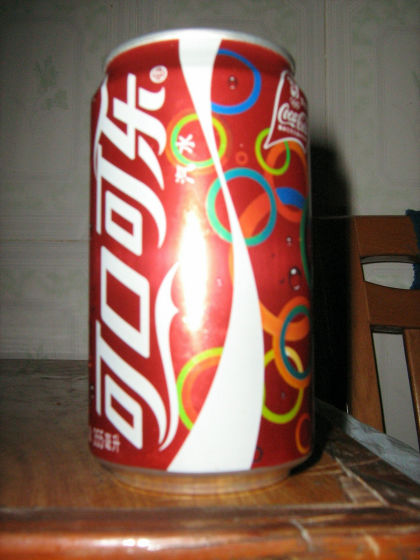 370 ml (12.5 oz, America)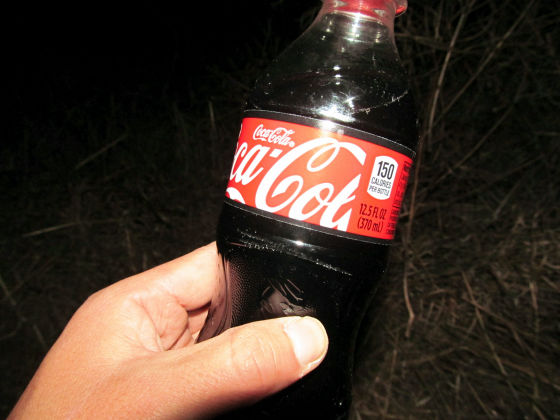 440 ml (Zambia)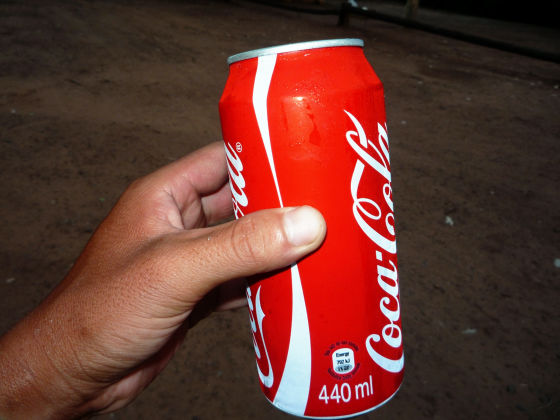 500 ml (Japan)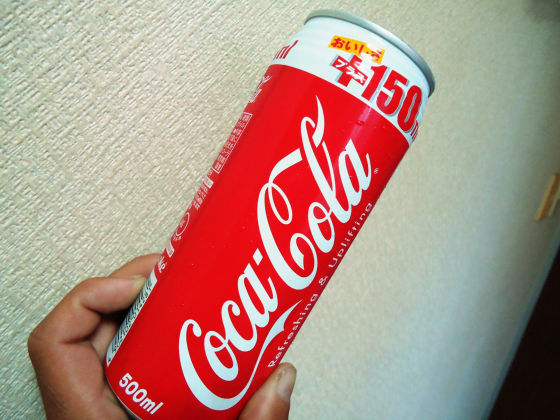 500 ml (Armenia)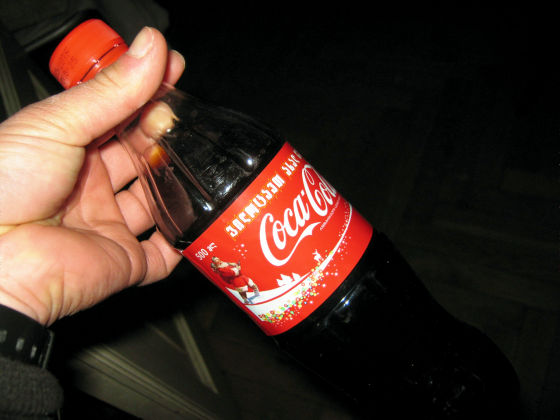 550 ml (South Africa)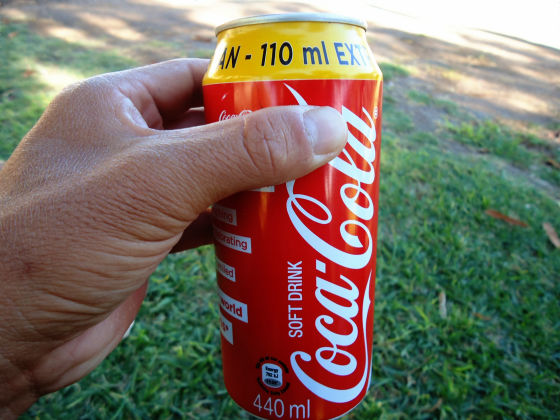 591 ml (20 oz, America)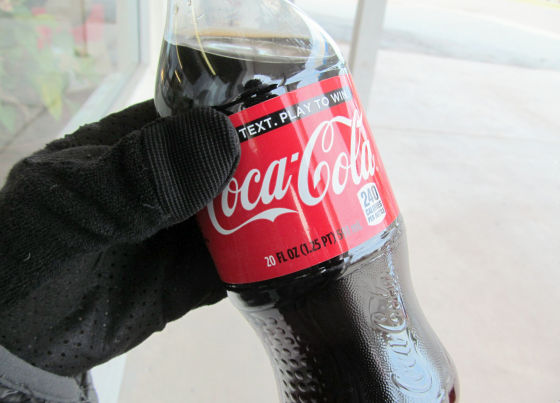 600 ml (Uyghur Autonomous Region, China)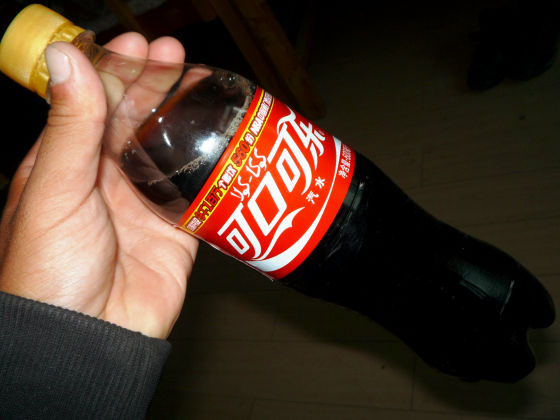 1000 ml = 1 L (Armenia)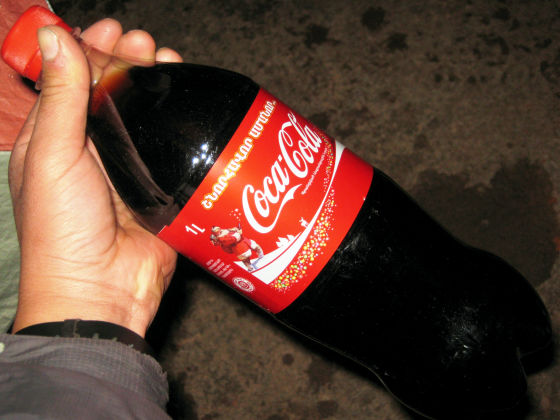 1000 ml = 1 L (Kazakhstan)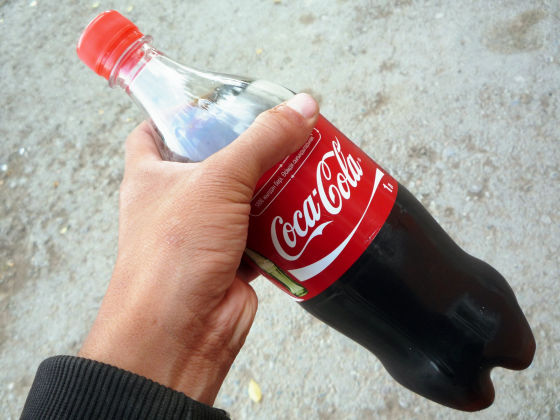 1250 ml = 1.25 L (Namibia)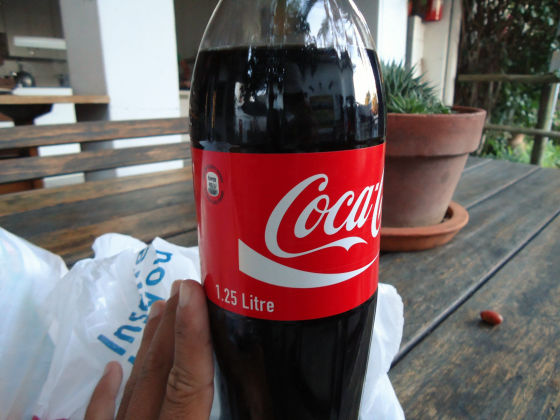 1250 ml = 1.25 L (Senegal)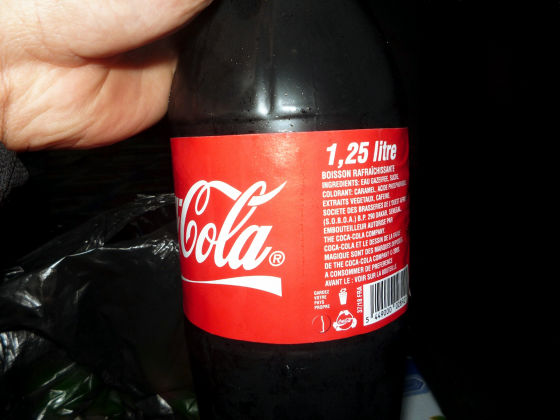 1250 ml = 1.25 L (Bulgaria)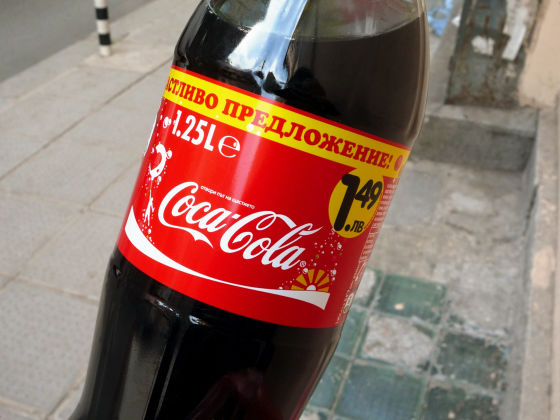 1500 ml = 1.5 L (France)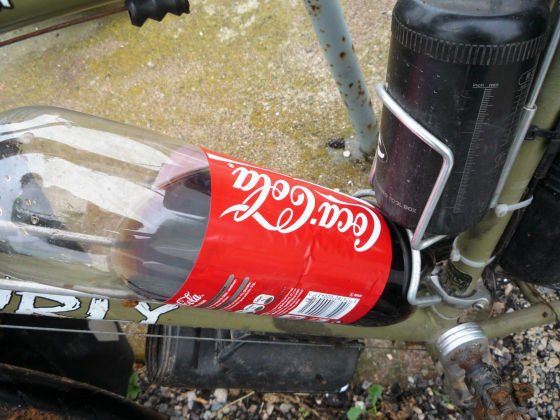 2000 ml = 2 L (Namibia)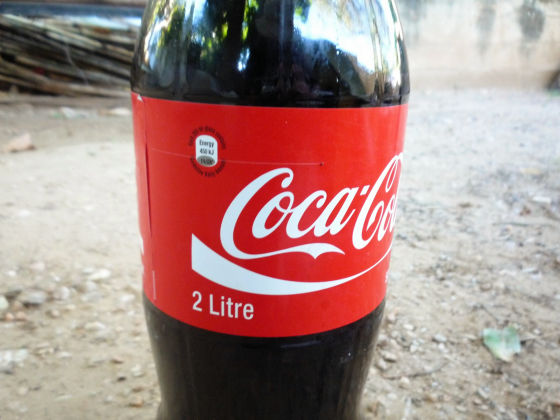 In summary
· Can: 150 ml, 160 ml, 200 ml, 222 ml, 250 ml, 330 ml, 350 ml, 355 ml, 440 ml, 500 ml, 550 ml
PET bottle: 300 ml, 350 ml, 370 ml, 500 ml, 591 ml, 600 ml, 1000 ml, 1250 ml, 1500 ml, 2000 ml
.

In Korea I saw 250ml can juice on the main. Even vending machines are only 250 ml in size.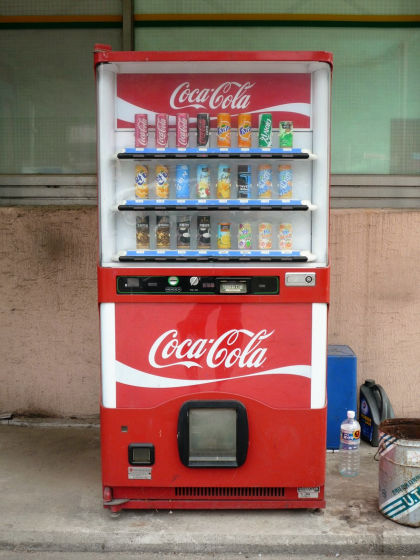 Namibia and South Africa 330 ml · 440 ml · 550 ml can coke, the capacity is different by 110 ml each. The 330 ml can cola is less than 25 ml for a common 355 ml size. Perhaps because South African cans are heavy, I guessed that we might reduce the capacity and fit the weight to the world because of that, 375 g in South Africa and 390 g in the USA were different. Even with a can which was drunk to drink, there was a difference of about 10 g which would put it in the mouth, although it may still remain.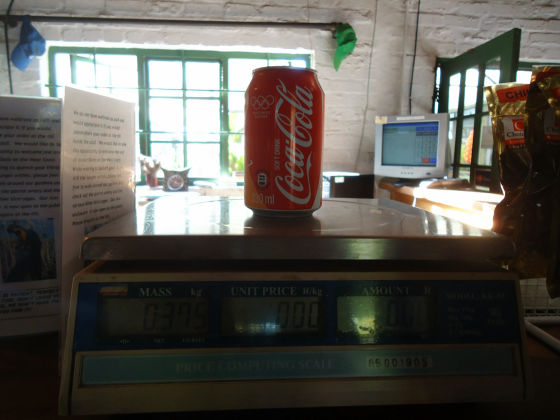 In Japan, 500 ml of PET bottles, in China, 600 ml will be different by 100 ml as standard. This is also the African bottle cola, 500 ml in Kenya and Nigeria, 600 ml in size in Cameroon and Republic of Congo was standard.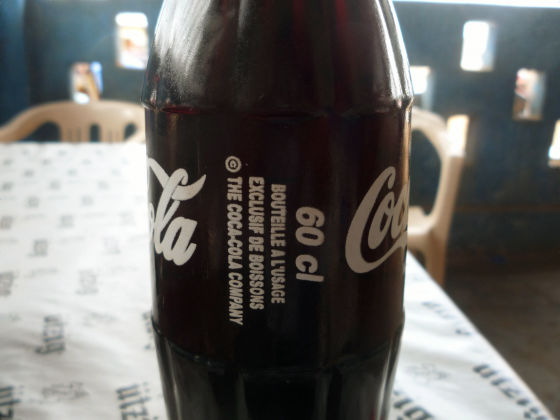 Likewise, in Japan, the size of the large capacity of 1.5 L is large, in the case of the United States and South Africa 2 L becomes the standard. There are always 2 L in the United States, but 1.5 L Coca-Cola is not in memory. There was 1.5 L of Pepsi Cola, so it may be somewhere.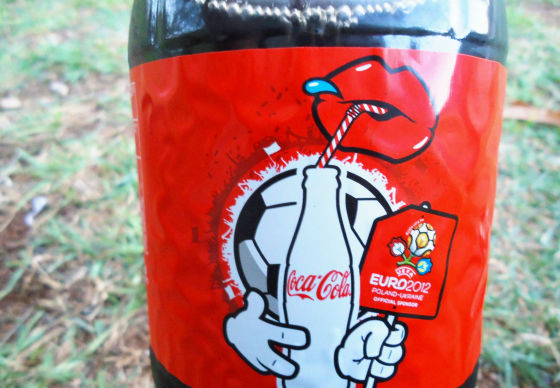 After entering America, in addition to cans and PET bottles, there are also options for paper cups. There is a drink server at gas stations and small shops, you pick and choose paper cup yourself. It is attractive that cost performance is good and it is possible to cool down the kinkin with adding ice.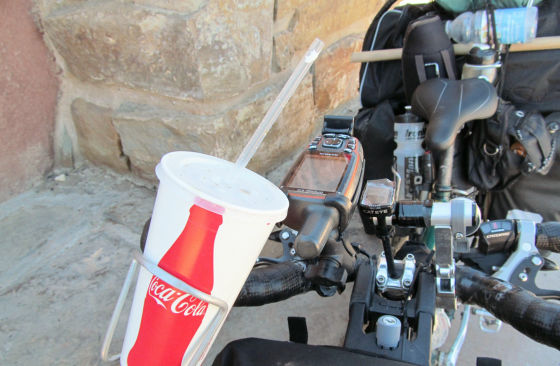 ◆ Size 2 L or more
Up to this point I was taking pictures, but there seems to be a larger size than this. I searched for "Coke (number) Size" using Google's image search. It is supposed to have seen somewhere 2.25 L which increased 250 ml to 2 L ... ....

· 2250 ml = 2.25 L
https://www.google.co.jp/search?q=2.25l%20coke&tbm=isch&biw=1600&bih=781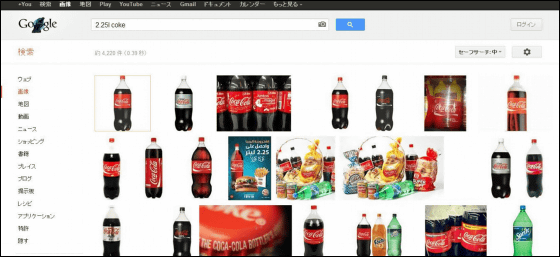 · 2500 ml = 2.5 L
https://www.google.co.jp/search?q=2.5l%20coke&tbm=isch&biw=1600&bih=781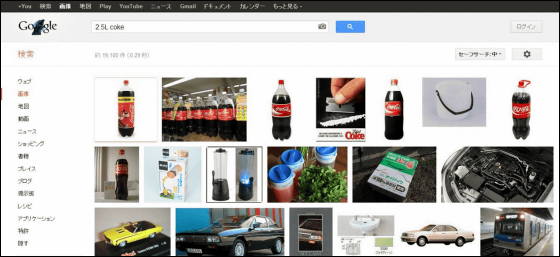 · 3000 ml = 3 L
https://www.google.co.jp/search?q=3l%20coke&tbm=isch&biw=1600&bih=781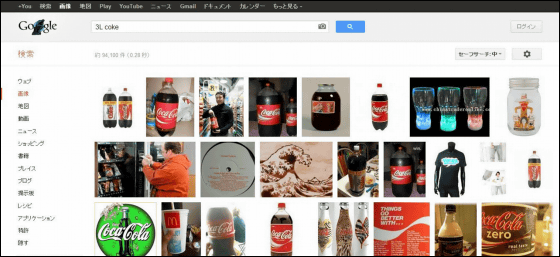 Three liters looks like a lie indeed, but if you are in the United States you may see a carbonated beverage of this size, so surely there will be somewhere. I will report it when I find it.

◆ Japan size
I have found the fact of shock at the place I summarized so far. Most of the sizes are available in the Coca-Cola lineup.

Coca-Cola Japan | Coca-Cola | Product Information
http://www.cocacola.co.jp/products/lineup/cocacola.html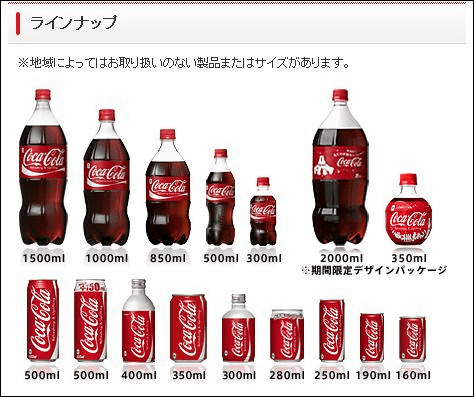 (※ lineup image is the one in December 2012)

The size available in Japan is

Can: 160 ml, 190 ml, 250 ml, 280 ml, 300 ml, 350 ml, 400 ml, 500 ml
PET bottles: 300 ml, 350 ml, 500 ml, 850 ml, 1000 ml, 1500 ml, 2000 ml
is. 400 ml and 300 ml are the unique size of Japan with a can with a cap. I also wanted to see an 850 ml plastic bottle at once. Is it not currently available for 1250 ml smart bottles that became a topic for a while?

There is no blind spot in the Coca-Cola lineup so that you can drink any place, any place. As there seems to be sizes that are not introduced here, how about trying to keep in mind the coca-cola you travel with?

(Sentence / photo: Takuya S. Narou Charriderman
Cycling around the world for a bicyclehttp://shuutak.com)