There are two strains of energy drink and energy drink in the world Red Bull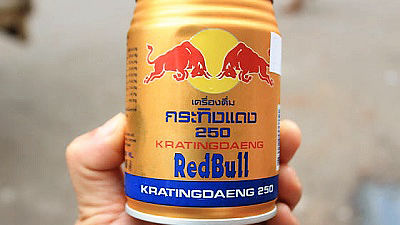 "Red Bull Gives You Wings" is an energy drink. In Japan, cans of the body length that shines blue and silver are on sale. America and Europe are the same. However, Southeast Asia was different.

Hello,Takuya Sudo @ circle around the world bicycle @ Charridermanis. Red Bull was put in all over the world. However, what is sold by location is different. Although it was the same South Asia, it was shocking that I was different in India and Nepal.

◆ Blue Red Bull
Two red cattle confronting the center of the background where blue and silver intersect. Is not it this that people in Japan think of as Red Bull? Savory taste with carbonate. If it is overseas, it was a standard of around 200 yen per 250 ml size. There are many competing manufacturers, but we maintain a high-end route that has left one head. There is no such thing that the price becomes extremely cheap depending on the selling country like the burn which is the energy drink of Coca-Cola Company. By sponsoring various sports events, we strive to maintain top brands.

Red Bull I got in Ireland.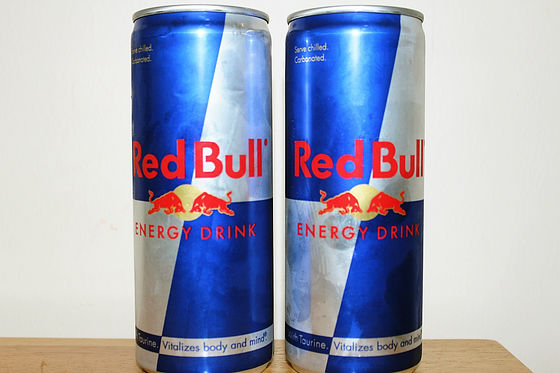 Red Bull in Tunisia was a double notation in Arabic and French.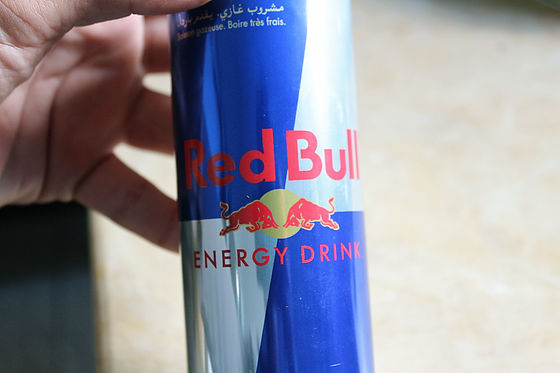 Apart from regular size 250 ml, large capacity sizes such as 16 FL OZ (473 ml) are also sold to the USA.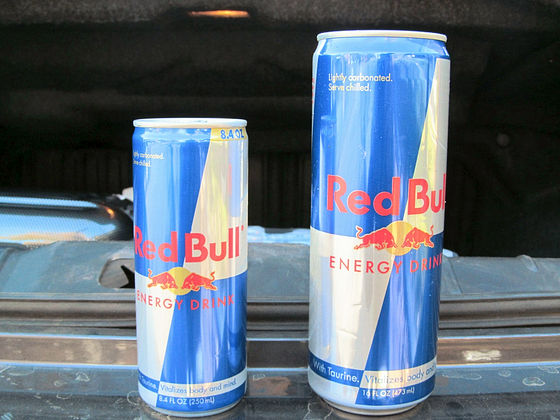 Thus, compared to overseas, the mini size of 185 ml in Japan is also unusual.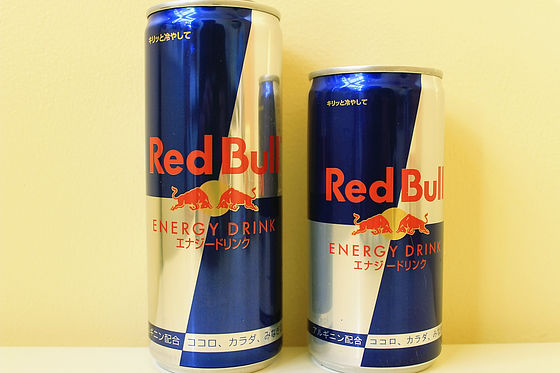 ◆ Red Bull of Gold
The blue Red Bull was sold all over the world. However, it is not mainstream in Southeast Asia and its surroundings. Around the area there were popular golden shorter short cans. Two red cattle are drawn also in gold Red Bull. It is an authentic red bull instead of pakuri. The capacity of 250 ml is the same as blue Red Bull, about 1 100 cans is a standard. It was a taste like a Japanese nutrition drink instead of carbonic acid. It is quite sweet

Red Bull in Malaysia.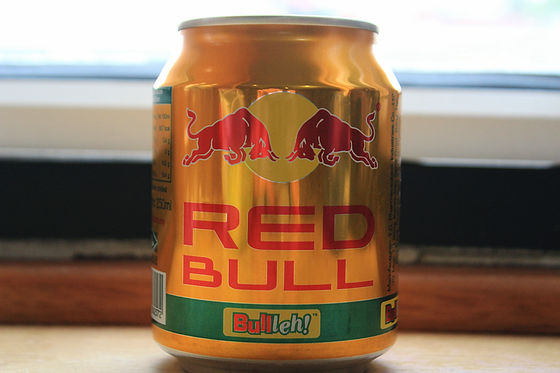 Red Bull in Singapore.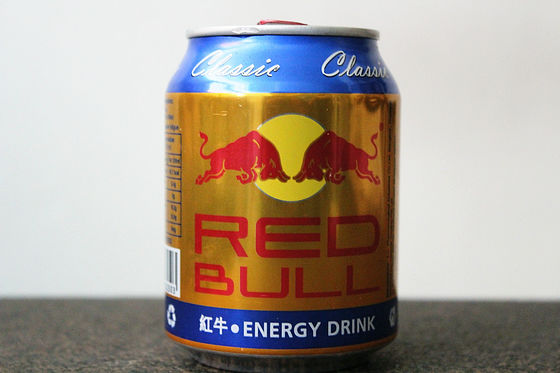 Red Bull in China. It is China that represents red as red.



Red Bull of gold was also sold to Myanmar.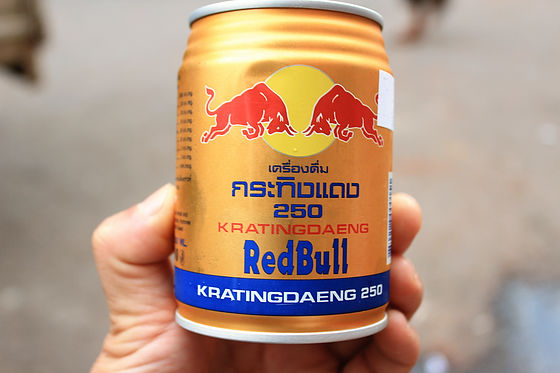 Tab of gold Red Bull is also punched out in the form of a cow.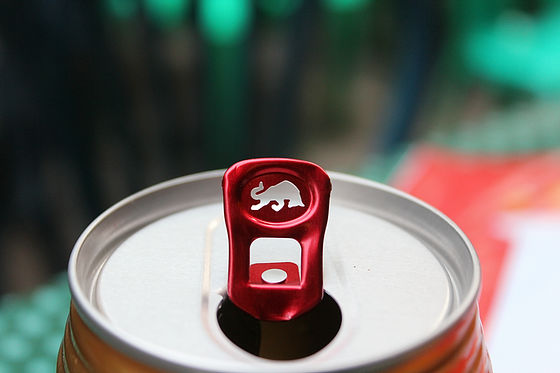 A red bull of gold was also placed in Nepal beyond the Himalayas. It was surprising as there was only Red Blue in India in India.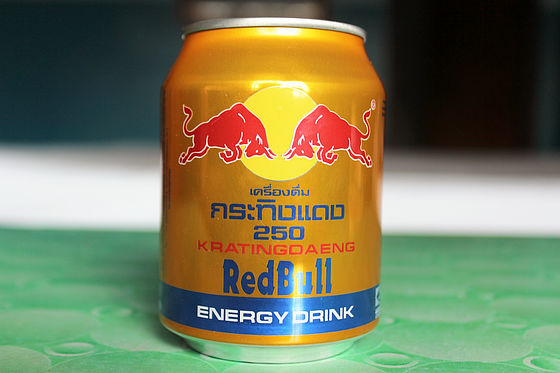 On the back side of the can is a campaign announcement using pull tab.DevanagariIt is written in the local character called.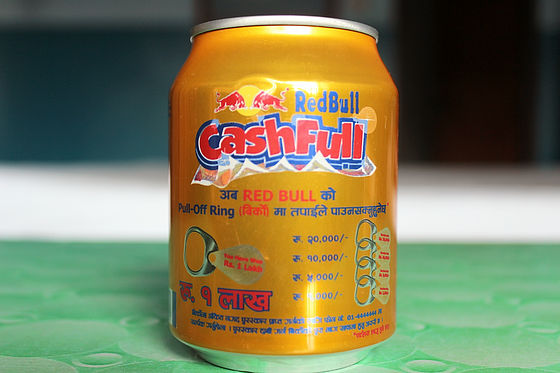 ◆ Hometown of Red Bull
In the first place Red Bull is a brand originating in Thailand. In Thailand, Lipovitan D of Taisho Pharmaceutical was sold in 1965, and held high market share for a long time. Inspired by this lipovitan D, a company named T.C. PHARMACEUTICAL in Thailand developed a new nutritional drink. In 1976 I will put it on the market under the name of "Krating Daeng (Red Gowl)". Although it is Krating Daeng who became a flavor to the world, Krating Daeng does not hold much market share in Thailand, also as a latecomer.

Red Bull (Krating Daeng) sold in Thailand. Regular bottle in the middle is 10 baht (about 34 yen).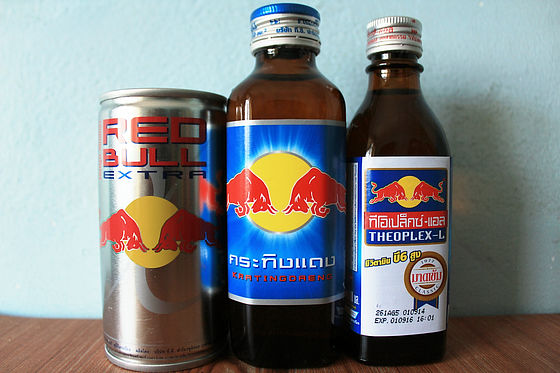 In recent years Red Bull is rich in variety including vitamins and zinc.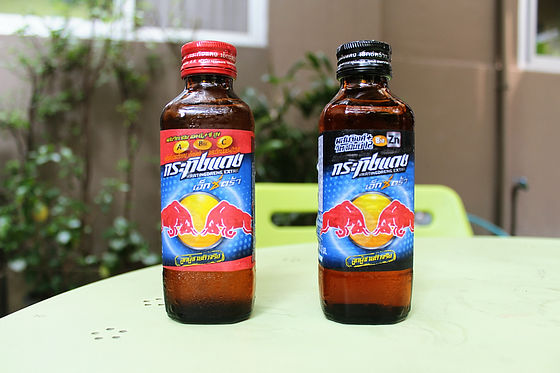 There was also Red Bull which included ginsenoside contained in Korean ginseng.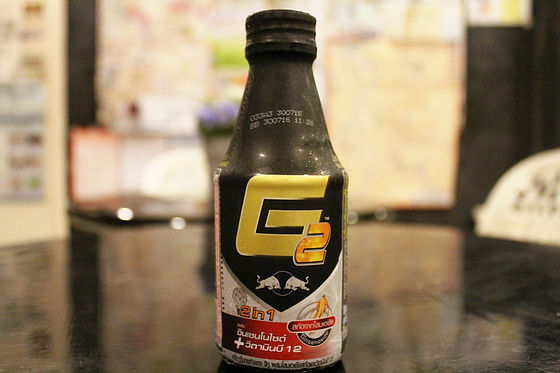 ◆ To the world's top brands
It is the Austrian who watched such Asian nutrition drink marketDietrich MateschitzIt was a businessman. I believe that the same business will succeed in Europe, and in 1984 I got an oversea license for Krating Daeng. With unique improvement, we will start selling in Austria under the name Red Bull in 1987. This is Red Bull of the blue that leads to now.

Looking at the difference between Red Bull of Gold and Red Blue of Blue, it is like this.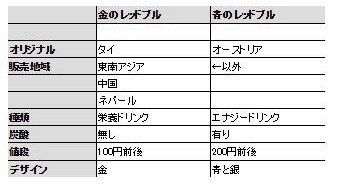 Expression of nutrition drinks and energy drinks is not strict classification according to the Pharmaceutical Affairs Law of Japan, but my subjectivity of which one is close to drinking comfort. Simply put, if there is carbonation it is energy drink, if not, it is energy drink.

The blue Red Bull Official Site has been sold in 167 countries. In animation, since 1987 when it began in Austria, the sales area will spread all over the world every year, but still near Thailand is not included in the sales area. License will limit the sales area.

History of Red Bull __ Energy Drink __ Red Bull Japan
http://energydrink-jp.redbull.com/history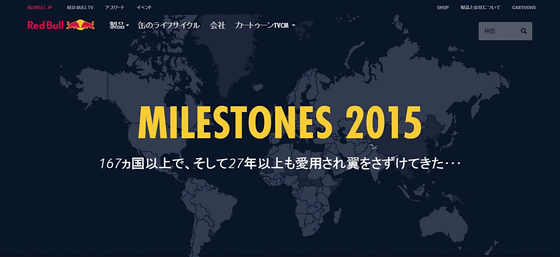 ◆ Shark
In Thailand, a nutrition drink called Shark is also on sale. Taste and design changed greatly depending on the country.

Here is the original sold in Thailand. No carbonation, taste like a nutrition drink.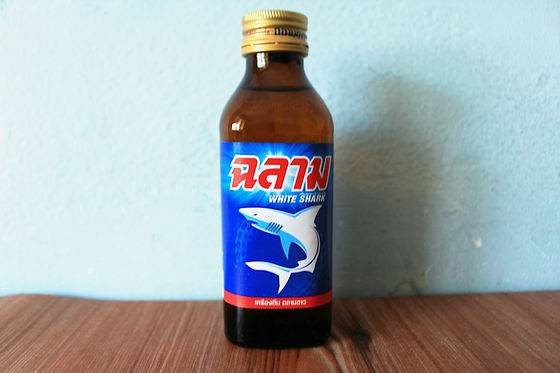 In Europe, the design changes at all. The spelling of SHARK of the alphabet represented the shape of a shark. Energy with carbonic acid taste close to energy drink.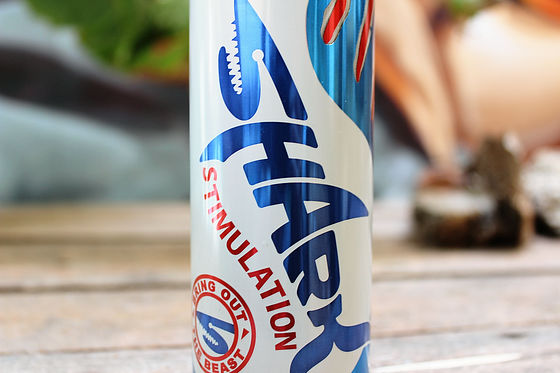 On the other hand, it was Myanmar's shark that a sharp face shark was swimming. This is also 250ml can, carbonic acid is not included.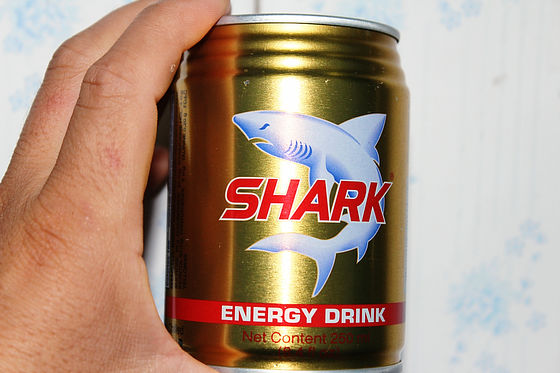 And here is what is being sold in Japan. It is the same design as Europe but mini size.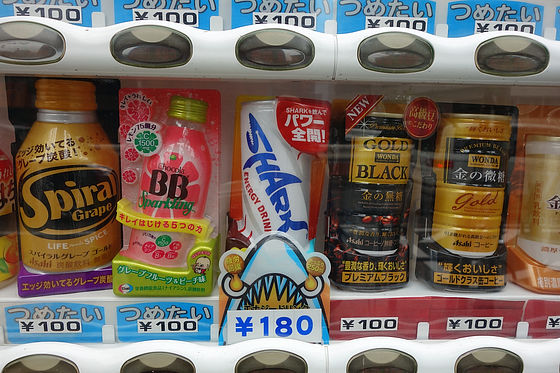 This shark has a brand nameOsotspaIt is a company called. It also holds famous brands such as "Lipovitan D" and "M-150" and runs the top share in Thai nutrition drinks. As introduced, I am active in expanding overseas.

Osotspa International co. Ltd. MARKET
http://www.osotspa-international.com/en/market.php

◆ Thai nutrition drink
There was carbonated juice in America 's daily life. There was alcohol in the daily life of the former Soviet Union. So thinking about Thai daily life is a nutrition drink. In the refrigerator at convenience stores in Thailand there are kinkins and cold brown vials lining up. Local people open the doors and get nutrition drinks. The brands such as "Red Bull" and "Shark" have jumped out to the world because Thai nutrition drink market was enriched.

Various nutritional drinks are on sale in Thailand.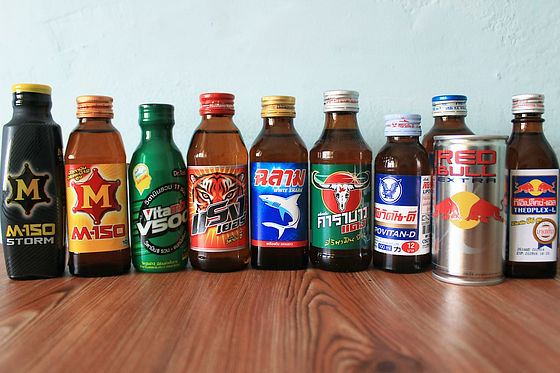 "M - 150" pushes Red Bull and holds overwhelming share in Thailand.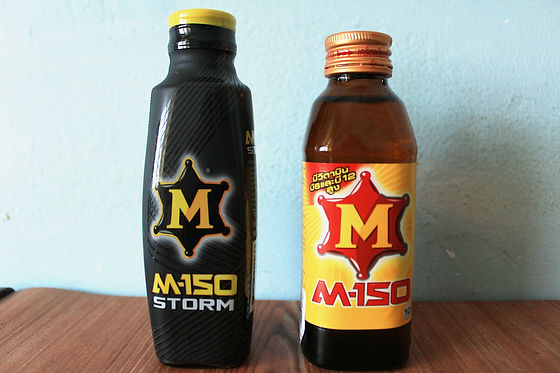 "Lipovitan D" is also a standard. In Thailand it is available at 12 Baht (about 40 yen).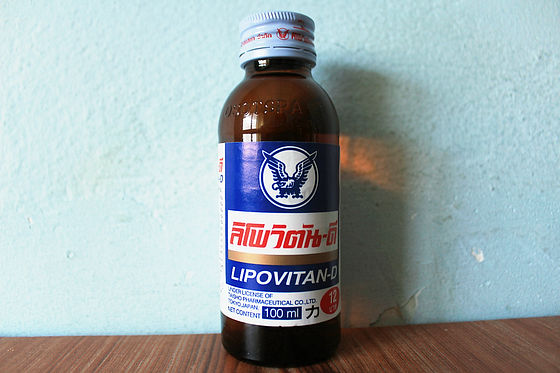 A nutritional drink with a chemical color called "READY".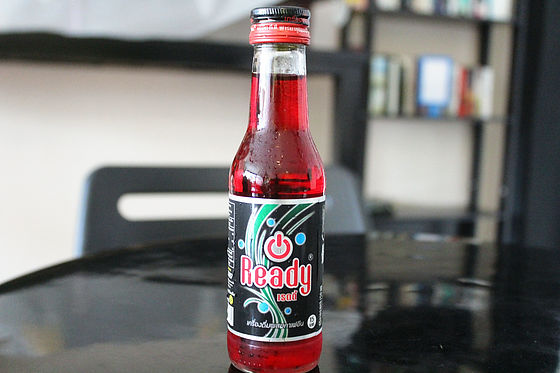 "Red Bull" and "Thai" were indispensable keywords to know the world's energy drinks and energy drinks. In Southeast Asia there are gold Red Bulls that are not familiar to us, so please pay attention when you visit.

I will also visit China after this, so I will also check the circumstances of Red Bull in China. When I traveled in the past, I only remember the Red Bull of Gold. However, even if the blue Red Bull leaves the huge market of 1.3 billion people there is a feeling of incompatibility, I am concerned about what is going on.

(Sentence / photo: Takuya S. Narou Charriderman
Cycling around the world for a bicyclehttp://shuutak.com
Twitter@ Shuutak)