Unbelievable Black Friday work landscape of Amazon huge warehouse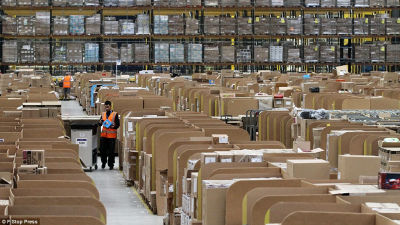 During this period when we had lost one month until Christmas, in the United States "Thanksgiving day the next day"Black FridayAmazon warehouse has become a big trouble again this year. Since the number of goods to be shipped from one warehouse is 2 million cases per day, it will be over 1000 tons, so Mail Online tells the scene such that temporary over 10,000 people are hired.

Black Friday: Amazon staff work round the clock to package thousands of gifts as sales rush begins online | Mail Online
http://www.dailymail.co.uk/news/article-2237350/Black-Friday-Amazon-staff-work-round-clock-package-thousands-gifts-sales-rush-begins-online.html

Black Friday 's "Black" is the biggest crash in Wall Street that triggered the Great DepressionBlack Thursdays, When the world simultaneous stock price depreciation occurred in 1987Black MondayIt does not mean "darkness" like that, as everyone shopsRetail stores become "surplus"means. The fourth Thursday in November in the United States is Thanksgiving Day (Thanksgiving Day), but the retail store will carry out special sale as Christmas sale battlefield from Friday the next day just about a month until Christmas For,"Black FridayIt began to be called. Also, since some people purchase gifts from the high-speed office line on Monday the Thanksgiving Day will be on the following week "Cyber ​​MondayThere is also a thing called.

To handle this, Amazon's warehouse in the UK temporarily hires more than 10,000 people and shipping work day and night as a cumulative day. As mentioned above, "Thanksgiving" is an American event, and in Canada we celebrate in October, but Britain was originally unrelated event. However, in 2010, Amazon made a discount of up to 40% with more than 1000 items according to Black Friday, so it was a regular event. There is only Black Friday which is said to be turned into a surplus even by retailers who have accumulated deficits for nine months, people in the warehouse process order form at 35 seconds. In 2011 we had more than 3 million orders with Cyber ​​Monday.

This is the warehouse of Staffordshire. In the UK there are eight such warehouses, totaling 5 million square feet (about 460,000 square meters). It is the core facility of "Abe no Harukas" currently under construction and it is about 100 thousand square meters of Kintetsu Department Store Abe no Harukasu Kintetsu main store scheduled to become the largest business area in Japan as a department store, so there are about "five largest department stores in Japan".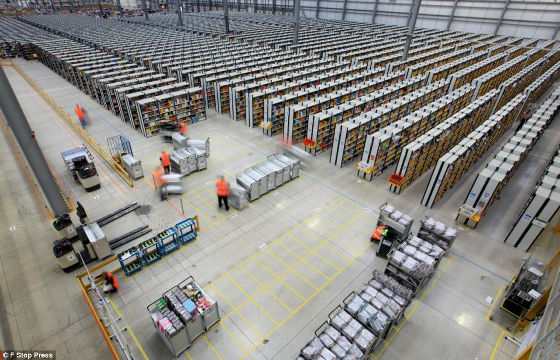 What seems like a bookshelf is Amazon's "product place". Since a lot of goods are brought in and there is no time to arrange exactly in the warehouse which is sent out to a huge destination, we put items in vacant space anyway and manage it with code.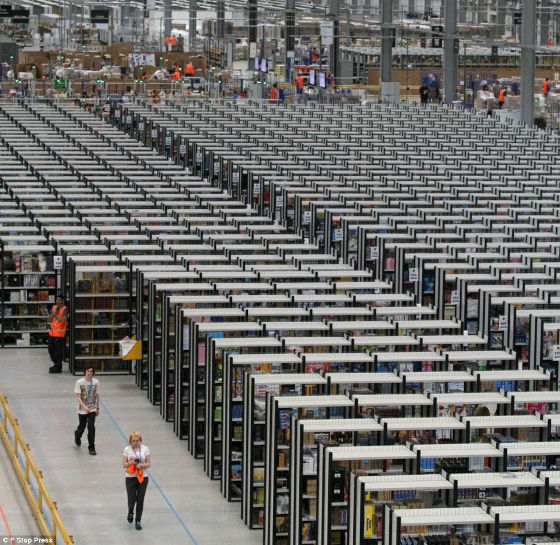 It is impossible to locate products only by visual inspection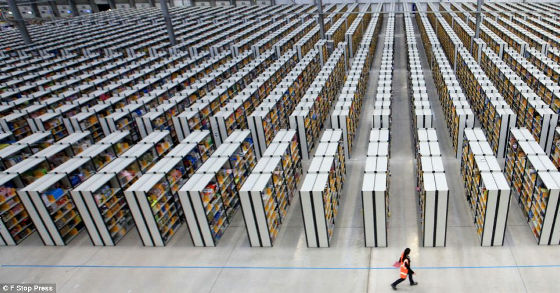 After searching the target product, move it to the shelf earliestly, put it in the basket, and then repeat the task of next.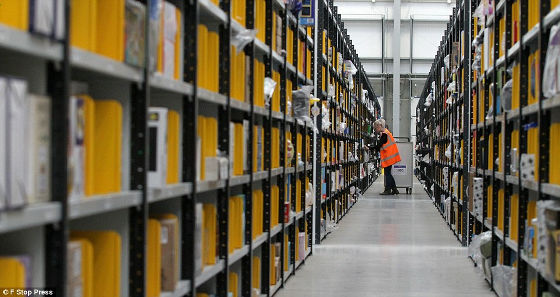 The amount consumed by Black Friday in the UK is likely to be 200 million pounds (about 26.3 billion yen).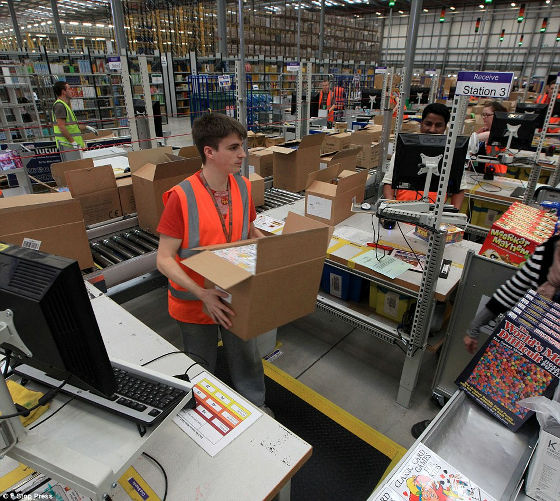 A group of goods that is ready for shipment. If you look closely it shows people in the orange jacket at the bottom center and makes me realize how big this section is.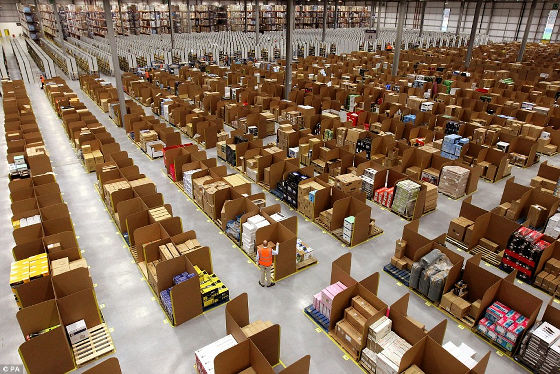 Large TV, exercise equipment etc, items vary.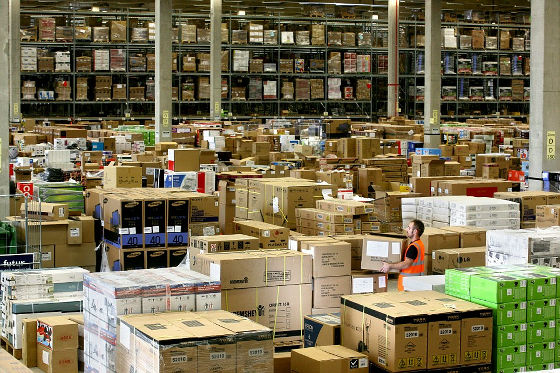 The inside of the warehouse is so hard, it is also hard to carry. The shipping company temporarily hires 1000 people and carries a total of 1000 tons of luggage. In this sale, 2.1 million items are shipped, 99.9% of which are said to be Christmas gifts. In addition, in America's Black FridayNet sales sold over 1 billion dollars (about 82.1 billion yen), its top position was AmazonAnd that.
in Note, Posted by logc_nt