Apple Introduces 13-inch "MacBook Pro" with Super High Resolution Retina Display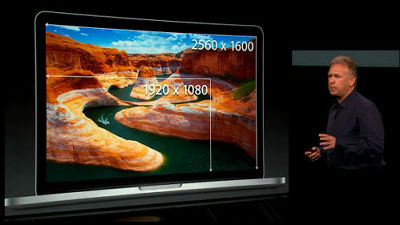 "2560 × 1600 dots exceeding full HD, with resolution of 227 ppi" 13 "display with"MacBook ProApple announced. Details of the new model "the notebook with the highest resolution ever" is from the following.

Apple - Laptop - MacBook Pro Retina Display Model - Technical Specifications
http://www.apple.com/jp/macbook-pro/specs-retina/

Apple - Event - Apple Special Event October 2012

Inside the venue where the presentation was held.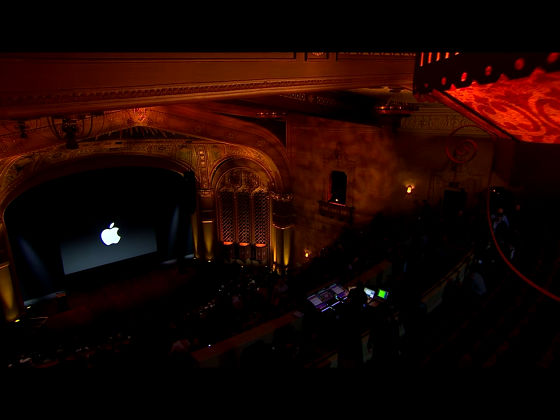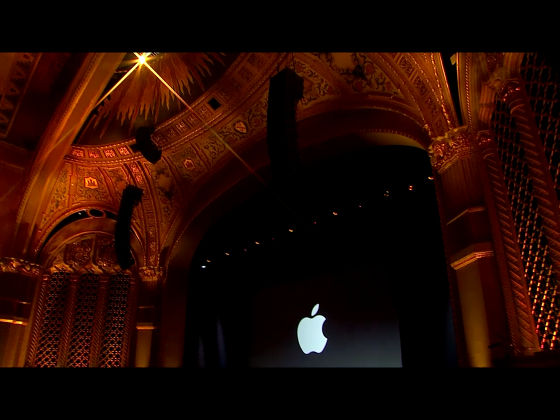 The state of the presentation can be viewed in real time from a machine equipped with OSX or iOS.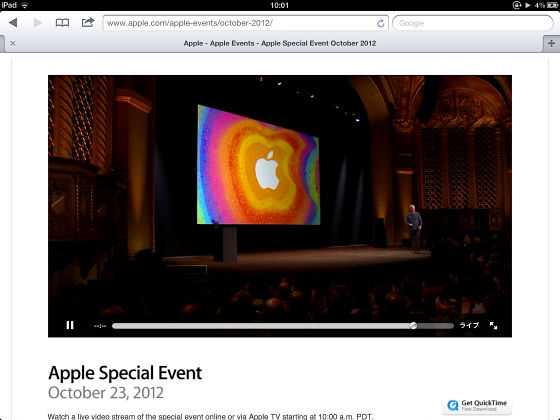 First of all, Tim Cook, CEO, appeals the strong sales of the iPhone 5 and iPod series with images of Apple stores in various countries. It is a customary development that suddenly does not enter the main subject.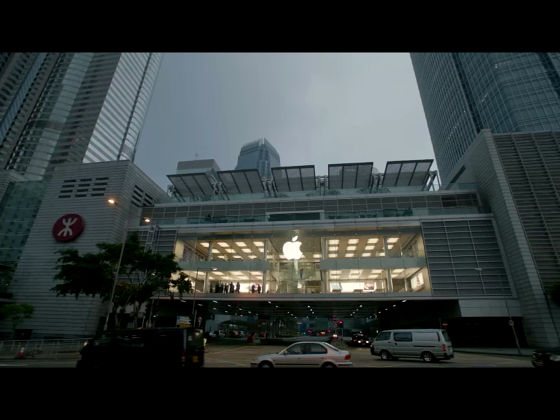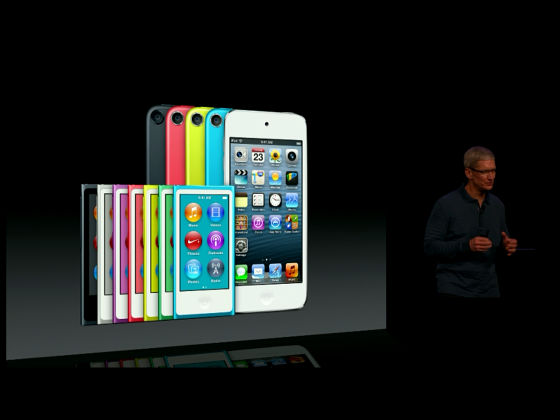 Mr. Cook who projects a slide written just as "Mac" after talking about iOS related topics for one time.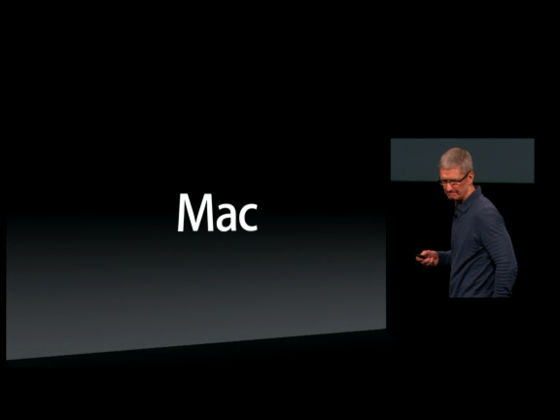 Behind the senior vice president Philip Schiller who took over the presenter's name is the word "MacBook".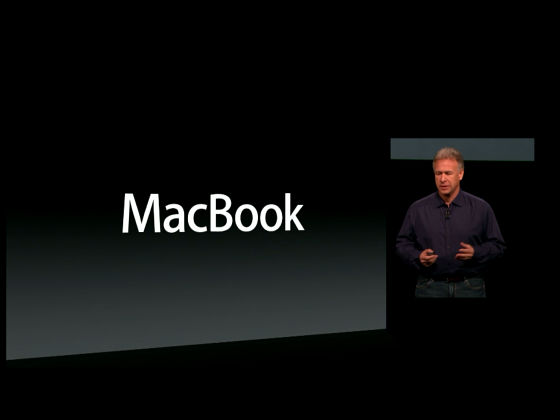 The thinness of the new model is about 19 mm.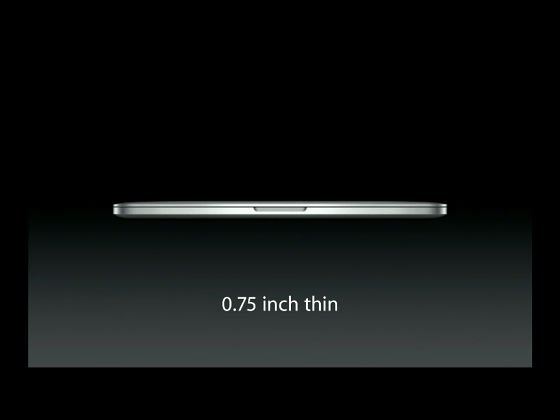 20% thinner than the old model realized.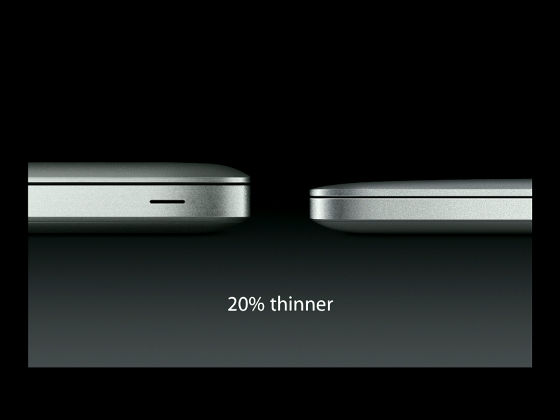 Weight is about 1.62 kg.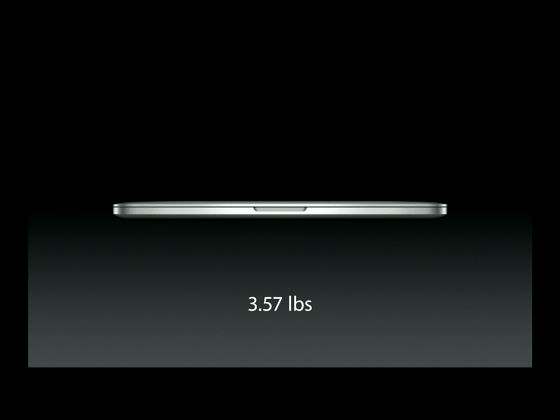 It is the lightest MacBook Pro ever.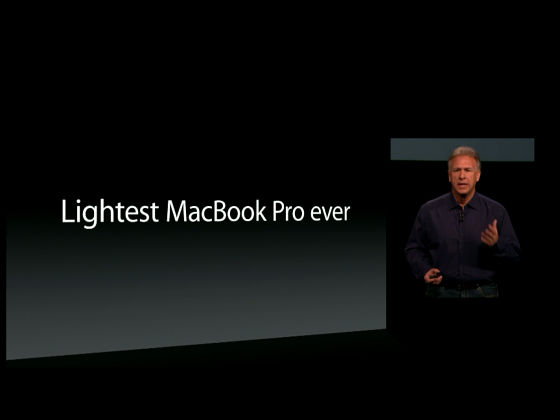 On the left side is a power terminal compatible with "MagSafe 2", Thunderbolt × 2, USB 3.0, headphone jack, dual microphone.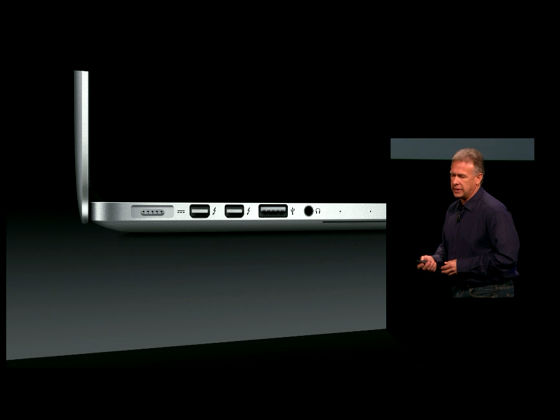 On the right side there are SDXC card slot, HDMI, USB 3.0.



Equipped with a high definition display that attaches the word "Retina" meaning retina.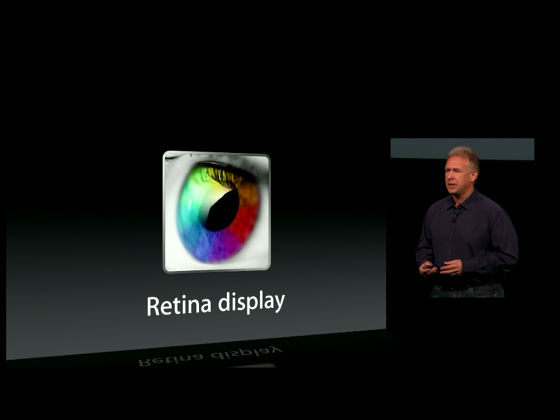 The screen size is 13.3 inches.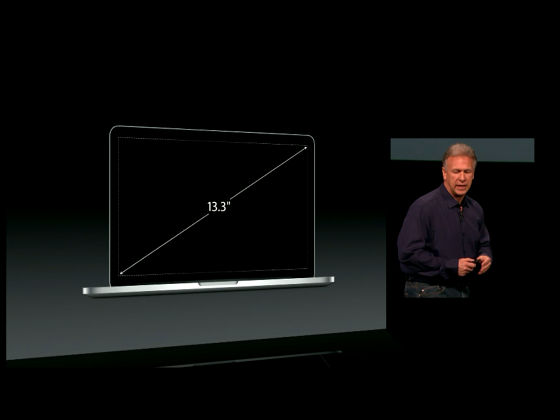 It features 227 ppi super high resolution display packed with 4,096,000 pixels.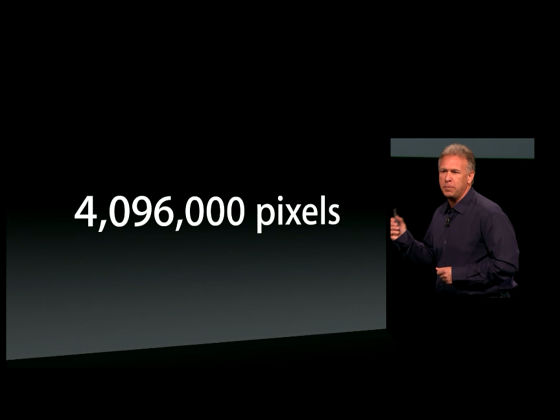 The second highest resolution notebook display in the world, and Phil said with a bit of a casual look. No. 1 is the 15-inch model "MacBook Pro Retina display model".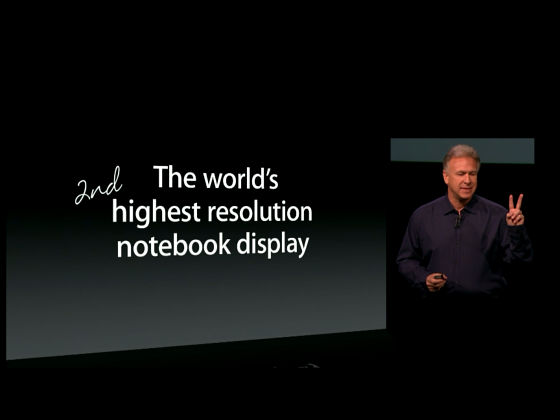 High resolution above full HD (1920 × 1080).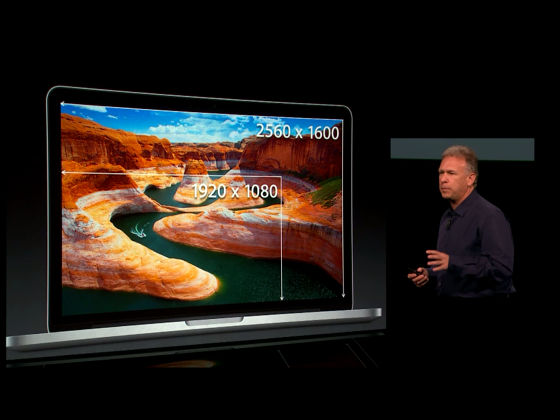 Improvements such as 29% increase in contrast ratio and 75% reduction in screen reflection are also made.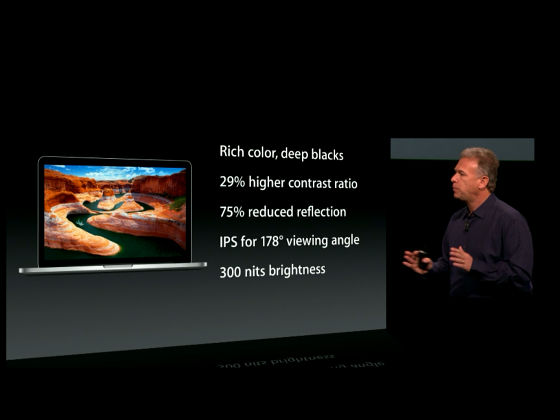 Detailed characters are also clearly readable.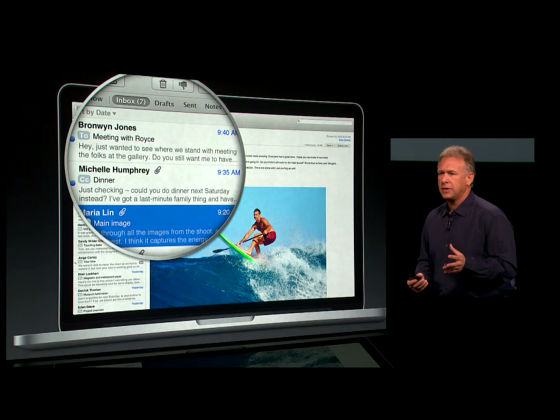 We can also see a small thumbnail screen of video editing software sharply.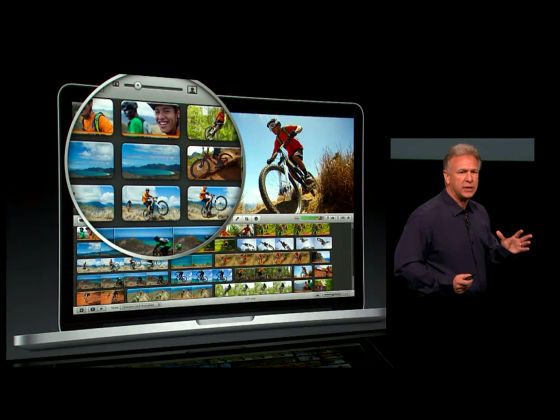 It has 720p front camera and keyboard with backlight.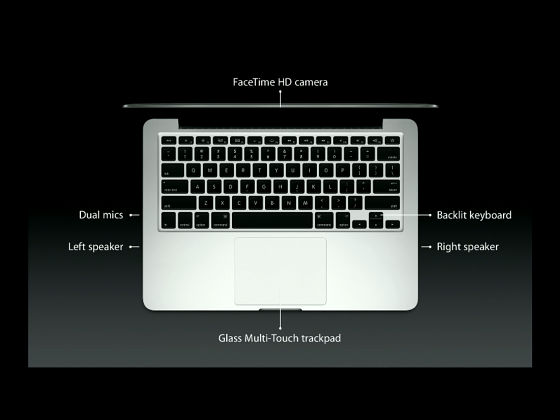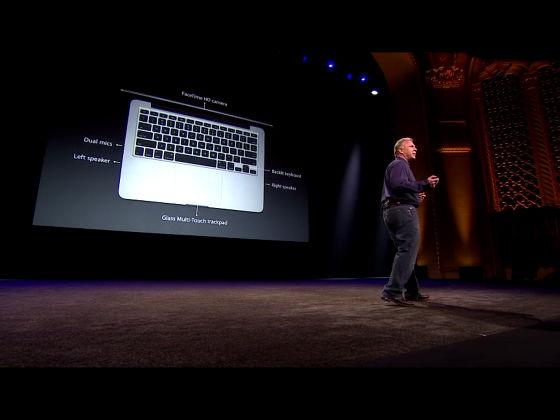 Memory 8 GB, up to 768 GB SSD can be mounted.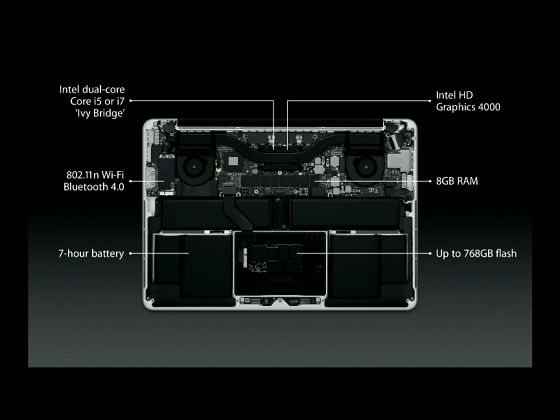 It corresponds to voice control and character input by Siri.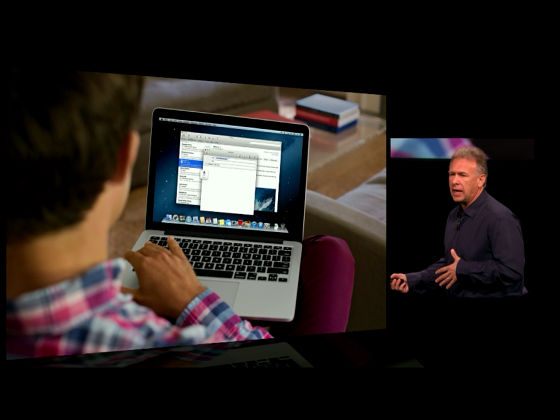 With Air Play you can display images etc on big screen TV.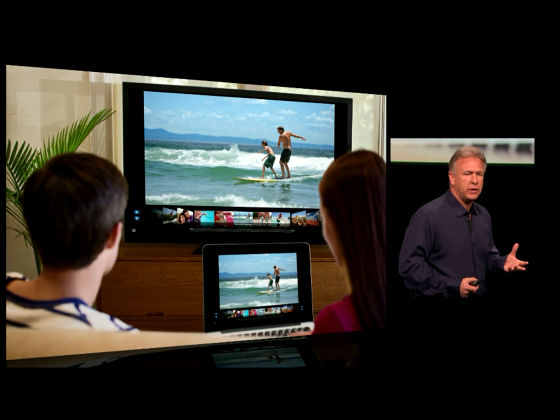 Data can be easily synchronized with iPad etc using online storage iCloud.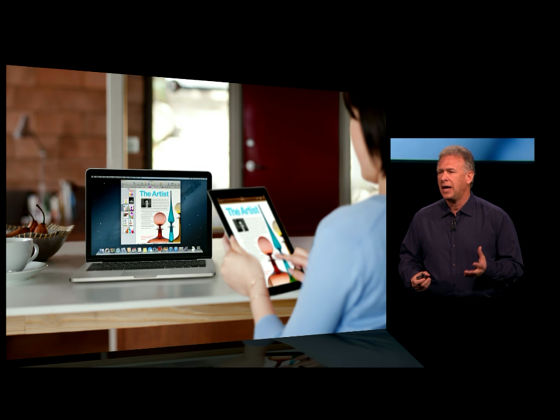 You can update the contents of e-mails and calendars even during sleep and perform backup work.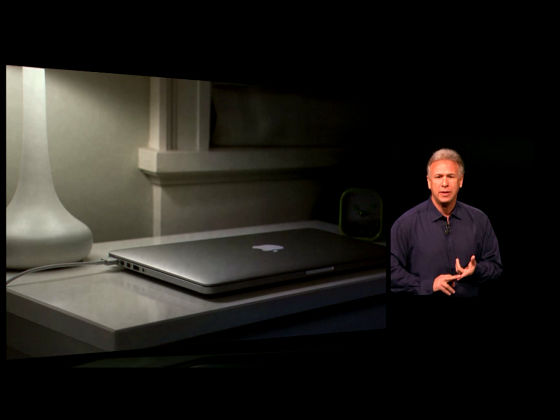 Reservation acceptance start today today from October 24th, 2012.



The selling prices in Japan are as follows.

◆13 inch: 2.5 GHz Retina display(144,800 yen including tax)
CPU: 2.5 GHz dual core Intel Core i 5 (up to 3.1 GHz when using Turbo Boost)
Memory: 8 GB
Storage: 128 GB SSD
Graphic: Intel HD Graphics 4000
Built-in battery: Up to 7 hours driving)

The CPU can be changed to 2.9 GHz dual core Intel Core i 7 (up to 3.6 GHz when using Turbo Boost), and the storage can be changed to 256 GB, 512 GB, 768 GB.

· Previous article
7.9 inches "iPad mini" and "4 th generation iPad" with super high definition display appeared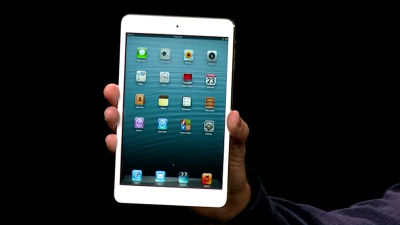 · Next article
Edge is 5 mm thick, 100,000 yen extra thin "iMac" and 1 TB HDD equipped "Mac mini"