I went to an authentic restaurant where I can eat huge sausage with a length of 1 meter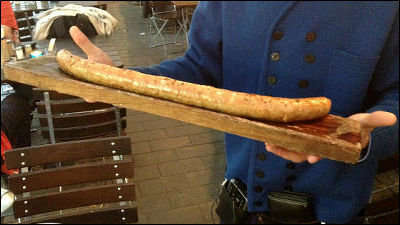 World's largest camera exhibitionPhotokinaIt is said that there is a restaurant that can eat whole meat of sausage in Cologne, Germany's town where it is held, so I actually decided to go to a shop and try to eat it.

Brauhaus Sion

View Larger Map

The appearance is as follows. It is a shop in an atmosphere like restaurant and pub, and it is easy to enter casual clothes.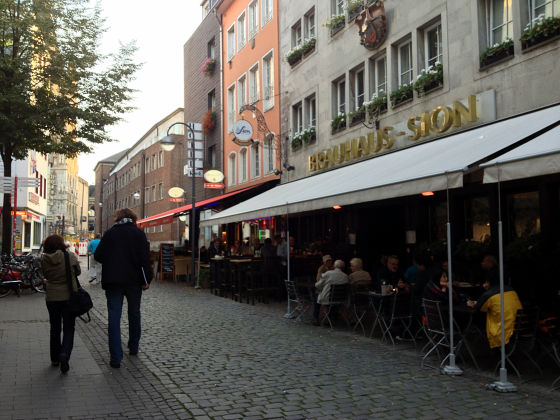 The table facing the street looks like this.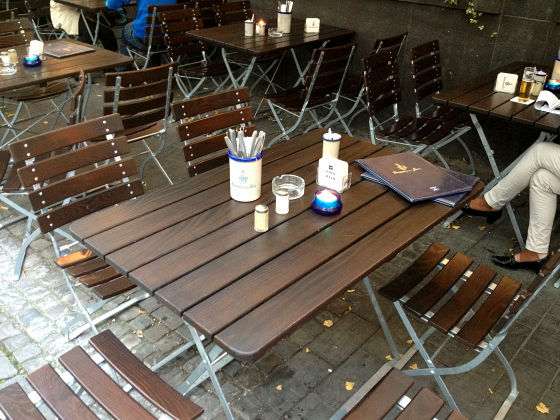 A church can be seen in front of the people going and leaving the stone pavement.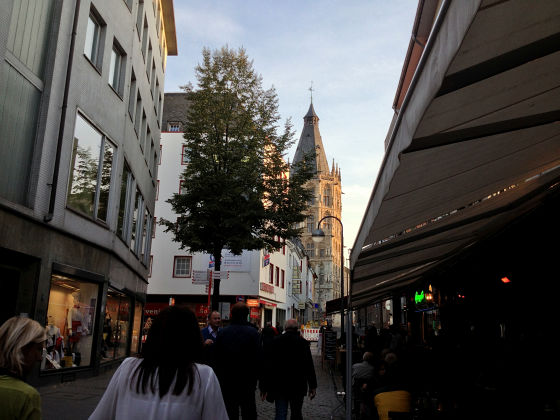 The menu looks something like this.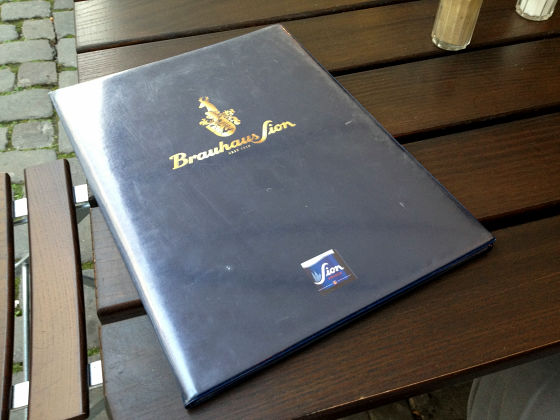 Three lower sausages from "mit Röggelchen (9.3 euro / 930 yen)" are 1 m Sausage, but at this price it will be 1/4 size so whenever you want to eat whole, be sure to say "4 people, 1 meter, cut No need to order ". The one I ordered this time was the set of the lowest French fries and cabbage.




Cologne's beer "Kelush" can be ordered from 1.65 euros (around 165 yen).




Candle is on fire on the table.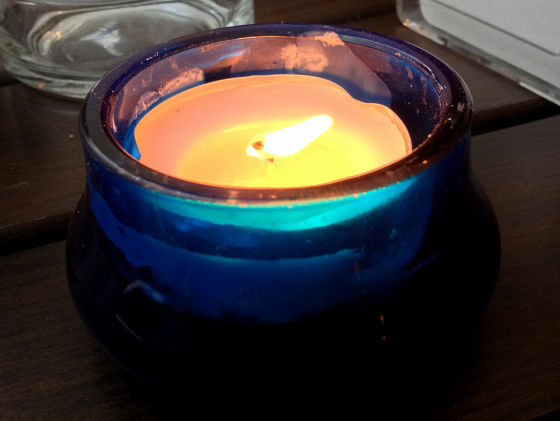 coaster.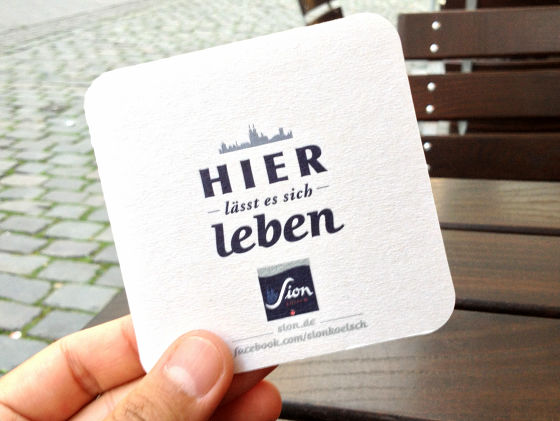 A small vial of this kind is placed on the table.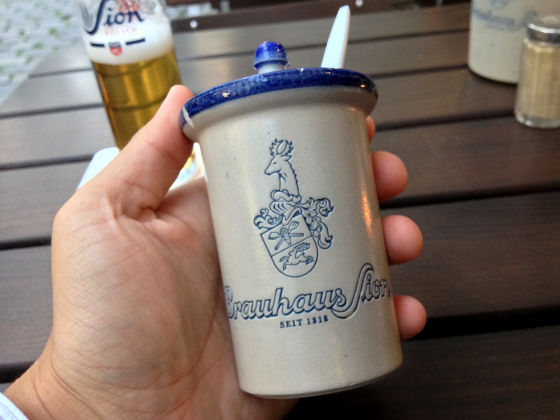 The contents were mustard.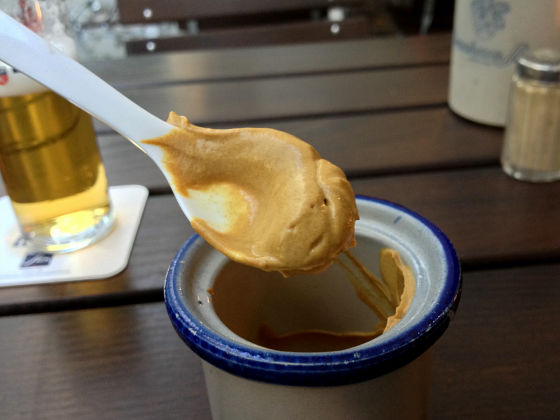 I take out the knife and fork myself from the tube in front of my eyes.



Preparation OK.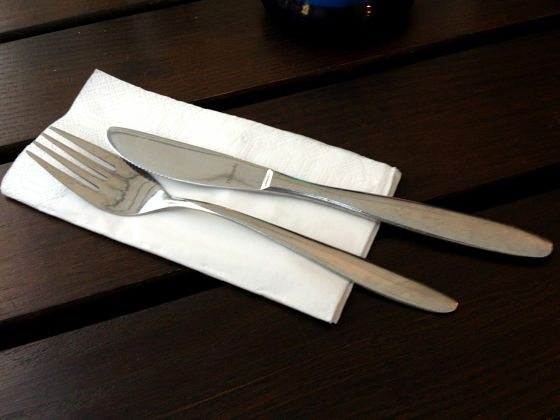 Karl arrived earlier. I am in a glass that I feel pretty slim when I am used to Japanese beer mugs.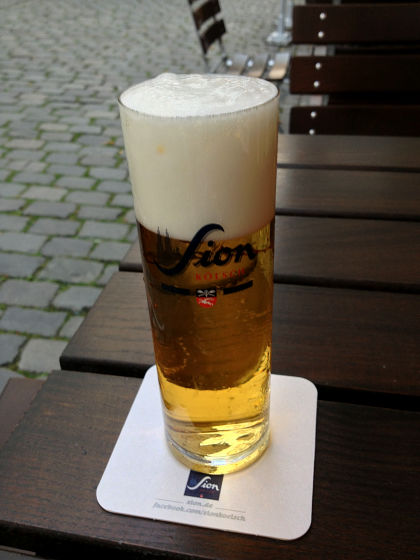 It is an elegant beer with less bitterness and fruity aroma and less carbonic acid.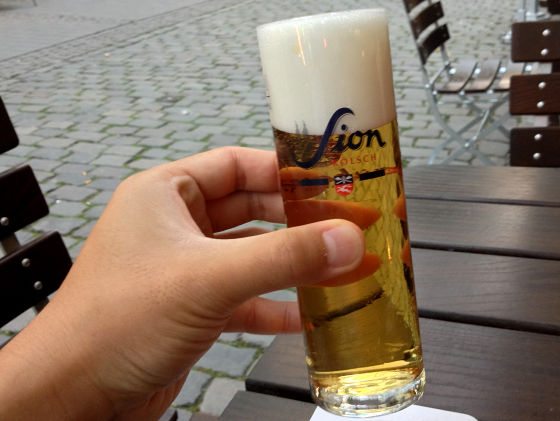 Sausage appeared. This time I ordered 50 cm for 2 servings considering the limit amount that I can eat, so this size.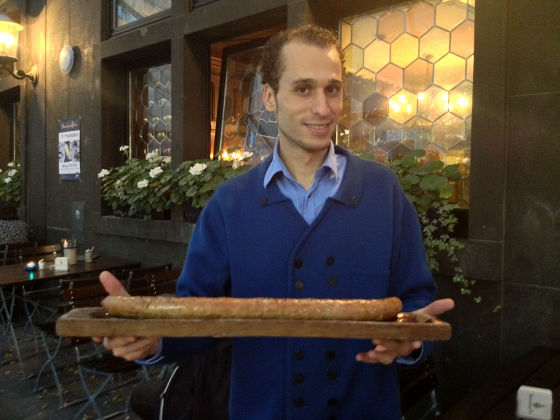 It is on a wooden dish.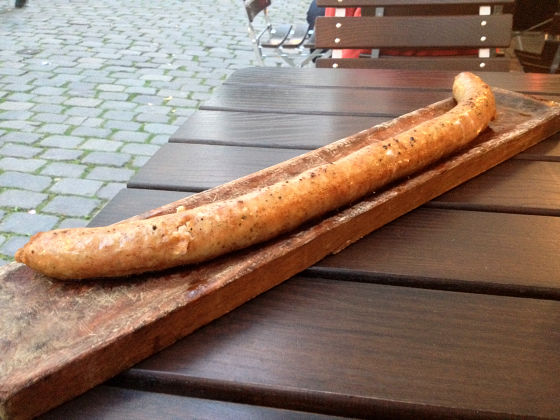 The total length of sausage is about three times that of a fork.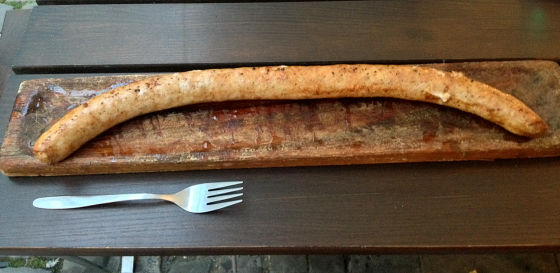 It is amazing force to watch it up.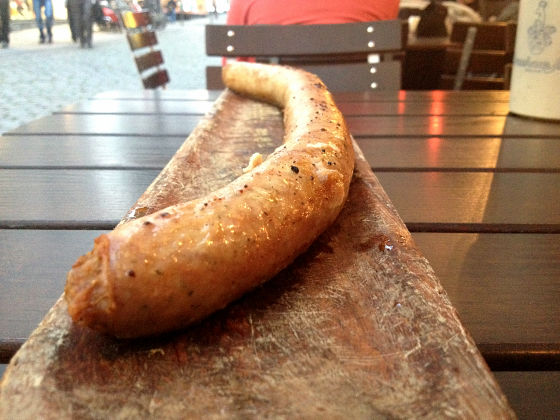 This time we are asking for two servings of sausage, so we will have a pair of gangs firmly in front.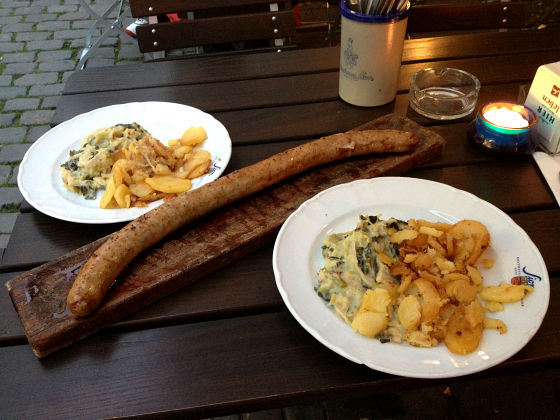 French fries (top) and cabbage are on the dish.



Fried potato is not fried French frying with McDonald's etc, but fried potatoes with onions and bacon.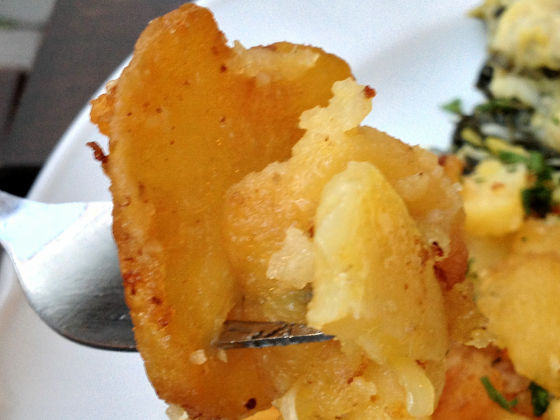 Cabbage is related to a creamy sauce and it is commonSauerkrautAs sour taste is not so tight, it is easy to eat.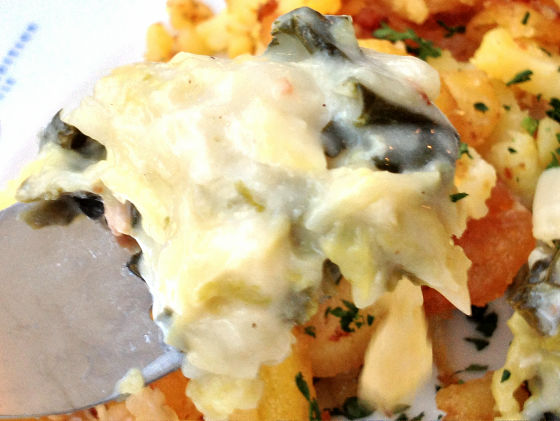 There is not much fat in the meat juice and it is smooth.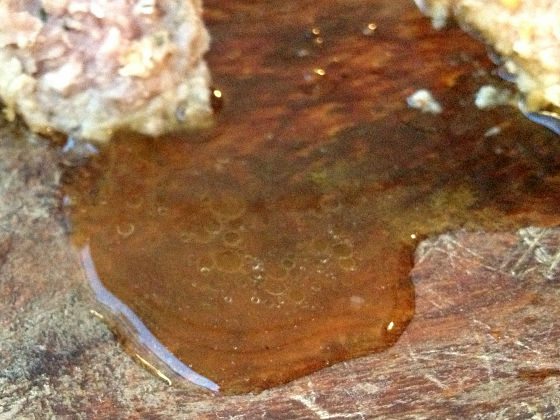 The sausage itself is not so juicy, and its salty taste is so tight that it tastes like a liquor's drink.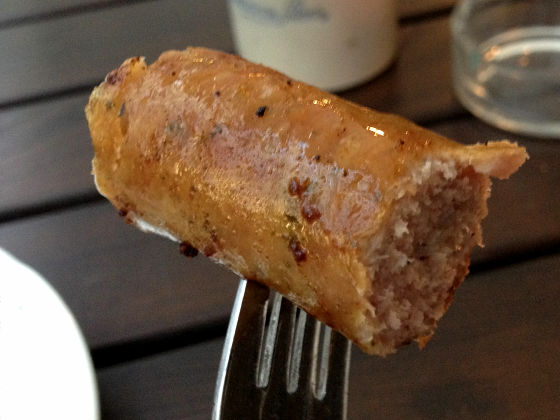 When you want a change in taste, apply mustard and OK.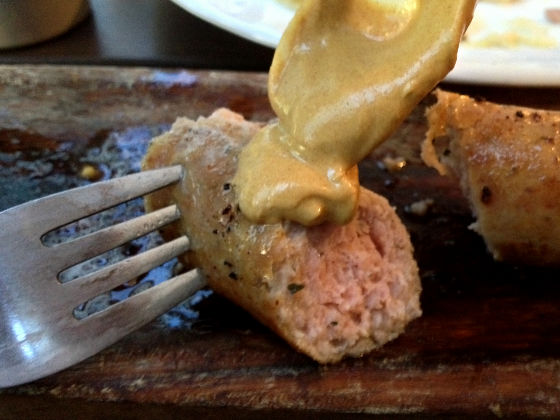 When you eat up to half it looks like this.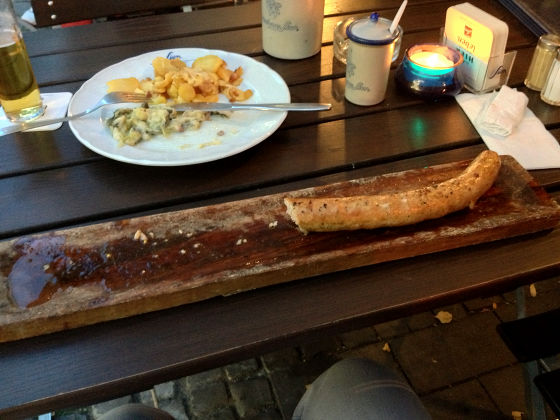 I feel the weight which was made to lift and it is troubled.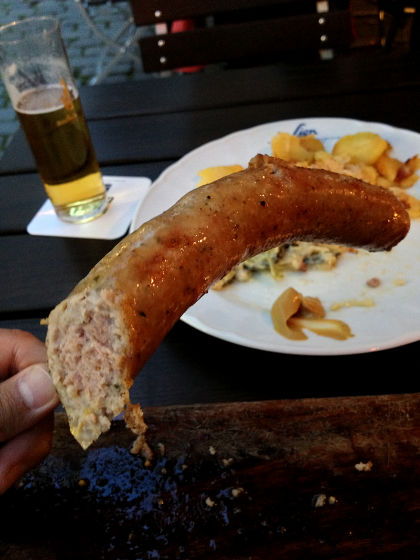 Complete food.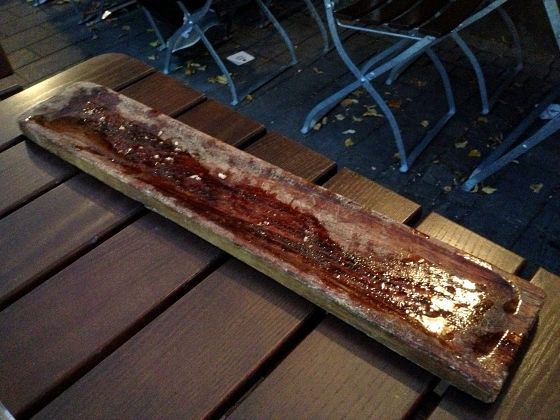 Because the salty taste is strong, the taste seems to be frustrating on the way, but if you eat while drinking beer etc you can eat even people who do not eat so much. When we went with two or three people it was just enough to eat other dishes with pinch.